Spinach is a staple green at home and we make Kootu / Sambhar / Masiyal out of the same.One cup of spinach has nearly 20% of the RDA of dietary fiber, which aids in digestion, prevents constipation, maintains low blood sugar, and curbs overeating. Spinach is rich in Folic Acid , Calcium as well as fibre and this curry goes very well with plain steamed rice or even Curd rice and Lemon-bittergourd pickle. 
Its a dish that can be made in under 10 minutes if all the ingredients are ready, and goes well with Rotis / Chapatis as well. By inhibiting the angiotensin I-converting enzyme, peptides within spinach have been shown to effectively lower blood pressure.
Teamed with Moong Dal & Green peas, this curry is a balanced food for pregnant and lactating mothers alike,as it provides enough folate and protein balance as a light side dish. Let's get to the recipe now.. 
Update : Linking this to PJ who is hosting my event "My
Health, My Way" – Theme :Calcium
Rich recipes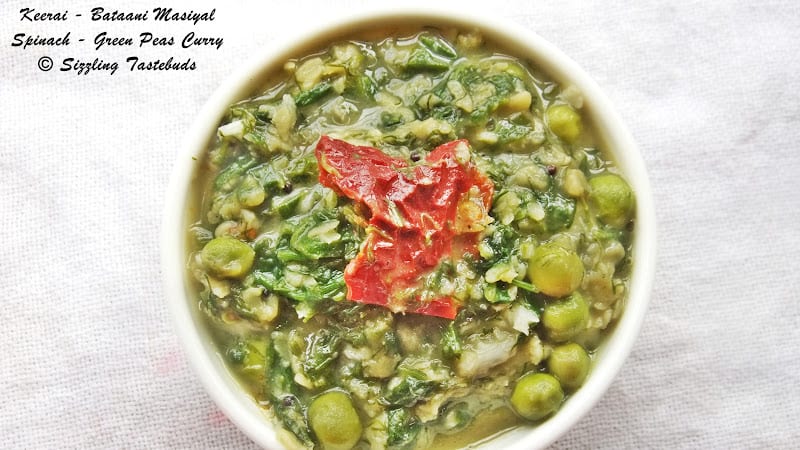 Pin

Prep time – 10 mins

Cook time – 10 mins

Serves  – 3

Ingredients:
Spinach / Palak – 3 cups (packed)
Moong Dal / Split green gram – 1/3 cup
Fresh or frozen Green peas – 2 handfuls (optional but recommmended)
Salt – to taste
Turmeric – a dash
Amchur / dry mango powder – 1/4 tsp
Sugar – 1/2 tsp
Oil – 1/2 TBSP
Tempering : Mustard seeds, broken red chillies, cumin (jeera) & Asafoetida
Method:
1) Wash and chop spinach throughly. meanwhile soak Moong dal for 5 – 8 mins in warm water.
2) In a pressure pan / cooking pan, add spinach, moong dal, green peas, salt, turmeric and little water and pressure cook for 2 whistles. 
3) Release the pressure and mash up the mixture slightly.
4) In a pan, heat oil and prepare the tempering. Add the cooked and mashes spinach – dal – peas mixture, amchur, sugar and bring to slow boil. Add freshly grated coriander at this point and check for salt (imp : Spinach & Moong dal absorb a lot of salt, so add with caution)
5) Once it simmers, prepare tempering in another pan, add to the simmering spinach and turn off the fire. Mix well and serve with plain rice or even curd rice.