Vakrathunda Mahaakaaya Koti Soorya Samaprabha |

Nirvighnam Kurumedeva Sarva Kaaryeshu Sarvadaa ||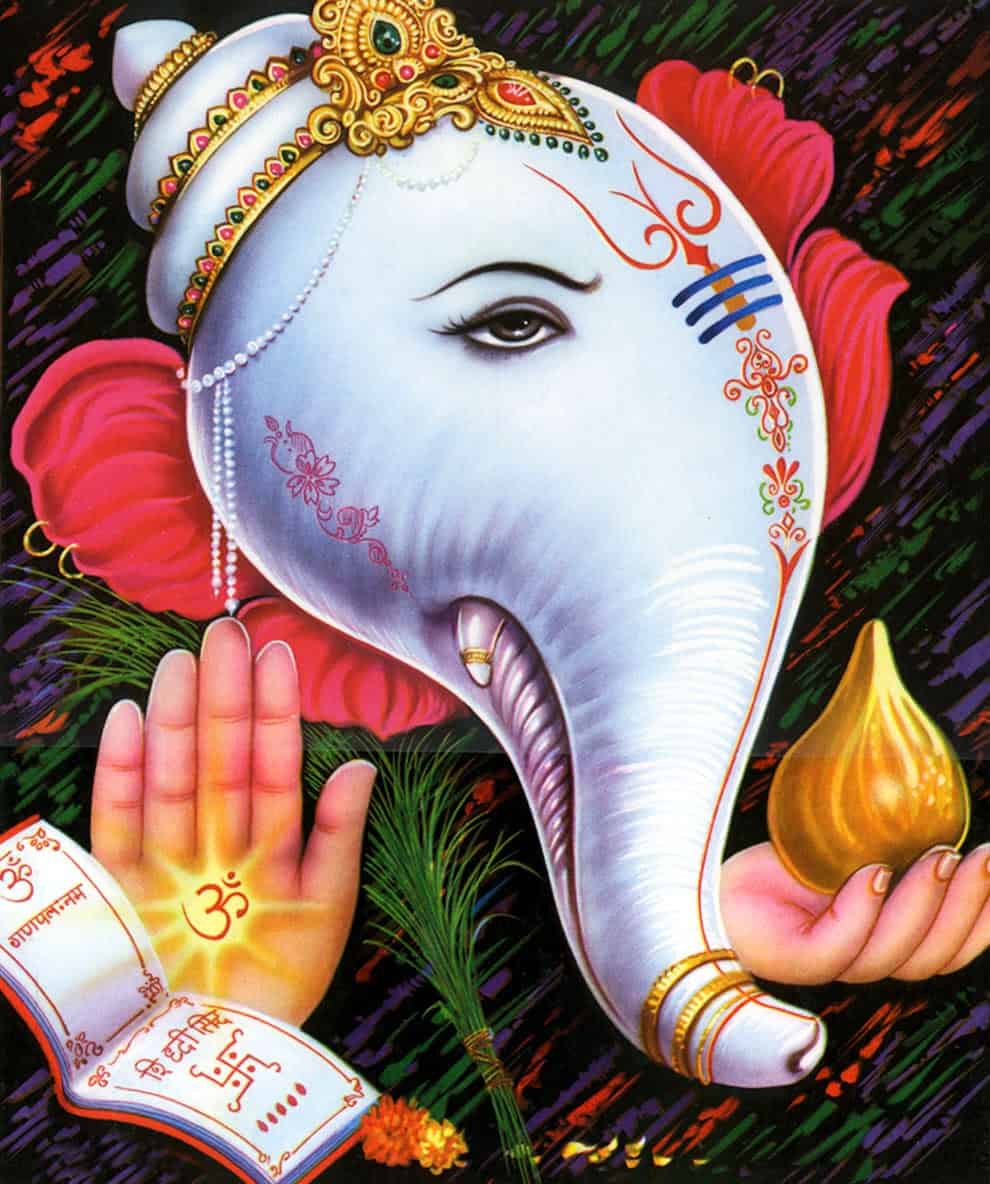 Pin
Wishing all my readers a happy Ganesh Chaturthi. It is one of the top 8 – 10 festivals in India, and it celebrated with much fervour, throughout South India and Western India.
Wikipedia tells me that "Ganesha Chaturthi (Devanagari: गणेश चतुर्थी, Tamil: விநாயகர் சதுர்த்தி Kannada: ಗಣೇಶ ಚತುರ್ಥೀ), also known as Vinayaka Chaturthi is the Hindu festival of Ganesha also called Vinayagar in South India, the son of Shiva and Parvati, who is believed to bestow his presence on earth for all his devotees in the duration of this festival. It is the day Shiva declared his elder son Ganesha as superior to all the gods. Ganesha is widely worshipped as the god of wisdom, prosperity and good fortune and traditionally invoked at the beginning of any new venture or at the start of travel.The festival is observed in the Hindu calendar month of Bhaadrapada, starting on the shukla chaturthi (fourth day of the waxing moon period). The date usually falls between 20 August and 15 September. The festival lasts for 10 days, ending on Anant Chaturdashi (fourteenth day of the waxing moon period). While celebrated all over India, it is most elaborate in western and southern India. Outside India, it is celebrated widely in Nepal and by Hindus in the United States, Canada and Fiji."
While modaks / kozhakattai (steamed dumplings) are quite popular for Naivedyam, equally popular is today's post – Karijikaayi / Karigadubu (deep fried fritters stuffed with jaggery and coconut) – and is a staple of Karnataka cuisine. Mom makes this very well, and also agreed to make it this year for me.We also made Ulundu Kozhakattai (recipes coming soon) along with Khara Kozhukottai.
So, over to mom for her recipe (recorded verbatim here). I was too happy clicking the pics once it was over 🙂 Look out for tips at the end of this post to get it perfect 🙂
Update : Sending this to Healing foods – Coconuts @ Saffronstreaks, event by Siri
Sending this to my own event – Fasting Foods (Vrat ka khaana), Krithi's Serve it Fried, Nayna's South Indian flavours and also Radhika's Diwali Sweets and Savouries (we prepare it again for Diwali also)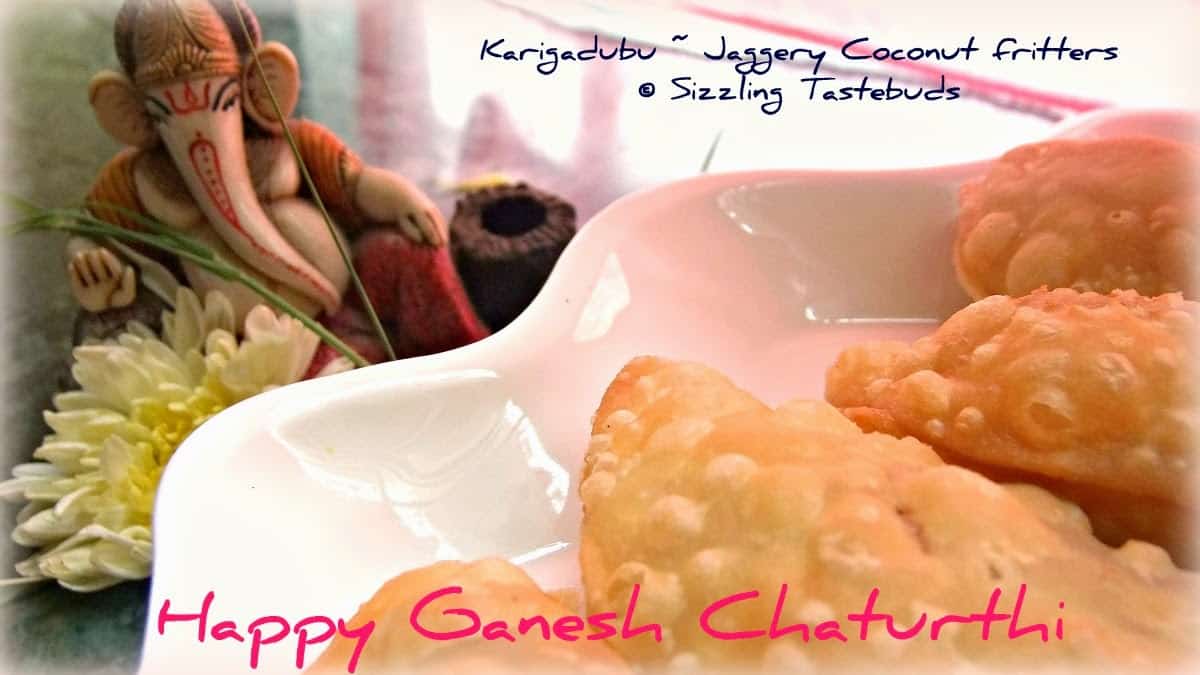 Pin
Prep time : 30 mins. Cooking / Frying time : 40 mins. Makes : 25 nos
Ingredients:
Covering :
Maida / APF – 3 cups

Salt- to taste

Oil – 4 TBSP to mix in + Oil – to fry
Filling:
Freshly grated coconut – 2 cups

Grated jaggery – 1.5 cups

Cardamom powder – 1/2 tsp

Roasted sesame seeds / til – 2 tsp (opt.)
Method:
To prepare the filling:
Mix grated coconut and grated jaggery in a non stick pan without any water. Keep stirring on medium heat non stop till the jaggery melts and mixes thoroughly with the coconut and leaves a glaze on the top. To test the consistency, touch the mixture in the pan with wet fingers and see if the mixture can be rolled into balls. If yes, turn off the stove and add cardamom powder and stir well. Cool and keep the mixture lightly covered with a tissue paper or a banana leaf to keep from drying. Divide into equal 1.5 inch sticks for the stuffing . Rest.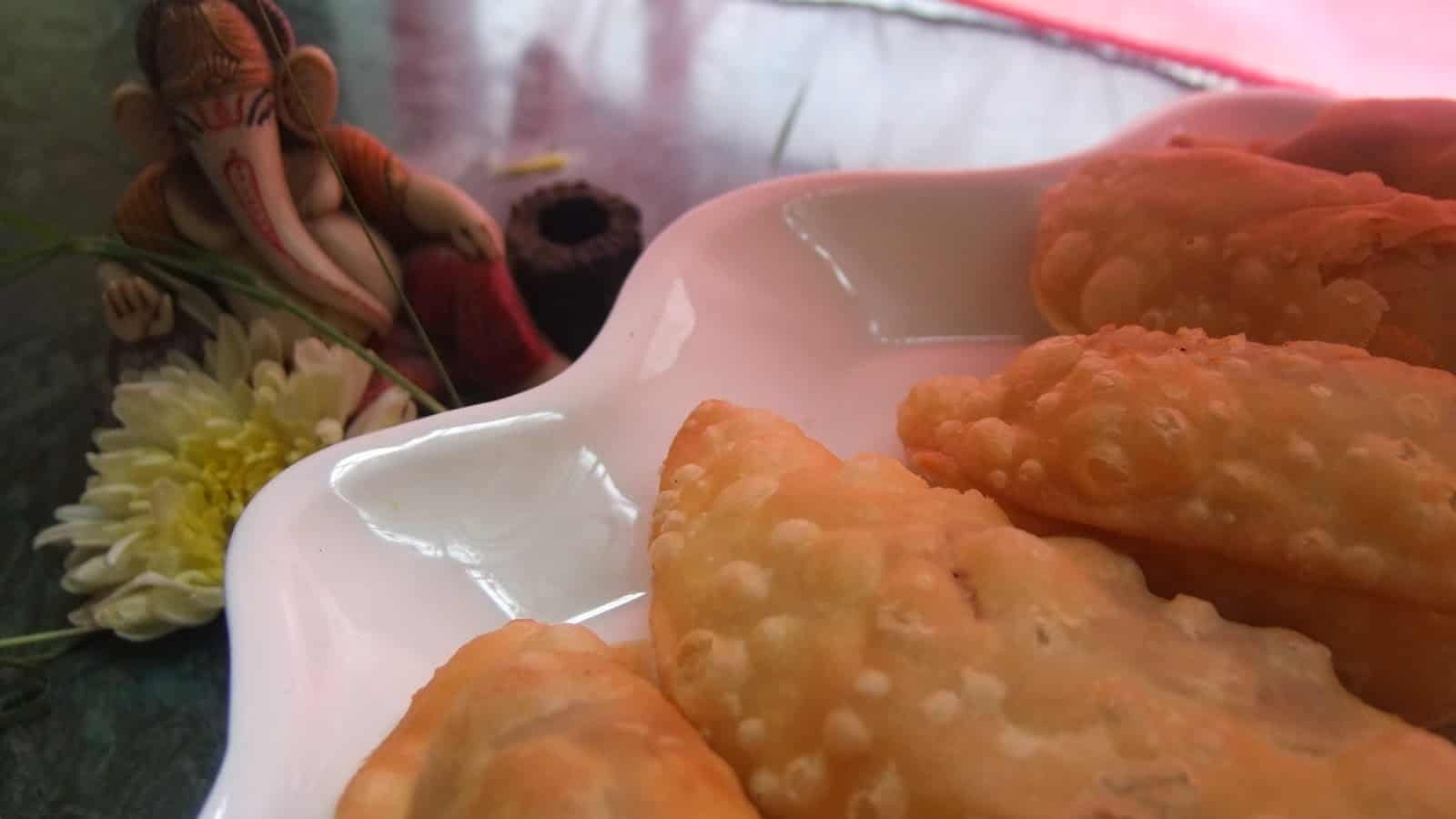 Pin
To prepare the outer covering:
In a large bowl, add maida and salt. Now heat 4 TBSP oil to non smoking level and add to the maida mixture. Incorporate oil to the flour till it resembles bread crumbs. Now add water just enough to form a hard dough. Pinch out equal number of balls.
Now roll out these maida balls into a 3 inch diameter thin circles. Keep the stuffing in the centre and wet half of the inner cirumference with water and seal it with the other half. Take a fork and serrrate the edges of the half moon to give it a little design. Repeat this with other flour balls too.
Heat oil for frying. When it is just about to smoke, turn down the heat to slow / sim, and slide the prepared Karjikaayi / Kadubus – 4 at a time – and splash oil over them immediately (like puris). Now once it is baked on one side, flip over and fry till golden brown on both sides.
Transfer to tissue paper immediately from the kadai and cool.
Crispy karjikaai / karigadubu is ready for naivedyam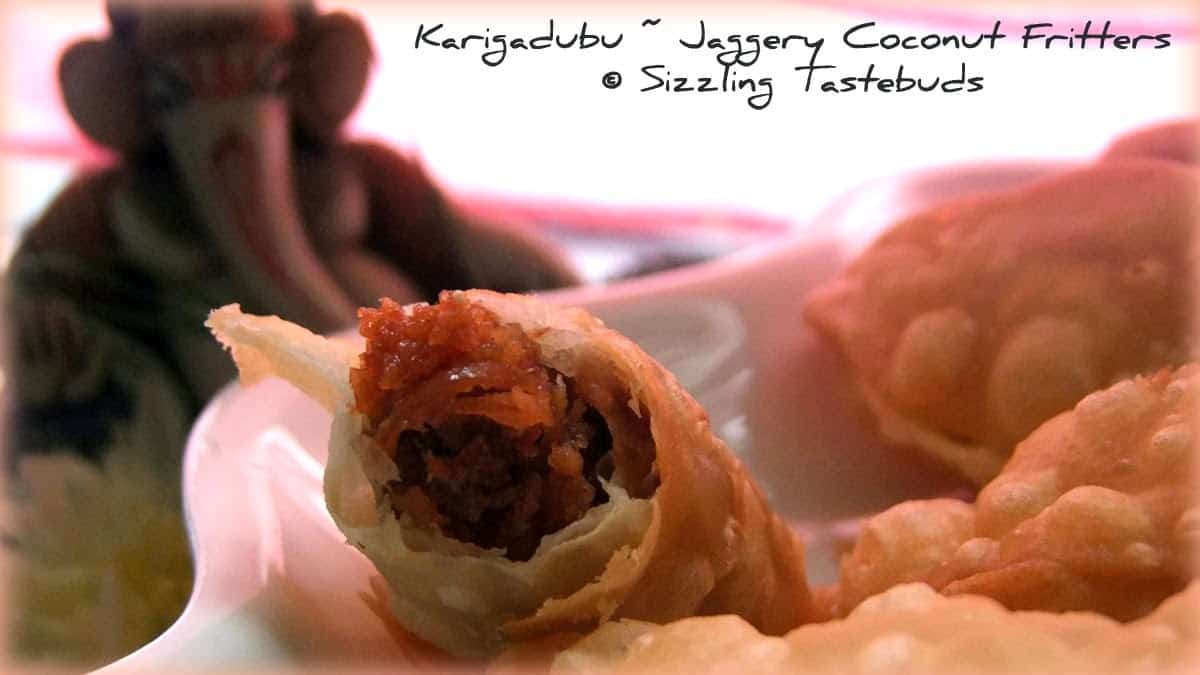 Pin
Tips:
1) Maintain heat on low / sim only. Do not overheat / underheat the oil
2) Keep flipping them from side to side to ensure uniform cooking and also maintain golden brown colour
3) You would know when the frittters are completely cooked evenly when the oil stops making any sound (due to air bubbles) in the kadai and the karjikaayis start sinking
4) do not add water to the filling mixture at all.
5) Optional add in to the filling : 2 TBSP roasted khus khus seeds.