Jowar or Sorghum is one wholegrain that was (read is) extensively used in Rural India, although Wikipedia tells us it was a native of Africa. Jowar Rotis is very popular in parts of Karnataka, Andhra and even Maharashtra. Due to the knowledge explosion over the past decade, and also the emergence of new eating cultures, urban India also has taken to this grain.  Sorghum starch does not contain gluten. This makes sorghum a possible grain for those who are gluten sensitive. 
For today's dish,I have added Radish to make it rich in Zinc and Amino Acids. This is highly recommended for young growing kids and also lactating women too. As I had some shelled field beans (Avarekaalu), I added them for a zing, and we all liked it very much. Serve it with Tomato Pachadi or just curd and pickle for a healthy breakfast / brunch option.
Notes:
1) The method I have followed here is quite similar to making Akki Rotti (Rice flour flatbread) or Ragi Rotti (finger millet flatbread). 
2) Also, as Jowar is low on gluten, it may be difficult to roll this out with a rolling pan , so patting it to a flatbread with the fingers on a greased surface is the best method. 
3) So,make the rotis small so its easy to handle and also prevents breaking and ensure to cook on a low flame.
Sending this to BM # 14 under wholegrains theme. If you have missed this week's posts, here is a quick recap. 
Check my fellow marathoners here.
Prep time – 15 mins
Cook time – 20 mins
Makes – 6 Rotis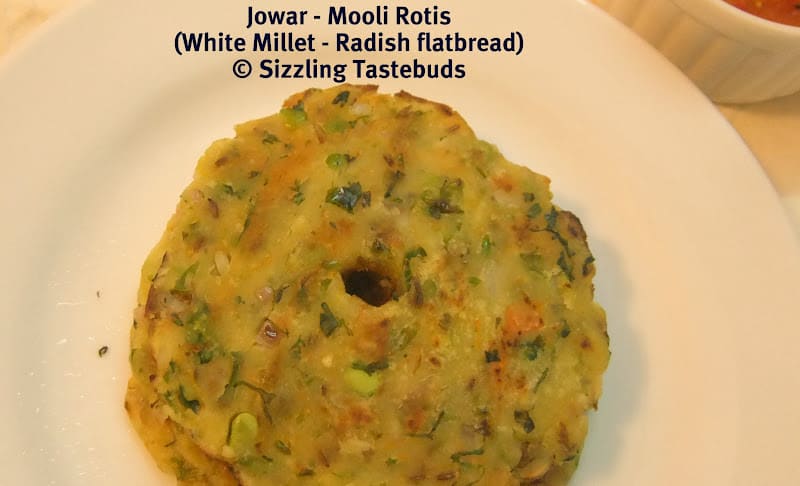 Pin

Ingredients: 
Jowar / White Millet flour – 1 cup
Grated radish – 1/2 cup
Boiled and drained field beans – a handful (optional)
Cumin – 1/2 tsp
Onions – finely minced – 3 TBSP
Turmeric – a dash
Red Chilli powder – 1/2 TBSP
Green Chillies – 2 – finely minced
Coriander leaves – a handful – chopped
Salt – to taste
Oil – to cook
Method:
1)  Combine all ingredients (except oil) and knead to a soft dough using adequate hot water. Rest for 5 mins with a covered kitchen towel to prevent drying.
2) Divide the dough into 6 equal portions.
3) Grease 2 plastic zip lock covers (or any foil). Take a portion of the dough and flatten to a thickish bread(roti) consistency using the tips of your fingers.
4) Meanwhile heat a tava (skillet) to medium heat and cook on both sides till brown spots appear on the surface. Repeat with the rest of the dough. 
5) Serve hot with curds (yoghurt) or lemon pickle