Birthdays are so special and if its the 200th, makes for a great celebration right ? At the @FoodieMondayBloghop, we are doing just that – celebrating 200 weeks of non stop blogging every Monday with a theme that's suggested by each of the participating members by their turn.
I have been part of a lot of other online groups too, but this group is moderated very well – its a well documented democratic process right from choosing the theme to commenting in place (and mostly meaningful commenting) and a lot of learning offline on newer trends on social media / blogging etc.
This week the theme is unique – we are paired with another blogger in a round-robin kind of theme. So, that way blogger A chooses a recipe from the paired blogger B, and blogger B from blogger C and so on and the final blogger (alphabetically listed) cooks from blogger A.
I am paired with Mayuri – one of the members who continues to blog even while on vacation (and that's a huge inspiration for most of us).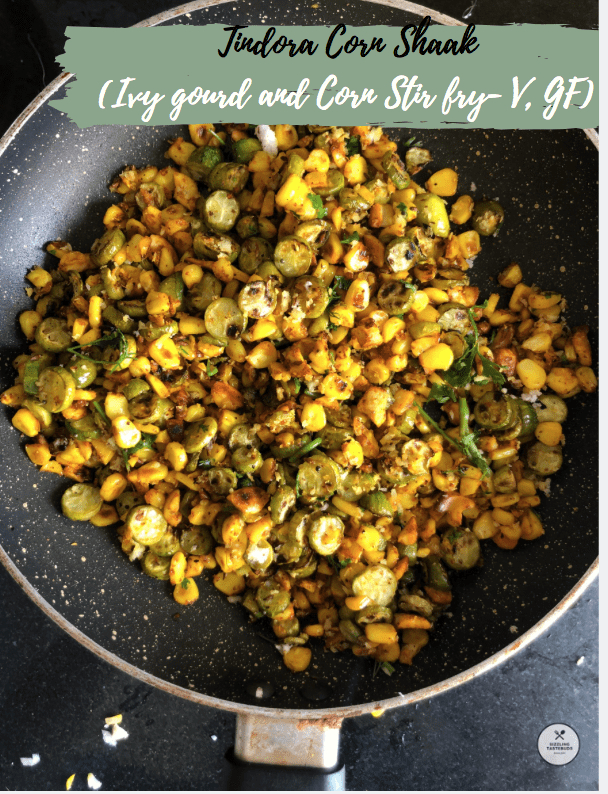 Pin

Mayuri's blog – Mayuri's Jikoni– is a versatile spread of Indian and International spreads – from bakes to Gujarati khana to Kenyan cuisine (where she's based out of). Her detailed blogposts relating the day-to-day stuff along with her committed, meaningful commenting is something I truly admire 🙂

With some personal work taking me in and out of town for the past 2 weeks, I had some trouble figuring out what I could cook with the ingredients on hand. Fortunately, I could decide on this Tindora-Corn Sabji that was a welcome change to our weekend meal. I served up an entire quick Gujarati Thali with this shaak (sabji / dry saute) which comprised. Other Tindora based snack that we love at home is this baked Ivy Gourd / Baked Tendli Chips

Gujarati Farali Kadhi

Moong Dal Khichdi

Sev Tameta nu Shaak

Tindora-Corn nu Shaak (I hope I got the grammar right)

Raw Mango Pickle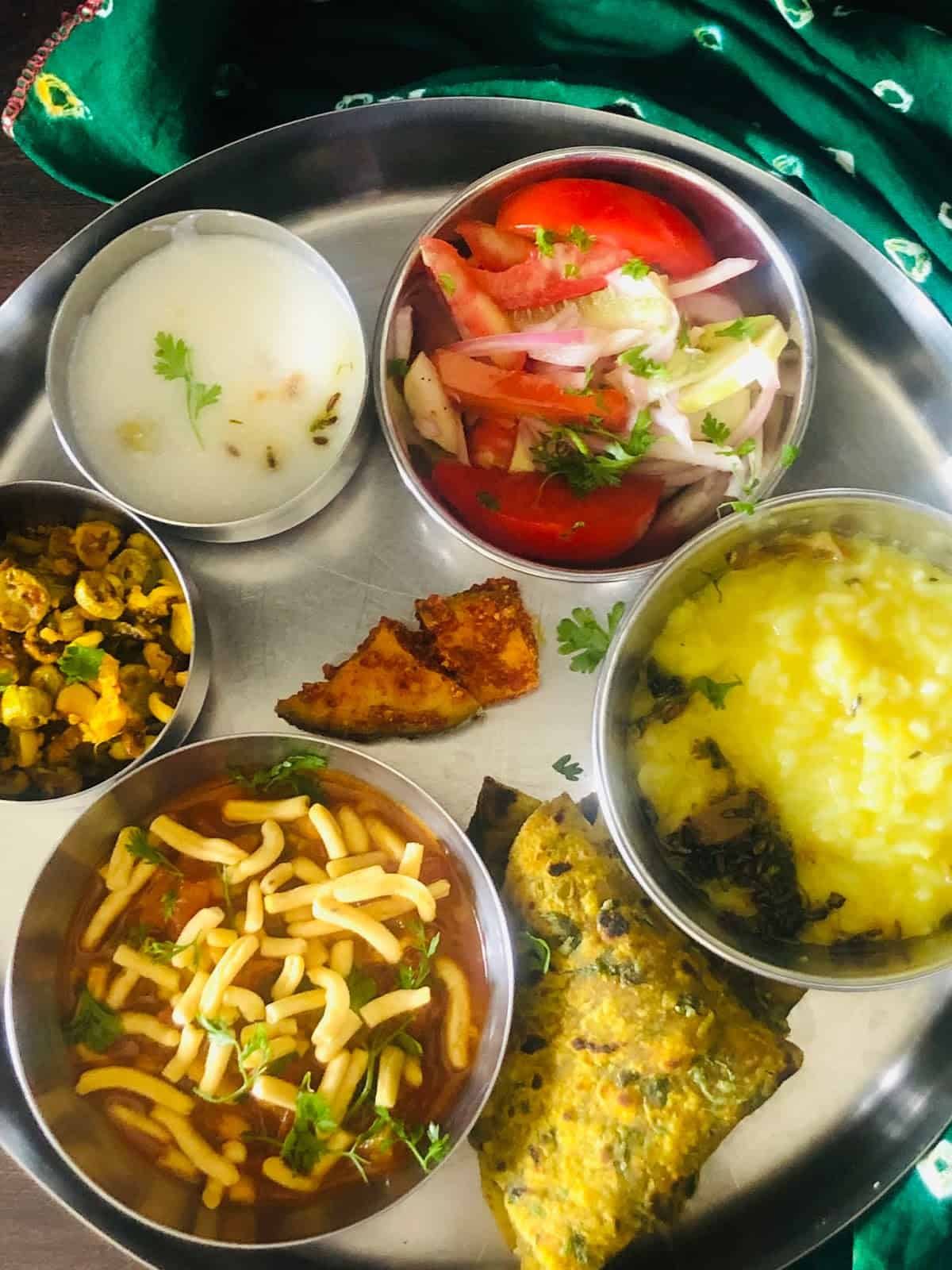 Pin
Let's get to Mayuri's recipe that was made with a few changes to make a delicious satvik , Jain style, GF, Vegan side dish Tindora and Corn Shaakthat goes great with Dal-Rice or even Thepla / Rotla/ Roti.
Prep time – 15 mins, Cook time – 15 mins, serves – 2~3
Ingredients: 
Tindora / Ivy gourd / Tendli / Kovakkai – 200 grams
Sweet corn – boiled – 1/2 cup
Tempering : Cumin seeds 1/2 tsp, mustard 1 tsp, chopped green chilli 1/2 tsp
Cashewnuts – 2 tsp (chopped coarse)
Oil – 3 tsp (mixed use)
spices – turmeric , red chilli powder, Dhanu-Jiru – to taste
Fresh Grated coconut – 1/2 TBSP
Salt , sugar – to taste
Lemon juice – 1 tsp
Chopped coriander – for garnish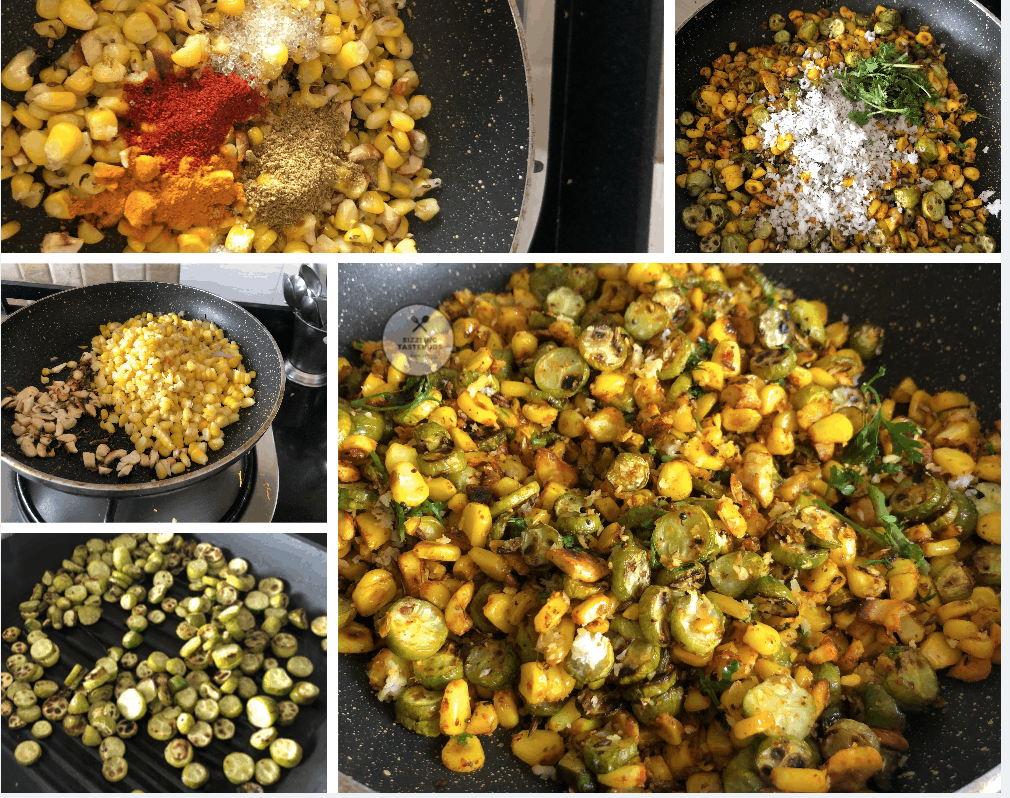 Pin
How to:
Trim the tindora and chop into roundels (not too thick or thin). In a grill pan, brush 2 tsp of oil liberally, place the chopped tindora on this medium- hot pan and sprinkle salt . Saute without disturbing them , tossing from time to time till they turn crisp (the original recipe from Mayuri had deep fried the tindora so you could do that too if preferred). Remove to a plate once slightly crispy.
In another kadai / pan, add the remaining oil. Add the cumin and other ingredients for tempering. Then add the corn, cashwenuts – saute for a minute more.
Now add the other dry spices and toss, add coconut, sautéed ivy gourd and salt.
Adjust salt and spices. Turn off flame. Finish with lemon juice and chopped coriander leaves.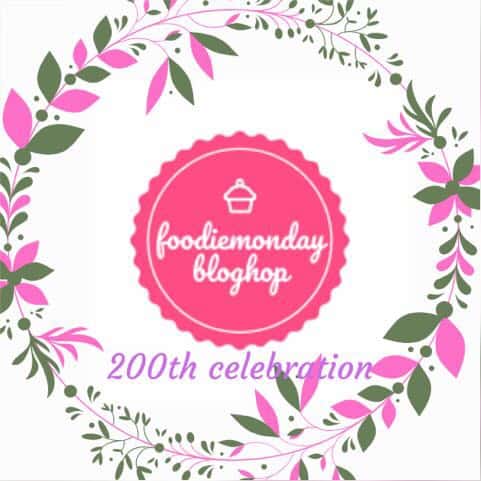 Pin