Another edition of Blog Hop Wednesdays is upon us. This week, I am paired with Archana. Her menu card offered me quite a choice , and I selected Bread Pizza. As always, I was keen to give this a slight twist – so used store bought base but gave this a totally Indian Twist using cumin powder and such Indian Masalas, along with the usual suspects like Oregano and Basil. And the result – Herby Cheese Pizza –  was a super hit!  The only thing which I would have preferred for this post is pix with natural light, but had to be contended with the ones taken indoors as the overcast sky offered very little hope for clear snaps ! Without much ado, lets get on to the recipe. You may make this for kids party or dinner. Am sure it would be a hit with kids and adults alike 🙂 Surely enough, you can also play around with the toppings with veg / non veg options. I loved this recipe especially as I used homemade pizza sauce as the base (reipe below) and the taste was heavenly.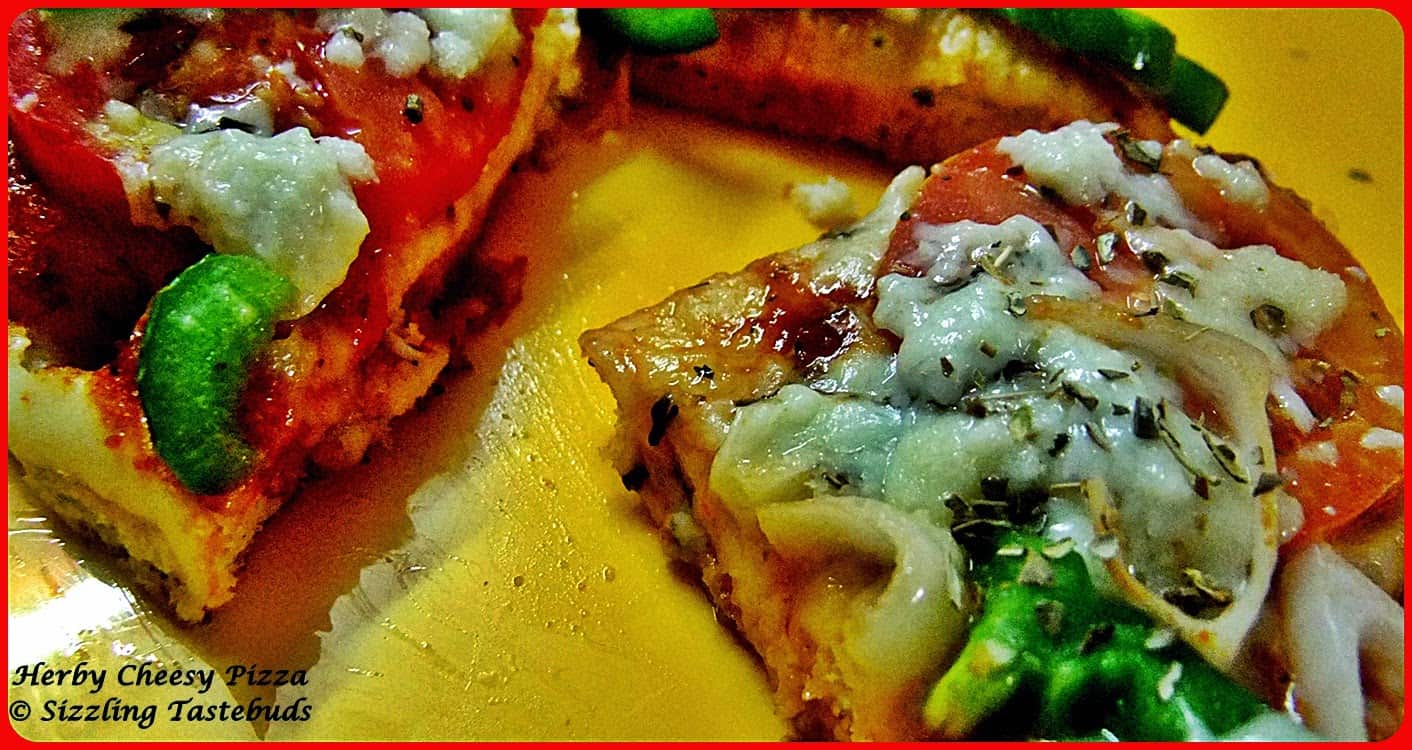 Pin

Before we move on, a quick recap of the last 5 weeks of Bloghop where I dished out:

Sugarfree Date n Almond Muffins, Baked Samosa, Dal Vada (Paruppu Vadai) – step by step recipe, Sugarfree Ginger Mocktail, Bharwa Bhindi Jain Style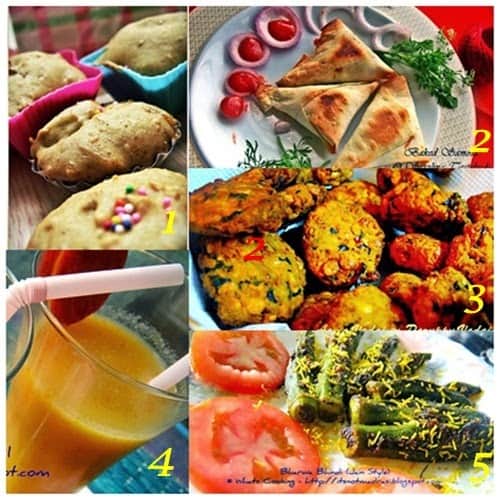 Pin

Today's dish goes to Blog hop wednesdays as well as Susan's BWW and my own event – Global Food festival (100 days of global food), and Fastfood not fat Food by Archana, event my Priya

Prep time : 20 mins. Baking time : 16 mins. Makes : 2 medium sized pizzas

Ingredients:
Pizza base ( I used store bought) – 2 nos
Oil – 1 TBSP or butter
Salt – to taste
Pizza Sauce:
Tomato puree – 1 cup
Peeled garlic – 1 small pod
Onions – 1 no (grated)
Red chilli – 1 no (soaked in water)
Salt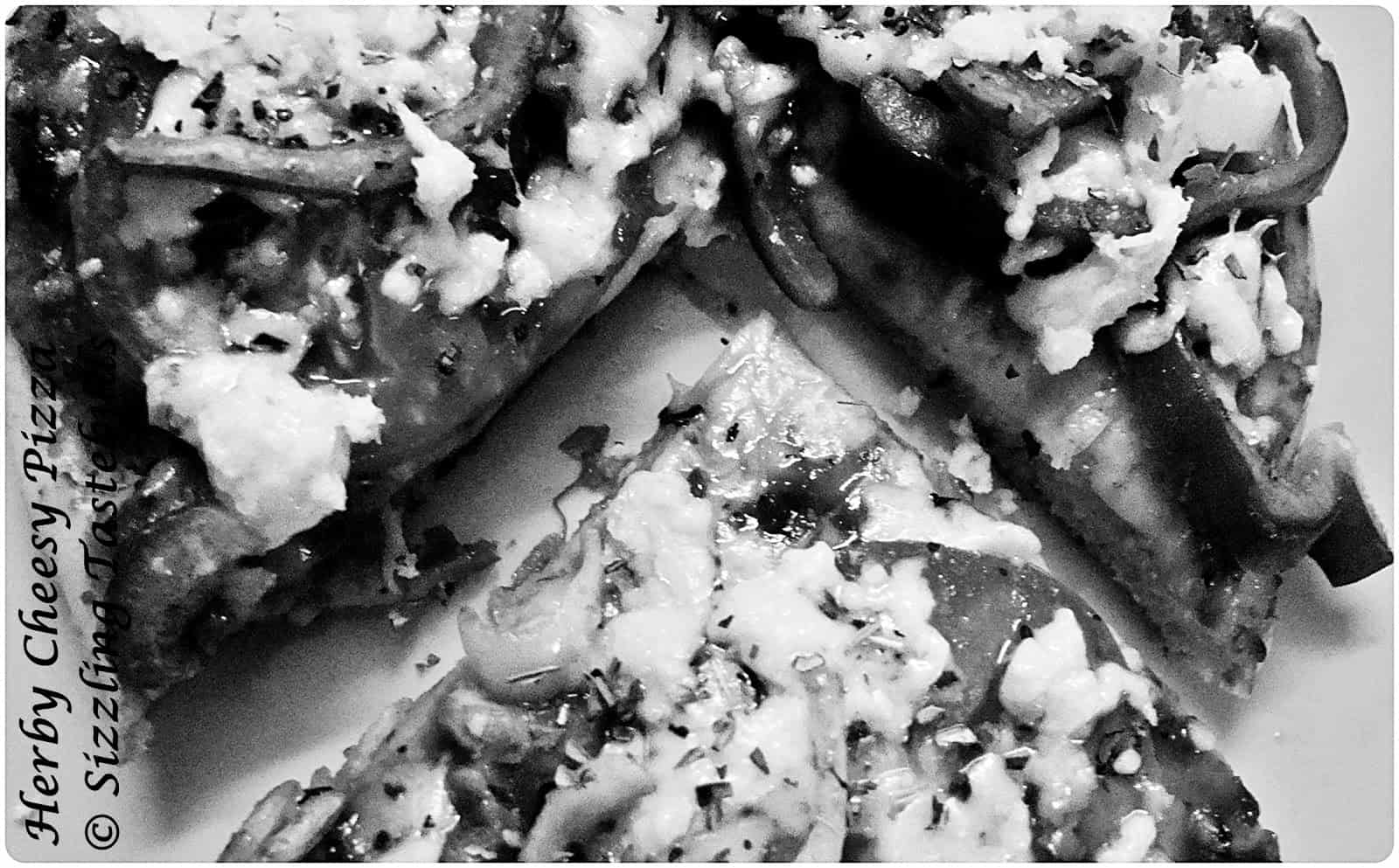 Pin
Topping:
Onion rings – 5 to 6
Capsicum / bell pepper – 1 no (cut into roundels)
Tomato – thick slices – 8 to10 nos
Pineapple chunks – few 
Grated processed cheese – 1 cup
Spice powder mix:
Oregano + Basil – 1 tsp
Garam Masala – 1 tsp
Jeera / cumin powder – 1/2 tsp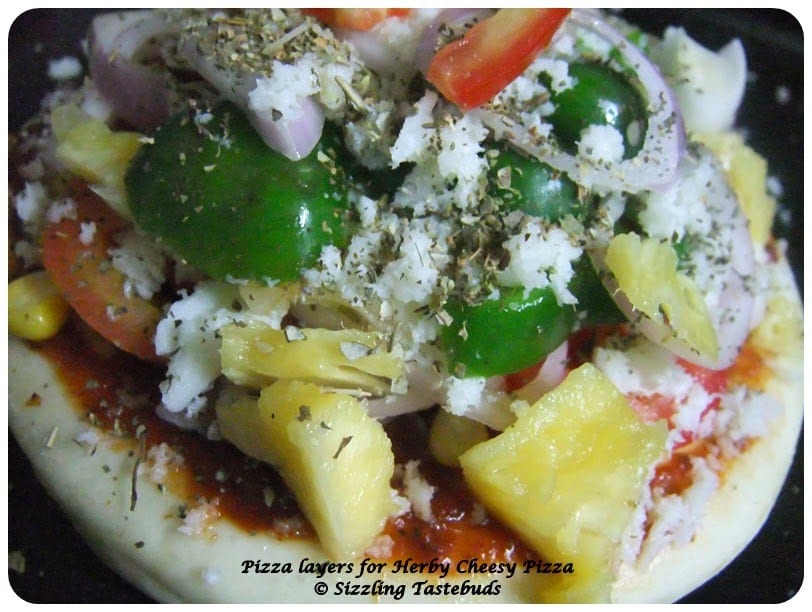 Pin
Method:
1) Grind the ingredients of the pizza sauce into a fine puree. Heat 1 tsp of oil and lightly saute this for about 2 – 4 mins till the raw smell disappears. Keep aside.
2) Preheat oven to 180 Deg C and grease the baking tray with cooking spray
3) Take a pizza base. lightly grease with olive oil. Apply 1 TBSP of the pizza sauce. Arrange the toppings. Sprinkle the spice powder mix. Top again with processed cheese. Bake @ 180 deg C for 12 – 14 mins, and then set to grill for 2 mins more till you see the cheese melting.
4) Repeat with the other pizza base. Serve with tomato ketchup 😉
Yummylicious homemade veg cheesy pizza is ready to be devoured 🙂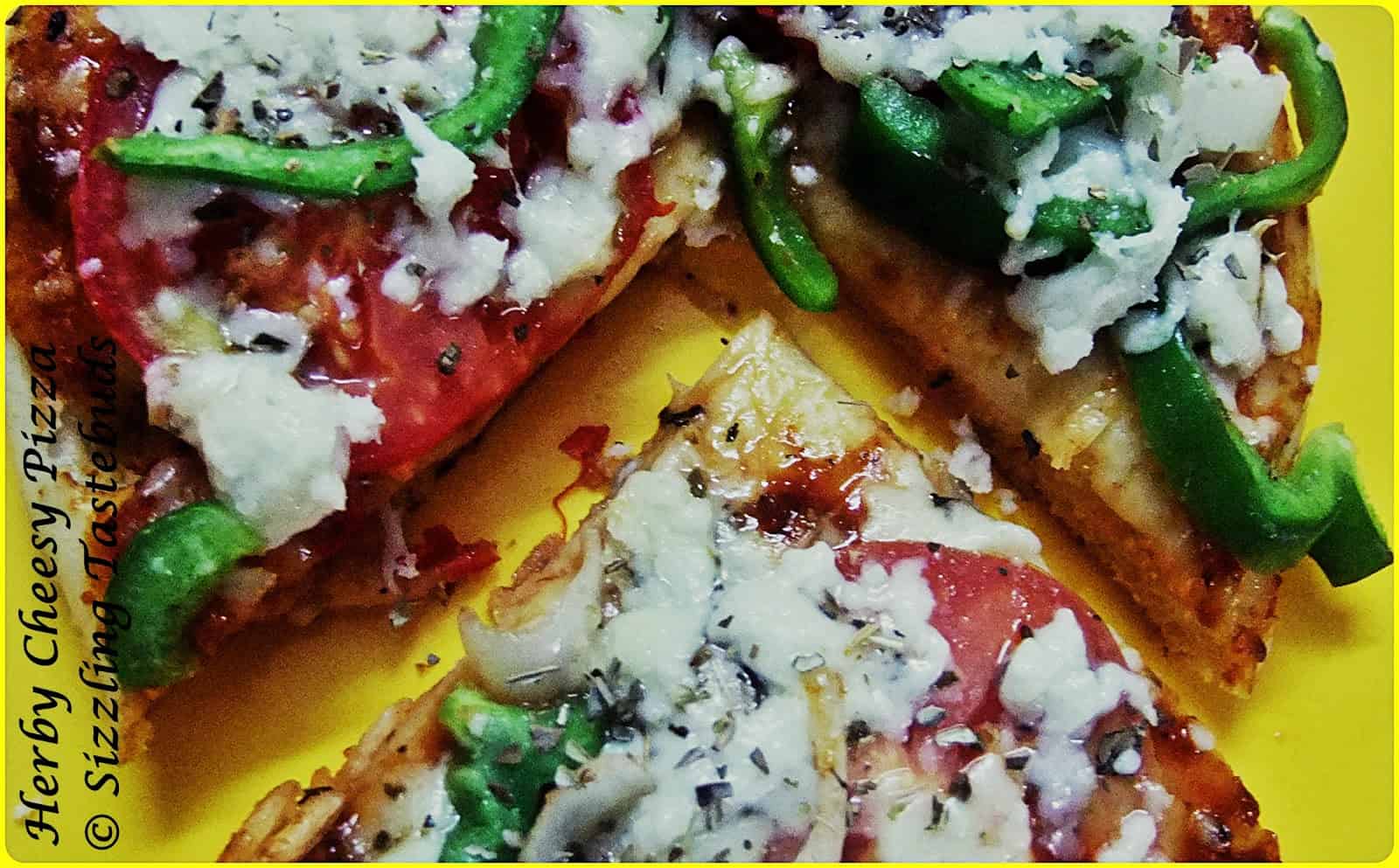 Pin