First of all, welcome to another Mega Marathon. We bloggers, part of Blogging Marathon (BM) run these mega 30 day marathons every April and September. 
The last few Mega BMs were very exciting:
Last April 2016, I blogged about 26 unique Tamil Cuisine dishes. and in Sep it was Cooking Carnival . In 2015, it  was International Cuisines at BM Buffet (Sep 2015) & a  very exciting Baking Marathon(April 2015). 
2014 saw us with Around the World in 30 days (Sep 2014) and then we presented Indian States (April 2014). 
So this has been a very exciting journey for us.
This year, the central theme is Proteins. While the posts (with / without any sub themes) begin tomorrow, a small post here on importance and types of proteins. 
PS: This info is a collection of what's already available on the internet. I collated this as I was doing my research for this theme and put this together as a reference point. 
As a vegetarian and a wannabe vegan, all my posts on this mega marathon will be around plant based proteins and also include few commonly used dairy products like curd, panner and buttermilk. Vegan substitutes are mentioned wherever possible.
Hope you enjoy this journey with us.
Some benefits of eating the right kind of proteins:
Build Muscle mass – which in turn helps burn fat
Stabilize blood sugar levels
Help manage weight without bulking up
Manage mood swings (especially those on menarche & menopause)
Strengthen the bones
Help build essential amino acids – and therefore take care of cell repair
Slow ageing and improve agility
Fill us up and help cut down on binge eating
Some plant sources of proteins(most known, some were real rare finds during this research!)
Lentils & Legumes incl peanuts and beans
Almonds and most nuts
Cauliflower (yes!!) & Broccoli
Quinoa
Hemp, Edamame, Chia & pumpkin Seeds
Tofu
Oats
Potatoes
Corn
Avocado
Spinach (yes!)
Wild rice (yes!)
Soy
Amaranth (yes –  our humble Rajgira)
Tahini
Nutritional yeast
Peanut butter (yum!!!)
Asparagus
Some animal / dairy sources would be:
Paneer
Milk / Curd / Yoghurt
Chicken
Fish
Seafood
Eggs
and many more..
For those who are keen to read more on this topic and decide which protein is better, and how much protein you need, and why, head to this very informative link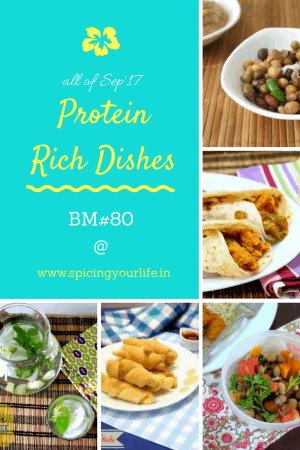 Pin