As we enter the third week at JTTC (Journey Through the Cuisines) – another Mega BM this April, I had made several choices for Alphabet I : Idiyappam, Inji Poondu Kozhambu and Idli Upma. Somehow went with the comfort zone of Inji Thogayal. Although I make it almost weekly, I noticed I hadnt blogged about this version at all,although i have my MIL's version.
Like most Tamil household dishes, this too takes me back to my paati (maternal grandma) who would make this along with Jeera Milagu Rasam. And served with hot rice and ghee / sesame oil, you really didnt need any other accompaniment. My elder one and husband also love this Chutney so I make it in a rather large batch and we eat it over several days. My husband loves this with lots of tempering (tadka) so I made this especially for him over a weekend, and it got polished off. 
Apart from the consistency (runny vs not-so-runny at all), the primary difference between chutney and thuvayal is the use of tamarind and fried lentils in the latter along with the fact that it is used to mix it with rice, Whereas chutney is primarily used with Idli / Dosa / Pongal etc.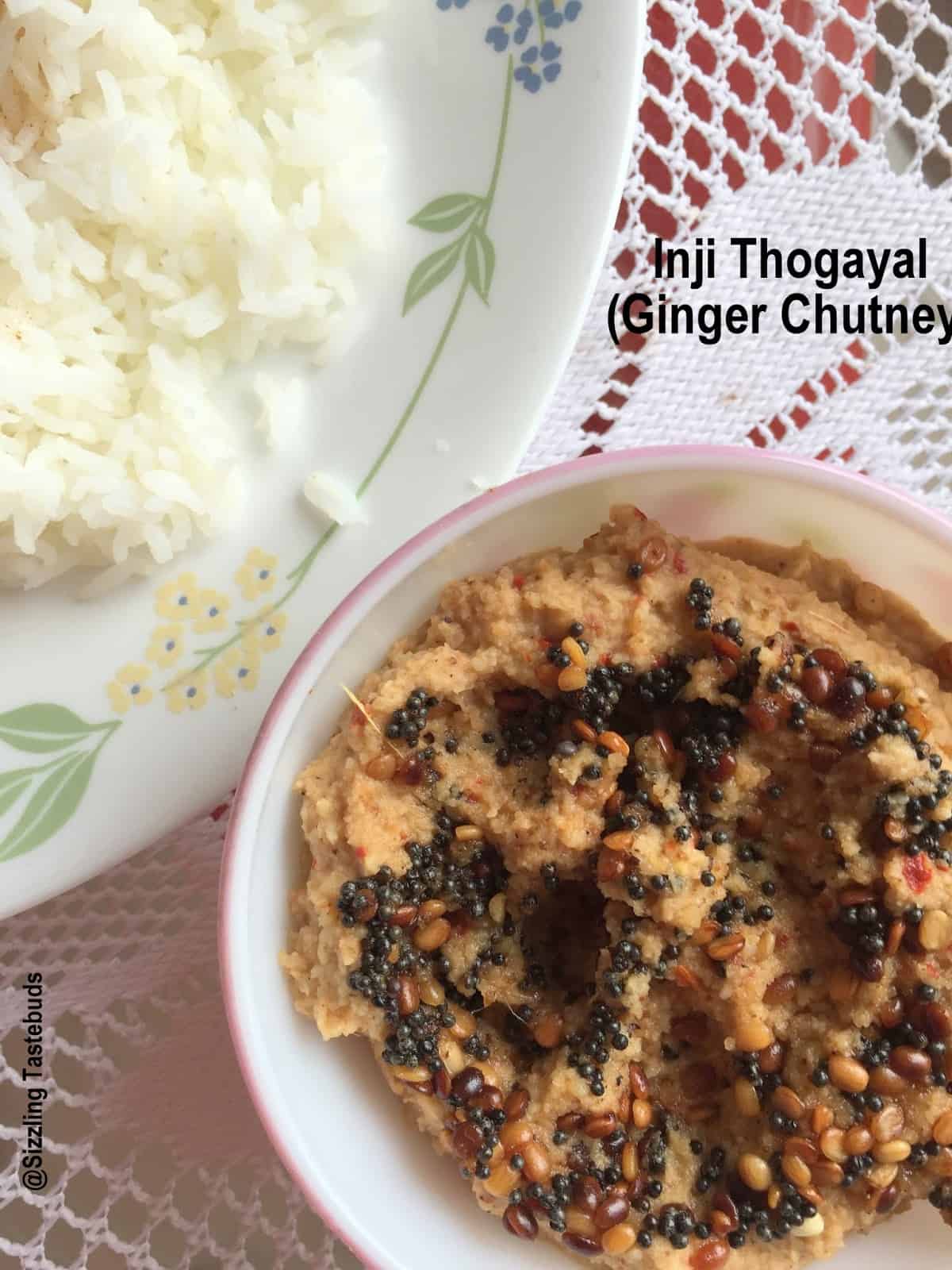 Pin

Thuvayal / Thogayal is therefore an important condiment in the everyday tamil menu that it provides a balanced dish as well cleanses the palate for the next course. 

Again, many households make this thuvayal without coconut, but I add in a batch of coconut to counter the fiery spice from the ginger. and some households use green chillies in both thuvayal and chutneys, but I always prefer Red chillies. For all Thogayals, grind the ingredients first without water into a dry coarse powder, and only then add enough water just to moisten it lightly. 

Do make this and let me know how you liked it. Similar Thuvayals can be made with Ridgegourd (peerkangai), Karivepalai (Curry leaves), Chow chow (chayote Squash), Pudina, Thengai (just coconut+spices), Paruppu (Lentils only) . All of these go very well with Rasam Rice / Plain steamed rice / Curd rice, and keeps well for 2-3 days under refrigeration.

JTTC, Day 9 : Inji Thogayal / Thuvayal

Course : Sides / Condiments / Accompaniment

Spice : Medium to High

Prep time : 15 mins, Cook time : 10 mins : Serves : 4 

Ingredients:
Inji / ginger – 50 gms
Urad dal / Split black gram – 4 TBSP
Dry Red chillies – 4 to 6 nos
Fresh Grated coconut – 1/2 cup
Salt – to taste
Tamarind – 1 medium lime sized
Jaggery – 1 TBSP
Hing / Asafoetida – 1/8 tsp
Oil – 1 tsp
Tempering :
Oil (1/2 tsp), Curry leaves (opt.), Urad dal / split black gram – 1 tsp
Asafoetida /Hing – a pinch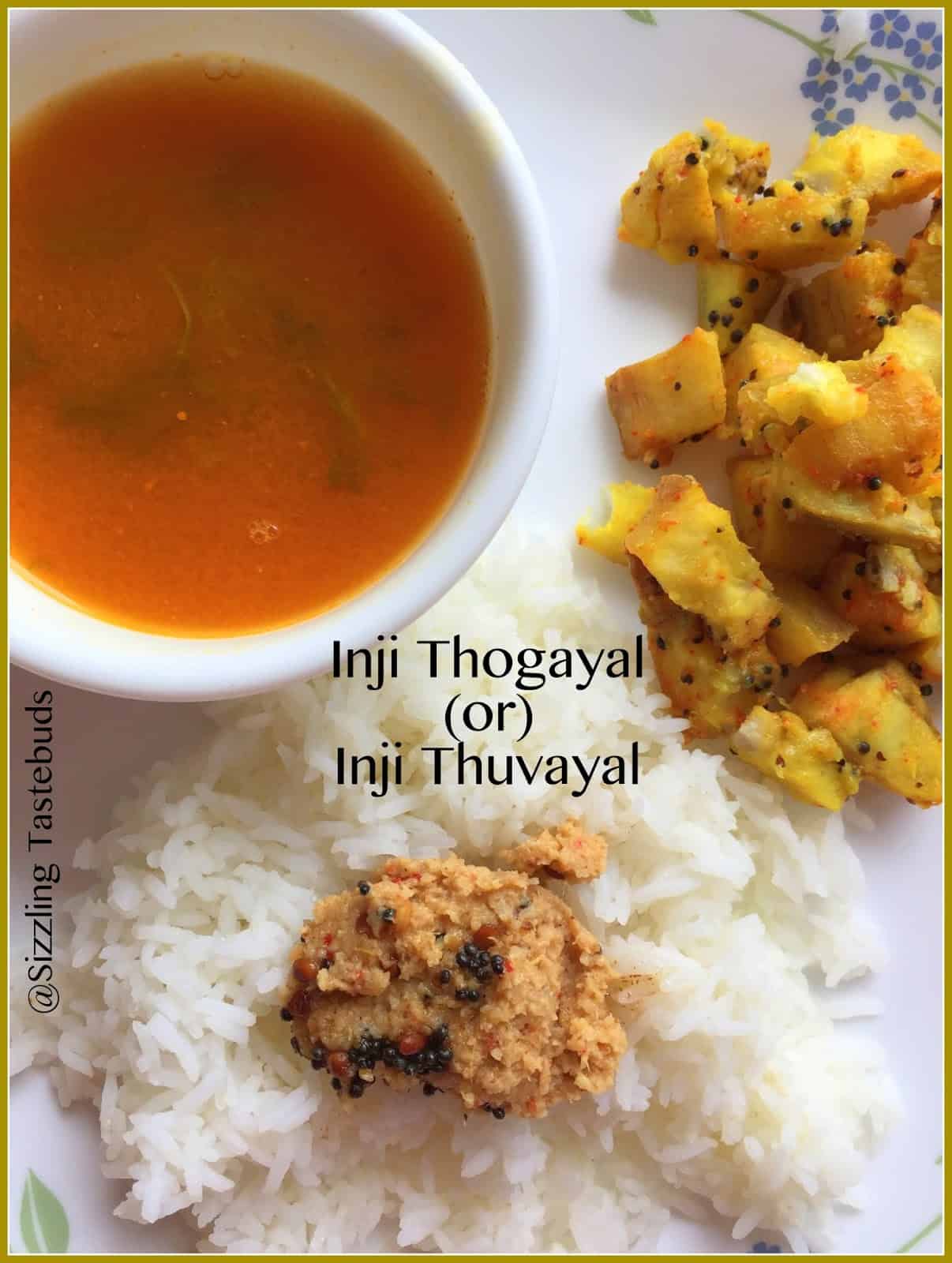 Pin
Method:
In a deep bottomed pan, heat oil. Fry all ingredients except salt and jaggery under "ingredients" list one by one. Let the lentils brown and the ginger sauté well. Cool and grind with little water to a thickish paste. We don't need it runny like a chutney. 
Add salt and jaggery and mix well.
Now prepare the tempering with the ingredients above, and add to the thogayal.
Serve immediately with hot rice and ghee / sesame oil.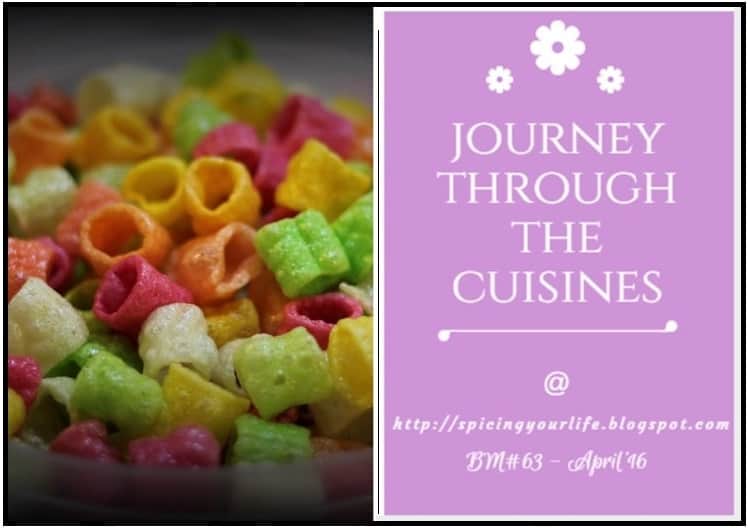 Pin
Check out the Blogging Marathon page for the other Blogging Marathoners doing BM# 63