This week, via Blogging Marathon # 49, we take you through
colourful kids dishes. They say we eat with our eyes, and this is more than
true for kids – even the most boring vegetable / fruit can be fed to kids if
they are packaged well. First in this series are these cute Hung Curd
Canapes – a great pick-me-ups for parties and potlucks. The fillings can be
endless, but as am a real fan of hung curd for parties, made these for a quick
get together we had last week. What's more – this is a Zero – Cook dishes,
which would be great to have for a busy weekend party, right ?
Linking it toVarada's Kids Delight – Colourful Dishes event, who's hosting it this month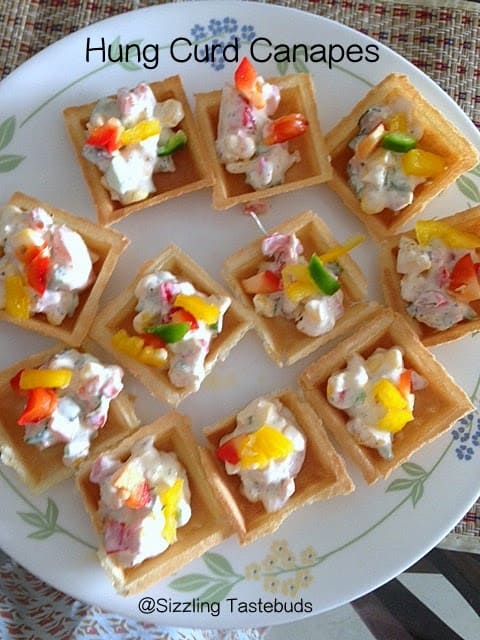 PinPin




Prep time : 15 mins |Makes: 15 canapes

Ingredients:
Hung curd – 1 cup
Sour cream / fresh cream – 2 TBSP
Salt – to taste
Tomato ketchup – 1 TBSP
Bell peppers – cut into tiny bits
sweet american corn – boiled- a handful
Red chilli powder / sweet chilli sauce
To serve :
Homemade / store bought canapes – 15
Method:
Mix all ingredients except salt. refrigerate. Just before serving,
add a spoonful of the filling into each canape and serve immediately
Other ideas:
For filling : Sprouted legumes / boiled potato / baked beans
For Toppings : red chutney/ Green chutney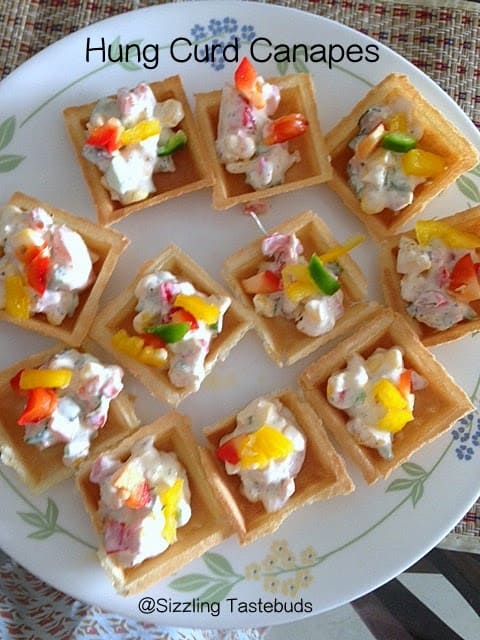 PinPin