'ahlaan bik ('Welcome' in Arabic)
Emirati Cuisine is packed with nuts and spices that have been traded (over the years – remember the spice route?) , lamb, chicken and the most delicious spread of luscious milk based sweets.
I would love to visit the region at leisure and soak myself in the souks (local markets), and specially the spices souk that my friends living in that region have talked so much about. Leaving some pictures from our last trip to Dubai in this post too 🙂
Emirati cuisine for me was first introduced via the delicious Mejdool dates and nuts that the husband used to lug back from his trips overseas. Gradually, I started using dates puree as a sugar replacer in bakes like the Eggless Date Cardamon Squares (which, take my word for it – is a very classy dessert) or even this Vegan Millet X Mas cake (a must try!!) and these energy barsand along with the nut, went into No cook Mixed Nuts barfi, Sugarfree Oats and Nuts laddus etc.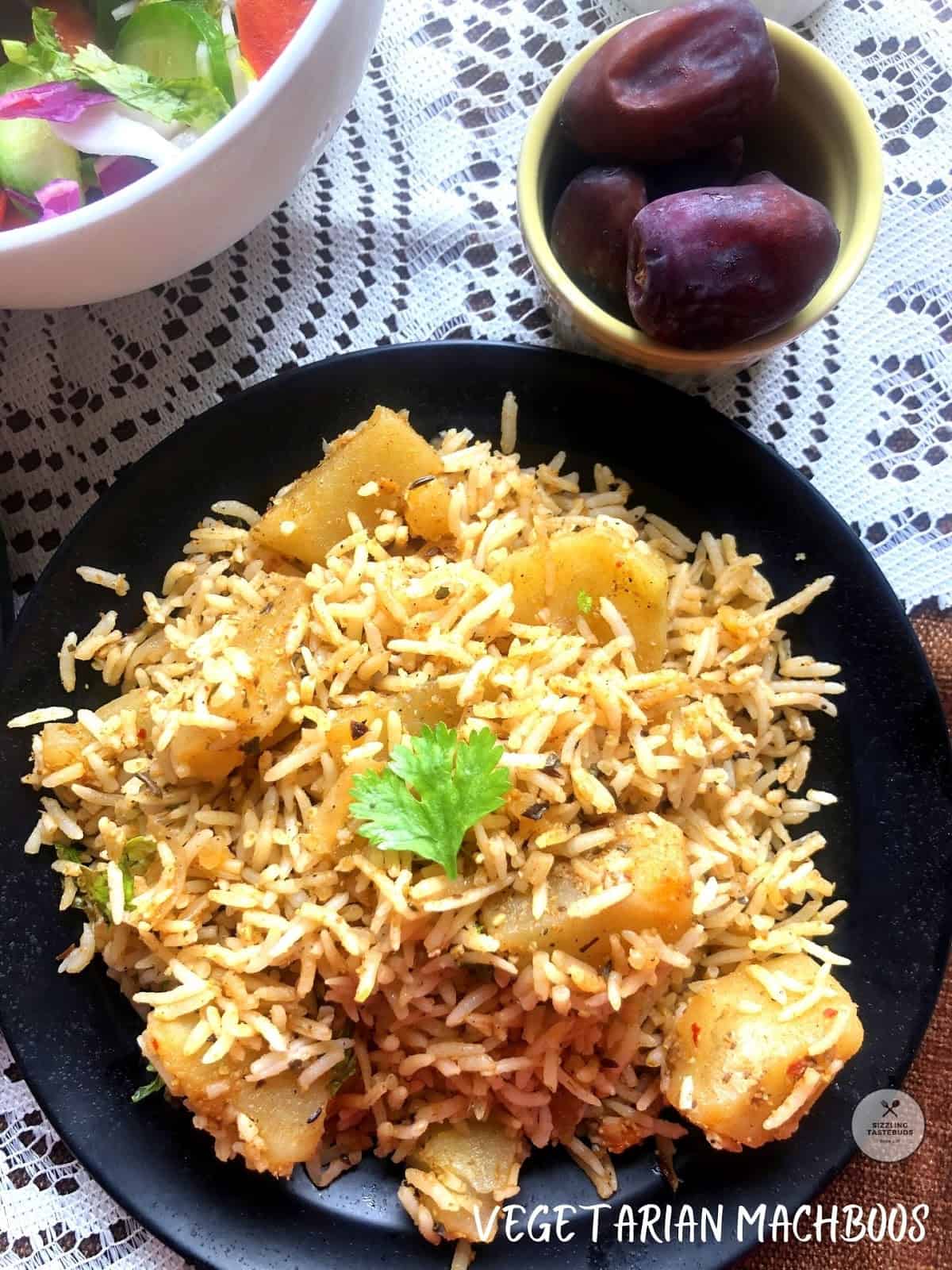 Expanding our horizon outside the UAE borders into the neighbouring states, we have:
Qatari Kahwa – a delectable no milk tea sweetened with dates (khareek)
Umm Ali – a delicious, rich dessert that has a bittersweet story behind it
Muhammara – another Middle Eastern Dip
Baba Ghanoush – a lovely dip for crackers and pita
Different varieties of Hummus
Laffa – a flatbread not unsimilar to our Chapati
And of course Baked Falafels that pair so well with the Hummus and tastes great in a Shawarma or a Baked Pita
Well, I made an entire Emirati (inspired) meal. We have on the platter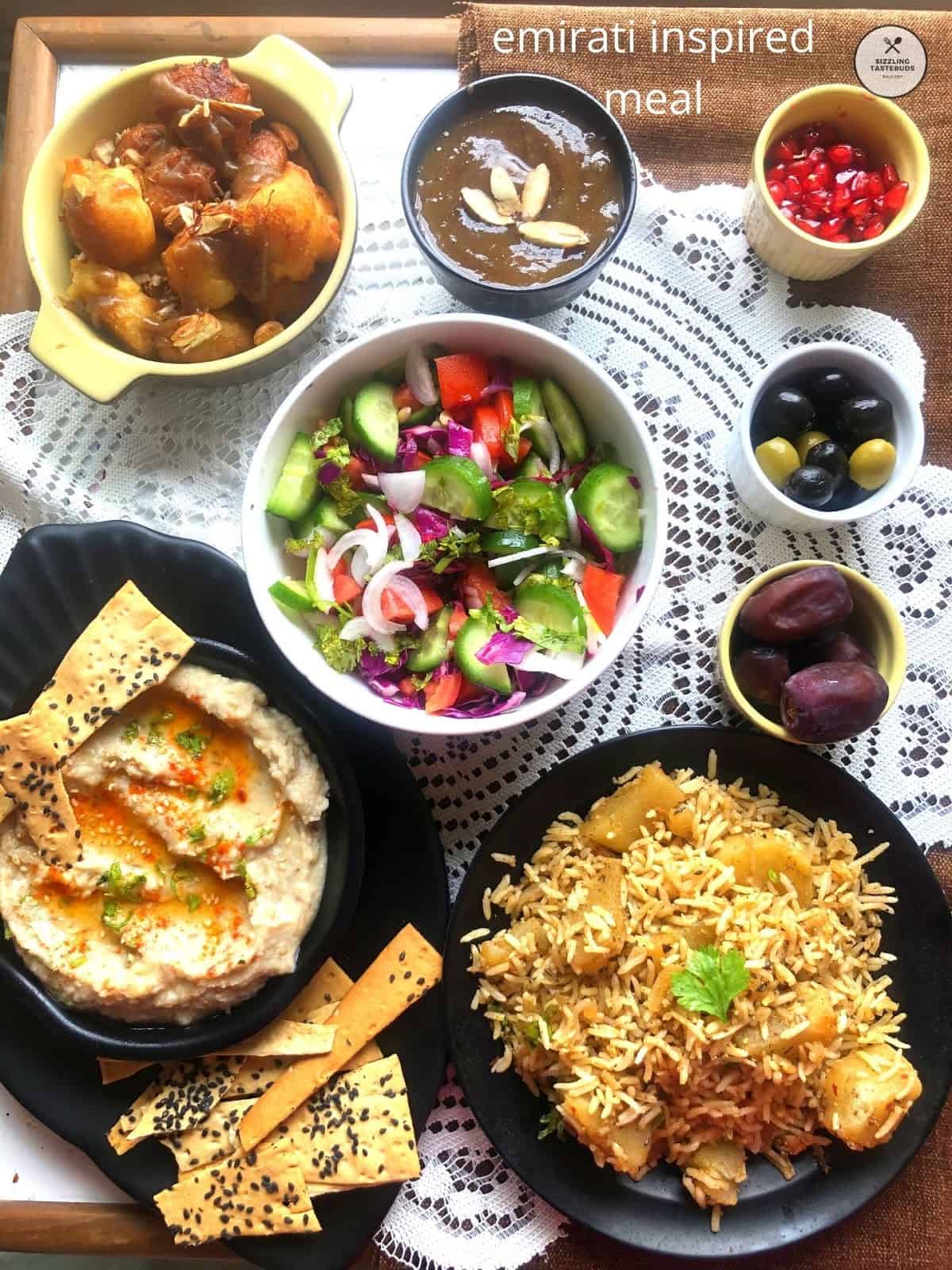 Main Course (Rice) – Vegetarian Machboos – a veganised version of the lamb / Chicken Machboos- lightly adapted from Varada's recipe
Salad – Fattoush – a light salad that pairs equally with grilled meats or rice
Condiment / Dip – White Bean Hummus with Lavash
Dessert – Luqaimat (delicious yeasted and deep fried Arabic dumplings that's made for a Ramadan feast)

Sauce – Date-Walnut Sauce (to top the Luqaimat

Sides – Pomo arils, Dates and Olives
and  "shahiat tayiba" as they say ! (Bon Appetit) 
In order to keep the recipe short and avoid reader fatigue, I have shared the Vegetarian Machboos with Step by step instructions. The rest of the spread shall be shared over few weeks as separate posts .
Follow this blog to see the updates
WHAT IS MACHBOOS ?
Machboos is the national dish of Qatar, but as with all UAE / Middle Eastern dishes it has travelled to UAE too. My friend – a native of Sharjah – told me they make Lamb and Vegetarian Machboos very regularly for all feasts especially ID and Ramadan.
PIN FOR LATER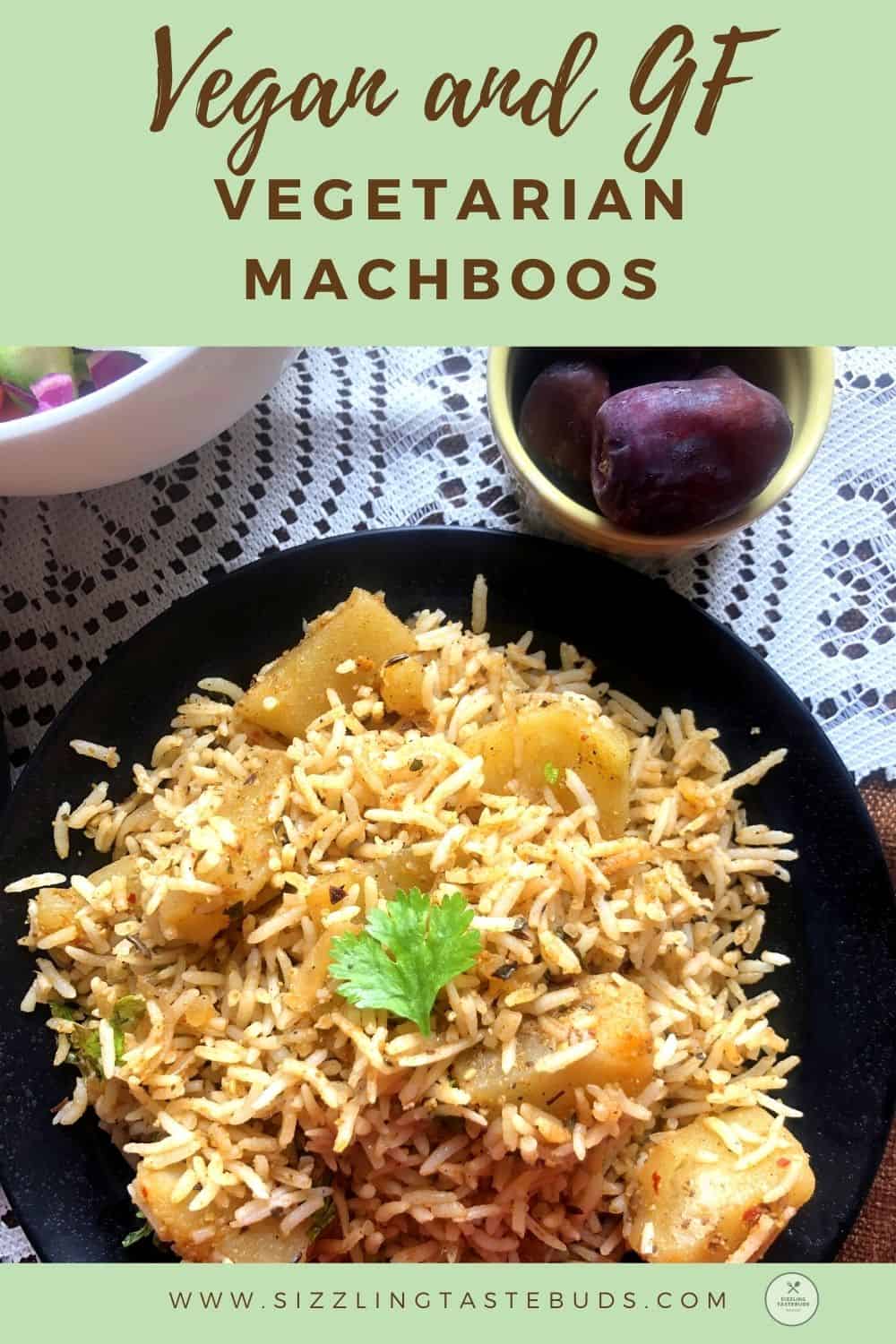 The texture and taste is similar to Biryani just a little bit, but be sure to use the homemade Bezar Masala (recipe below) that's quick to make and an essential ingredient of the dish.
Usually no vegetables are used, but as I was subbing the lamb or chicken generally used for this, I subbed it with Potatoes. Like Varada's recipe, you might also use Paneer.
But generally no other veggies are used in Machboos.
Another Important note is Veg Stock adds Oodles of flavour. Luckily I was making my weekly batch of 15-min Homemade veg stock (made with Veg peels and discards) so I used that and that added a whole new depth of flavour to this dish.
So, do make this and let me know how you liked it. If serving this stand alone, you can pair it with any raita / Fattoush like we did.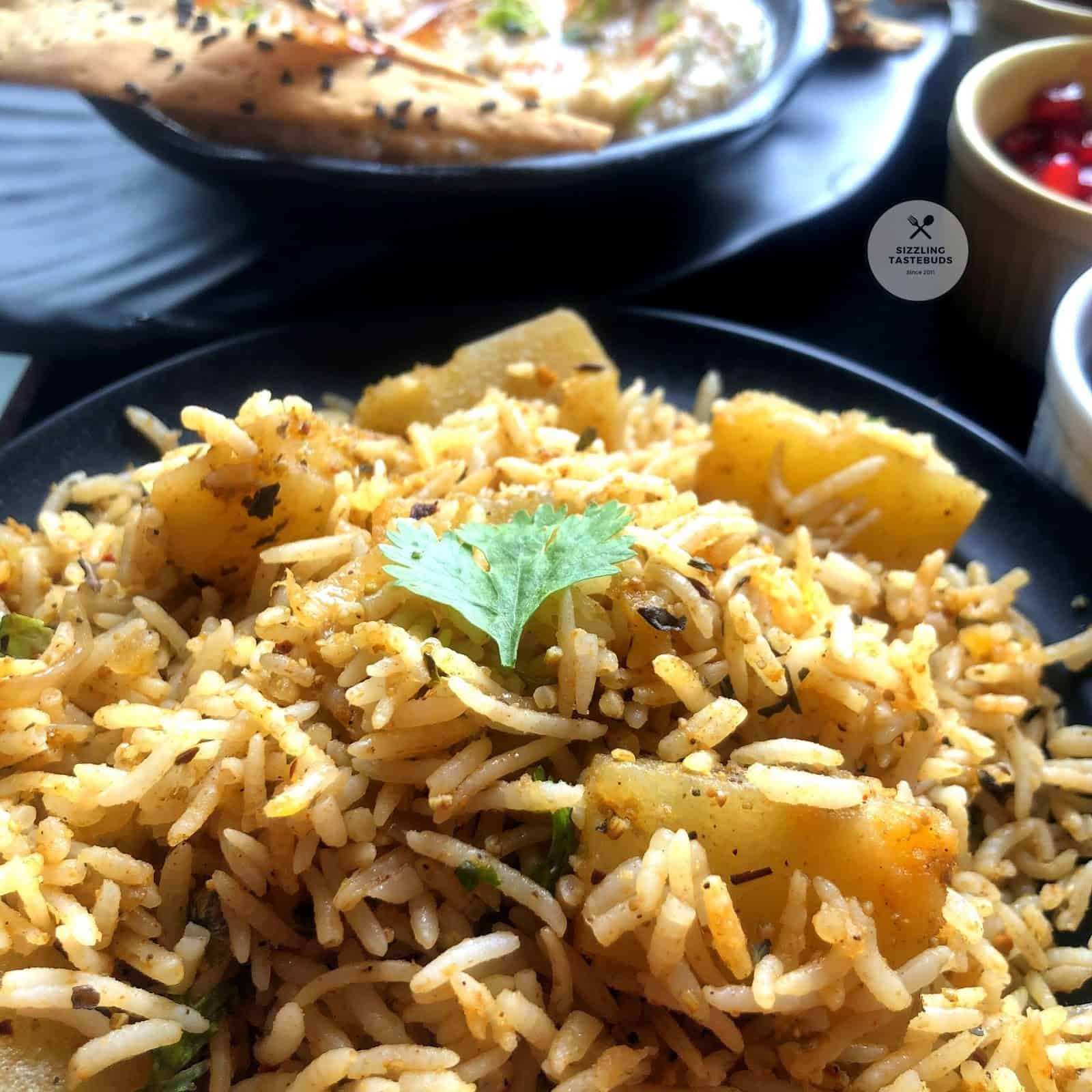 Vegan Machboos – a veganised version of the Popular Emirati dish
Prep time – 30 mins, Cook time – 25 mins, serves – 4-5 generously
Ingredients:
For this recipe 1 cup = 200 ml
Rice:
Basmati / long grained rice – 2 cups
Cloves – 2 – 3
Olive Oil – 1 TBSP
Shah jeera (optional) – 1/2 tsp
Green Cardamom – 2 nos.
Vegetable:
Large potatoes – 600 grams
Onions – 2 large
Tomato – 1 medium

Garlic – 3 medium pods
Oil – 3 tsp
Bezar spice powder:
Fennel – 1 tsp
Jeera / Cumin seeds – 1 tsp
Coriander seeds – 1 tsp
Pepper – 1/2 tsp
Red chilli (dry) – 1 large
Spices and herbs:
Salt – to taste
Dried mint powder – 1 tsp
Saffron – few strands
Homemade Veg stock– 1 cup (if using canned stock, adjust salt accordingly)
Prep work :
Wash the rice well in multiple changes of water. Soak the basmati for 20 mins.

Wash and peel the pototoes, cube them into largish chunks and keep them in a bowl of water
Peel and slice onions lengthwise or slightly coarse
Mince the garlic and keep

Soak the saffron strands in a few tsp of hot water
How to:
Dry roast the ingredients one by one for the Bezar spice powder on a low flame till a lovely aroma wafts out., Cool and powder.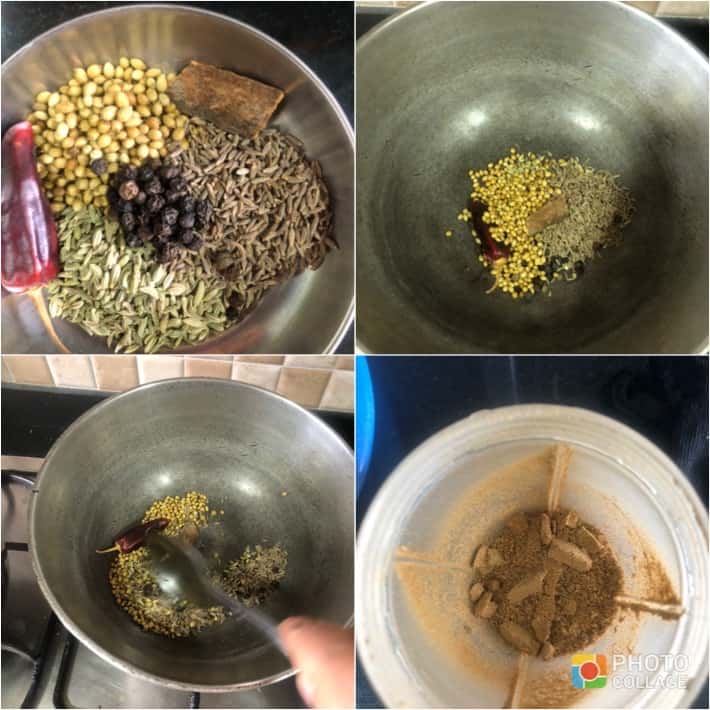 Microwave the peeled and cubed potatoes for 6-7 mins till 80% cooked. Once the potatoes are cooked, drain out any excess water and add 1/2 of the BEZAR spice mix. Toss lightly to coat the potatoes. Cover and let the potatoes marinate in the spice mix for about 10 mins
After 10 minutes, add 2 TBSP of oil and shallow fry the marinated potatoes till they are slightly crisp. Reserve to a plate.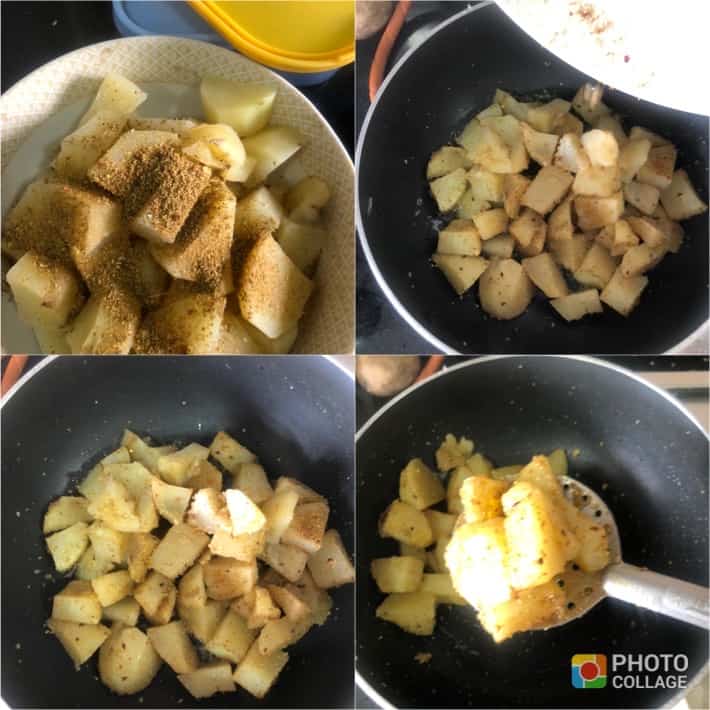 Meanwhile. Drain the rice from the soaked basmati. In a pan, heat oil, add spices listed under "Rice" above and sauté for 15 seconds. Add the drained rice, adequate water (as you would add to make rice for pulav / biryani) . Add a dash of salt. Cook and cover till rice is 90% done. Fluff well once done and cool it completely.

In another pan, add the oil. Sauté the onions and garlic well till they slightly turn golden, add the remanning spice mix power, tomatoes and sauté well. Add salt and the veg stock. Cover and let it simmer for at least 5 mins.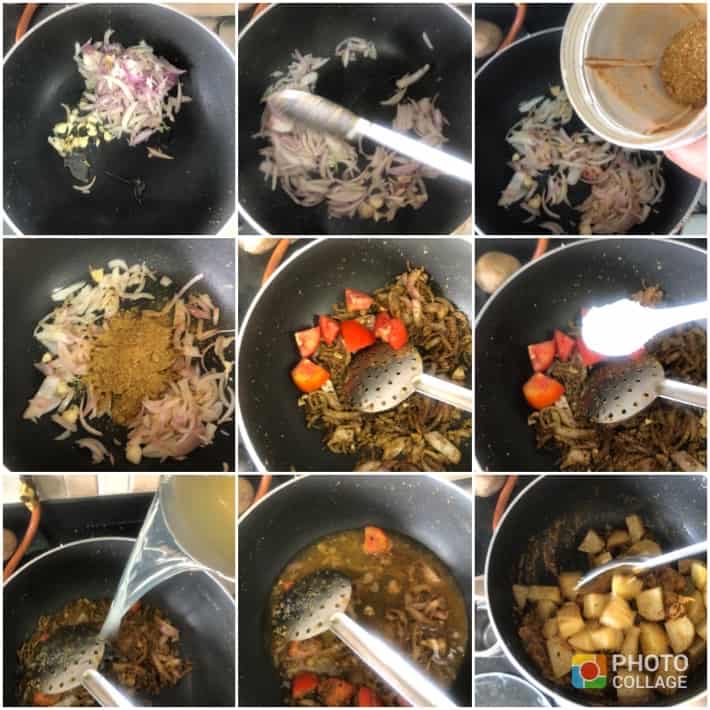 When the stock mixture in the pan is reduced, add fried potatoes and sauté well. Adjust salt and spices at this stage. Add mint powder at this stage.

Then add the cooked basmati rice and toss well, taking care not to break the grains.
Add the saffron strands along with the soaked water and cover and cook for 2 mins on really low heat.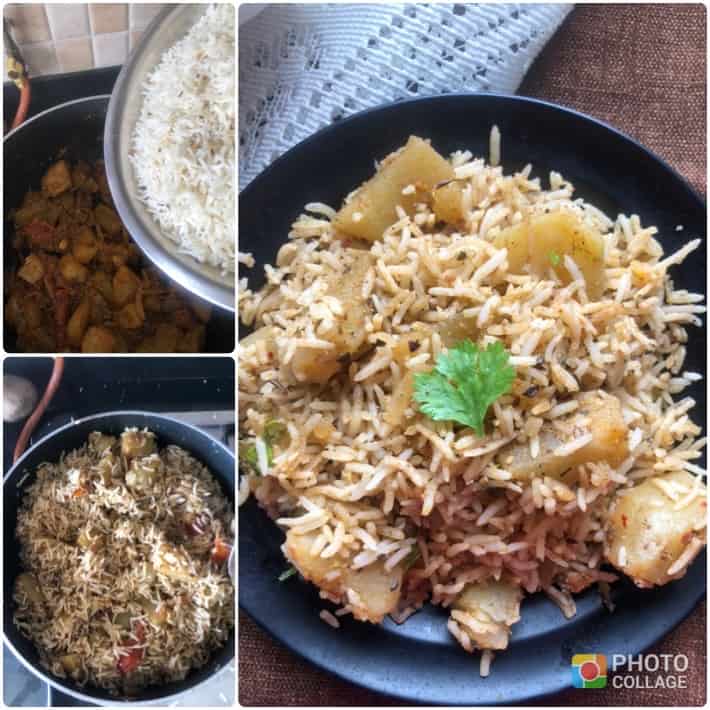 Serve hot with any salad / raita on the side.