A very vivid childhood memory is of the butter man (vennaikaaran) pushing his loaded TVS 50 with bags of what was then pure coimbatore butter. Paati (my maternal grandmom) had made it a practice to use home made ghee made from butter – its grainy texture, the aroma when melted and poured on to hot pappu saadam (dal rice) is a memory that I cherish every single day. So, we didnt quite use store-bought ghee anytime at all, and the same was with hubby too. Soon after I married and moved cities, one of the first things on my agenda was to source readymade butter. Once, when I, in my gullible state asked for butter the storekeeper pushed me a packet of amul table butter. I asked him if he had anything else. He thought I was looking for low fat(?) butter and showed me Nutralite. I told him this wasnt the one I was looking for, but white butter. Exasperated that he was, he showed me margarine or dalda : which I promptly said I didnt need. 
So for 3 – 5 months, although we lived on store bought ghee (which we both detested), it was only when MIL came visiting us that she showed me where to get Coimbatore butter, filter coffee powder, sundaikaai (sun dried turkey berries) and the rest that goes into a Tamil household kitchen. And trust me, since that time, today when I walk into that store every month, the store keeper keeps out a packet of Coimbatore butter and Filter Coffee Powder first even without asking… may be he now reads me as a quasi tamil shopper 🙂 Anyways, todays post is not actually a recipe, but a step by step method on how to make Ghee out of butter. You can also hoard cream from boiled milk, churn it after fermenting to make ghee, but I find that as we use very low fat milk, there isnt too much cream on top, and the process is not worth it. This post today will give you that golden coloured liquid – almost like ambrosia to the senses – while its hot and an aroma after its stored. Please remember to store the ghee or any oil for that matter in a glass / stainless steel container rather than plastic to prevent it from getting rancid. The plastic canisters sold these days to store oil is just not the thing you want to have …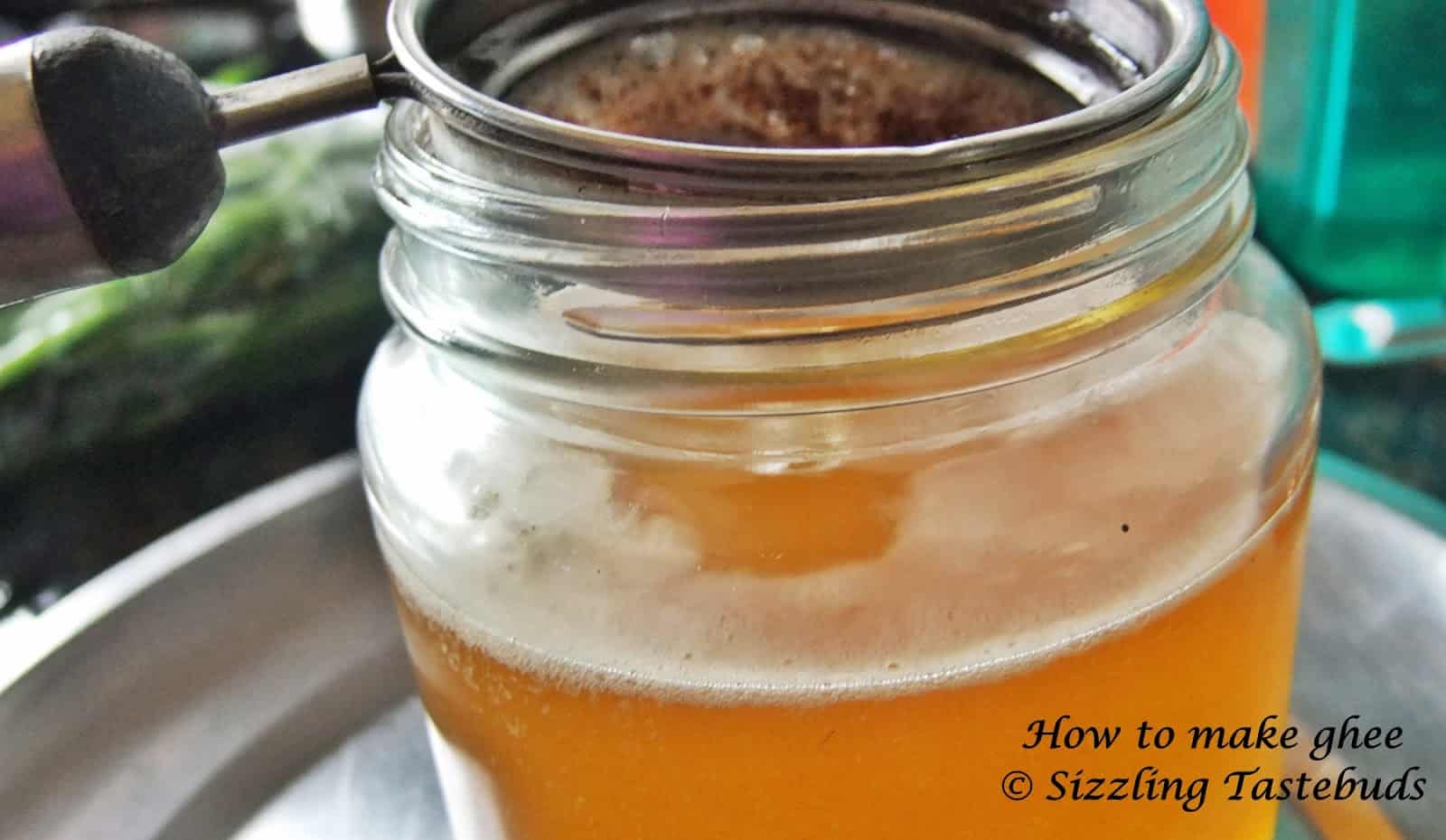 PinPin

Time required to make ghee from 500 gm of butter : 15 mins. 

Yields : approx 350 – 400 gms of ghee.

Method:

1) Ensure the butter is brought to room temperature

2) Place the butter in a moderately hot pan on simmer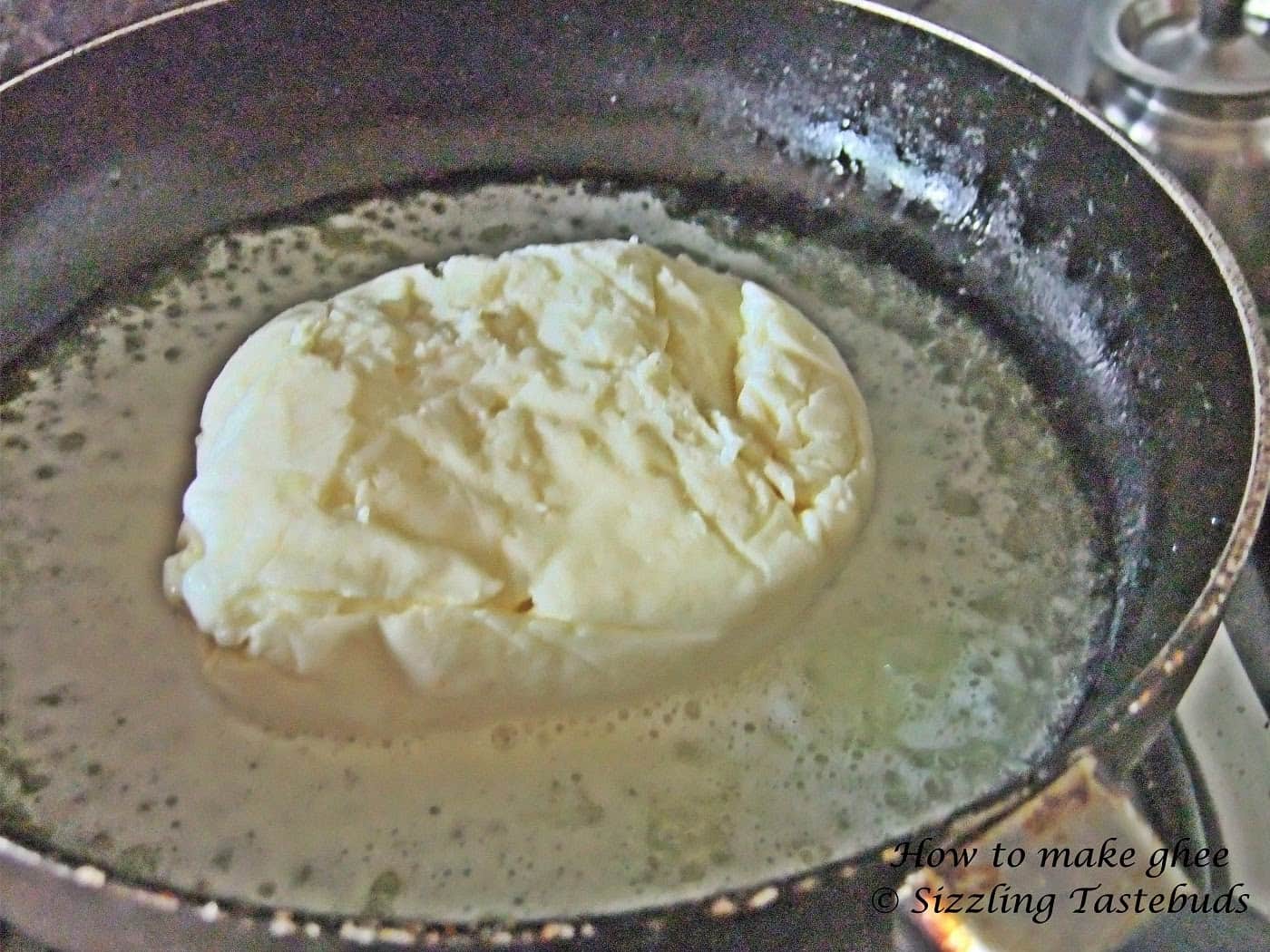 Pin
3) Once it starts melting, slowly increase the heat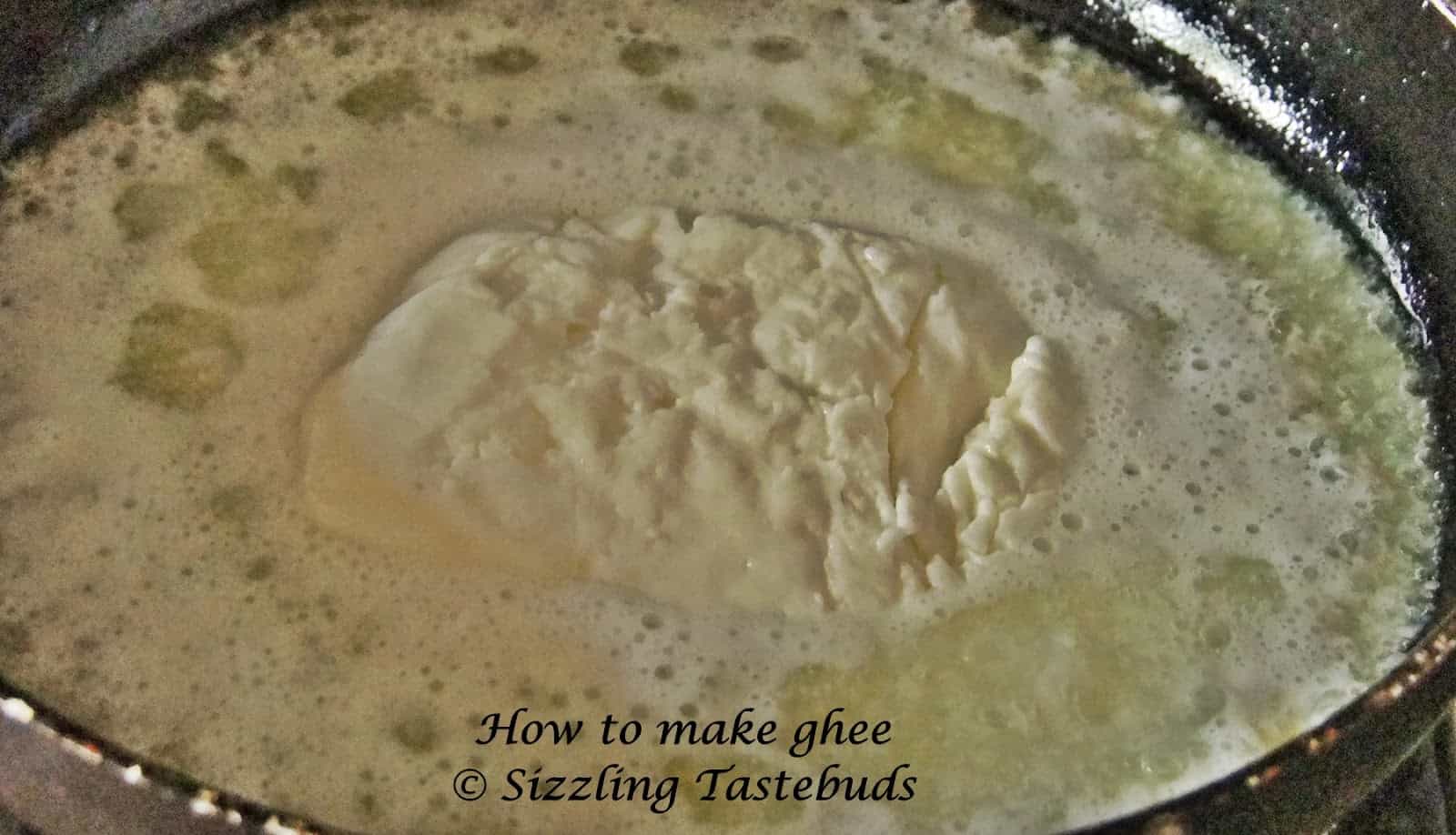 Pin
4) When the butter is fully melted, it gives out bubbles and a hissing noise.
5) When the colour of the liquid starts to turn from white to mild yellow, turn down the heat.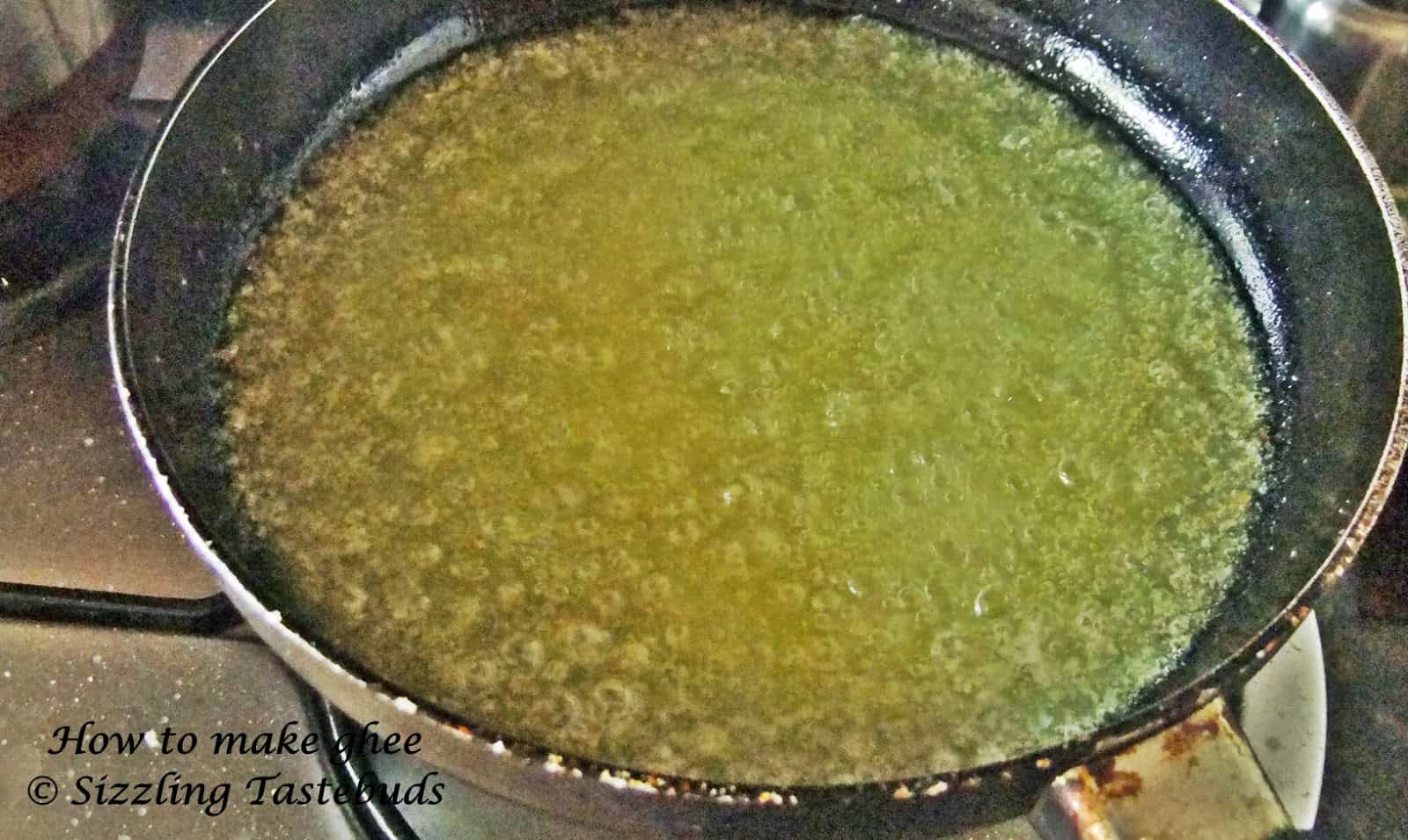 Pin
6) Testing point if ghee is fully done is that the hissing noise will stop and you will get a pure golden yellow liquid. The bubbles will also cease to exist. There is a nice aroma that wafts your kitchen at this point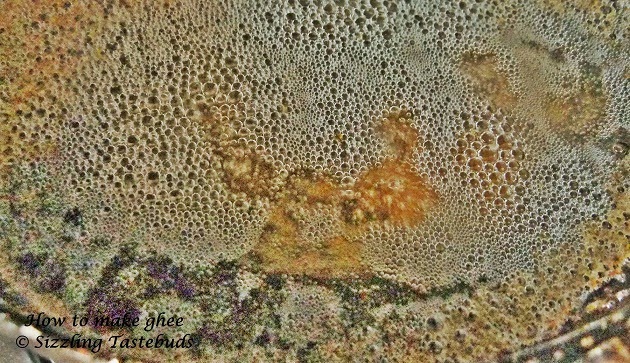 Pin
7) filter the hot ghee into a clean sterilised glass jar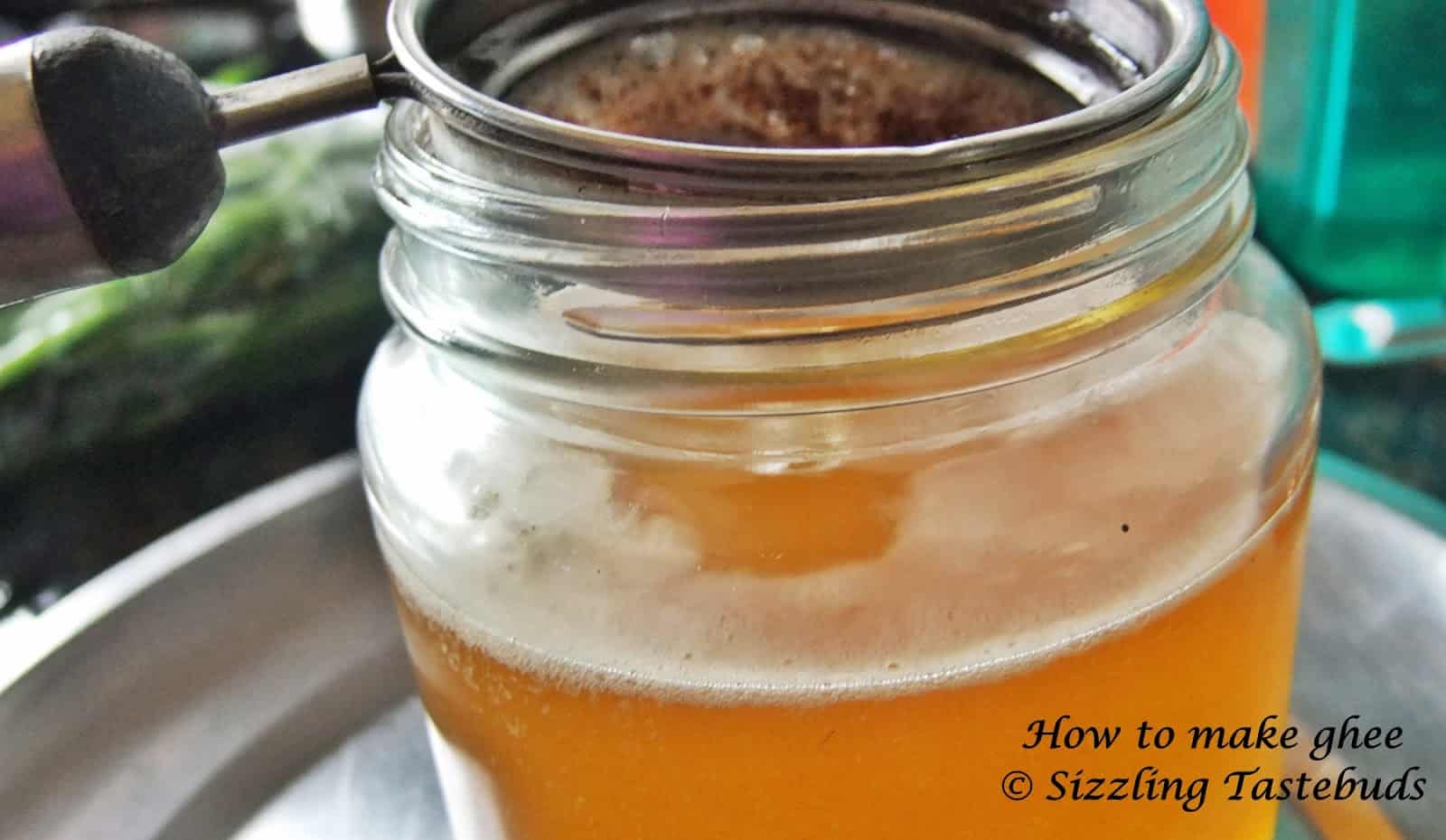 PinPin
8) Keep lightly covered for few minutes before locking it.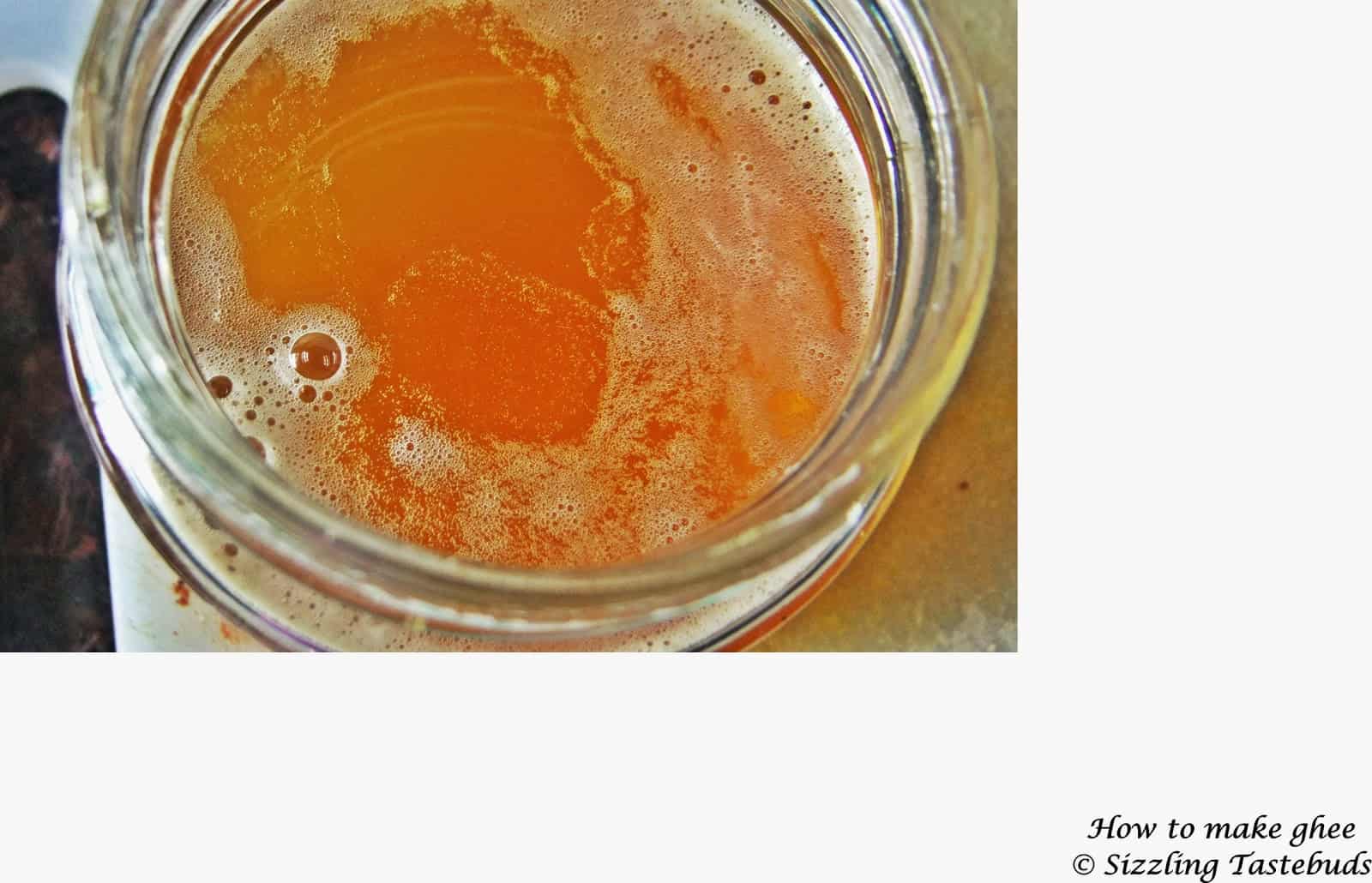 Pin
9) store at room temperature or in the refrigerator. Ayurveda says ghee should be melted for maximum effectiveness, before using.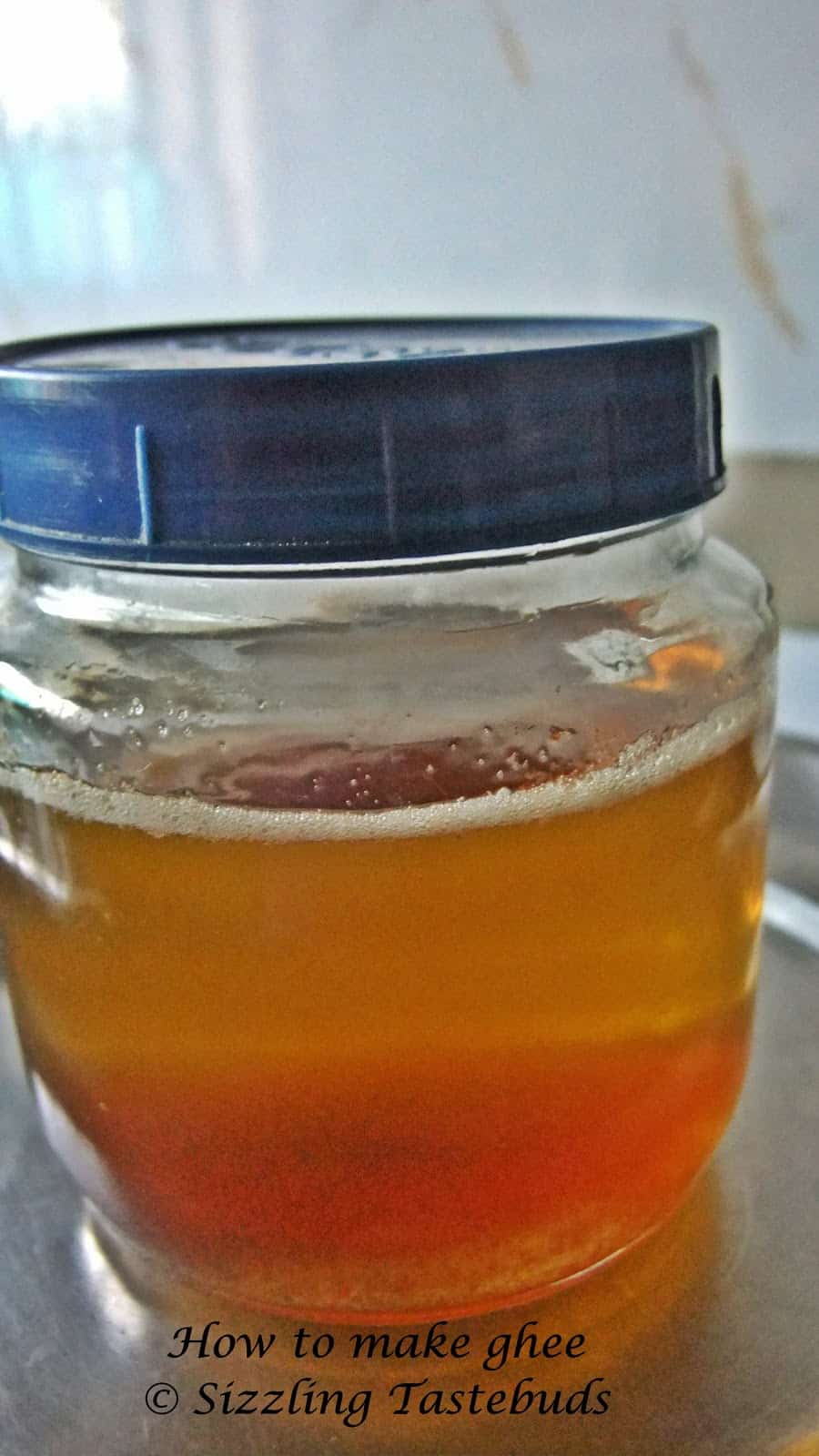 Pin
Pin