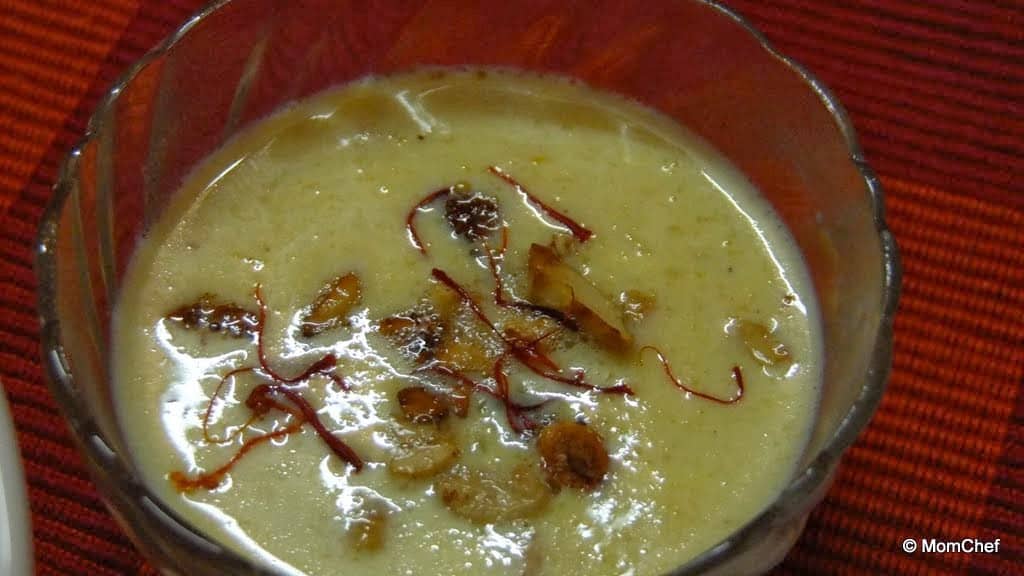 Pin

                                

This recipe today is based on umpteen requests from friends – both mine and hubby's ! So, Ankur and all of you out there- here's one for you.

Pal Payasam (Pal= milk, payasam = kheer) has its origins in Tamilnadu and Kerala Cuisines. It does not figure in the original avatar in Karnataka / Andhra menus, but probably over time has metamorphosed into the "Elai thudhi Paayasa" (payasam served at the beginning of a traditional Karnataka meal) in some other form. In fact, I remember having my first ever pal payasam several decades ago in my aunt's house in Chennai, not Bangalore J

Just the way most popular Indian sweets, esp Gajar Halwa, Coconut barfi, Sevai Kheer etc are made in a hundred different versions, each catering to the family's sweet and health quotient, Pal Payasam of today is a quicker version, thanks to the advent of Condensed milk. Traditionally, milk used to be reduced to 1/6 or 1/8 of its original volume by simmering it continuously over low heat, the rice grains cooking nicely and giving it a texture akin to a semi pudding like consistency.  Garnish for Pal Payasam is optional, and most people I know prefer the sweetness of this dish to be a little more than they are usually used to. Like they say, different strokes, different folks

Update : Sending this to Priya's lovely "Sweets with Rice" event originally started by Nivedita (Nivedita's Announcement Page)
Pin
Preparation time: 10 minutes
Cooking time: 20 minutes
Ingredients: (serves 4)
·         Milk – ½ litre (use full fat milk if preferred – skimmed milk doesn't quite give the texture)
·         Condensed milk – ½ tin
·         Raw rice – a fistful
·         Cardamom powder – ¼  tsp
·         Vanilla essence (optional)
·         Few strands of saffron  – soaked in 2 tbsp of warm milk (optional)
For Garnish:
·         1 tbsp ghee
·         Raisins and Cashew – ½ tbsp each
Method:
1)      In a thick bottomed pan, pour milk and heat on medium-low heat.
2)      After 1 or two minutes, add the raw rice (if you prefer, coarsely break it to speeden up the process)
3)      Boil the milk continuously on low –medium heat till the rice is fully cooked. You may add the saffron strands now.
4)      Once the rice is fully cooked and the texture of the payasam begins to thicken, add cardamom powder. Boil for 2 – 3 minutes more. Now cool slightly and add condensed milk.
5)      Do not over boil after adding condensed milk. If you are using essence, add it now. Stir and cool. 
6)      For garnish, heat ghee. When slightly hot, add broken cashews and raisins. Fry for a minute till slightly golden brown. Pout this mixture into the kheer and stir once more.
7)      Transfer to a serving dish and serve chilled or warm.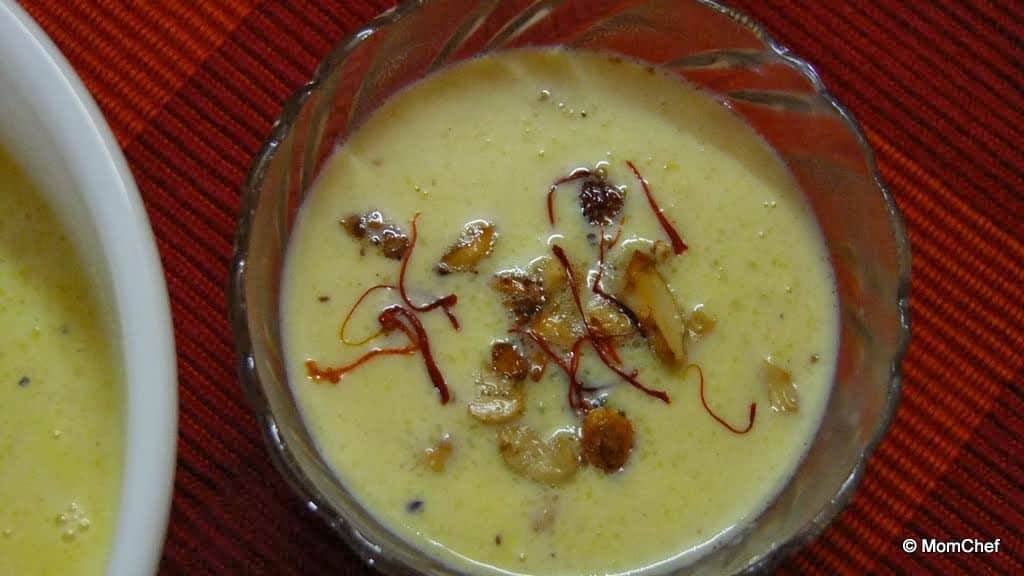 Pin