After the Malnad region with Tambli and Flaxseed chutney podifrom South Karnataka, we visit
Mangalore Cuisine today. Influenced by coastal supply like seafood and coconut,
Mangalore cuisine uses both abundantly. Wiki tells us
 that Mangalorean cuisine is well known for their distinct flavor. In
general, the Mangalorean recipes are quite spicy and fresh coconut is an
integral part of these recipes. Rice is the staple food of the Mangaloreans
though for the non vegetarians, fish is also a regular meal.
The cuisine of Mangalore would remain incomplete without usage
of rice. Rice is cooked in various forms such as pancakes, wafer thin rice
rottis served with chicken curry, grain rice, sannas i.e., idlis fluffed with
toddy or yeast, neer dosa, etc.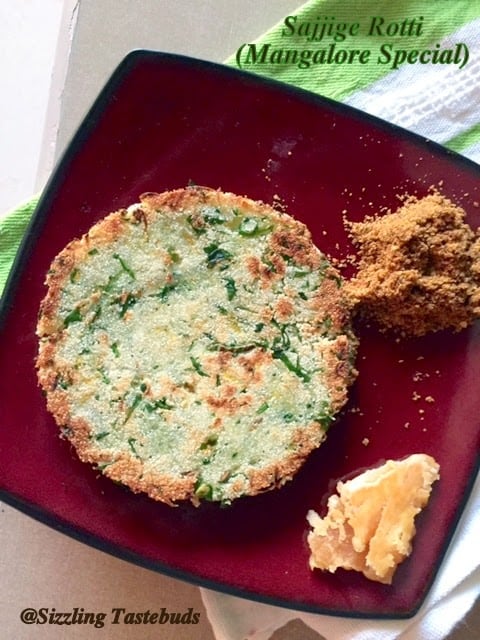 PinPin

Apart from rice, another important thing used in the cuisine of
Mangalore is fruits. Many of the recipes at Mangalore are incomplete without
the usage of fruits such as jackfruit, bamboo shoot, breadfruit, raw banana,
spinach Basale, sweet cucumber known as Taute, etc.A remarkable feature of the Mangalorean sweet dishes is that
instead of using sugar, Mangaloreans use jaggery made of palm so as to keep
themselves healthy. Moreover, this sweet syrup has a fragrance and taste of its
own and thereby makes the Payasam more delicious. Moreover, the three main things
that add flavor to the various dishes of Mangalore are raw mango, tamarind and
kokum (Source : Wiki)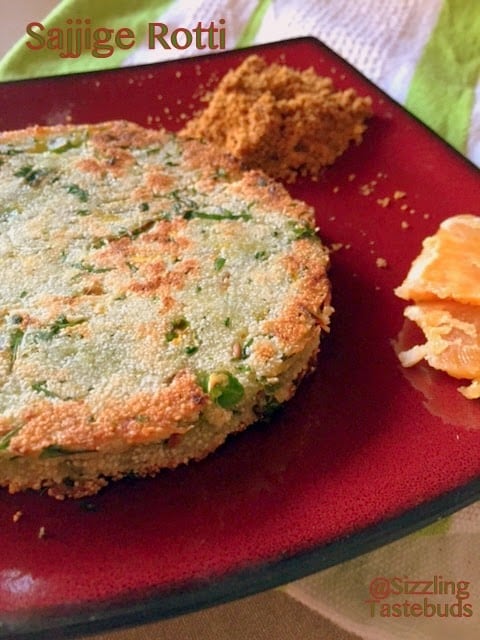 Pin

Sajjige (ಸಜ್ಜಿಗೆ) in Mangalorean lingo, is Semolina or rava and is used to
make not just upma but a super savoury breakfast called Sajjige rotti. This dish can be as plain or spicy as you wish.
There are some who add curd and onions to this and some who dont, some who add
grated cucumber and some who add carrots. Whatever the addons, the basic dough
is made with semolina (aka Rava in local kannada). See Notes for more info.

You can give your usual dosa
/ idli / poha a break and head out here for an unusual and tasty breakfast
item. Eaten as it is with a dollop of homemade butter or just jaggery-Ghee. We ate it with Flaxseed chutneypudi and it tasted out of the world 🙂

As this goes to BM#47, hope you enjoyed the Cuisines from Karnataka – Doddapatre Tambli, Flaxseed Chutneypudi and today's Sajjige Rotti. Stay tuned for a different theme next week as we roll up the year…

Sajjige rotti / semolina pancakes (hand patted)

Cuisine : Mangalorean (Karnataka), type : Breakfast / evening
snack

Spice Level : Medium.

Type : Vegan 

Prep time : 15 mins | Cook time: 10 mins | Makes : 5 rottis

Notes:

1) This rotti can be patted even thinner and bigger (almost the size of a dinner plate), but that would be flakier.

2) Dont confuse this with Sajje Rotti (of North Karnataka cuisine) – Sajje Rotti is bajra (black millet flattened bread), although the names sound similar.

3) This dough will dry up very soon so keep covered when you are flattening out one pancake.

4) Addition of onions are optional. Sometimes, the batter is also soaked in sour buttermilk and made like dosa (spread thin and roasted on both sides).

You will need:
Semolina (fine variety) – 1.5 cup
Cucumber – 1 medium
Salt – to taste
Coriander leaves – chopped fine – 1 TBSP
Curry leaves – few (don't skip this)
Green chillies – 3-4 (adjust spice) – minced fine
Freshly grated coconut / frozen – ¼ cup

Optional add ons :

 

grated
carrots, minced onions (I didn't add)
Oil – to fry – about 3 tsp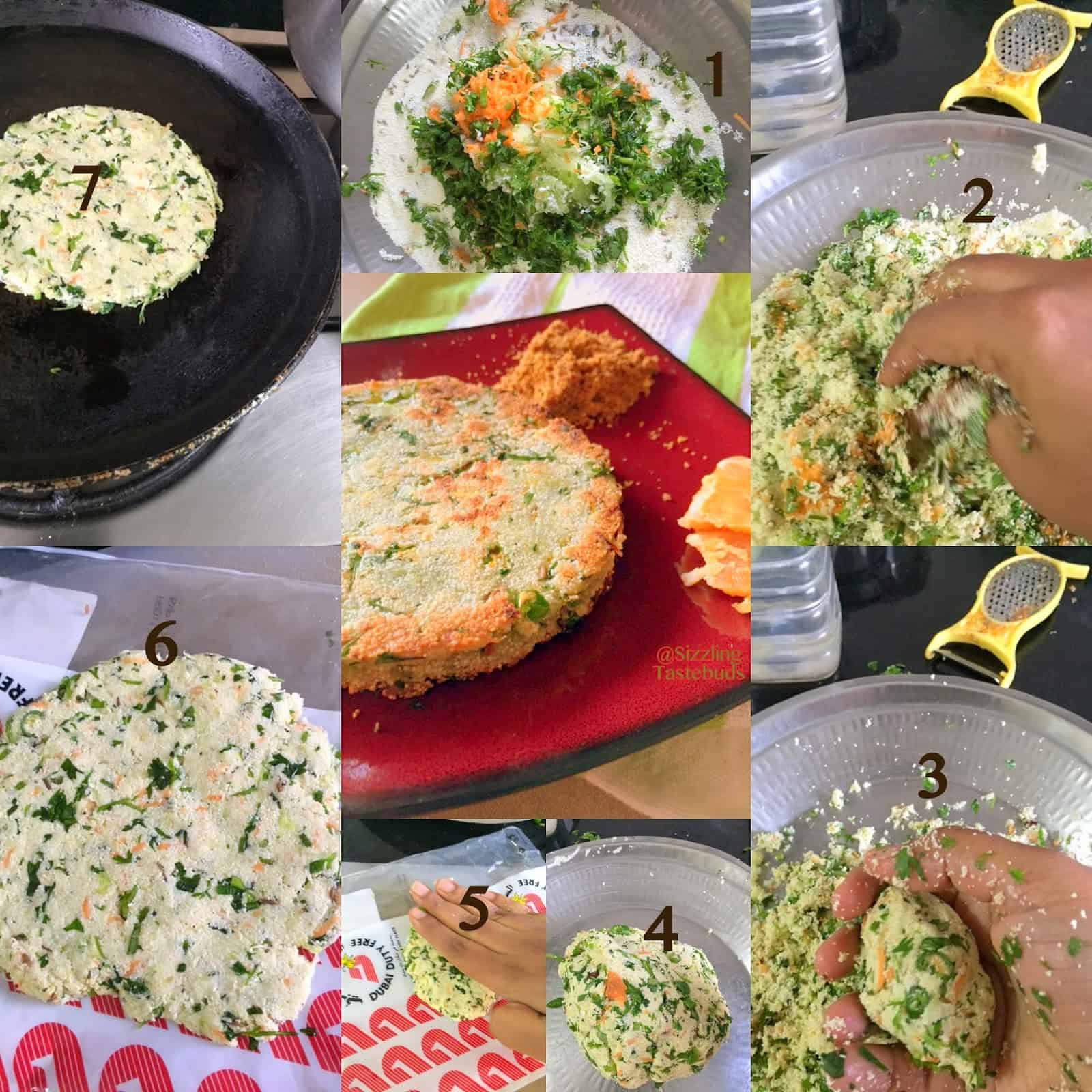 Pin
Method:
Dry Roast rava for 1-2 mins in a hot kadai (this step is totally
optional but the friend who taught me this said it gives better results than
raw sooji).
Grind coconut with green chillies without any water to a
roughish smooth paste.

 

Transfer to a bowl. Add
peeled and finely grated cucumber (with the water that it would leave), coconut
and the rest of the ingredients except oil and mix to a dough. DON'T add any
additional water.

Tip :

The consistency of the dough should be drop
proof (if you take a lump in your hand, there should be no water dripping not
should the dough break into parts).
Take a wax paper or oiled plastic sheet and flatten a portion of
the dough onto it flattening out on all sides. Transfer it gently onto a hot
tava, drizzle oil on its sides.
Gently turn over once one side is cooked, if required, add oil
on the other side.
When it turns slightly brown and crisp, lift it off the tava /
griddle.

Serve hot with just pickle / chutneypudi

 / jaggery-ghee combo 🙂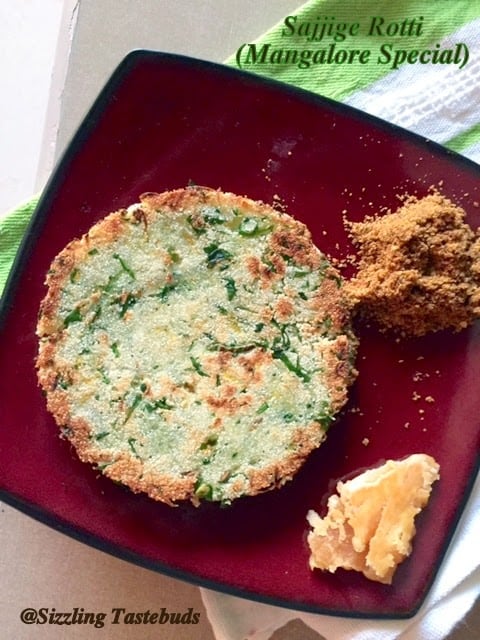 PinPin