Happy Ugadi to all my readers who celebrate this festival in Karnataka & Andhra Pradesh. For the uninitited, this is the celebration of the new year and the welcome to spring post the harvest season. Tamilnadu / Kerala – other two southern states celebrate this on April 13th / 14th every year, while Karnataka & Andhra celebrate this today. I come from Bangalore and speak Tamil, so celebrate both the Kannada Ugadi and Tamil Ugadi (also called Varsha Porappu or Chitra Vishu).
On this day, Panchanga Sravanam (or reading of the holy Almanac) is followed by a pooja (offering) to the dieties and a mixture of Bevu-Bella (Neem leaves-jaggery) is eaten as prasad to symbolise the biiter-sweet year ahead, and to take joy and sorrow in the same stride. Even Maharashtrians celebrate today with a festival called Gudi Padwa. Basically Ugadi is the beginning of the Hindu Calendar and is celebrated (obviously) on the first year (Padya/Padyami) of that day. Traditionally, in my house Obaatu & Puliyogare are made as festive food, apart from the usual festival menu. However this year, I wanted to keep it to a light dish and made Rava Kesari.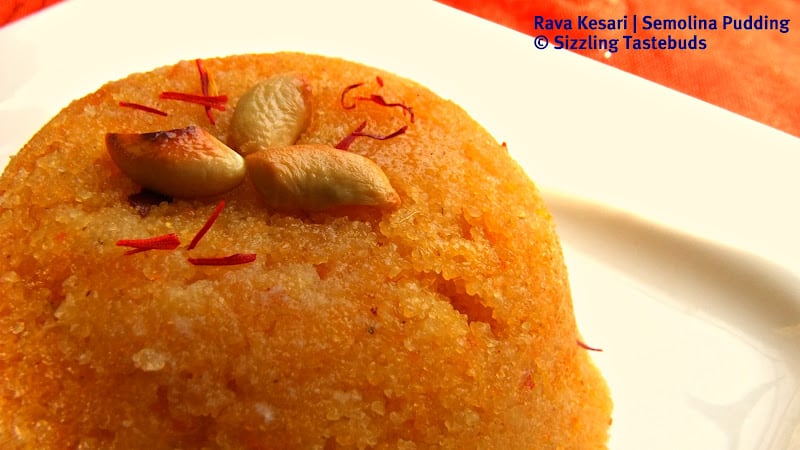 Pin
Another reason for this, is the Sous chef (aka me) is missing the Executive Chef (my mom) being around this time to make any celebration better with home made Obbatu (ages since I had those……ummmm – sis : Are you listening ?!). So, its a yummy dish – Rava Kesari (aka Kesaribhath in Kannada) to celebrate the onset of this Hindu Calendar year – Nandana .
Coming to the dish today, its a simple but quick sweet that can be dished in minutes both for festivals as well as unexpected guests. I chuckle to recall that my grandmom used to say that Sojji (this dish) and Bajji (gram glour fritters/ pakodas) was free for all prospective grooms and their parents while they bride-shopped from one home to another in the early 50s (to as late as '90s) in India and therefore the wife should never cook this again for them, as they would have a life time helping of this dish 🙂 Curious Indian traditions, isnt it ?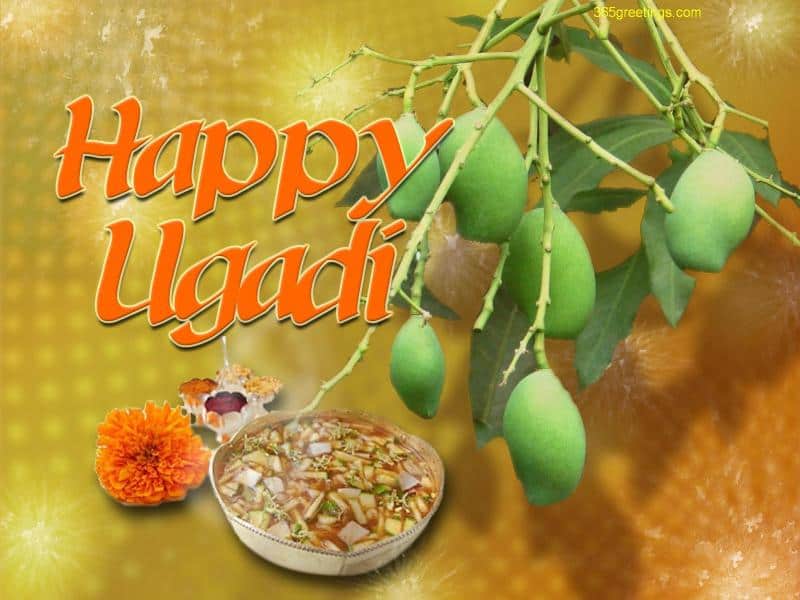 pic courtesy: fremonttemple.org
Prep time : 10 mins
Cook time – 10 mins
Serves – 2
Note: The gooey Kesari that is served at most marriages / functions and some temples (as prasad) is laden with ghee (and in most cases, cooking vanaspati mixed with ghee & artificial food colouring too – which quite explains the upset tummies the next day) but as they say, the richer the better 🙂 However, keeping with the 21st century health complications that we face, I have kept the ghee quantity to a real real low level. Please do feel free to add more as you wish.
Ingredients:
Fine Sooji – 1/2 cup
Sugar – 1/2 cup
Ghee – 2 – 3 tsp + 1/2 TBSP for topping
Cashews & Raisins – few
Elaichi / Cardamom powder – 1/4 tsp
Saffron strands – a few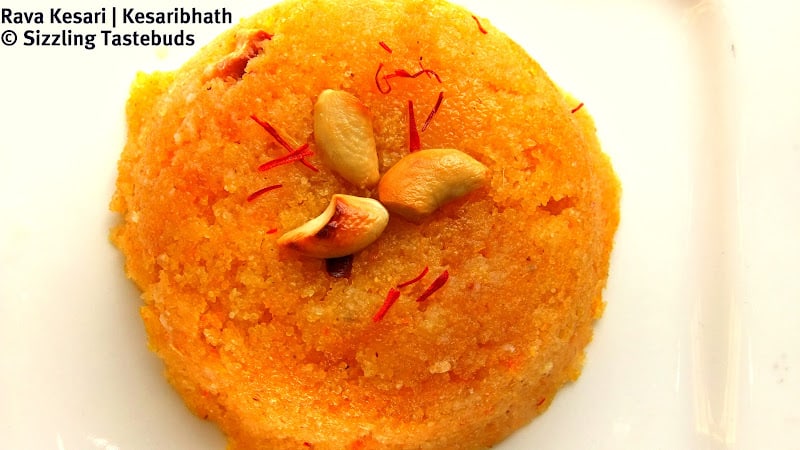 Pin
Method:
1) Heat 1/2 TBSP of ghee and fry the raisins / cashews. Keep aside
2) Add 2 tsp more of ghee, melt it and fry the sooji / semolina till a nice earthy aroma wafts out (approx 4 -6 mins). Do not brown the sooji
3) Add 1 cup of boiling water, cover and cook the semolina.
4) Meanwhile, dissolve the saffron strands in 2 tsp of warm milk.
5) Once the semolina / sooji is cooked, add sugar, saffron strands and 1 more tsp of ghee. Mix well till the sugar melts and the saffron lends a rich colour.
6) Now add the cardamom powder and fried cashew-raisins and mix once more. Simmer on very low flame for a further 2 – 3 mins. Add more ghee if you need it a little more moist.
7) Serve as Neivedyam (offering to god) or to unsuspecting grooms-to-be who might come visitng:)
Sending this to my event – Holi Fest Colourful Palette & Blogging Marathon under "Quick Festive Mithai"