Inspiration
comes from so many unknown corners. I had happily cooked and scheduled a
different post for Alphabet S as part of the World Blogging Marathon. Till dear
husband presented me this wonderful all-veggie-recipe book by Ritu Dalmia.
Aptly called "Diva Green" it's a treasure trove of vegetarian (some vegan)
recipes from across the world. More on the book review later…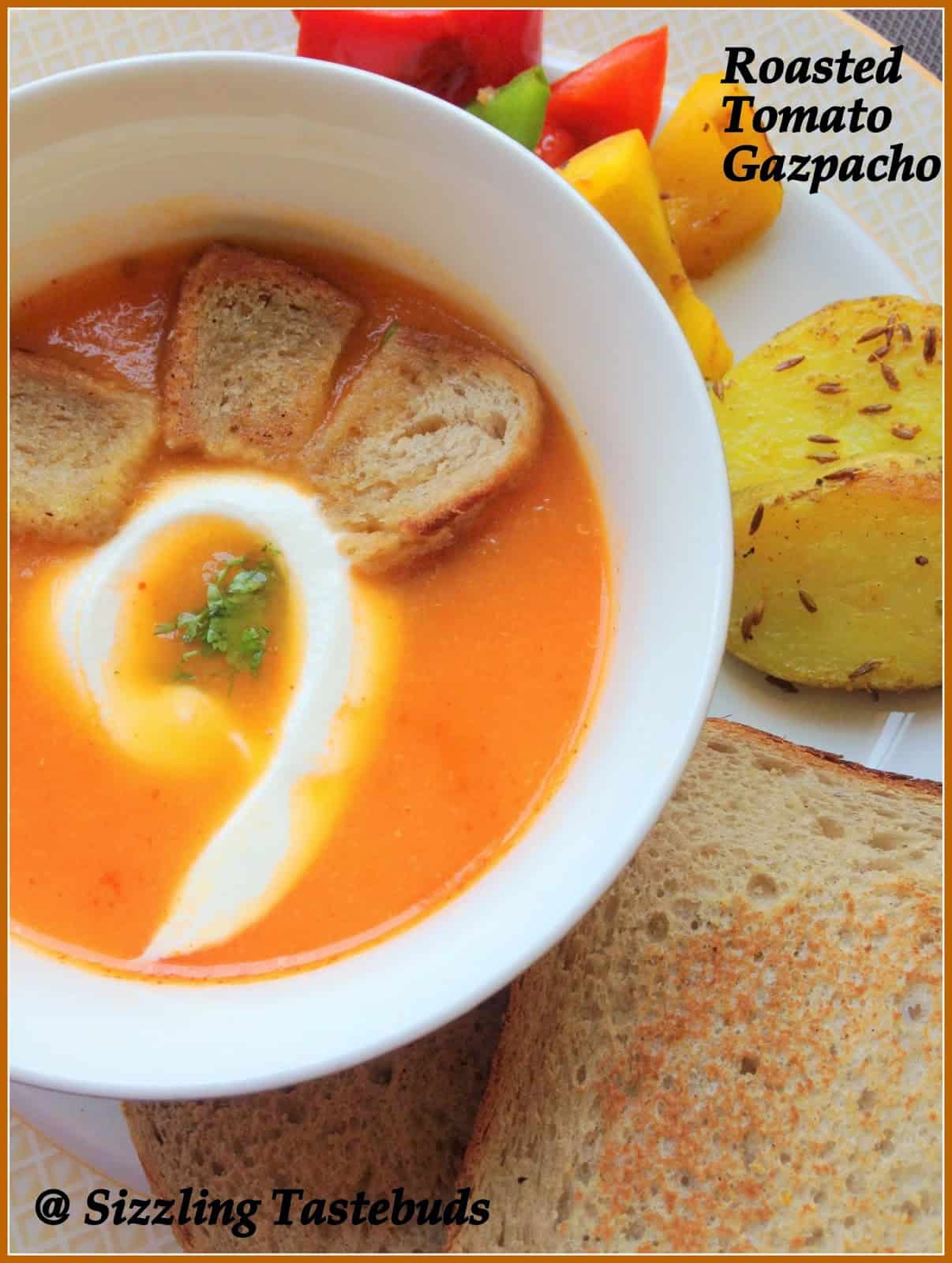 Pin
Wanting
to make the most of the present, the enthu-cook in me set out to hunt recipes
that would suit my larder and factor in a dash of health too. I have a thing for roasted /
Grilled stuff – bell peppers, tomatoes, broccoli : the smoky earthiness that
wafts out is very comforting. Naturally, I was looking for something that would
be a meal by itself, considering I would be cooking it for an early brunch for
myself. I picked this really cool and yummy Grilled Tomato Gazpacho – a Spanish speciality soup. I had made a
cucumber gazpachoearlier, and we all loved it.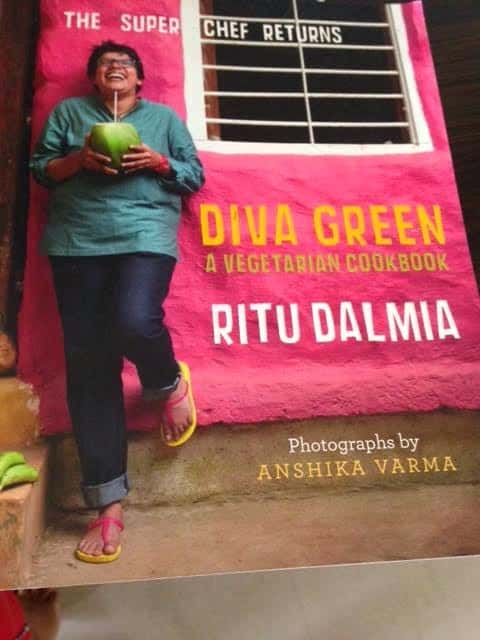 Pin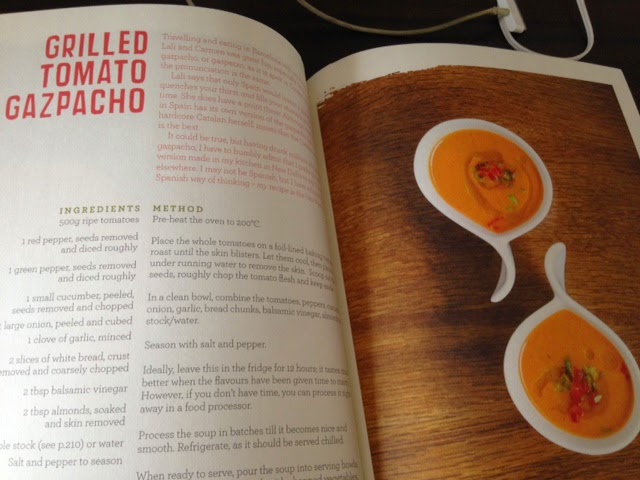 Pin
Wiki tells me : "Spanish cuisine is a way of preparing varied dishes, which is enriched by the
culinary contributions of the various regions that make up the country. It
is a cuisine influenced by the people who, throughout history, have conquered
the territory of that country. Therefore you have the following types of
cuisine within Spain itself, each drawing from local and cultural influences. Andalucian,
Aragon, Asturain, Balearic, Basque, Canary Islands, Cantabria, Castille and Leon, Catalonian, GAlican,
Madrid, Murciam, Navarre, Valencian"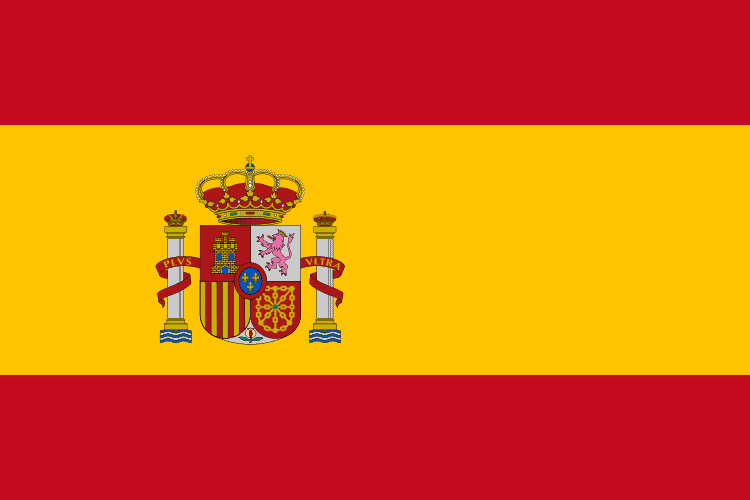 Pin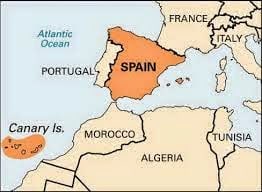 Pin
Andalusian cuisine is twofold: rural and coastal. Of all the Spanish regions, this region uses the most olive oil in its cuisine. The dish that has achieved the most international fame is Gazpacho. It is a kind of cold soup made with five vegetables, bread, vinegar, water, salt and olive oil. Other cold soups include: pulley, Zoque, salmorejo, etc.
My elder
kid is a huge fan of tomato soups, and I was hoping she would enjoy the chilled
version too. I followed the recipe to the T and served it along with some
roasted veggies and French garlic bread for a super filling supper.
If you
are fond of chilled soups, recommend this highly. On my part, I loved it, and would be making
this very often, as well as dig out other gems from my latest cookbook !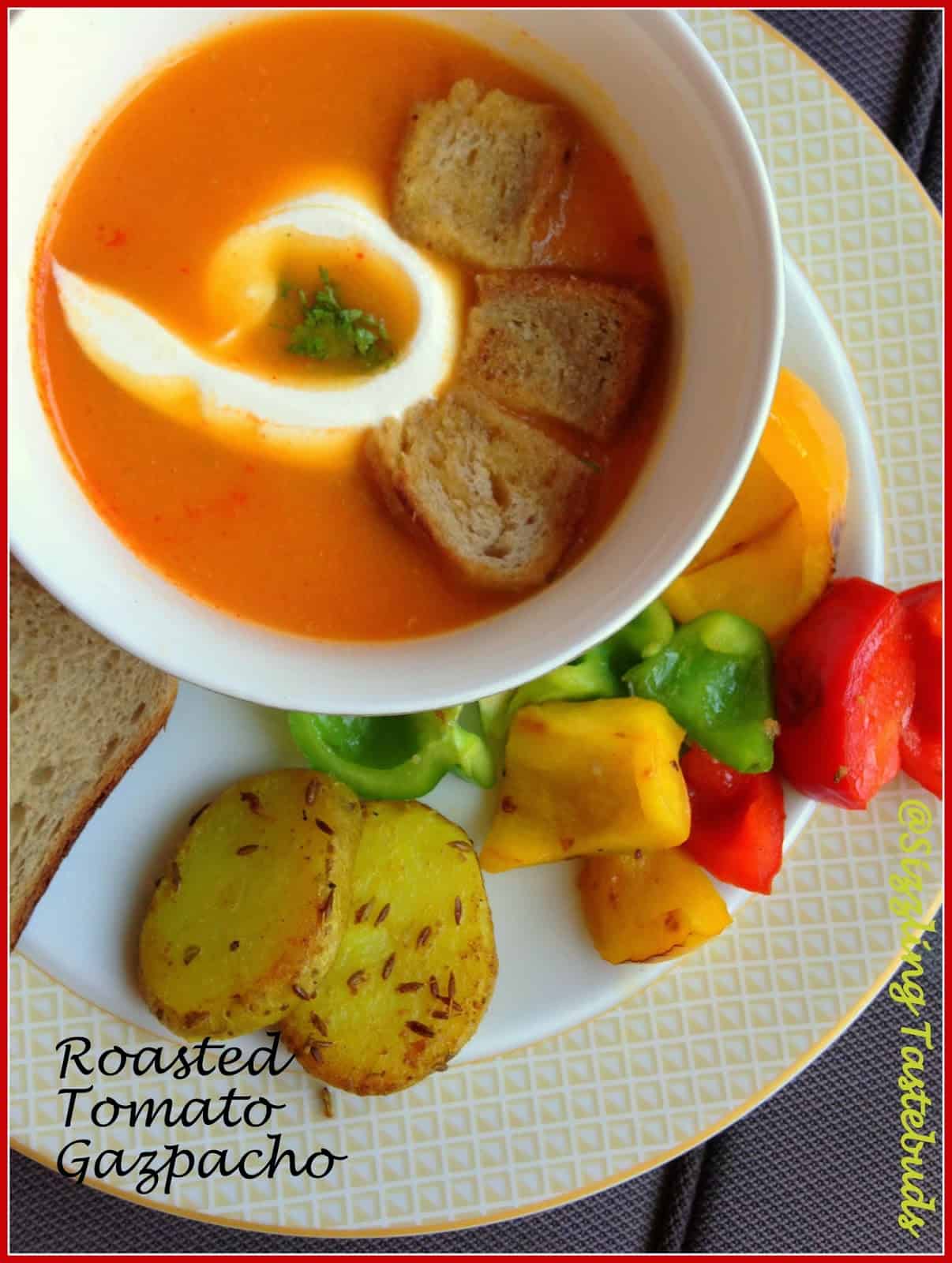 Pin
**************************************
Country
: SpainDish : Grilled Tomato Gazpacho
Served : Roasted bread, Veggies on the side
**************************************
Prep time – 15 mins | cook time – 15 mins
Chilling time – min ½ hour
Serves : 4
Ingredients:
Ripe Tomatoes – 350 gm (about 5-6 large)
Red
Pepper – ½ (deseeded)
Cucumber
– ½ no (diced)
Onion –
½ – cubed
Garlic pods – 2 (minced)
Almonds
(soaked) – 1 TBSP
Bread –
2 slices, trimmed and coasrsely chopped
Salt
& Pepper – to taste
Balsamic
Vinegar – 1 TBSP
Olive Oil
– 2 TBSP
Vegetable
Stock – 3 cups
Garnish
:
Cream –
1 TBSP
Dried
herbs – ½ tsp
Served
with:
Herbed
Potato Slices, Roasted Veggies and Toasted Bread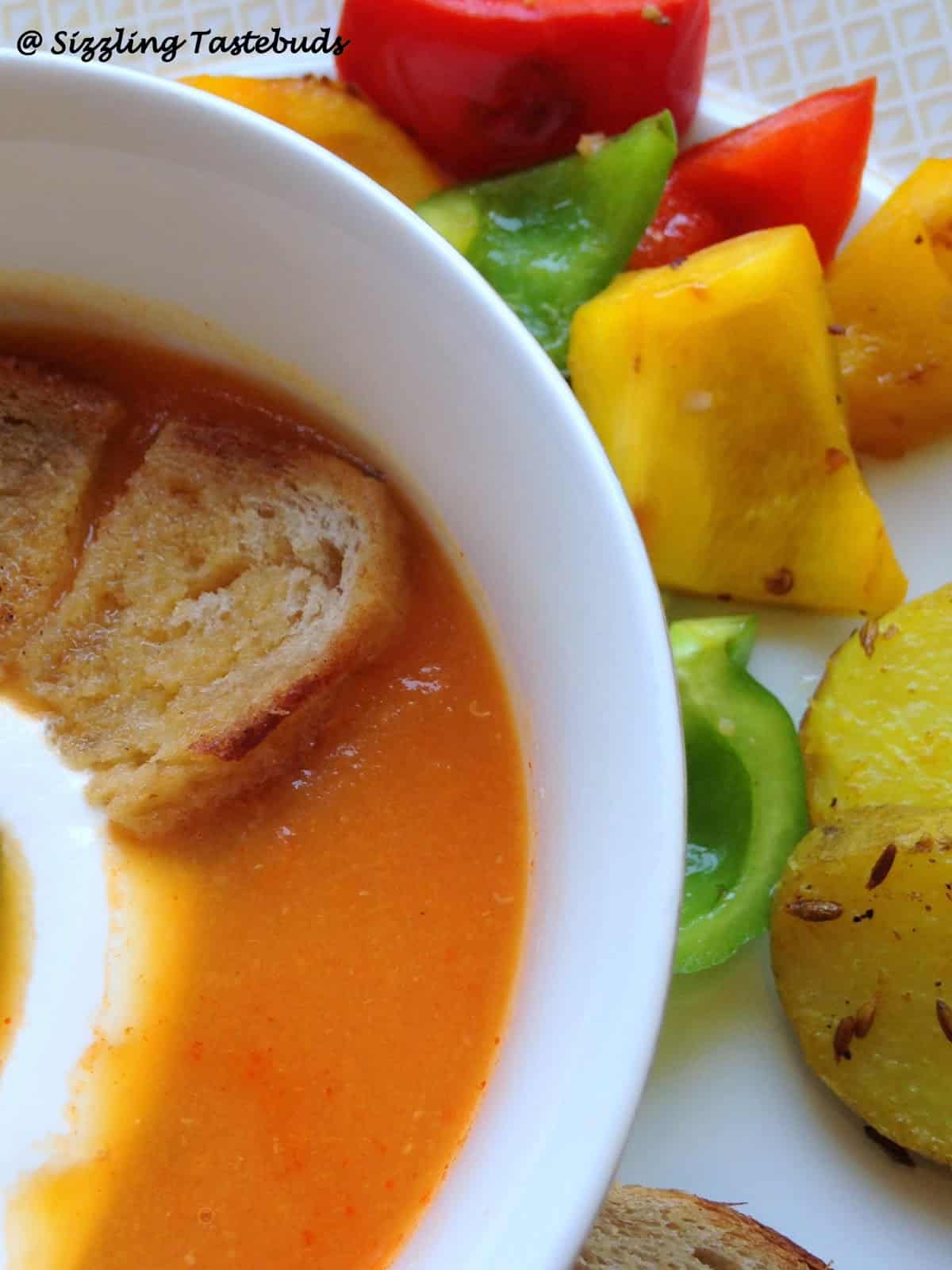 Pin
Method:
Pre heat oven to 200 C
Place
the whole tomatoes wrapped in foil and roast till the skin blisters (approx. 12-13
mins – depending on how juicy the tomatoes are). Deskin, deseed and roughly
chop the pulp.
In a
large bowl, combine all the veggies (cucumbers, tomatoes, bell peppers), bread
chunks, vinegar, almond, stock, garlic and onions. Season with half the salt and
pepper. Chill for 30-45 mins.
Blitz
the mixture in batches till you get a smooth puree. You may strain or serve as
it is (chilled again before serving)
Garnish with
cream and / or olive oil and serve with veggies on the side
Quick
tip to make roasted veggies – I
wrapped a couple of bell peppers and potatoes along with the tomatoes. Once your soup is chilling, cut the veggies
into desired shapes, sauté for 1 min in 1 tsp of olive oil, cumin, a dash of
paprika and salt. Season the veggies with lime juice if desired and serve immediately
with warm toasted bread and chilled Gazpacho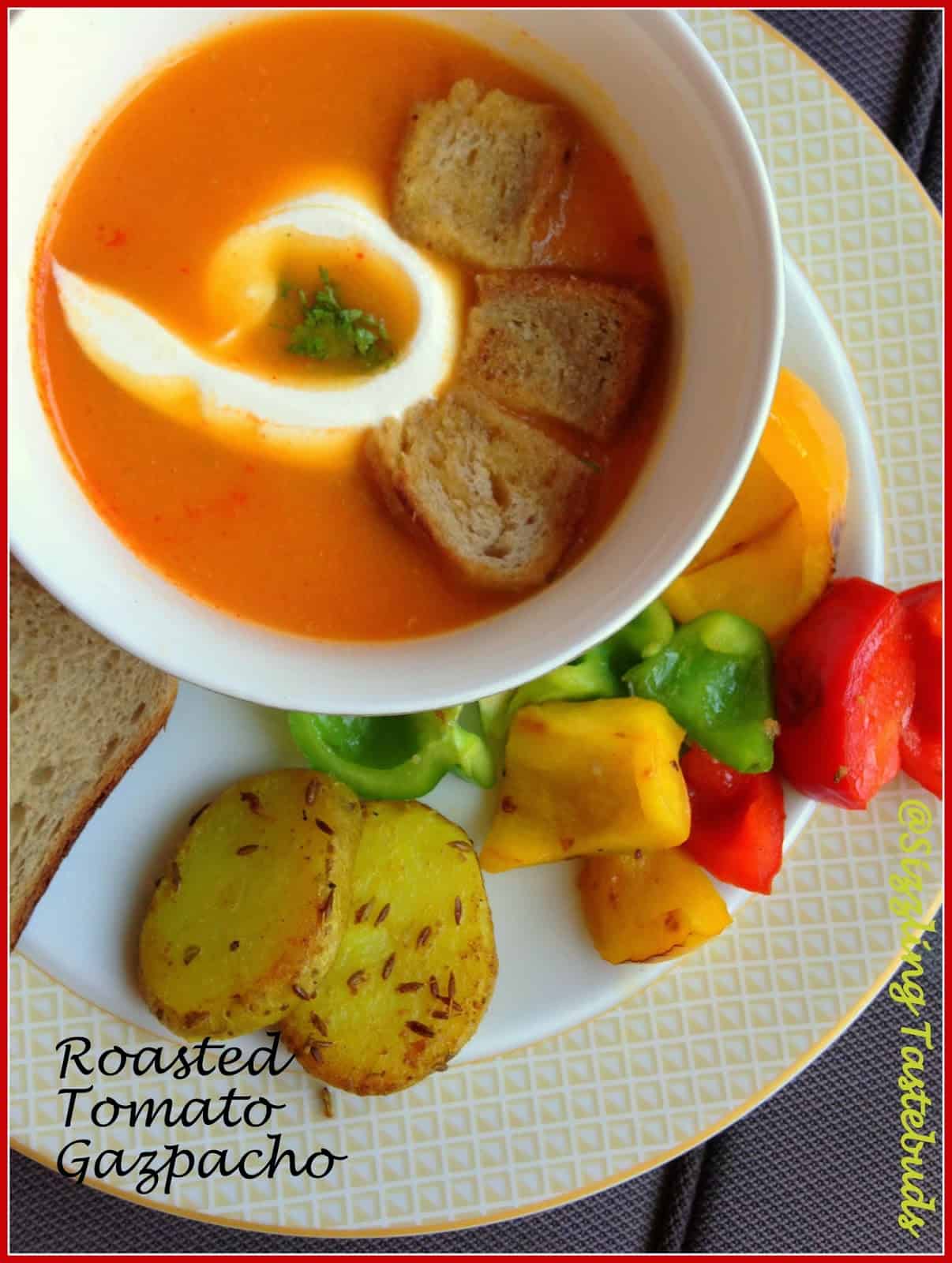 Pin
Lets check what the other Marathoners have dished out today….