ಅಗಸೆ
ಬೀಜ ಚಟ್ನಿಪುಡಿ or Flax seeds chutney pudi is one of a very flavourful chutneypudi. Like in my
earlier post on Bangalore style Chutney pudi, this condiment is a
favourite with Akki Rotti or any flattened bread. Chutneypudi is one condiment
that never goes out of style, and I keep looking for ideas that make it better.
Flax seeds needs no introduction to the blogging world – rich in fibre and
great for the heart and blood, its also used as an egg replacer in many
recipes. I also have another variation called Godhi Chutneypudi (flavoured powder with
wholewheat)
Today's post is the 2nd in the One State-3 cuisines series of
Blogging Marathon #47, we read so much about the Malnad Cuisineyesterday, and today we move to
South Central Karnataka which boasts of delicacies like Avarekaalu Akki Thari uppittu (field
beans Upma),  Obbattu. , Majjigehuli, Mysore Masala Dosa, Kosambari, Davangere Benne Dose, Chutneypudi, Ragi Mudde, Maavinakaayi Chitranna, Mysorepak etc.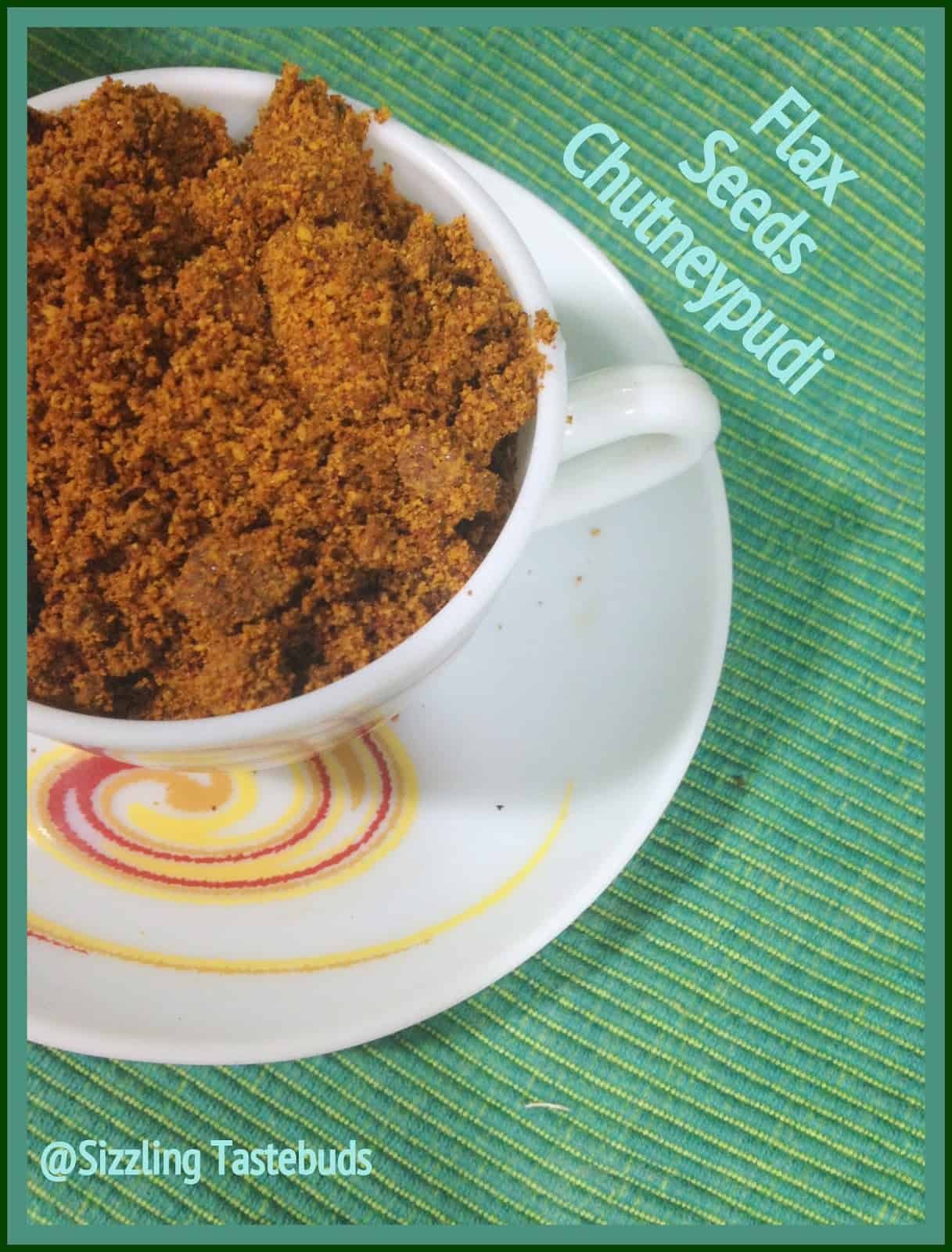 Pin

Green chillies, garlic and onion are used very sparingly in this
cuisine (traditionally speaking), although most households use them now.
Jaggery is also used extensively in making Rasam, Puliyogare etc and as I hail
from this region, it took the DH quite some years to understand why I was using
jaggery in almost all curries / rasam too. Its mostly to round off the
bitterness or acidity or heat / pungency from other ingredients. The method of
serving food in a thali is also particular to this region and is described here
in this elaborate post of Obbattu. 

Also as the temperature is quite temperate / cool most of the
year, vegetables are used extensively in cooking, as is coconut too. Today's
post is a super yum condiment thats sure to tickle ur palate. I have modified
Prathibha's recipe a bit, but thanks to her for a
wonderful variation of Chutneypudi. We enjoy it with Idli / Dosa / Rotti.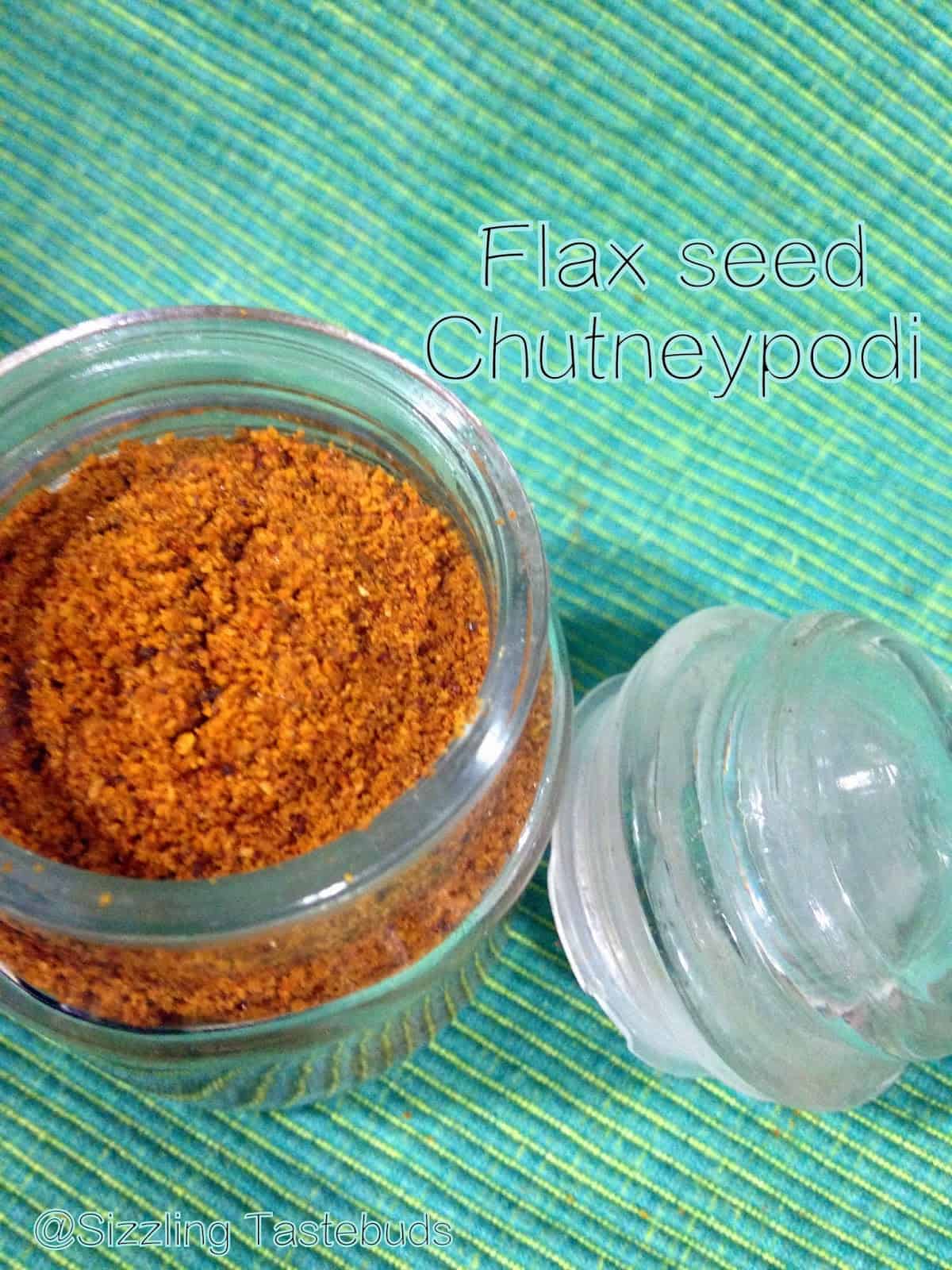 Pin

Prep time : 15 mins | Roasting and powdering time : 15 mins

Makes : Approx 200 gms of the Spice Powder

Stays : Upto 1 month without refrigeration, use dry spoon for
every use

Agase beeja Chutneypudi – flaxseed spice powder

Cuisine : Karnataka, type : Condiment, Spice level : Moderately
spicy

Ingredients:
Flax seeds – 3/4 cup
Bengal gram (channa Dal) – 1/3 cup
Urad Dal – 2 TBSP
Coriander seeds – 3 TBSP
Cumin seeds – 1 tsp
Copra / dry coconut – grated – 1/2 cup
Byadgi / kashmiri red chillies – 10
Pandi / hot red chillies – 6 to 8
Curry leaves – 1/2 cup packed
Asafoetida – 1/2 tsp (if powdered)
Tamarind – medium lemon sized
Jaggery – same quantity as tamarind
Salt – to taste
Oil – 1 TBSP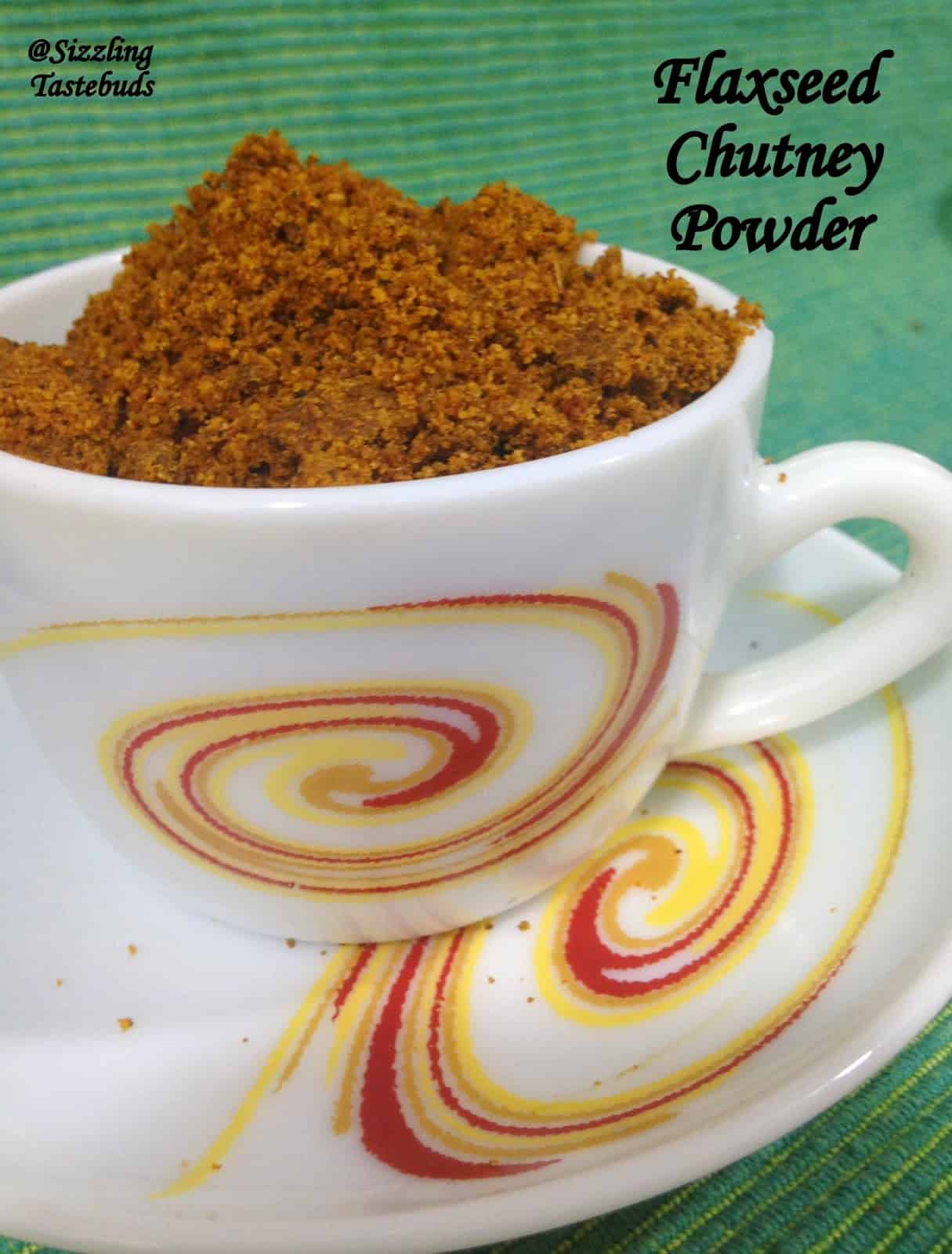 Pin
Method:
Wash flax seeds under running water in a sieve, drain immediately.
In a hot dry kadai (pan), dry roast this wet flax seeds for 2-3
mins till it dries up and starts spluttering. Transfer to a plate. 
Now dry roast all ingredients separately in the same order as
listed (except for the chillies, jaggery and tamarind). Transfer to another
plate.
Now add the oil, and roast the chillies for 1-2 mins till they get
glossy, transfer, and in the remaining oil toss the tamarind for 45 – 60
seconds till it gets crispy.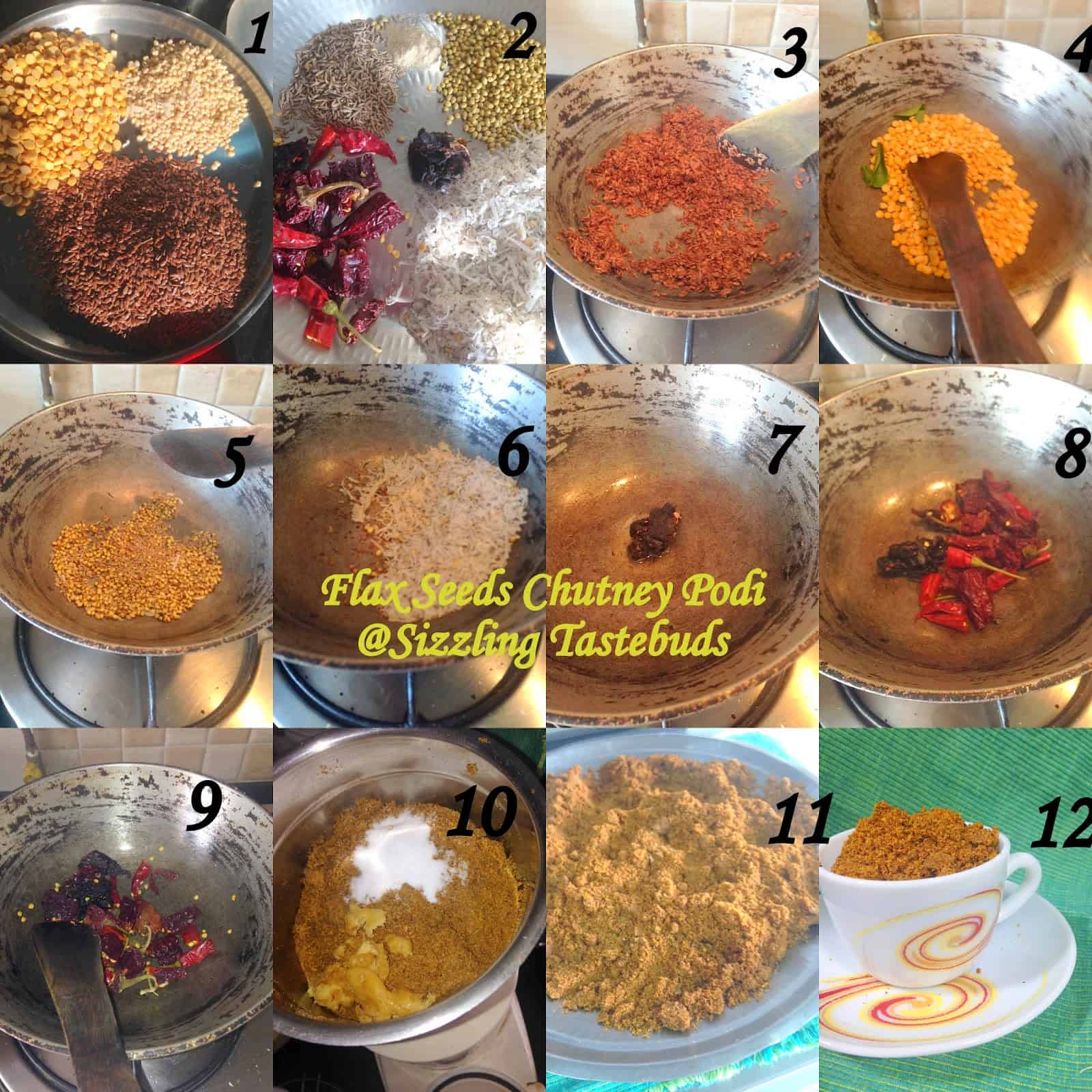 Pin
Grinding order:
First grind flax seeds, tamarind, coriander seeds, jeera and
chillies together. You would get a brownish mixture. 
Now add asafoetida, salt,
curry leaves and grind again to coarse powder.
Lastly add copra, jaggery and just pulse for 10-15 seconds (too
much grinding after copra is added will result in oil being released by copra).
Check for salt and spices . Adjust if required.
If you need some more spice, dry roast a tsp or two of kashmiri
chilli powder separately for 15-20 seconds and then mix it once more.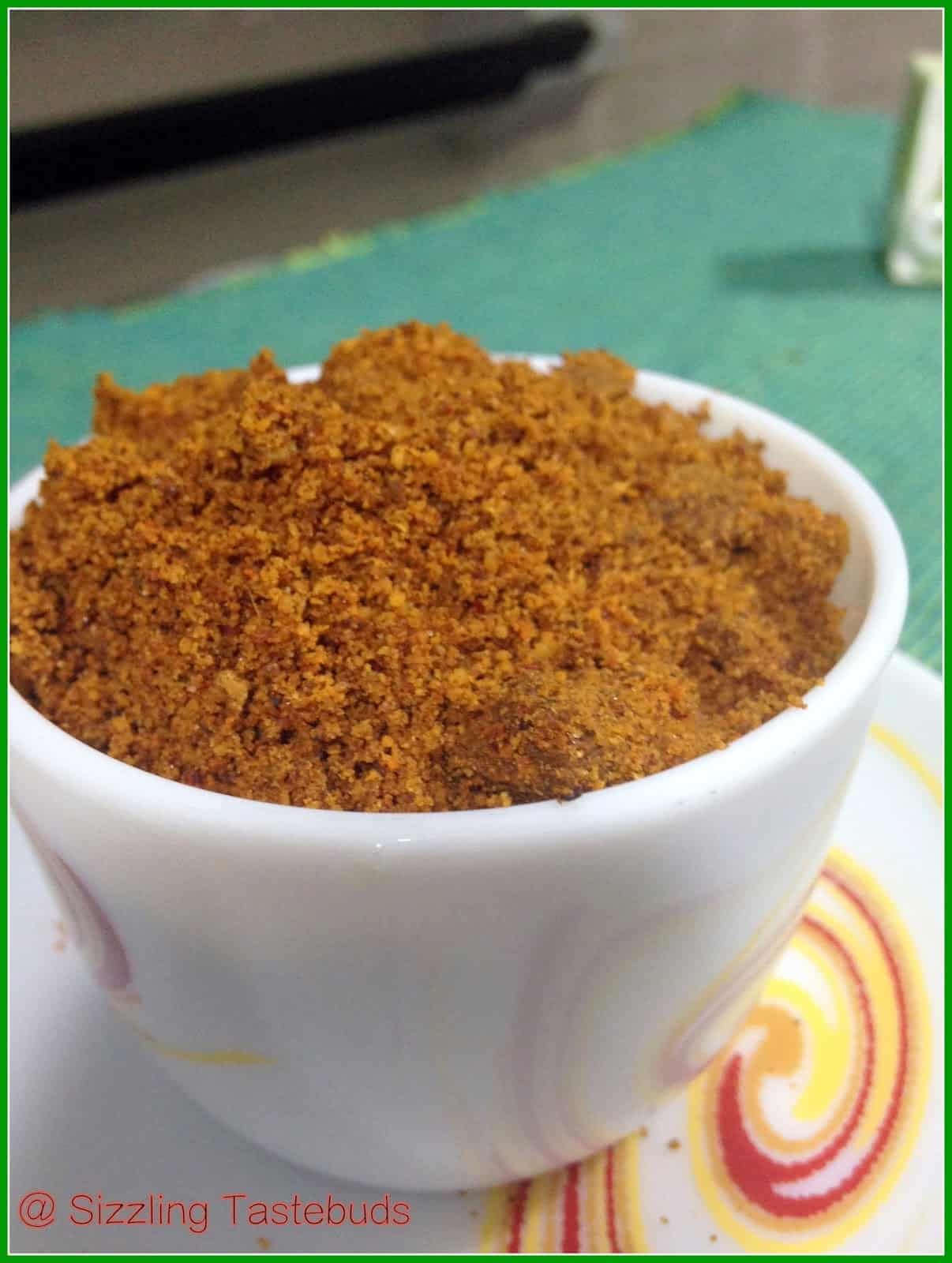 Pin
Technorati Tags: How+to+make+Chutneypudi,, Chutneypudi,
Technorati Tags: condiments,, spice, powders