Winter produce brings in a lot of
variety into the veggie basket like Purple Yam (Kand), Sweet Potatoes, Fresh
Green Peas, Hara Choliya (Fresh Green Chickpeas) etc. While I generally make
Oondhiyoo once or twice during the winters, today's post is with fresh
Choliye that my maid got from her farm (yes, this post was to go up last winter,
but was lying in the drafts to be revived now) and with potatoes this makes an
amazing gravy. 
My colleague – Ms.P, who is from Chandigarh taught me this
amazing dish, and since then I make this whenever I can get my hands on these
beauties.. Just like raw shelled peas, we all love to munch on these as is –
it's mildly sweet and has a crunch too. 
Pin

If you are keen, more info on this
wonderful legume here 

So, lets get on to making this easy peasy dish while this goes
to BM 54 under "Cooking with Lentils" theme all this week 🙂 Also
goes to MLLA #85, hosted by Jagruti ,
event by Susan & Lisa. 

Prep time : 15 mins , Cooking time : 15 mins , Serves : 3 – 4 

Vegan Side dish for Roti / Indian Flatbread / Rice. Spice level
: Medium

Course : Accompaniment, Cuisine : North Indian.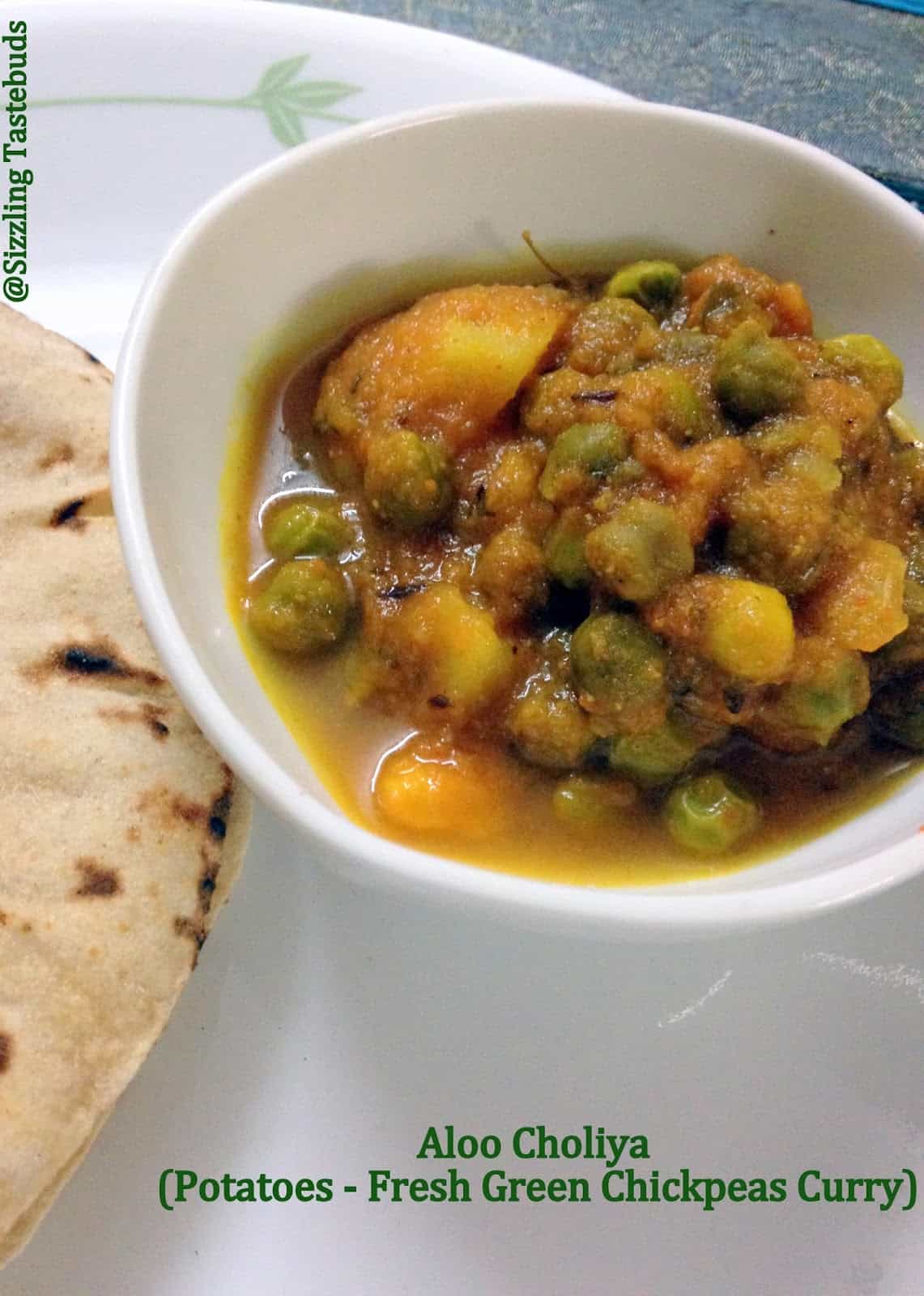 Pin

Ingredients:
Hara Choliye (Fresh Green Chickpeas) – 1 cup
Potato- 1 large
Cumin seeds / Jeera – 1/2 tsp
Oil – 1 TBSP
Salt – to taste
Turmeric powder – 1/4 tsp
Red chilli powder – 1/4 tsp
Coriander powder -1 tsp
Garam Masala – 1/2 TBSP
Jeera / Cumin powder – 1/2 tsp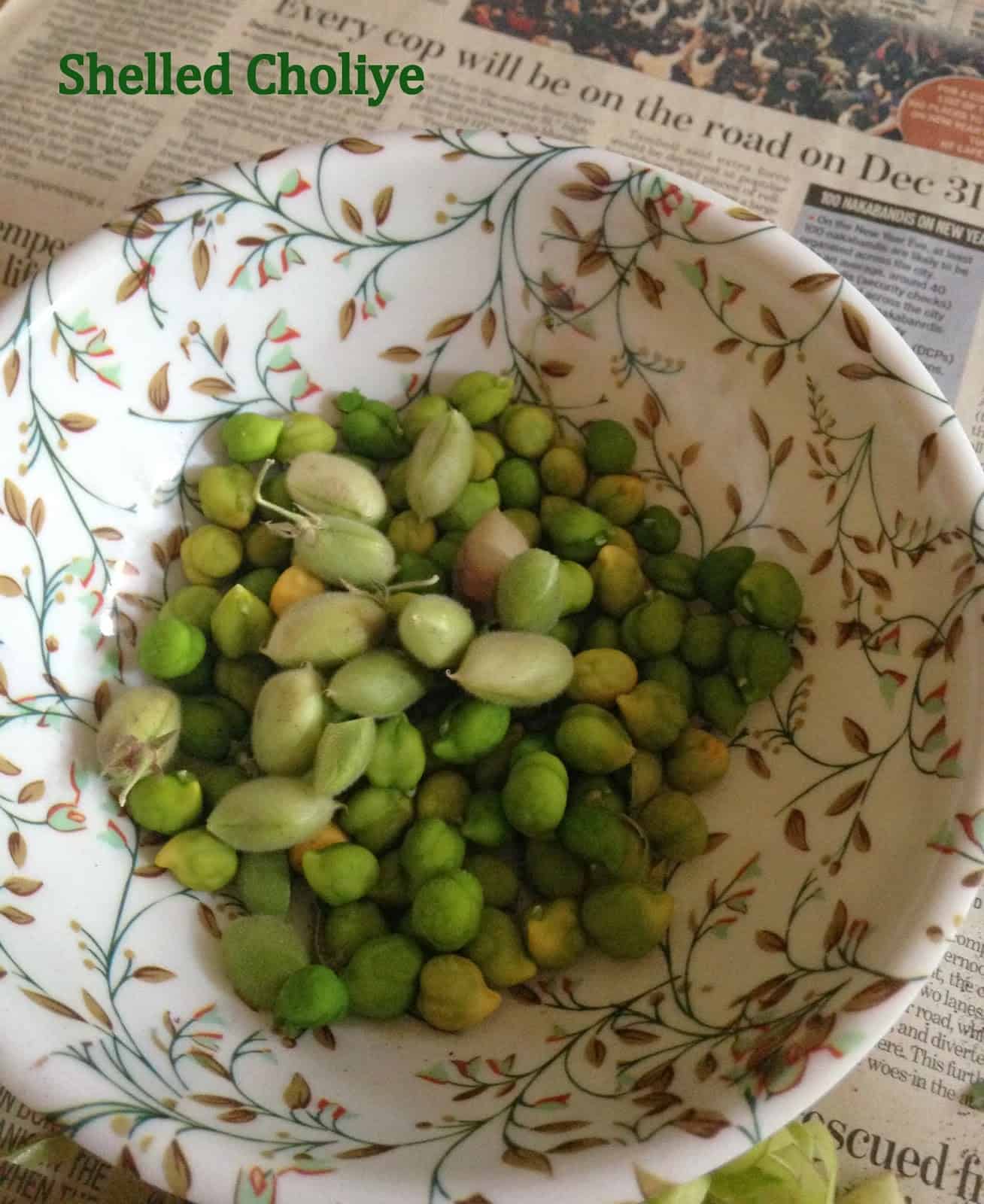 Pin
To grind:
Onion – 1 Large
Tomatoes – 2 medium
Poppy seeds – 1/2 tsp + 4-5 cashews (both soaked in warm water for 5-10 mins)
Green Chillies – 2 nos (adjust spice)
Ginger – 1/2 inch
Garlic – 1 or 2 medium pods
Cloves – 2 nos
Cardamom – 1 no.
Garnish : Coriander leaves, lemon juice (optional)
Method:
Peel potato, cube and reserve in a bowl of water. Grind all
ingredients under "To grind" to a smooth paste. 
In a pressure cooker, add oil, splutter jeera, add this paste
and saute well till it leaves oil, about 4-5 mins. Add the potatoes, shelled fresh Choliye, 2
cups of water, salt and pressure cook for 3-4 whistles.
Let the pressure release slowly on its own. Open lid and lightly
mash 1 or 2 pieces of the potato. 
Now add the rest of the spices – turmeric, coriander powder, Garam Masala, red chilli, jeera powder. Add 1-2 tsp of water if its too dry. Let it simmer
for 5-6 mins till the masala coats all the veggies and the legumes.
Transfer to a serving dish, add the coriander and lemon juice
and serve hot with rotis /Phulkas (puffed indian wholewheat bread)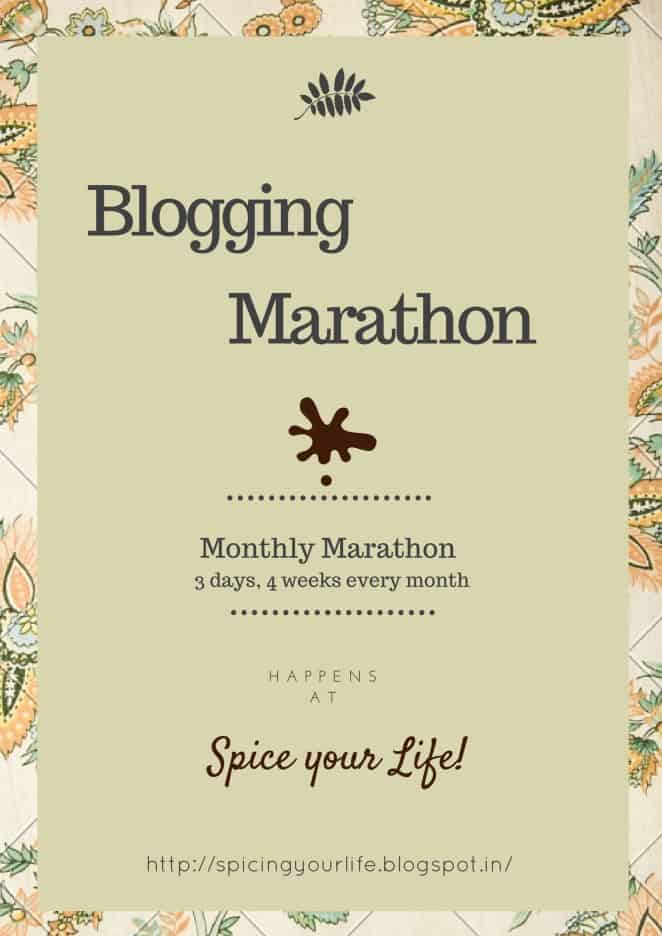 Pin
Check out the Blogging Marathon page for the other Blogging Marathoners doing BM#54