They say a picture is worth a thousand words, but in the case of a blogger friend whose blog goes by the name of Prema's Thaligai, it speaks a million words.. I am floored by the sheer length and breadth of Prema's blog – a very popular one indeed, and her dishes and pictures just speak to you- be it the icing that she uses for her cakes or the traditional recipes that she dishes out with amazing regularity, I am sure you will agree as I do, that its indeed a feast to the eyes. Happy to present Prema as our guest blogger on this monthly featured guest blogger series, and I am sure that her recipe for me – Microwave Pineapple Kesari – will sweep you off your feet with its visual and aesthetic delight. Thank you Prema, for taking off time and presenting this lovely recipe !
Without much ado, lets proceed to hear Prema, in her own words…..
" Hi everyone. My name is Premalatha Aravindhan from Prema's Thaligai and I'm the baker, recipe developer and photographer for my blog – a little bit of everything. My home town is Thanjavur,tamilnadu, India.Currently living in Singapore.I have done Master in Computer Applications. At present, I'm a home maker and a proud mom On my blog I mostly share Indian traditional recipes n baked goods.I love baking and try to surprise my family with different treats. When my blogger friend Kalyani asked me to be her guest I agreed instantly. I love her blog, her easy and yummy recipes."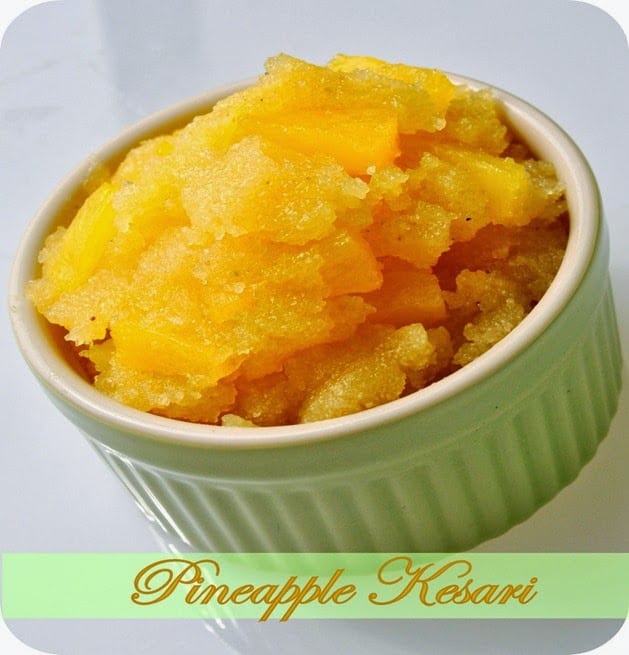 Pin
Today I'm going to share with you an easy Recipe – Pineapple Kesari – Microwave Method : How to Prepare Pineapple Kesari in Microwave:
Ingredients:
1/2 cup Rava/semolina

1 cup + 2 tsp Sugar

1/2 cup Pine apple

4 tsp + 1 tsp Ghee

A drop Pineapple essence(optional)

1 and 1/2 cup Water

5-10 Roasted Cashew nuts.
Method:

Pin
Chop the pineapple into small pieces and keep aside.Add water in a oven safe bowl and dissolve 1 cup sugar in it.Reserve 2 tsp sugar for later use and keep it in oven for 2 minutes.Stir between at every 30 minutes.

Pin
Take another oven safe bowl,add 4 tsp ghee and semolina,mix well.
Keep it in oven for 1 minute,stir in every 30 seconds.Take care that it should not burn at the bottom.
In a oven safe bowl add the chopped pineapple chunks, pineapple essence and reserved sugar.Pineapple essence will give nice flavour and colour,so if you want to add go ahead ,otherwise skip it.

Pin
Don't add water,just keep it in oven for 1 min / till the pineapple become soft .Stir in between at every 30 seconds.
Add boiled pineapple,roasted semolina with sugar water and mix well.Add the reserved 1 tsp ghee and mix well.

Pin
Keep it in oven for 2 mins,stir in between at every 30 seconds.Add the roasted cashew nuts finally and serve hot.Here is the yummy Pineapple Kesari is ready to serve.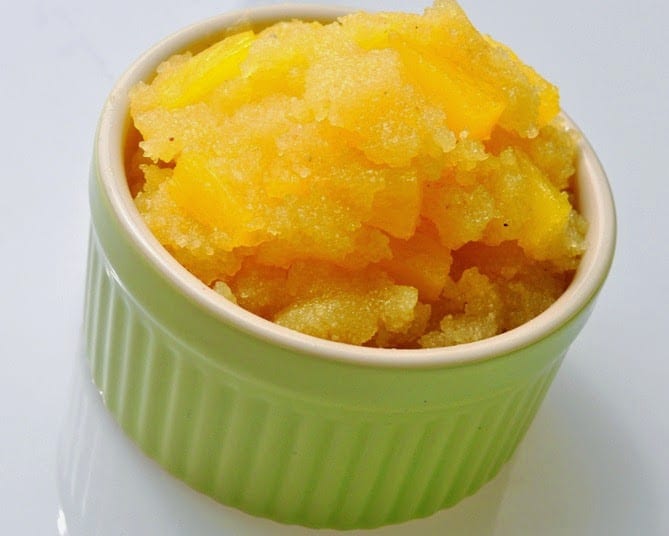 Pin