Badam Milk – a warm beverage
made with almond meal and sugar brings back memories of grandmom who used to
hand out these when we returned from school. Being vegan was unknown of in
those days (and nor was the word even heard of) as we kids used to gulp down
milk and its many forms – Plain milk, Curd (yoghurt), buttermilk, homemade ghee
and butter – in copious amounts. For the winters that Bangalore brought forth,
this warm beverage never failed to enthuse us kids with its fragrant cardamom
flavoured aroma.
Today's post shows us how to make
homemade Badam Milk Powder and make this fragrant beverage at home. Its sure to warm you up during winters.  You can use this Homemade Badam Powder not just for Badam Milk, but also in this 2-ingredient Kulfi or even in this delicious Badam vermicelli Kheer
I have used Californian Almonds as I had them on hand. Be sure to
use good quality almonds for best results. Off to the recipe now..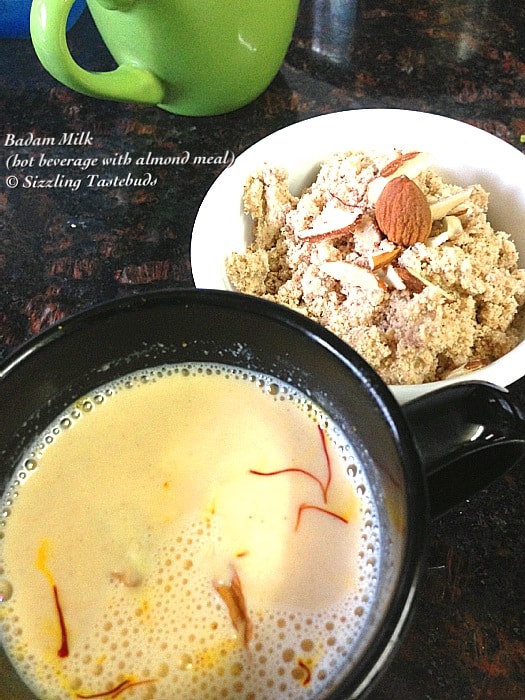 Pin

Prep time : 5 mins | Cook / Roast time
: 15 to 20 mins

Makes : 250 gms of Almond Meal, keeps for 3 – 4 weeks without
refrigeration

Difficulty level : Easy

Ingredients :

(A) For homemade Badam Powder / Almond
Meal: 
Almonds – 200 gms
Sugar – 125 gms (or more if you prefer
it sweeter)
Cardamom / Elaichi – 5 – 7 pods
Cloves – 4 to 6 nos
Black pepper – 1/4 tsp (optional)
Saffron few strands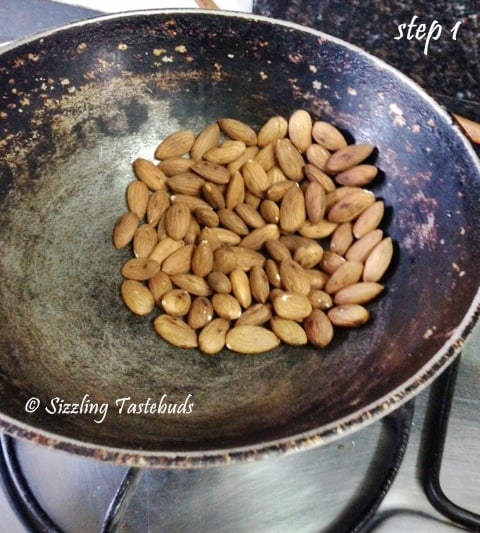 Pin
Warm the pan and then roast the almonds in batches on very low flame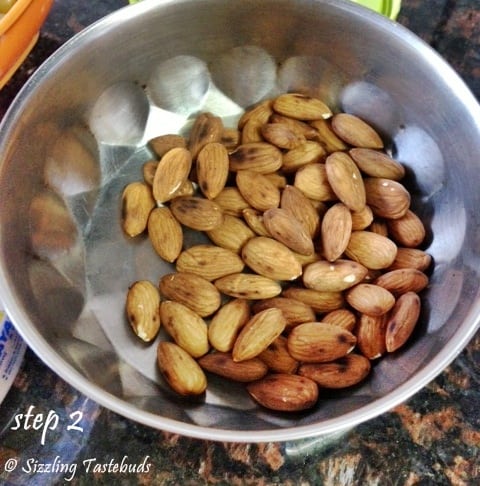 Pin
Step 2 above : Roasted almonds – must be crunchy when you bite into them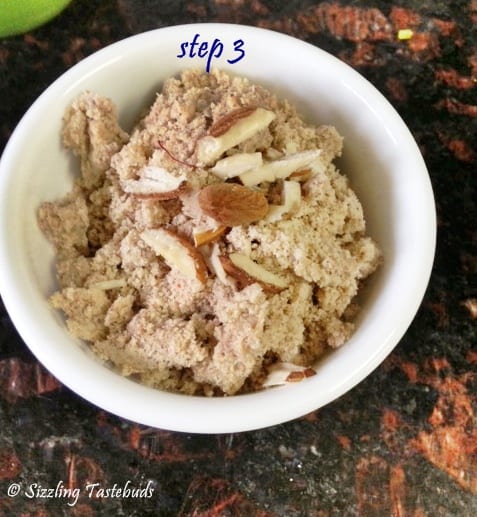 Pin
Step 3 : Powdered almonds mixed with sugar powder and spices
Method:
Heat a thick bottomed pan / fry pan.
Dry roast the almonds in
batches on a slow-medium
flame. Take care not to burn the almonds. This takes approx 10-15 mins when
roasted in batches.
Once almonds are done, cool
thoroughly. Similarly dry roast the cardamom, cloves, black pepper separately.
Cool this too.
First powder the sugar. Transfer to a
large bowl. Then powder the almonds and the roasted spices separately. Sieve
almond meal to grind any residue.
Mix all three in a large plate and add
the saffron strands.
Cool again, and store in airtight
container.
(B) To make Badam Milk Beverage: 
Serves : 2
Hot Milk – 2 cups
Badam Milk Powder (made above) – 2
TBSPs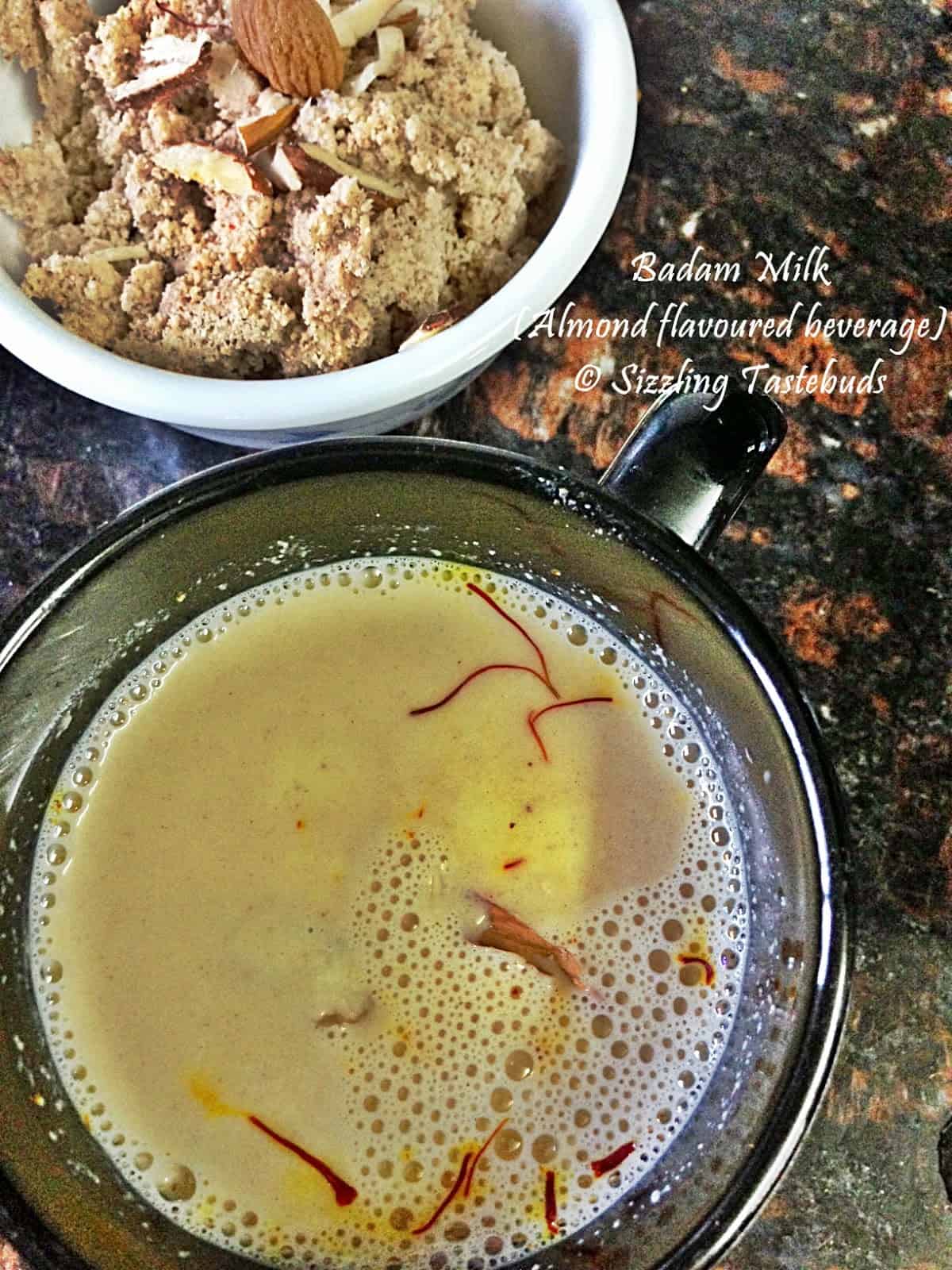 Pin
Method:
Take the badam milk powder – 1 TBSP each in a tea cup / mug
Add 1 – 2 TBSP of milk and mix into a slurry
Once dissolved, add the rest of the hot milk into the cups equally
Add more sugar if required.
Serve hot.
Linking this to:
My own Event – Winter Foods 30 Mins Challenge
Gayatri's Walk through Memory Lane
Vardhini's New U
Preethi's Foodabulous Fest
Shree's Hot Beverages & Desserts event