Thought would end 2011 – a marvellous year for my blog & me – on a sweet note with this creamy buttery and sinfully rich Eggless Vanilla Butter Cookies. This is sure to a be a crowd-pleaser as well as a hit with kids too.. I baked it for Christmas but as I had already scheduled ChocoChip Kulfi for that day, thought would do this today – although a day late for the breathtaking 14 day Blogging Marathon. I divided 2/3 of the dough and added Tutti Frutti and added Chocochips to the remaining dough.Wishing all my readers a very happy New year and a super successful 2012 !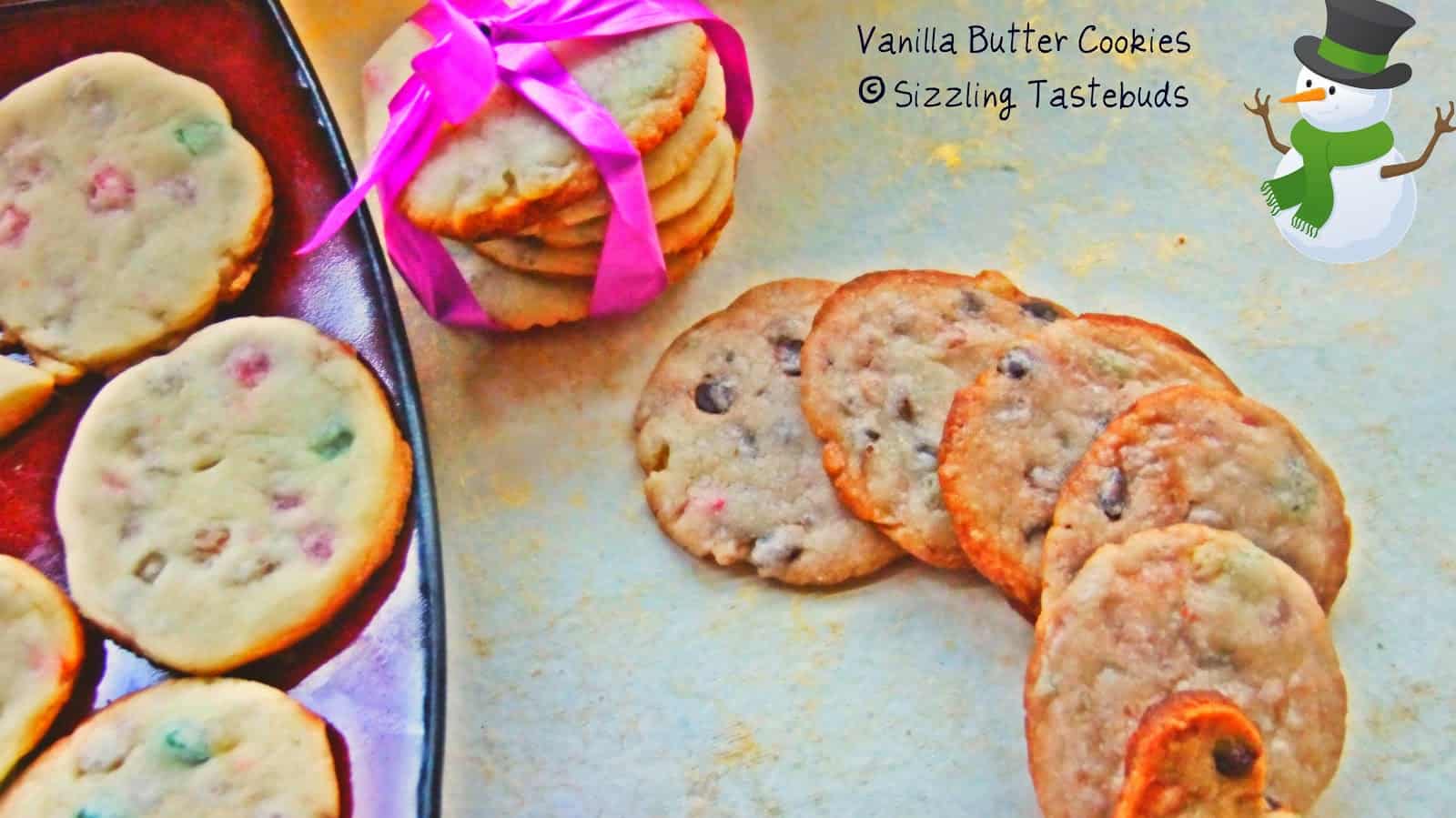 Pin

And In case you have missed the previous posts of this week's of Blogging Marathon under "Mixed Themes", here's a quick recap :

Day 1 – How to make Croutons at home 

Day 2 – Mullu Murukku | Deep fried rice flour snack

Day 3 – ChocoChip Kulfi for Christmas 

Pin
Day 4 – Low Fat Pav Bhaji
Day 5 – Peas Tikkis | Matar ki Tikki
Day 6 – Moroccan Spiced Chickpea-Squash Soup

Pin
This post is also to celebrate alandmark of 100000 hits for my blog – Thank you dear viewers, your support is very encouraging ! And to celebrate both these occasions, what better than with a super delightful Cookies that me and my little angel put together.Yes,while I rolled out the dough, she was more than willing to cut out cute little hearts and stars from her cookie cutter (I never thought I would use them) ! And as I send a batch of this to my Sis-in-law's family @ Madras (ok, Chennai), I feel nice to spread this happiness amongst family and hopefully S's nephews will also like them ! This is a simple recipe and I kind of toned down the butter and used some olive oil instead. Do make them and enjoy these baked goodies with a cup of evening tea. Along with Blogging Marathon (under Holiday Baking theme), this also goes to : Valli's Snack Mela, Radhika's Baked Goodies,Sangee's BakeFest,event by Vardhini, Valli's Snacks Mela, Only Cookies and Cakes by Pari, Sinful Delights hosted at Zesty Palette,Sweet Baked at Krithis and Dennys, Cooking Concepts Holiday Baking, Julie's Christmas Delicacy, Veena's Kids Delight – Colourful Palette, Khushi's Bake With Your Heart & also Suma's Cookies event 
Check out the Blogging Marathon page for the other Blogging Marathoners doing BM#11
Prep time : 20 mins. Standby time : 60 mins. Bake time : 12 – 15 mins. Makes : 20-25 medium sized cookies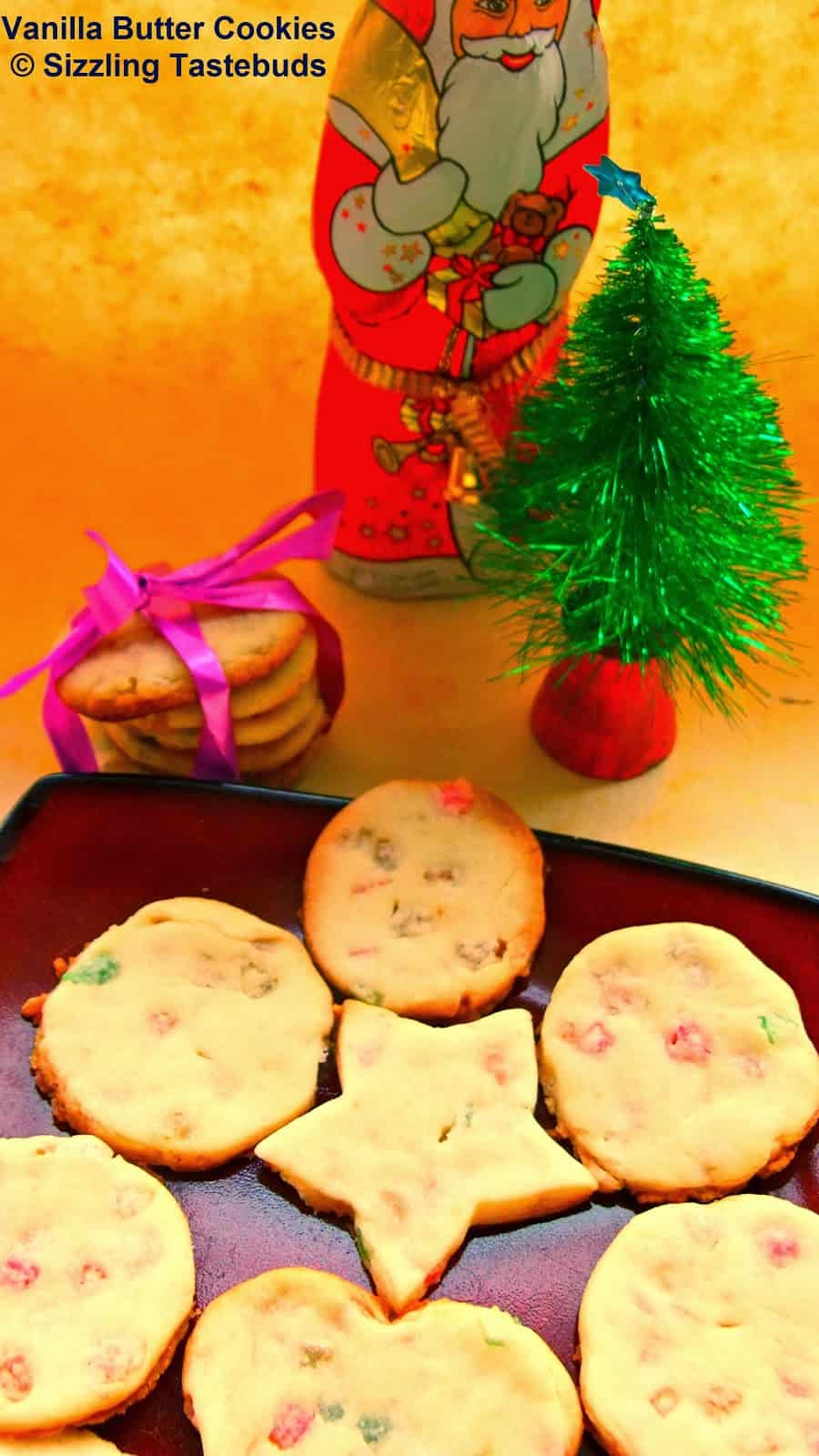 Pin
Ingredients:
Maida /APF – 1 cup
Sugar Powder – 1/2 cup
Butter – 1/3 cup (I substituted 1/2 pf the 1/3 butter with 4 TBSP of Olive oil)
Chocochip – a handful
Tutti fruiti – 1/4 cup (substitute with candied fruit or candied peel too)
Vanilla Essence – 1/4 tsp (adjust to taste)
Salt – a pinch
Warm Milk – 1/4 cup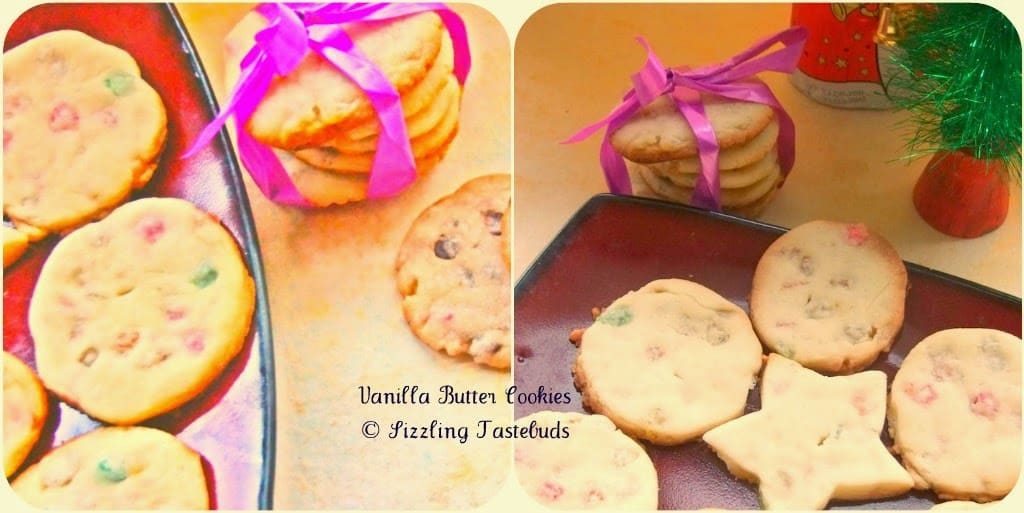 Pin
Method:
1) Cream butter and sugar well. Add the olive oil to the butter cream at this stage and mix well.
2) Sieve Maida and salt twice and add this maida mix 2 TBSP at a time into the sugar-butter mix and slowly sprinkle milk and mix all the dough into a soft dough. Divide the dough into 3 parts now. Combine 2 parts, add tutti fruiti and mix well again. Add Chocochips to the third remaining part and mix lightly. Roll both the parts into separate thick logs & refrigerate them for 45 mins- 60 mins before baking wrapped in separate cling wraps. 
3) After 45 – 60 mins, unwrap from cling wrap and roll into flat rounds (using ziplock covers) and cut them into exciting shapes using a cookie cutter. If you wish, you may also not roll out and cut out the logs into thick slices and bake them. But if you want to involve your kids, dont let go of this opportunity to let them discover using cookie cutter. My little angel enjoyed the experience a lot 🙂 
4) Meanwhile pre heat oven to 160 C for 7- 8 mins. Line the baking tray with foil and spray cooking oil on it. Place the cookies and bake for 12-14 mins. Mine were done by 13 mins. They are soft when taken out. Place them on a wire rack for 10 mins and pack them immediately after cooled into air tight tins , and watch the soft buttery cookies disappear before you can say, "Ummmm" 🙂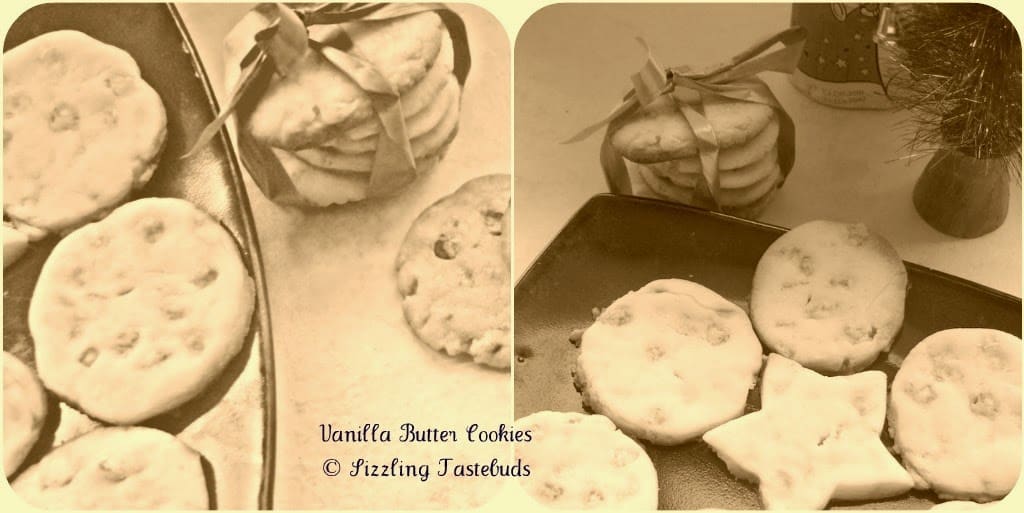 Pin