Pin

Cakes require no introduction to a food blog, nor an excuse to bake and eat them. Of course, there are different types of cakes – tea cakes, cup cakes, 3 -tiered , frosted cakes, wedding cakes … the list just seems to go on..

Well, it was a Saturday, and the urge to bake something was getting stronger by the hour ! So, I tweaked a recipe , and added chocolate and cocoa to make Eggless Tutti fruity Chocolate Cake. As mine was an eggless version, I substituted eggs with a little more oil and added condensed milk from theoriginal recipe. I also used 1 cup of Whole wheat flour instead of refined / All Purpose Flour (APF) and got this amazingly moist cake, which actually didn't require frosting ! But my daughter wouldn't touch any cake without it, so made up this frosting more on-the-spot types, and did it work !!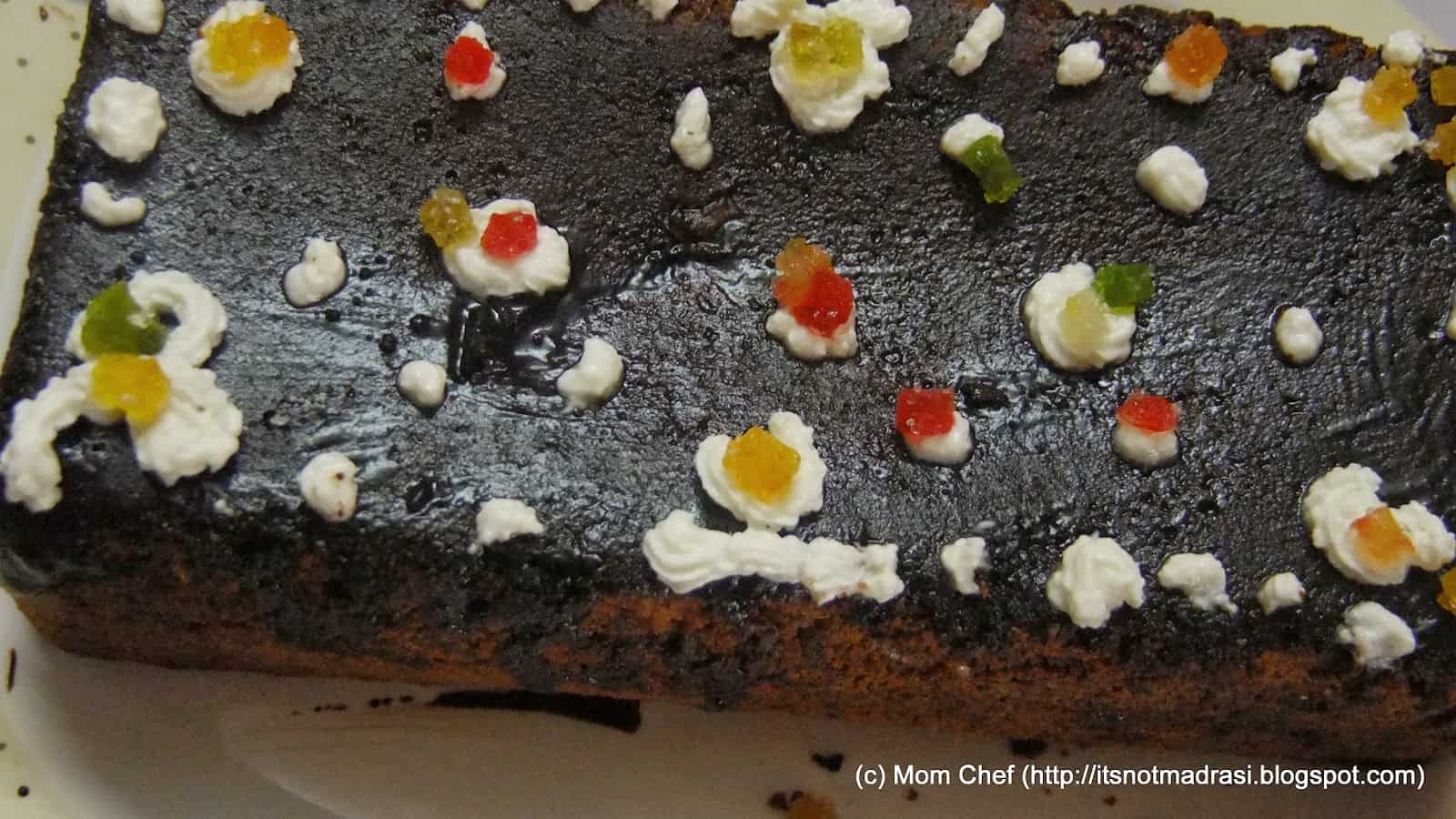 PinPreparation Time: 10 minutes; Cooking time :35 minutes

Ingredients:

· APF – 1 cup

· Whole wheat atta / wheat flour – 1 cup

· Baking Soda – ½ tsp

· Baking Powder – 2 tsp

· Powdered Sugar – 1 ½ cups

· Cooking Oil / Melted butter – 1/3 cup

· Condensed Milk – ½ tin

· Tutti fruity (Candied fruit) – ½ cup

· Milk – ¾ cup

· Pineapple essence – ½ tsp

· For Frosting (optional)

o Whipped cream – ¼ cup

o Butter – 2 tbsp

o Cocoa Powder – 1 tbsp

o Drinking Chocolate powder – 1 tsp

o Tutti frutti – for decoration (can use cherries as well)

Method:

1) Grease & flour cake pan / loaf tin

2) Preheat Oven to 180 Deg C

3) In a big mixing bowl, sieve flours, baking soda, baking powder. To this, add candied fruit / tutti fruity. Mix well.

4) Cream powdered sugar with butter / oil. To this add essence and mix well.

5) To the above mixture, add half of the flour mixture, then add milk, then remaining flour mixture. Fold. Do not over mix. Now add condensed milk and fold once more.

6) Pour this batter into tin, and bake for 30 – 35 minutes till toothpick comes out clean

7) Stand on a wire rack till cool. Cut into slices and serve as it is or with frosting.

For frosting:

1) In a bowl, beat butter and chocolate and cocoa powder. Add 1 tsp of oil / butter if required to get a pouring consistency. Now add half of the whipped cream. Mix well.

2) Smear this cocoa-cream topping on the cake. Decorate with remaining whipped cream and decorate with tutti frutti.

3) Now cut into slices and serve.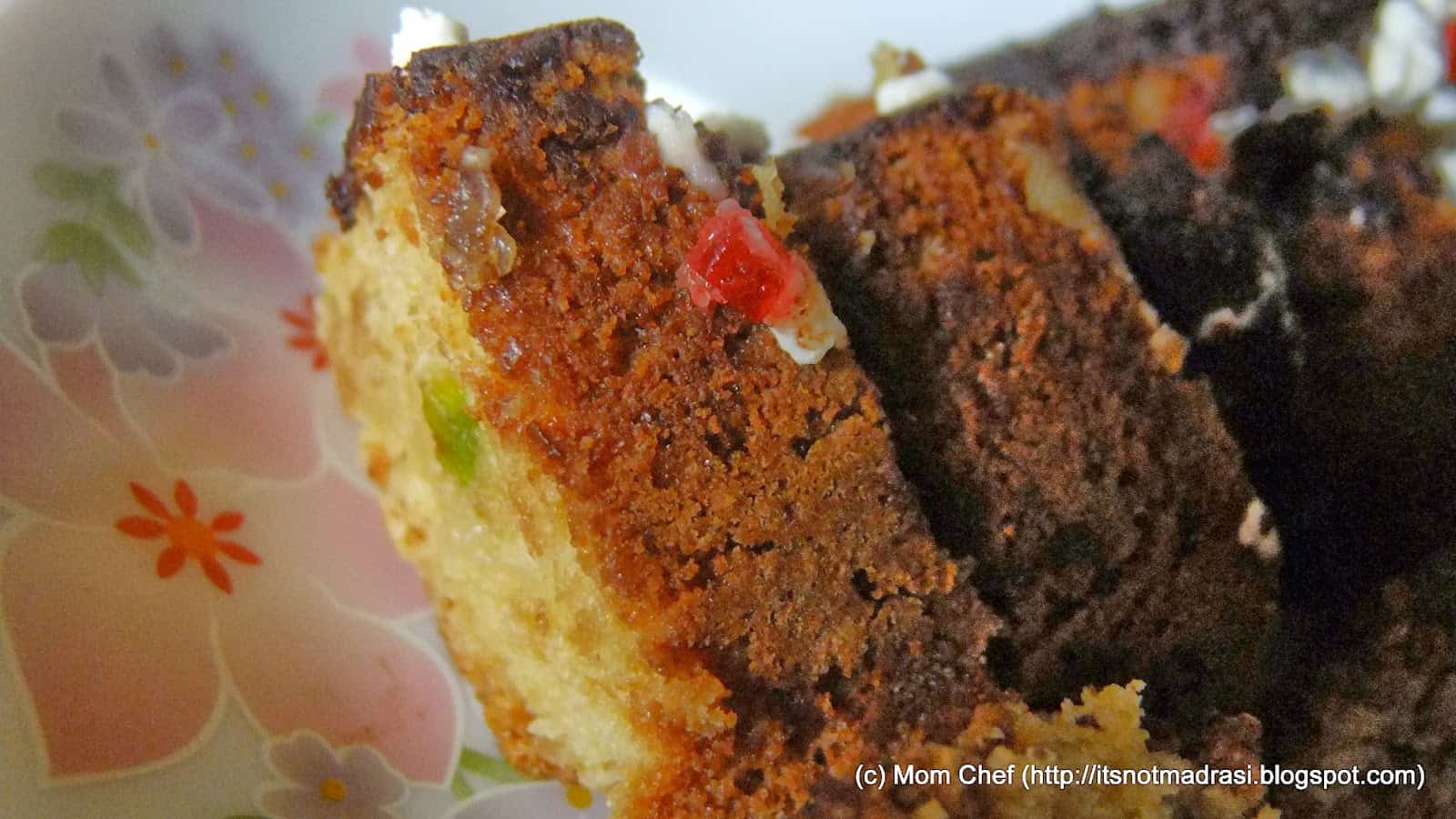 Pin
One more pic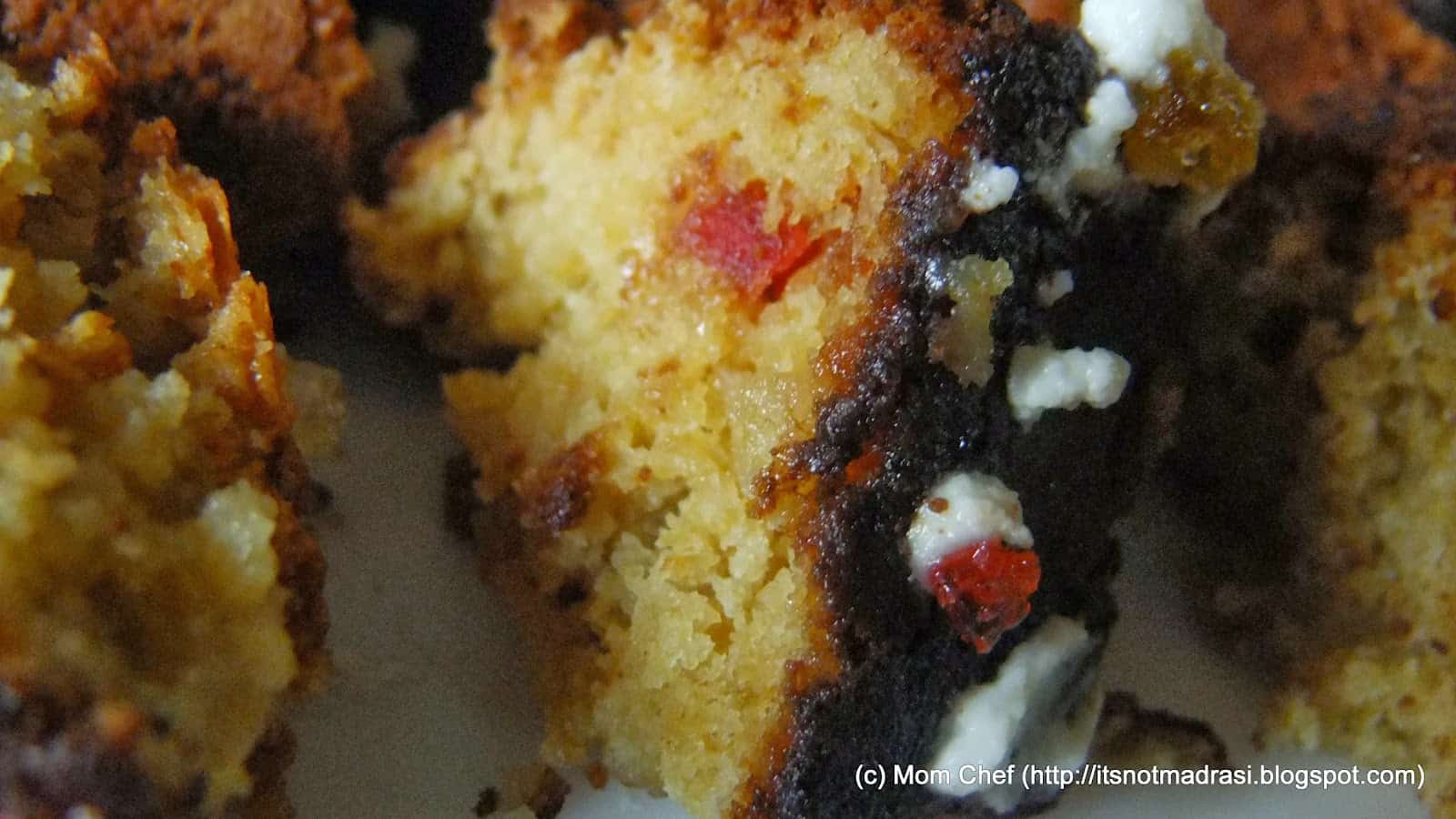 Pin