In the last of the series on Latin American cuisine, we have this decadent and deliciously addictive Brazilian Carrot Cake. Of all the cakes I have made till now this was voted the second best (the 1st place of course goes to the Multigrain Almond Quick Bread) . The soft carrot core giving an absolute contrast to the delicious chocolate ganache . My kids kept asking for more servings and even mom & the husband loved it.
If you are a fan of chocolate (or not), make this and am sure you would love it !
Adapted from here, I made some changes to make it healthy, eggless & wholegrain. A slice of this can be enjoyed by #diabetics too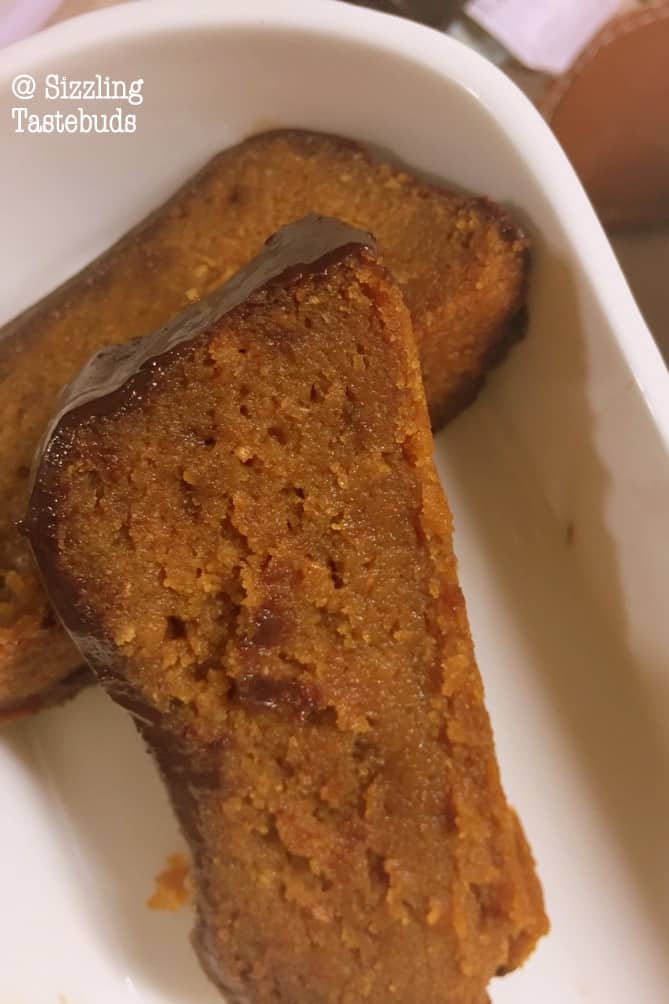 Pin

Hope you enjoyed the series of this cuisine under Latin American Cuisine

Prep time : 15 mins, Baking time : 30-35 mins (varies from oven to oven) ;

Makes : approx 350-400 gms of Cake.

Dry ingredients:
Wholewheat flour – 225 grams
Organic Powdered jaggery – 200 grams
Baking powder – 1 tsp
Cinnamon powder – a large pinch
Salt – 1/4 tsp
Wet ingredients:
Oil – 125 ml
Vanilla essence- 1 tsp
Carrot – 125 grams (peeled and grated)
Thick yoghurt / hung curd – 1/4 cup
Frosting:
Milk – 2 TBSP
Semi Sweet Choco chips – 4 TBSP
Sugar / jaggery – 2 tsp (I didnt add any)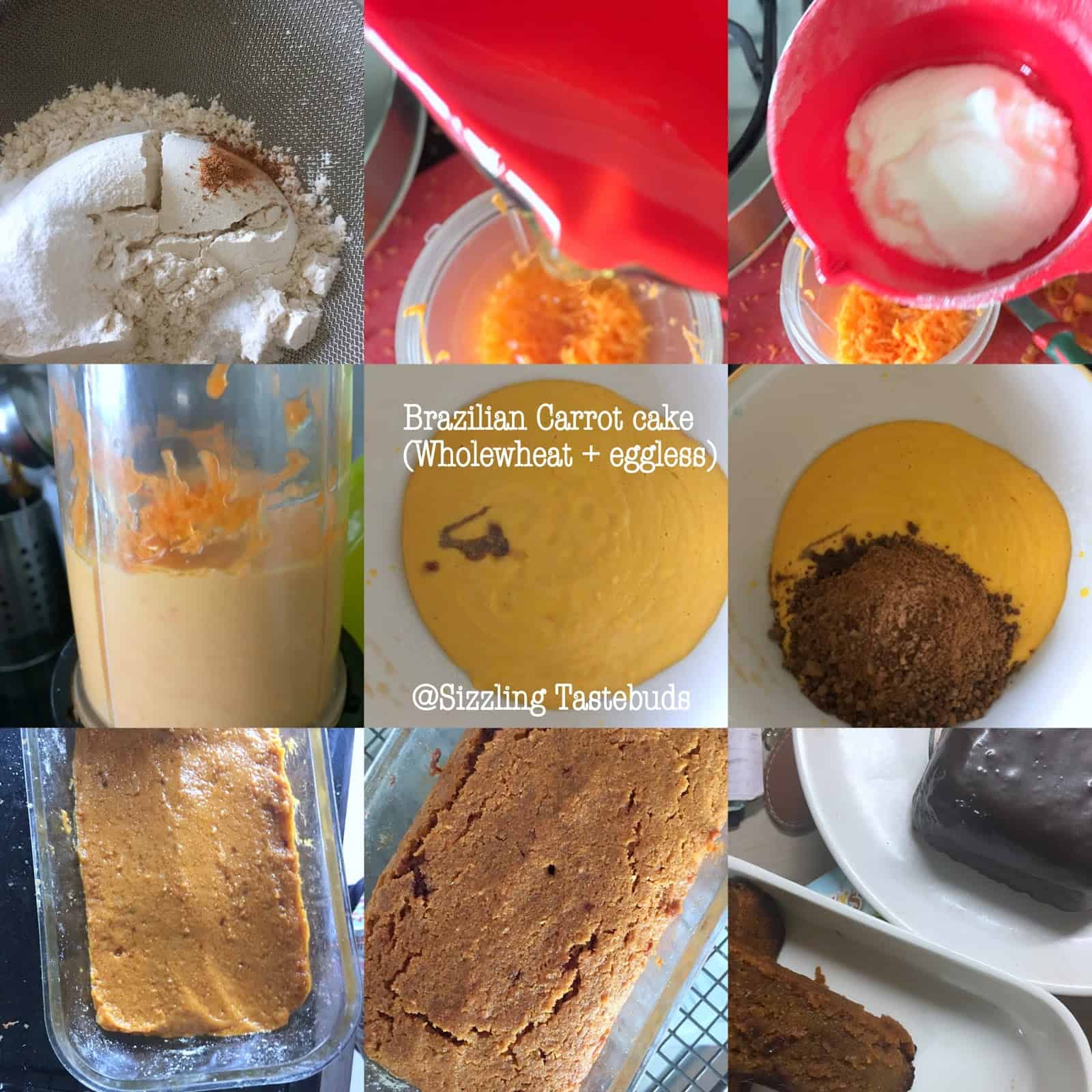 Pin

Method:
In a bowl, Sieve dry ingredients 3- 4 times. Pre heat oven to 170 C / 375 F. Grease and line a 8 *4 baking dish (you may also use a 6 inch cake dish)
Puree Carrot with oil and yoghurt without adding any water.
Add this puree to the sieved dry ingredients. Now add the rest of the wet ingredients and slowly fold to get a smooth cake batter (do not beat)
Add 1-2 TBSP hot water if required to rub off any stubborn dry streaks of flour left.
Pour batter to lined baking dish, bake for 30-35 mins or till a toothpick in the centre of the cake comes out clean .
Once out of the oven, cool on wire rack, remove after 15 mins and cool completely.
Meanwhile, warm the milk slightly. Add this to a bowl of choco chips, wait for 2 mins and lightly mix to a smooth, shiny ganache.
Once the cake is cooled completely, spoon in the ganache all over. Let it set for 30-45 mins in the fridge. Cut and serve chilled or at room temperature.
This makes for a delectable , healthy , wholegrain and egg-free dessert.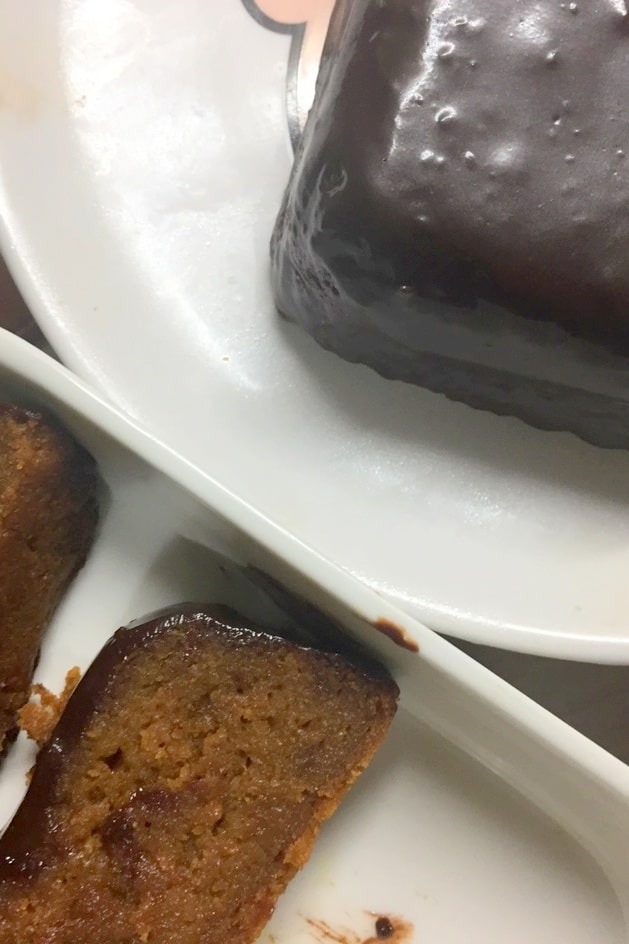 Pin