How
do you choose 3 recipes amongst 300+ all-star recipes that were dished out as
part of the international blogging Marathon that concluded recently ? It was
indeed a tough task, but based on my personal favourites and family
preferences, tried out 3 dishes (and more!) for this week's theme of Bookmarked
recipes.
The first today is Sindhi Sai Bhaji (from Pakistan, actually)
bookmarked from PJ's blog.
She had about 80+ salad and soup combos too – but I had done enough justice to
both salads and soups in my own blog, so this curry caught my eye as soon as I
saw it.
Thank
you PJ (and Vaishali), for a wonderful recipe – contrary to what I thought, we loved the garlicky taste and aroma of the curry. Although I didnt follow it to the T (mashed
brinjals is not on my fav list :D), we enjoyed it with steamed rice for a
lovely dinner (that explains the low light in the pics :-)).
With nippy winters, spinach is available fresh and easily. I am sure we shall be making this very
often. Sending this dish to BM 46 under bookmarked recipes (ABC world Marathon)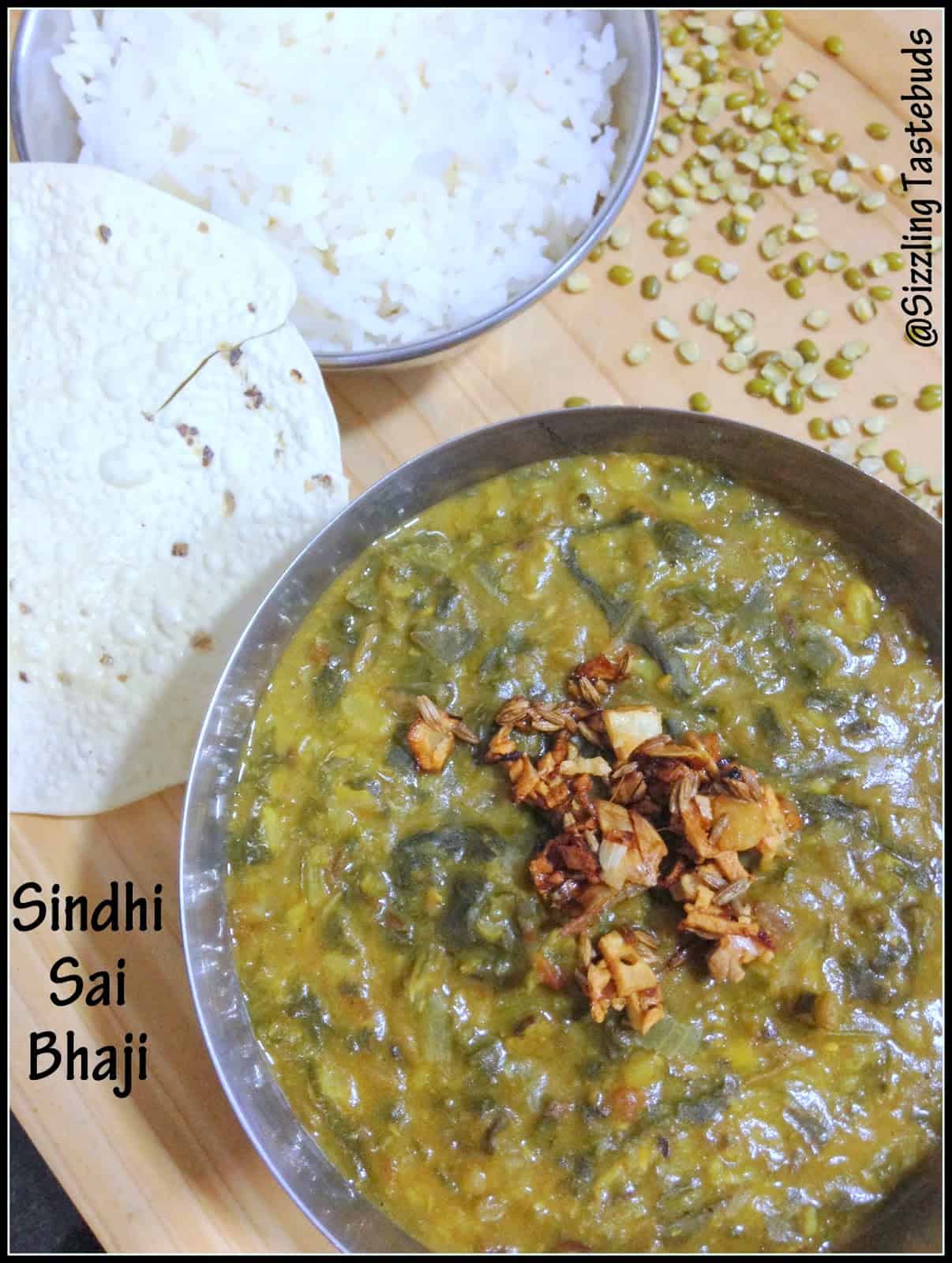 PinPin

Prep time : 15 mins | Cook
time : 15 mins | Serves : 4

Spice level : Medium

Difficulty level : Easy

Serving suggestions : Plain Rice
/ roti

Ingredients
Mixed veggies – 1 cup (potato, carrots, cauliflower, beans is what I used)
Spinach – ½ bunch
Dhuli moong dal (slightly dehusked green gram, with skin on) – 2 handfuls
Channa dal – ½ cup
Onion – 1 large
Tomato – 1 medium
Garlic pods – 2
Dry masala powders : Coriander, cumin, garam masala, red chilli
and turmeric
Salt – to taste
Oil – 1 TBSP
Tempering:
Garlic pods – chopped – 2 nos
Jeera / cumin seeds – ½ TBSP
Asafoetida – ½ tsp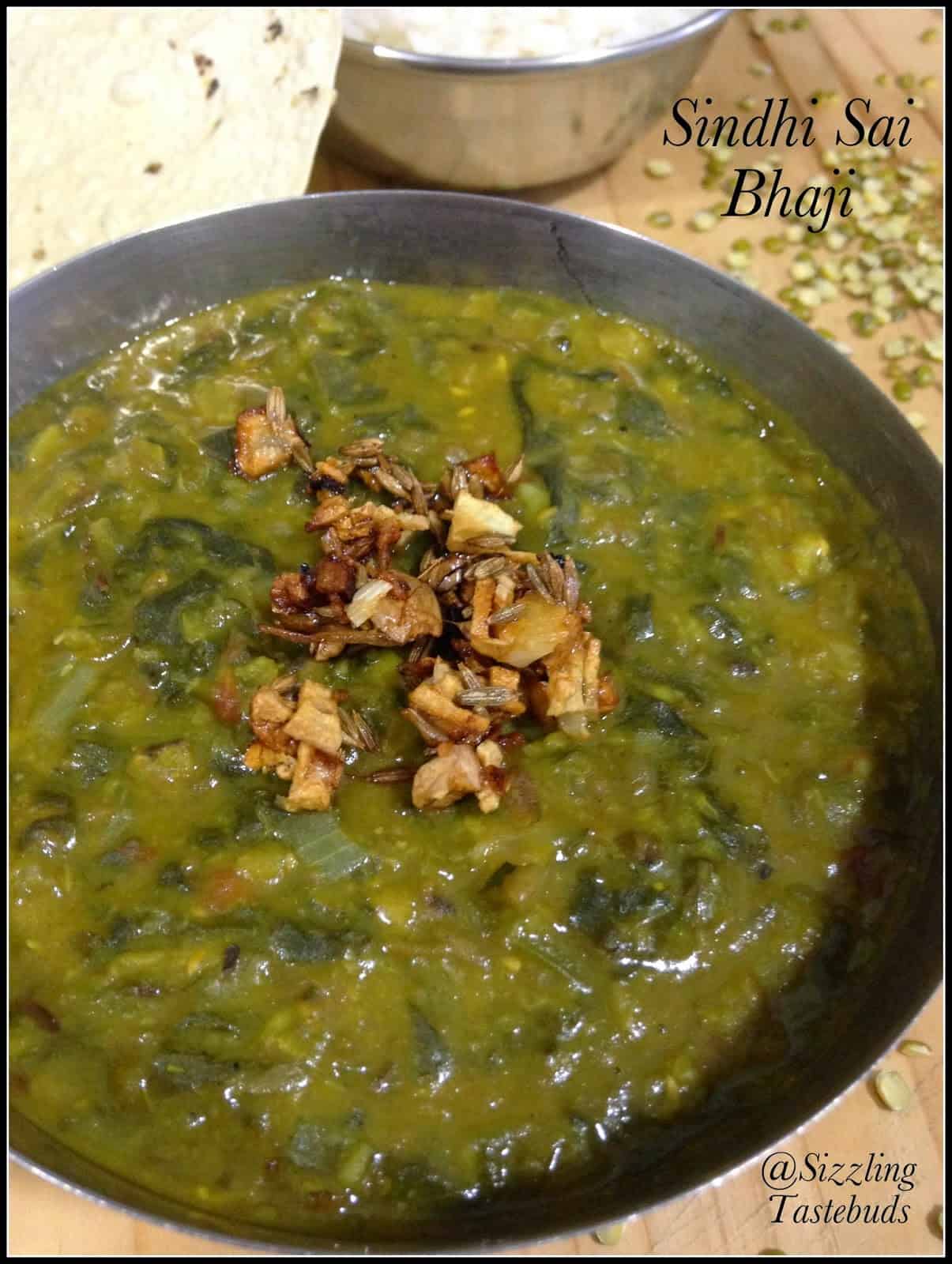 Pin

Method:

Soak the dals for ½ hour in warm water.

Pressure cook the dals, vegetables, greens with salt and half of
the masala powders – let it cook for 2-3 whistles.

Once done, add 1 cup of water and mix well.

In a pan, sauté chopped onions, garlic pods, tomatoes,
half the minced garlic till onions turn slightly brown. Add the cooked stuff from the pressure cooker
– Let it simmer, add the rest of the spices and check for salt.

Turn off the flame when you get a thickish gravy

To serve:

Prepare tempering with remaining garlic, 1 tsp oil and jeera
(cumin seeds)

Pour over the gravy and serve immediately with plain rice and
papad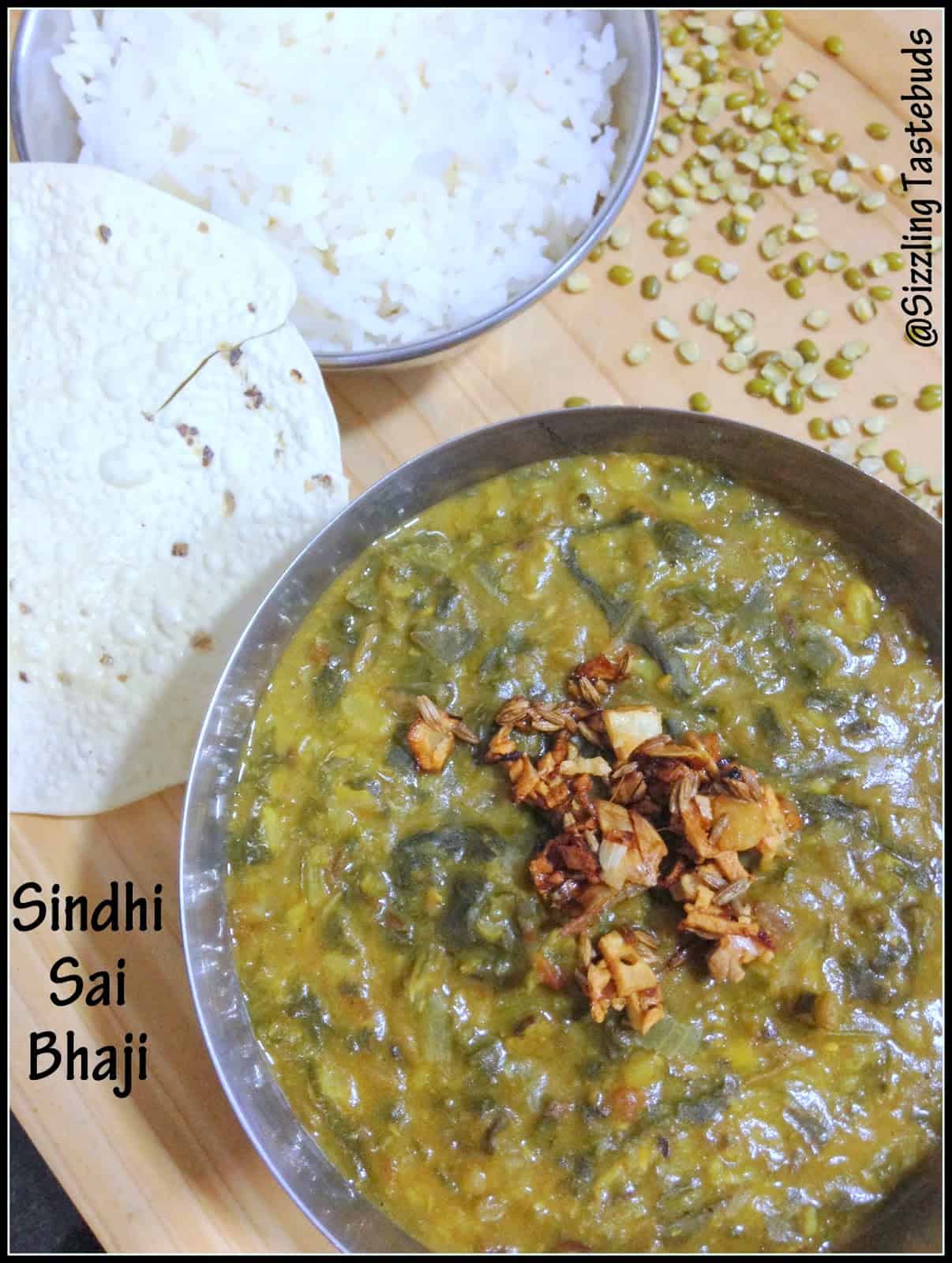 PinPin