Sometimes you need a shock value from food to reinvigorate yourself . Today's Erra Karam dosa does just that. Although by and large we are a savoury loving family, the spice paste used for this dosa which has its origins in the Rayalseema region of erstwhile Andhra Pradesh state is spicy to say the least .
I did expect the dosa to be reasonably spicy, but I think I was a tad casual in the number of the chillies and it was quite spicy. But otherwise it was a lovely break from the semi-spicy food we have .
Adapted from Priya Srinivasan's recipe (who in turn I think referenced Suma's recipe), this was one more bookmarked recipe cleared out well. Thanks Priya and Suma for the recipe.
I used a combo of onions , spice powder as toppings (instead of the paste) and that gave a slightly different but delightful textural high to the dosa.
So far in the #26daysofdosa, we have seen :
A – Azhagar Kovil Dosa (Vegan &GF)
B – Black Rice Adai (Kāvuni Arisi Dosa)- (Vegan &GF)C – Cucumber Dosa – (Vegan &GF)
D – Drumstick Leaves Adai (Vegan &GF)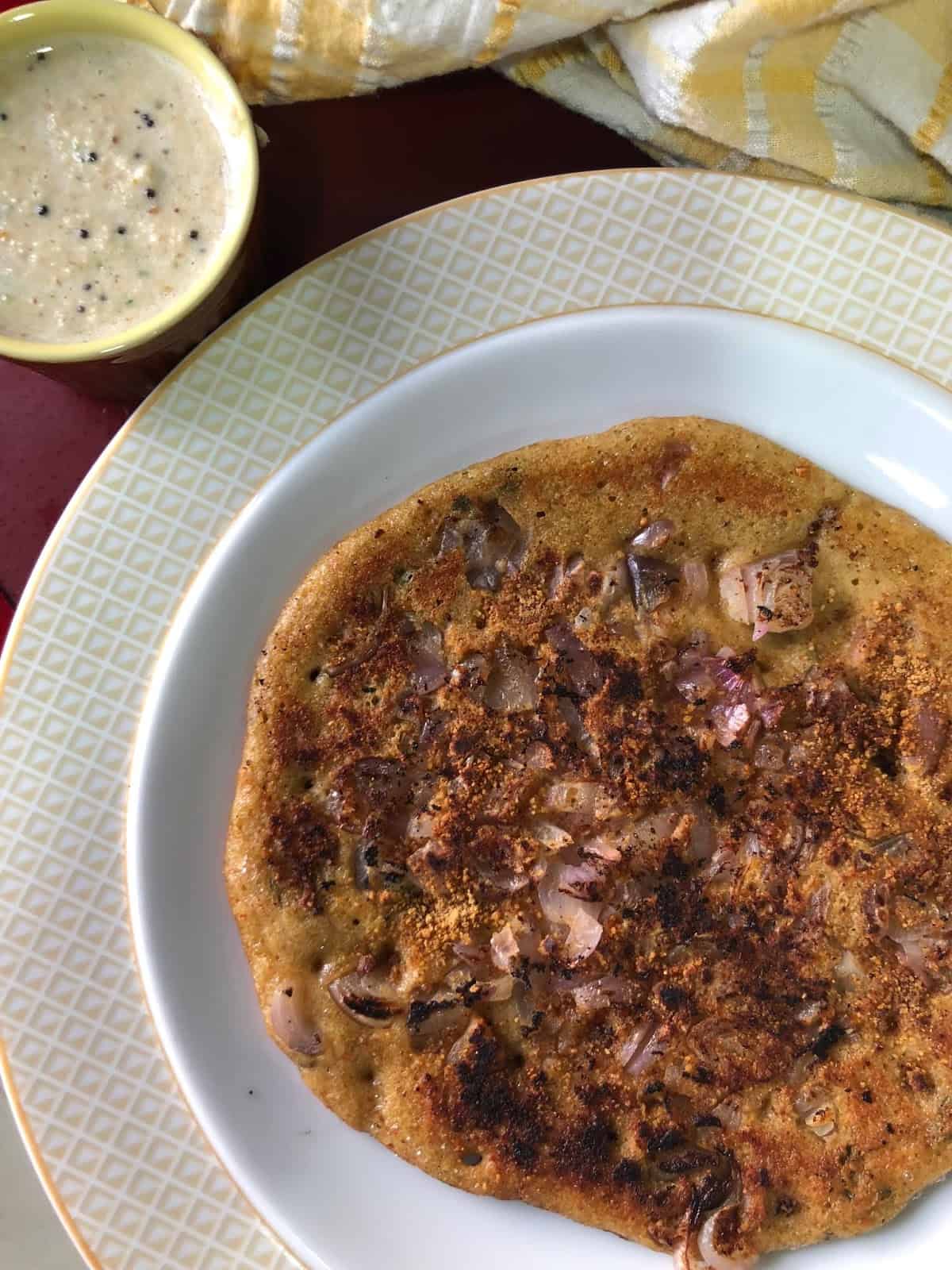 Pin
Let's get to today's recipe:
Vegan and GF Erra Karam Dosa served with Hotel style Coconut Chutney
Prep time + soaking + fermentation time – 10~12 hours
Makes – 15 to 20 Dosas
Spice level – high
Ingredients:
Dosa batter – as required. I used this Foxtail Millet Dosa
Oil – to roast the dosa
For the Karam (spice) chutney (you can make dry or wet chutney, I prefer dry chutney as it keeps for 2-3 days under refrigeration)
Guntur Red chillies – 10 (adjust to taste)
Garlic Pods – 6 to 7
Sesame seeds – 1 TBSP
Salt – to taste
Peanuts – 4 T
Tamarind – small gooseberry sized (about 20 grams)
Fresh whole Black pepper – 1/2 tsp
Oil – 2 tsp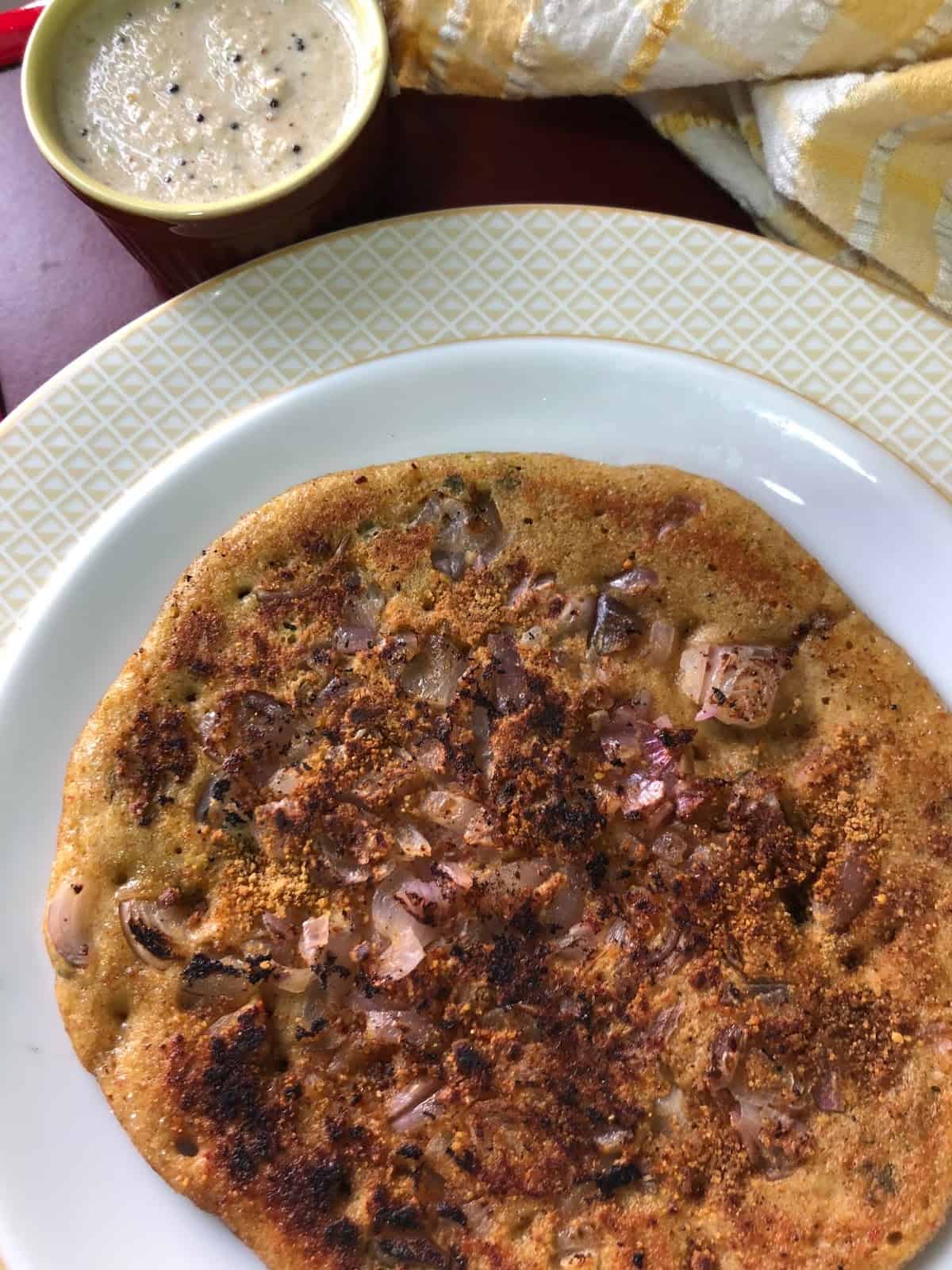 Pin
Onions – 1/4 cup (finely chopped shallots taste great here) as an optional but recommended topping.
To make the Karam : Roast all ingredients except salt individually in 2 tsp of oil.
Cool and grind to a coarse powder.
(If preferred, add 1 medium sized onion well sautéed + 1-2 T water and make to a thick paste)
To make the Erra Karam Dosa:
Heat a tava to medium high, Pour a batter of the dosa. Drizzle oil on top as well as the sides. Sprinkle the spice (Karam) powder or paste, topped with chopped shallots. Let it cook to a golden brown on both sides.
Serve immediately with hotel Style Coconut Chutney.