Was paired with shree rao for this month's edition of Sshhh cooking challenge & the theme was Ramzan Iftar snacks. 
As always, the first preference for the kids happens to be paneer and I was delighted when my partner gave me flour and paneer as the two secret ingredients for this month
So without much Ado, we have spicy chilli paneer bites – apt for Ramzan as well as this windy monsoon weather we have here. It's sure to be a hit at any party. I scrambled to get photos before half of it was devoured by the paneer – loving kids.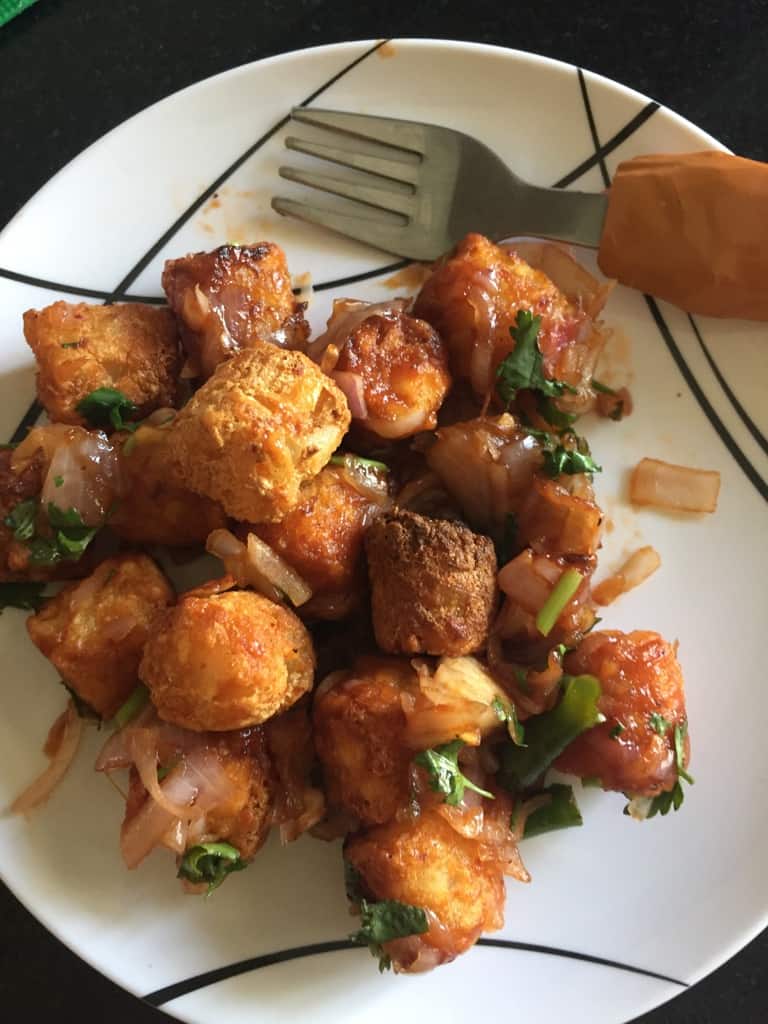 Pin

So here's the recipe

Paneer cubes (frozen or fresh) – 1 cup

Cornflour – 3 tbsp

All purpose flour – 1 tsp

Rice flour – 1 tbsp

Oil – to pan fry

Turmeric – a pinch 

Salt and pepper to taste 

Seasoning – 

Oil – 1 tsp 

Bell Pepper or chillies – 1 medium

Onion – 1 medium (opt.)

Soya sauce – 1/2 tsp

Chilly sauce – 1/4 tsp

Method:

Marinate the paneer with the salt, flours and a tsp of oil. Keep aside for 10/15 mins 

Pan fry them with little oil till they are slightly crispy on the outside (of course, you can deep fry them too!) 

In a skillet, add the oil. Fry the onions a bit and add the bell pepper. Sauté till onions turn slightly translucent and bell peppers remain crunchy. Add the salt , sauces and the pan fried paneer. Give it a quick toss to coat the paneer with the masala and spices 

Serve immediately.