After a long break, I am baking along with the #Breadbakers. This month is being hosted by Mireille – a dear friend and a versatile cook blogging at who can whip up stuff ranging from a traditional South Indian Pal Payasam (Milk Rice Pudding) to a Mexican Enchilada and pretty much everything in between. For this month's theme, she has asked us to make naturally coloured breads.

My first thought was a beetroot bread that I had bookmarked but I couldn't get my hands on fresh and juicy beets. I did make the Coriander Cumin bread which was adapted from here, we loved the Indian twist to the savoury bread. Thanks Mir, for a lovely theme. We had this warm on the first day and the next day with slices that went well with a Vegan roasted bell pepper-sesame dip (recipe coming soon!)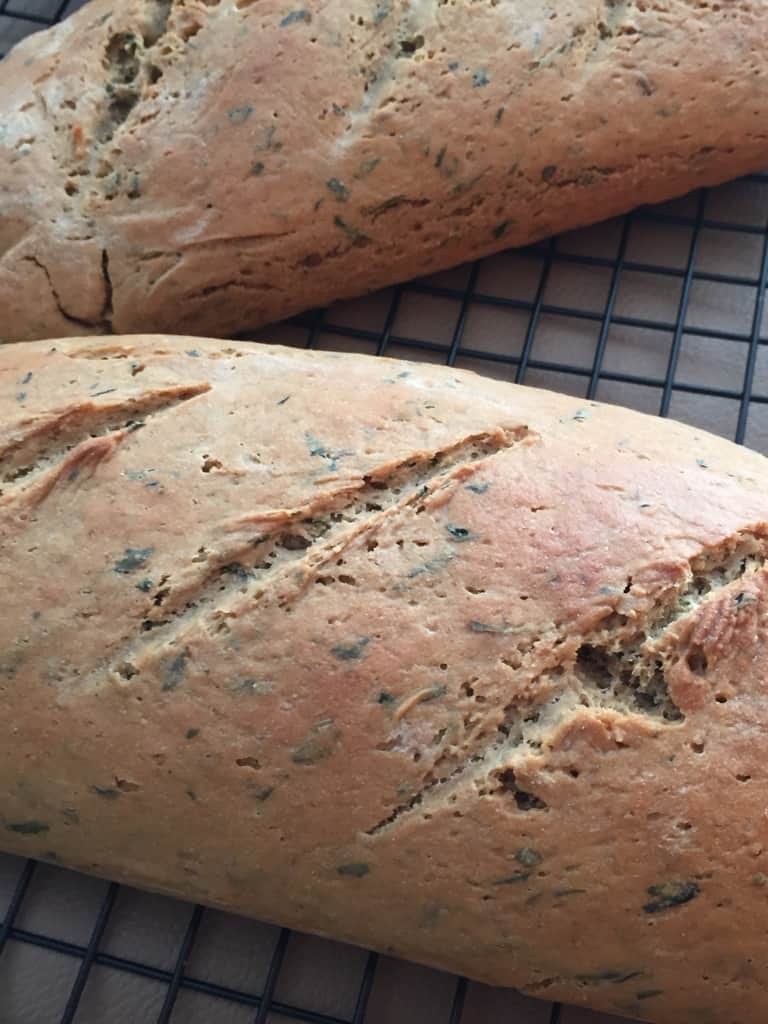 Pin

Prep time – 20 mins | Rising time : 1 hour 30 mins + 45 mins | Makes : 2 medium loaves

Coriander Cumin Bread – Vegan

Ingredients: (1 cup = 200 ml)

Bread flour – 1.5 cups

Wholewheat flour – 1/2 cup

Instant yeast – 7 grams (1 sachet)

Vital Wheat gluten – 2 tsp (optional but recommended)

Warm water – 3/4 cup + 2 tsp (or as needed)

Olive Oil – 2 TBSP + 1 tsp for greasing

Sugar – 1 tsp

Roasted cumin – 1 TBSP

finely Chopped coriander leaves / cilantro – 4 TBSP

Chilli flakes – 1 tsp

Salt – 1/3 tsp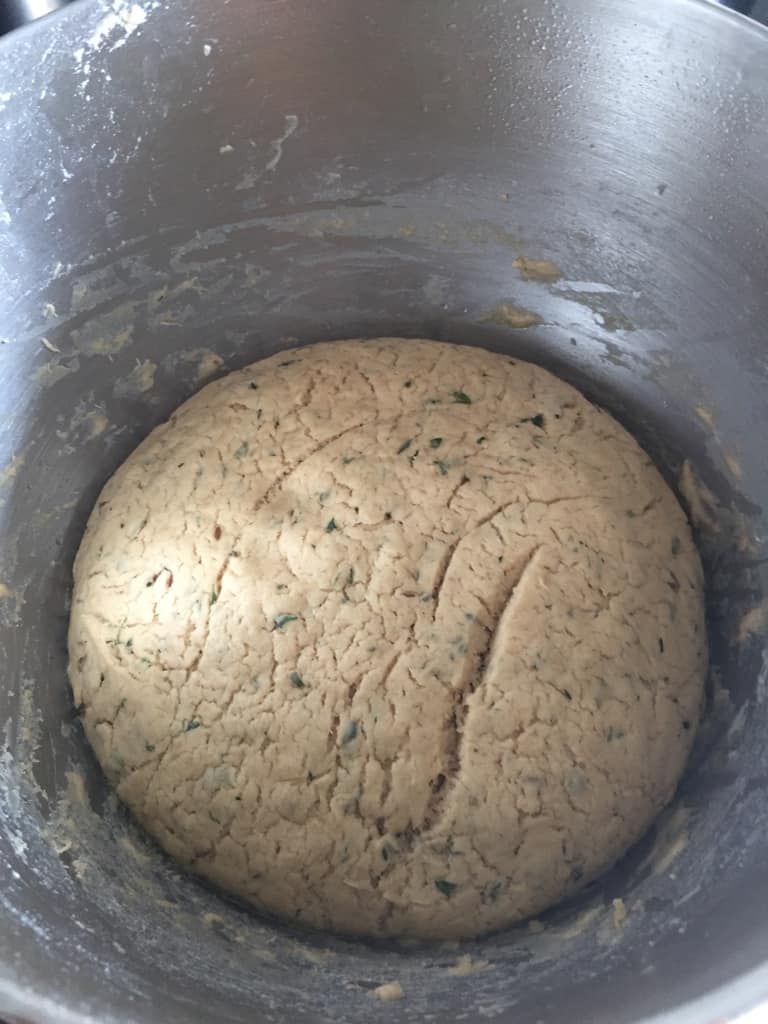 Pin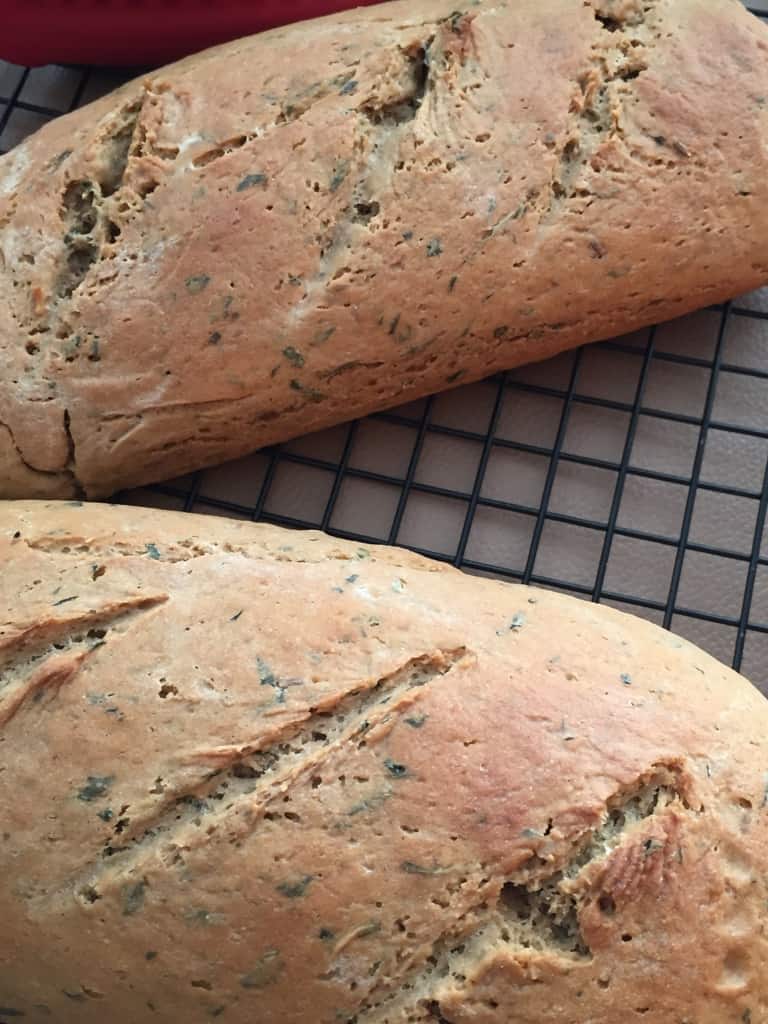 Pin
Method:
Proof the yeast in a mixture of warm water + sugar and stir till sugar dissolves. Let it stand for 15 mins undisturbed till yeast blooms.
In a stand mixer, add the flours, gluten, proofed yeast, salt, spices, cumin, coriander leaves, oil, chilli flakes, mix well. Mix to a shaggy dough with a wooden / blunt spoon and let it sit covered for 10 mins (this helps gluten formation).
Now knead till a smooth and non-sticky dough develop – about 10/12 minutes by hand or 8-10 mins in a stand mixer. Grease the bowl of a stand mixer and place the dough in it.
Cover with a damp kitchen towel / cling wrap and let it rise till doubles (about an hour or 90 mins)
Once risen , punch it down slightly and shape into loaves and place on greased baking tray. Cover again for rising slightly.
Towards the end of the 2nd rise, preheat oven to 190 C. Make slightly deep slits with a sharp serrated knife on the risen loaves.
Bake for 22-24 mins or till they sound hollow. Let them cool.
slice and serve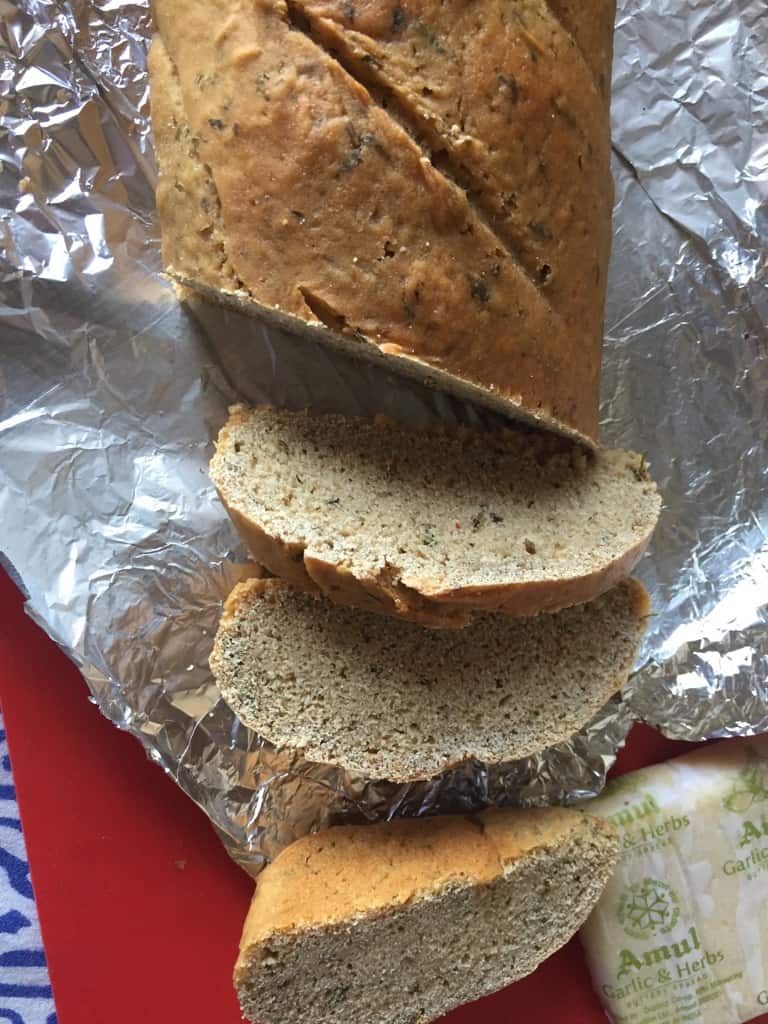 Pin
Let's check what the other #Breadbakers have dished out this month:
Naturally Colorful Breads List by #BreadBakers
#BreadBakers is a group of bread loving bakers who get together once a month to bake bread with a common ingredient or theme. You can see all our of lovely bread by following our Pinterest board right here. Links are also updated after each event on the #BreadBakers home page.
We take turns hosting each month and choosing the theme/ingredient. If you are a food blogger and would like to join us, just send Stacy an email with your blog URL to [email protected].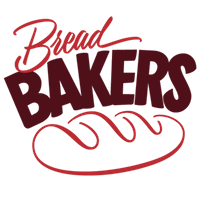 Pin