Most people from the South of the Vindhyas (india) use coconut in their everyday cooking. Contrary to what was hyped a decade ago, coconut and its food products greatly help in reducing the cholestrol by boosting metabolism. For every believer in coconut, there would be two to scoff at the 'bad' fat from coconut. It does take a conscious effort to cut down 'unreasonable' quantity of coconut in everyday food, like vegetable peels have replaced most of the chutneysin my family's dinner today. But in totality, coconut should be had in moderation. For that matter, anything taken in excess is harmful. May be this link would throw some light on the benefits of coconut.. Now, why am I going on and on about coconut?? Coz, today's post is a yummy Coconut Pulav that makes use of freshly ground coconut, and is a quick dish to put together for a potluck or lunchboxes. After upma, Pulav is probably something that I learnt cooking way back in high school – may be the humble one pot meals were my pathway to learn more cooking with Paneer-n-raisin Pulav, Soya chunks Pulav & baby Corn pulav added newly to the menu card. Today's dish goes well with any raita and roasted papad.
Sending this to:
Refer notes on more variations. Now, off to the recipe: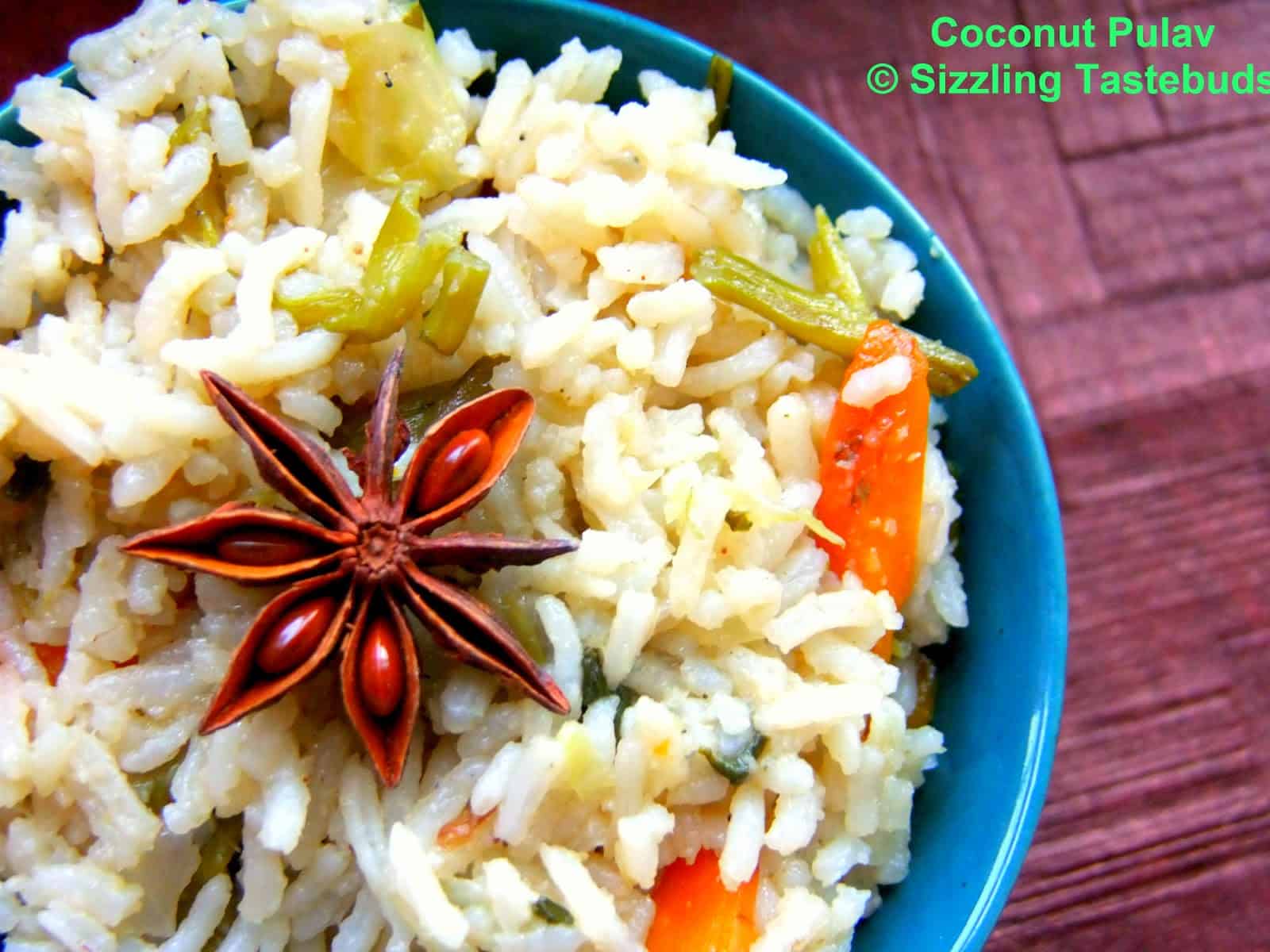 Pin

Prep time : 10 mins. Cooking time : 15 -20 mins. Serves: 2

Ingredients: 
Long grained rice – 1 cup
Chopped veggies – 1 cup (carrots/beans/cauliflower /peas etc)
Olive oil – 2 TBSP
Salt – to taste
Garam Masala powder – 1 tsp
Pulav / Biryani Masala powder – 1 tsp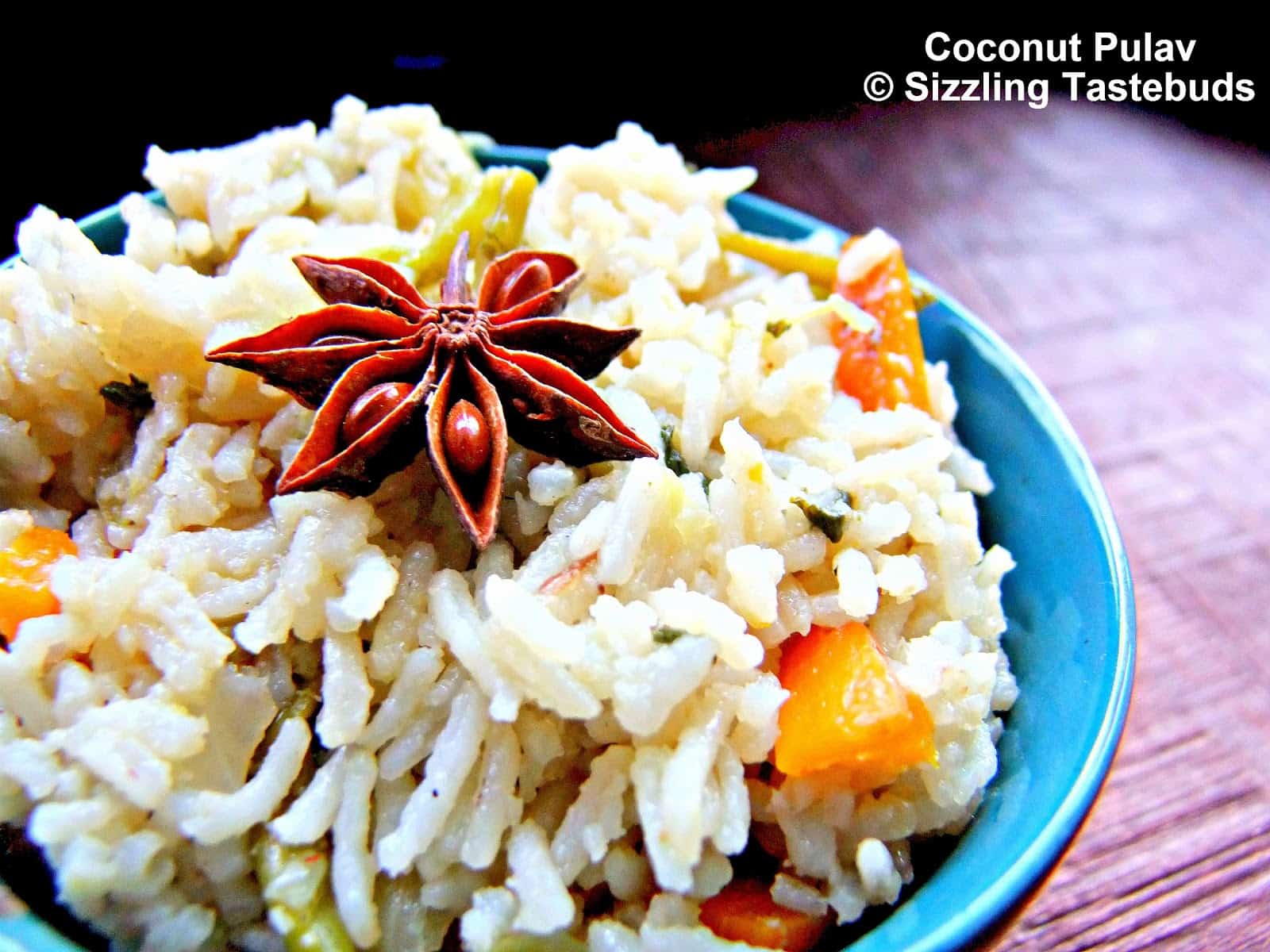 PinPin

Masala paste:
Coconut grated – 1/4 cup
Clove – 2 
Onions – 1 large – split use
Cinnamon – 1/4 inch piece
Cardamom – 1 no.
fennel / saunf – 1/2 tsp
Tomato – 1 no (blanched)
Green chillies – 1 or 2
Ginger – garlic paste – 1 tsp
Coriander leaves – 1 tsp
Method:
1) Wash and soak rice in water for 10  mins. Drain.
2) Meanwhile, grind all the ingredients under 'masala paste' with minimum water.
3) In a deep bottomed pan / pressure cooker, heat oil. Fry onions till slightly brown. Add the masala paste and fry again till raw smell disappears.
4) Nwo add veggies, rice and stir till the masala is coated well.
5) Add salt and requsite water and garam masala and biryani masala.
6) If using pressure cooker, cover lid and cook for 2 whistles.
7) If cooking in a rice pot, cover and cook till the rice is cooked and the grains are separate. 
8) Fluff them up with a fork and serve it with raita and papad.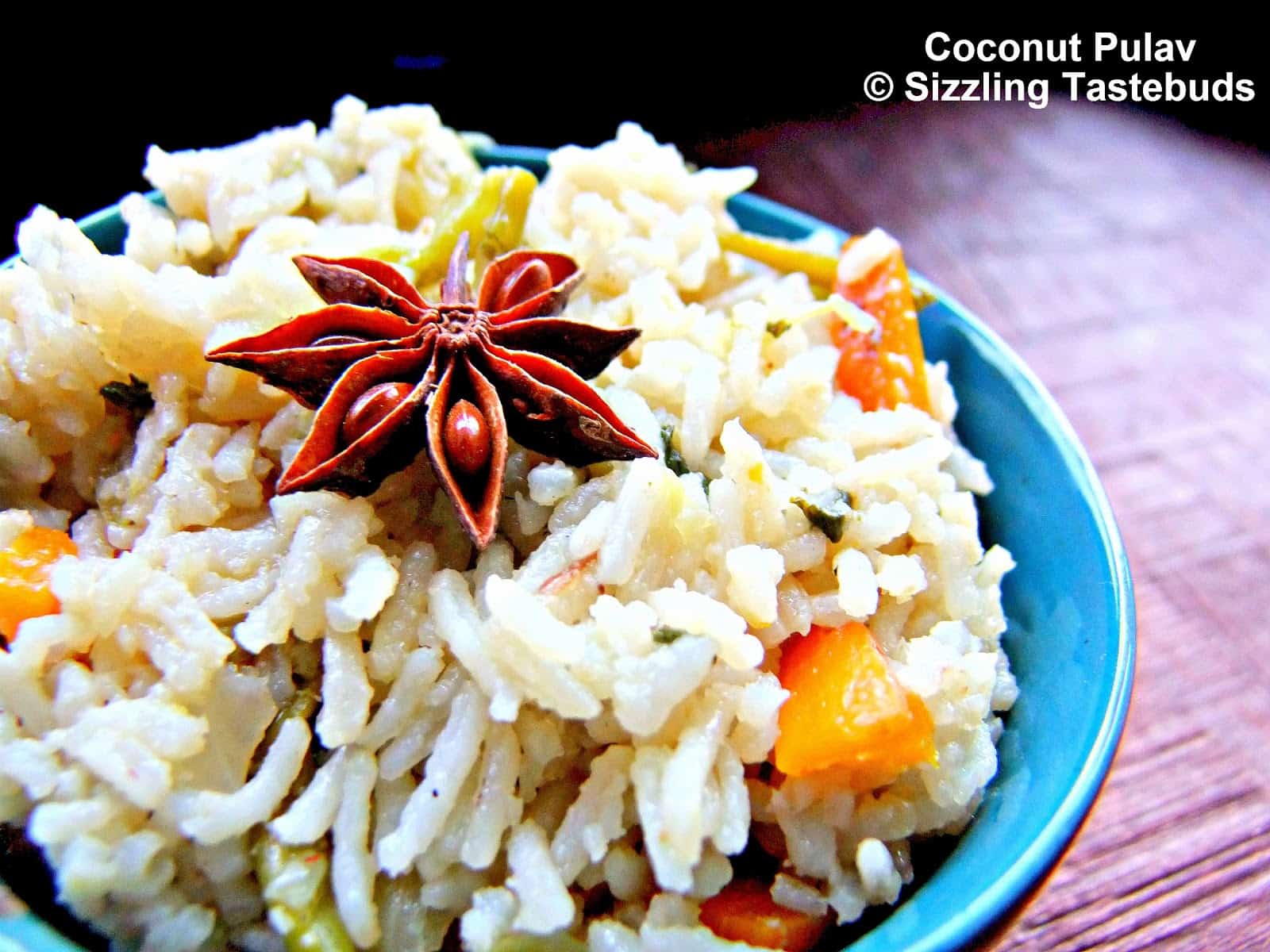 PinPin
Notes:
1) You may use coconut milk instead of grated coconut. Then, add only 1/2 the quantity of coconut, and just before pressure cooking / closing the lid, else the aroma would be overbearing.
2) The veggies are only indicative. You may add sauteed spinach / methi leaves, soya chunks, paneer, baby corn or any other veggie as you please.