Kuzhambu has its special place in Tamilnadu cuisine. Different
from Sambhar in the sense that there are fewer veggies used and no use of
cooked dal, Kuzhambus prepared in the traditional way last for 3-4 days or even
a week under refrigeration due to its high tamarind content (acidic base). Vetha
Kuzhambu (made with sun dried veggies), Khara Kuzhambu (Spicy gravies with
tamarind base), Poricha Kuzhambu (dried spices ground with coconut)…are some
varieties of Kuzhambu.
These are best had with hot steamed rice and a dry curry
and / or roasted papad. Rice (and its varieties) being the mainstay of
Tamilnadu cuisine, kuzhambus are rather popular as both filling and also
cooling (tamarind curries with less oil cool the body in severe tropical
climates). Today's dish is Chinna
Vengaya Khara Kuzhambu – Pearl
onions in Spicy Tamarind Gravy – from the heartland of Tamilnadu.
Pearl onions or Sambhar Onions as they are called are difficult to
peel and clean ? No !
(Tip : Soak them in hot water for 20 mins, and you can
peel them off very easily).
Yet, the flavour that these small pearl onions is
so much different than the normal red onions. This gravy keeps for 5-6 days
under refrigeration and in fact tastes better the next day with curd Rice(Yoghurt rice). Off to the recipe under Alphabet "C" for Alphabet BM
# 32.
Prep time : 15 mins | Cook time : 15 mins | Serves : 4
Pearl Onions in Spicy Tamarind Gravy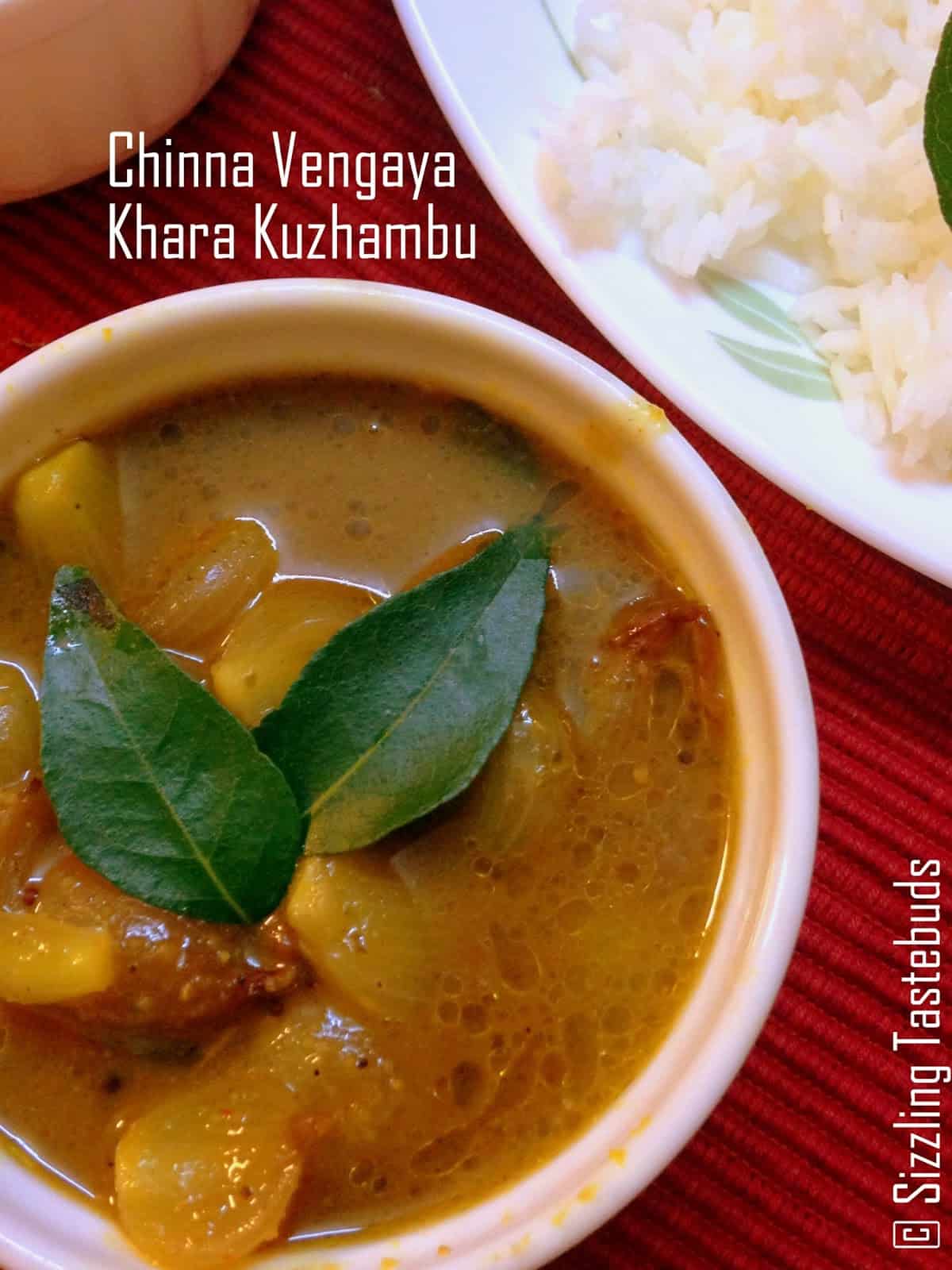 Pin
Ingredients:
Small sambar onions/shallots- 2 cups- peeled and
washed
Sesame oil- 2 TBSP
Asafoetida- a generous pinch
Turmeric – 1/2 tsp
Salt to taste
Tamarind – medium lemon sized roundel or 3-4 TBSP
of Tamarind extract / paste
Jaggery – 1 TBSP (optional)
To Grind:
Sambar powder -2 tsp
Coconut grated – 2 TBSP
Dried red chillies- 3-4 pieces
Dry fenugreek seeds – 1/2 tsp
Garlic – 2 nos (optional but recommended)
For Tempering:
Mustard seeds – 1 tsp
Channa Dal – 1/2 TBSP
Curry leaves – few
Notes:
If you have run out of Sambhar Powder or Kuzhambu pudi, use 2 tsp
of Madras Curry Masala.
Addition of Garlic is optional, but it enhances the taste.
Alternate veggies you can add in place of or along with onions are
drumstick, Yam, brinjal .
Method:
Soak Tamarind in warm water for 15 mins. Squeeze the extract and
keep aside : you should have about 1/4 cup of medium thick extract.
Roast all the ingredients except coconut & Sambhar Powder
under the "To grind" table. Cool. Grind with 4-8 TBSP of water and
coconut to a thickish paste.
In a deep bottomed pan, add the oil. Splutter mustard seeds, curry
leaves, channa Dal, hing, turmeric, onions and saute till the pearl onions turn
pinkish and translucent. Add the ground paste and saute for 4 -8 mins till the
raw smell disappears.
Now add 1/2 cup of water, salt and cover and cook 6-8 mins till
the onions turn soft but not mushy .
Now add the tamarind gravy and cook again for 4-6 mins till the
gravy leaves oil on the sides. If using jaggery add now.
Simmer on low-medium heat till the desired consistency is
obtained. Drizzle 3-4 tsp more sesame oil once done.
Serve with hot steamed rice or even yoghurt rice. Tastes best when
made ahead of any meal and rested for few hours.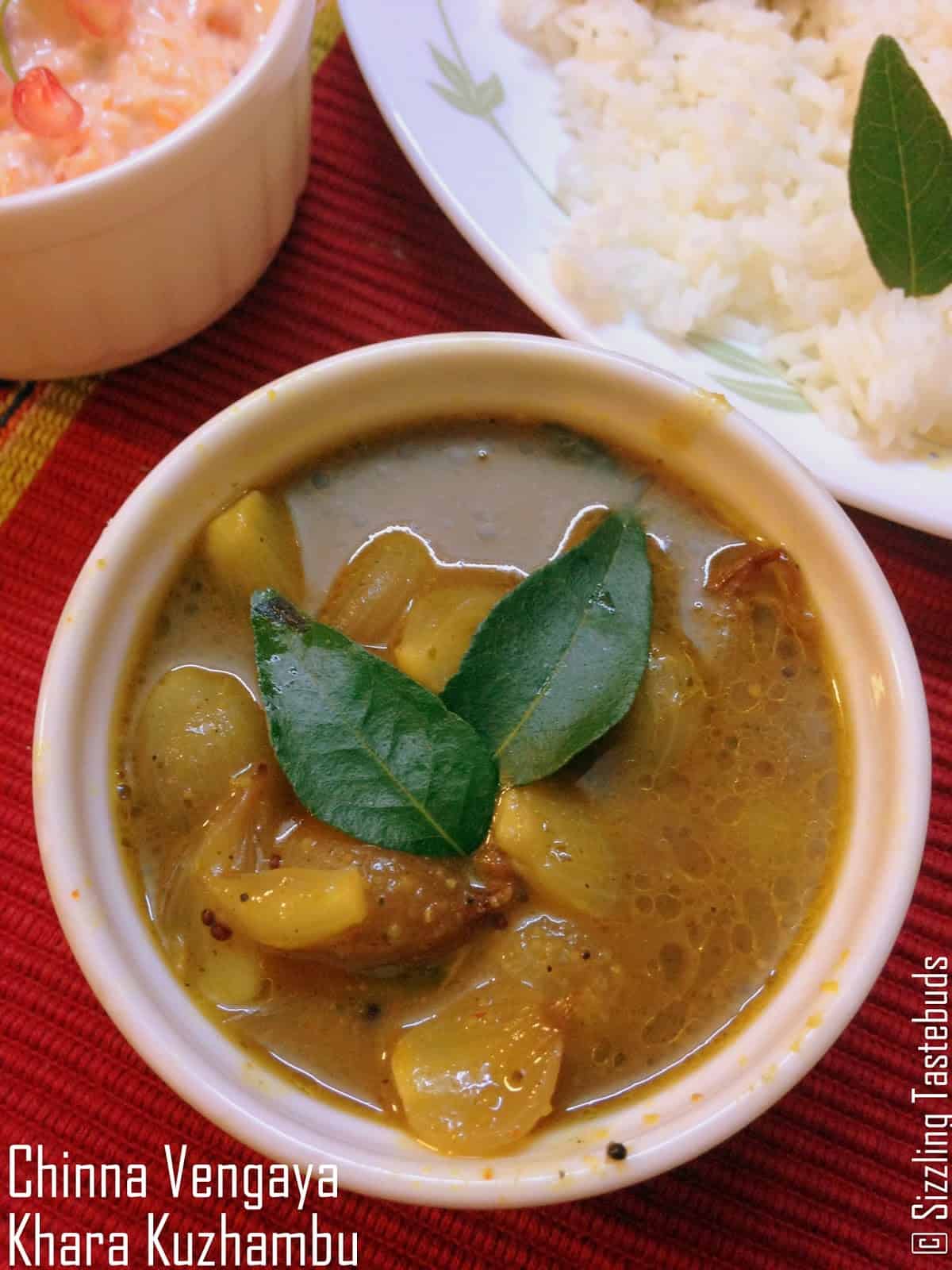 Pin

Pin
Logo courtesy : Preeti
Check out the Blogging Marathon page for the other Blogging Marathoners doing BM# 32