This must be the longest dilly-dallying I did to bake something for #Breadbakers, or for that matter baking in general. Usually, a recipe / bookmark pops out once the theme is up. This time, I was pretty sure I could schedule the post too way early on before the date considering I was going to be busy doing a month long mega marathon on Protein rich dishes on this blog. If you are curious to check out, do scroll through the introductory post as well as the dishes so far on the blog – this is entirely based on mostly plant-based proteins with vegan and Gluten free dishes dominating the series.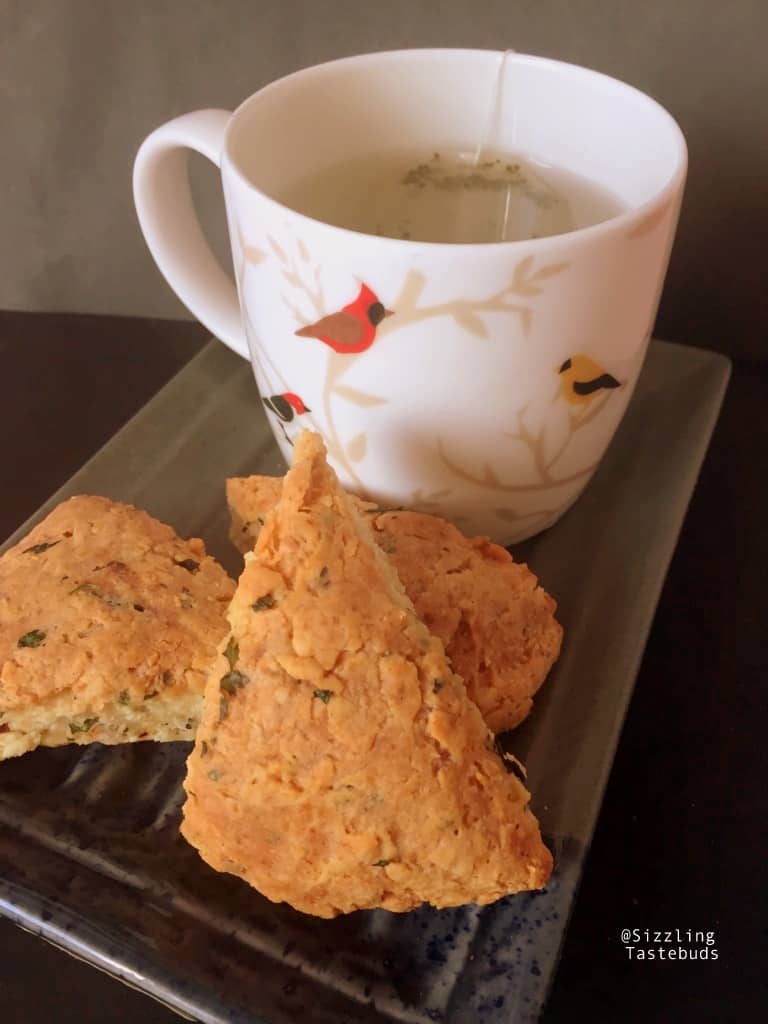 Pin



But then, the dish I put up initially didn't work. I followed the recipe to a T, but it just wouldn't work. So I went back to +Stacy and +Wendy (who's our very generous host this month with a theme thats absolutely with no clauses!!-God bless you,Wendy :-)) to see if I could post another for the recipe link, and went through my bookmarks on the phones. I generally lean towards savoury bakes, and unless there is a demand for muffins / cupcakes / sweet breads, the family generally likes the savoury bakes. Although they enjoyed the mildly sweet Welsh Apple Pecan Cinnamon scones baked earlier.



So there it was – Chilli-Coriander Scones. A take on the famous British scones, made the American way with an Indian fusion of green chillies and coriander – a perfect cheesy treat for the monsoons that are receding here. If you are curious about the difference between American and British scones like me, head here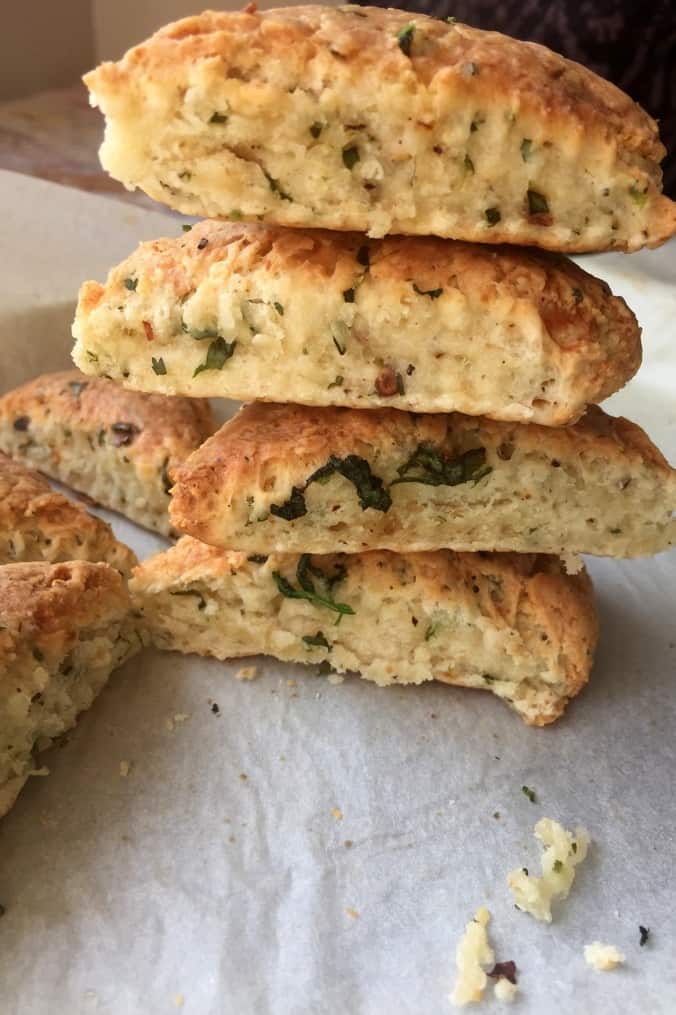 Pin



Do read on, and hope you enjoy the recipe as much as we enjoyed the bake. It tastes amazing when served warm with a cup of tea – perfect for your afternoon snack !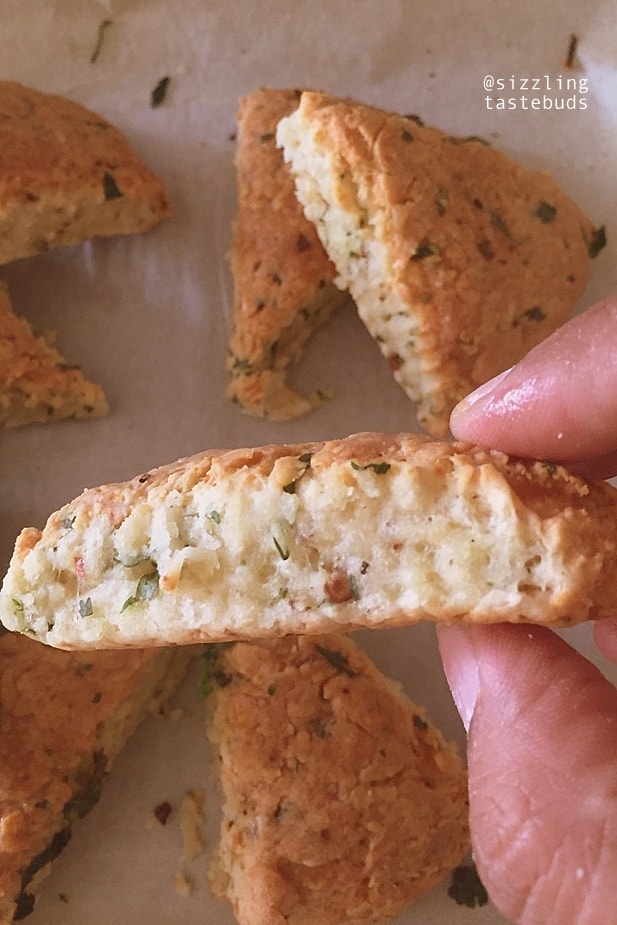 Pin

Loosely Adapted from Jamie Oliver's recipe
Prep time – 10 mins, Baking time – 20 mins, serves : 3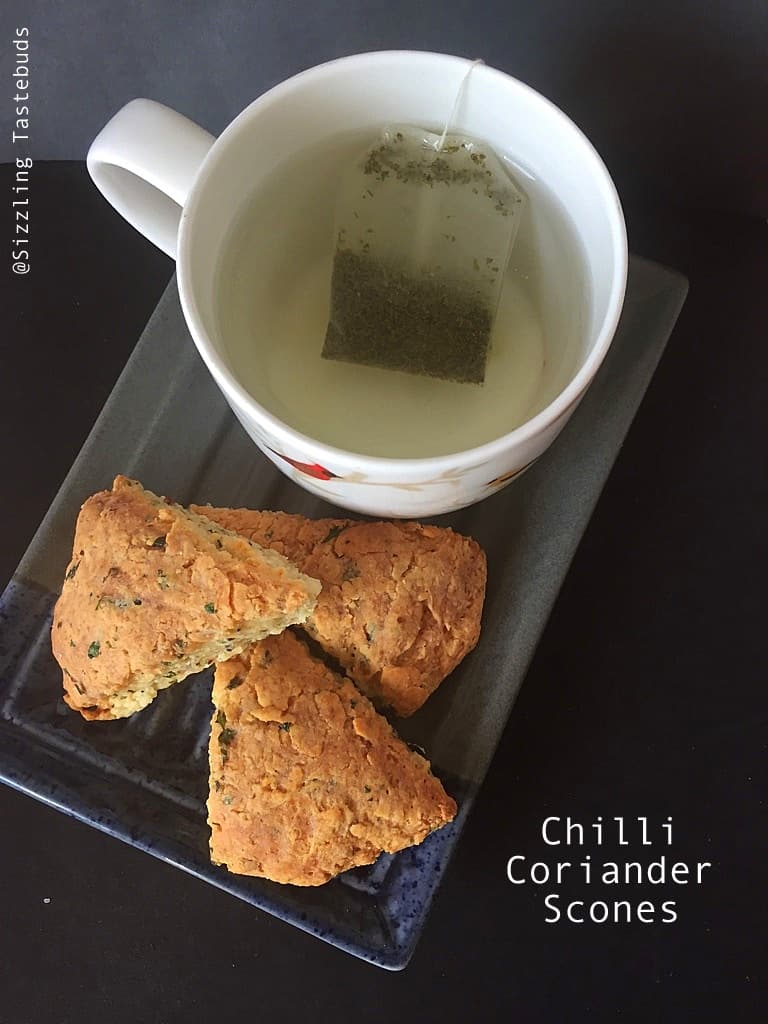 Pin
You would need:
150 gms Self raising flour
30 gms super chilled butter (grated)
salt- a pinch (cheese has lots of cheese, so add accordingly)
Cheddar cheese – 30 gms
Thick buttermilk – 100 ml
Green chillies – 2 (finely minced)
Green coriander – 4 tsp (finely chopped)
Red chilly flakes – 1/2 tsp
Cumin powder – 1/2 tsp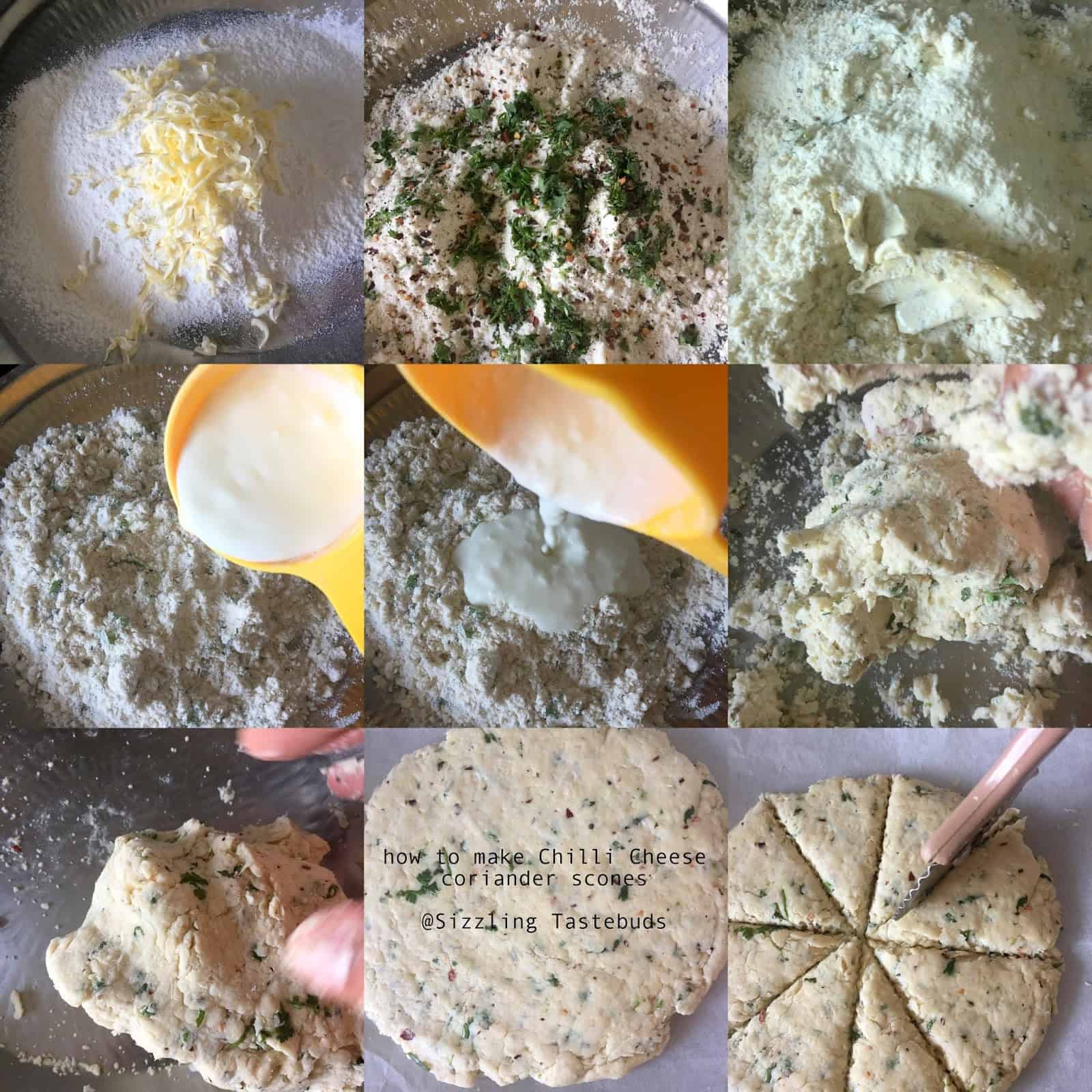 Pin


Method:
Mix self raising flour, add the butter rub it into the flour till it resembles breadcrumbs, add the cheese, salt and spices including coriander and chillies. mix well.
Pre heat one to 180 C. Add buttermilk into the flour and bring it together to a soft dough (do not knead). Cling wrap for 6-8 mins in the freezer.
Unwrap and on a lined baking sheet directly, pat / roll into a thickish disc, and with a pizza roller, make slices
(you could also cut them out into cookie-kind of discs like the British buttery round-shaped scones)
Bake the scones for 18-20 mins or till they bake to golden brown
Serve warm with a cup of tea / cuppa.

Lets head to the #Breadbakers group and check out what's baking this month. Wendy is our hostess this edition and gave us an option to explore breads from across the world !!
#BreadBakers is a group of bread loving bakers who get together once a month to bake bread with a common ingredient or theme. You can see all our of lovely bread by following our Pinterest board right here. Links are also updated after each event on the #BreadBakers home page.
We take turns hosting each month and choosing the theme/ingredient. If you are a food blogger and would like to join us, just send Stacy an email with your blog URL to [email protected].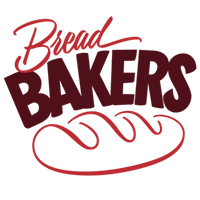 Pin