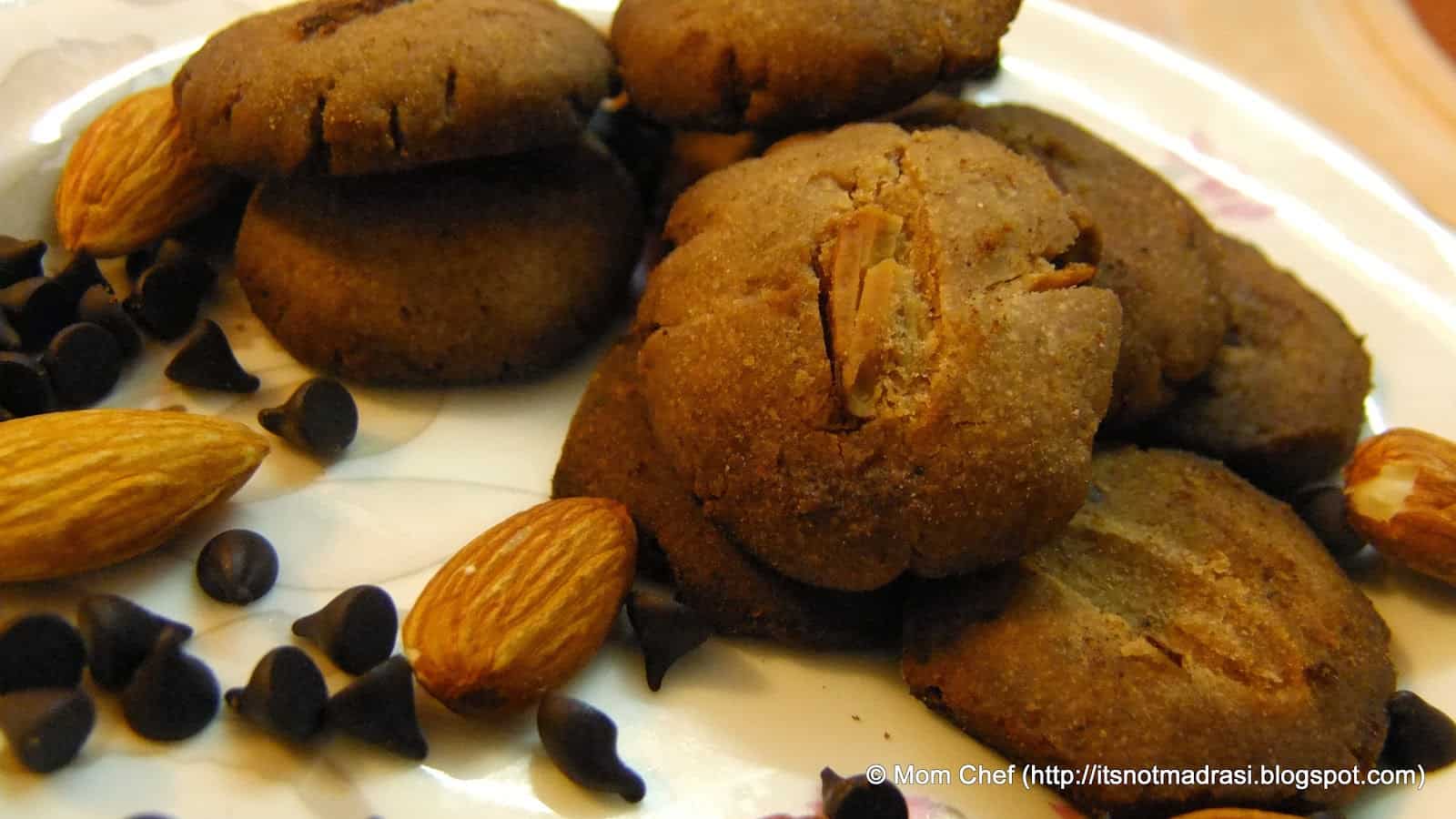 Pin

Been wanting to bake since a long time and wasn't eager to make the same muffins / cakes again.. With the kiddo having her vacation now, it was the perfect time to make some home made cookies. For those from Bangalore, they would remember the perfect silky smoooth Benne Biscuit (or butter cookies) at Iyengar bakeries all over the city..

The monsoon and the cool weather reminded me of Bangalore, and I was willing to give it a try, although was quite sceptical about the amount of butter that went in.. I tweaked a recipe on Nankhatai that I saw recently and to make it more appealing added in Choco Chips and Almonds !! Voila 🙂 deliciously slurpy cookies emerged and S, who doesnt like bakery stuff actually ate a couple of these and loved it too 🙂 I happily munched these, and so did kiddo 🙂

As I was making butter cookies for the first time, I toned down the measurements and ended up with about 15 – 16 small sized cookies.

Preparation time : 10 mins. Baking time: 20 mins. Makes : 15 – 16 small cookies.

Ingredients:

(All in standard cups measurement)
Powdered Sugar – 1/2 cup
Maida / APF – 1/5 cups
Melted Butter or ghee – 3/4 to 1 cup (I used melted ghee – about 1 cup)
Baking Soda – 1/2 tsp
Choco Chips – 1/4 cup
Almond slivers – 1/8 cup
Salt – 1/4 tsp
Method:
1) Grease cookie sheets
2) Mix soda and 3 tbsp of ghee till the soda dissolves. Add salt and whisk again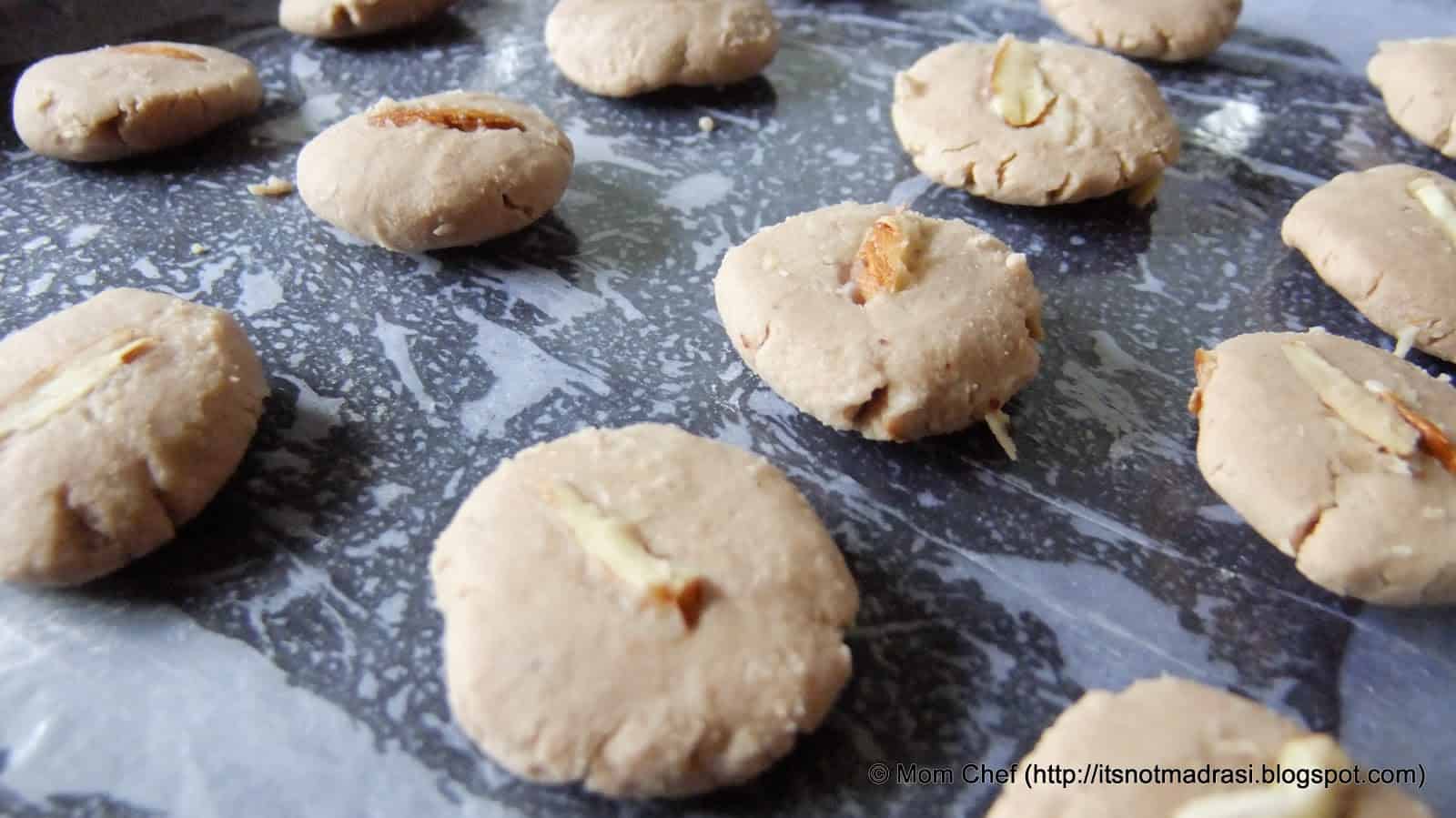 Pin3) Add powdered sugar a little at a time and stir continuously to eliminate lumps. Add half the portion of the almond slivers now.
4) Add the Choco Chips andthe remaining ghee now . Add the APF 1/2 cup at a time and mix well with your hands. Add 2 -3 tsp of water and the remaining flour and knead to a smooth dough. The choco chips will melt with the kneading and give out an event brown colour to the dough.
5) Preheat oven to 160 C for 10 min.
6) To test final dough : check for sweetness and when you pinch out a small ball and flatten it, there should be no cracks on the upper surface.
7) Make equal portions of the dough and press with greased palms to the size of the cookies you desire.
8) Place on the cookie sheet and press the almond slivers on top
9) Bake at 160 C fo 16- 18 mins. Test for done with a toothpick.
10) Allow to cool for 10 minutes. Rest on a wirerack and store in a glass jar !
11) Serve with tea / munches / namkeens
Pin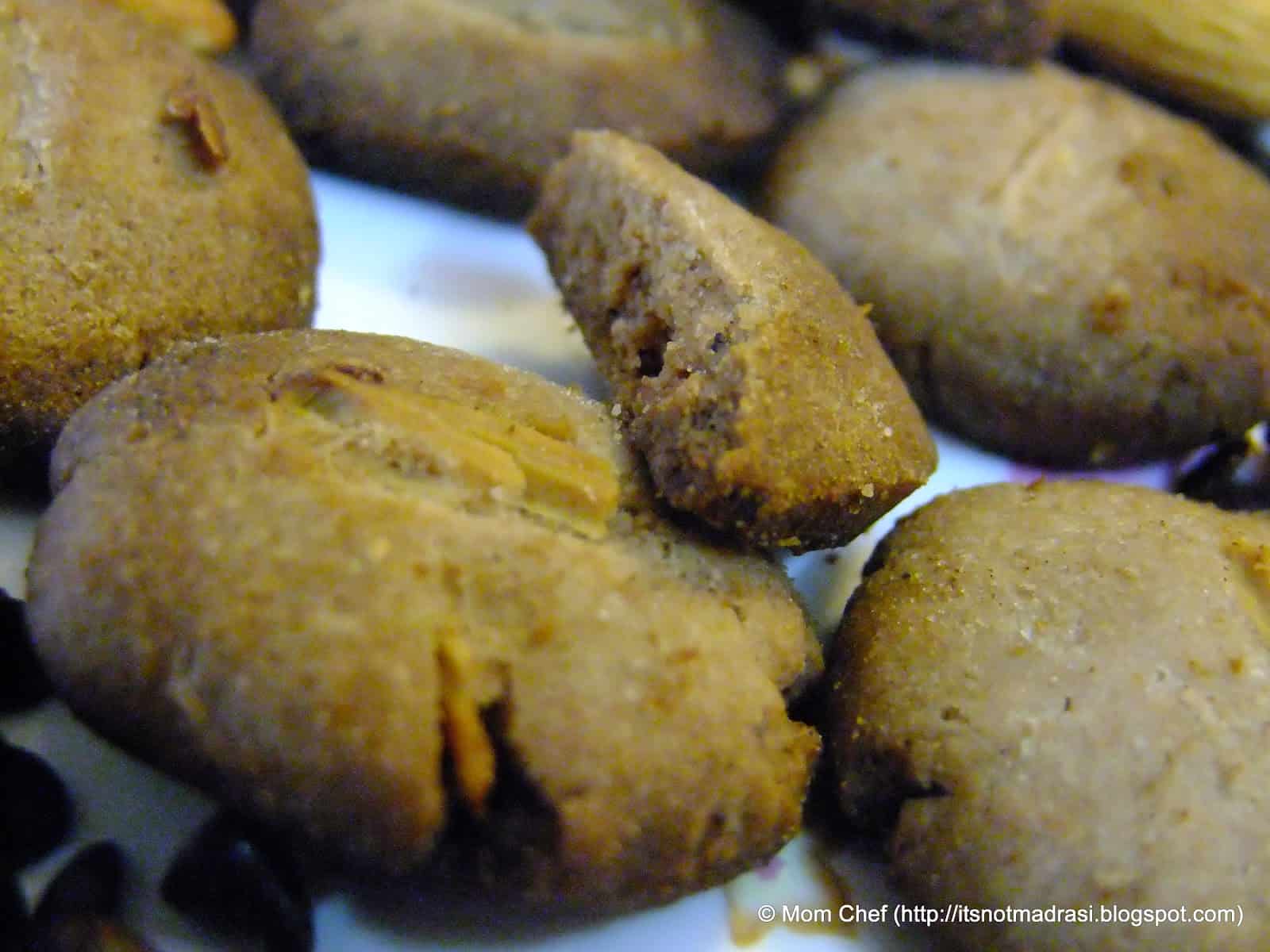 Pin