Chettinad Cuisine has its own distinctive taste with the use of spices – both whole and ground that add to the flavour. We love Chettinad breakfasts and make it often, also the Poondu Podi (garlic spice powder) & the Chettinad Baby Potatoesare great family favourites too !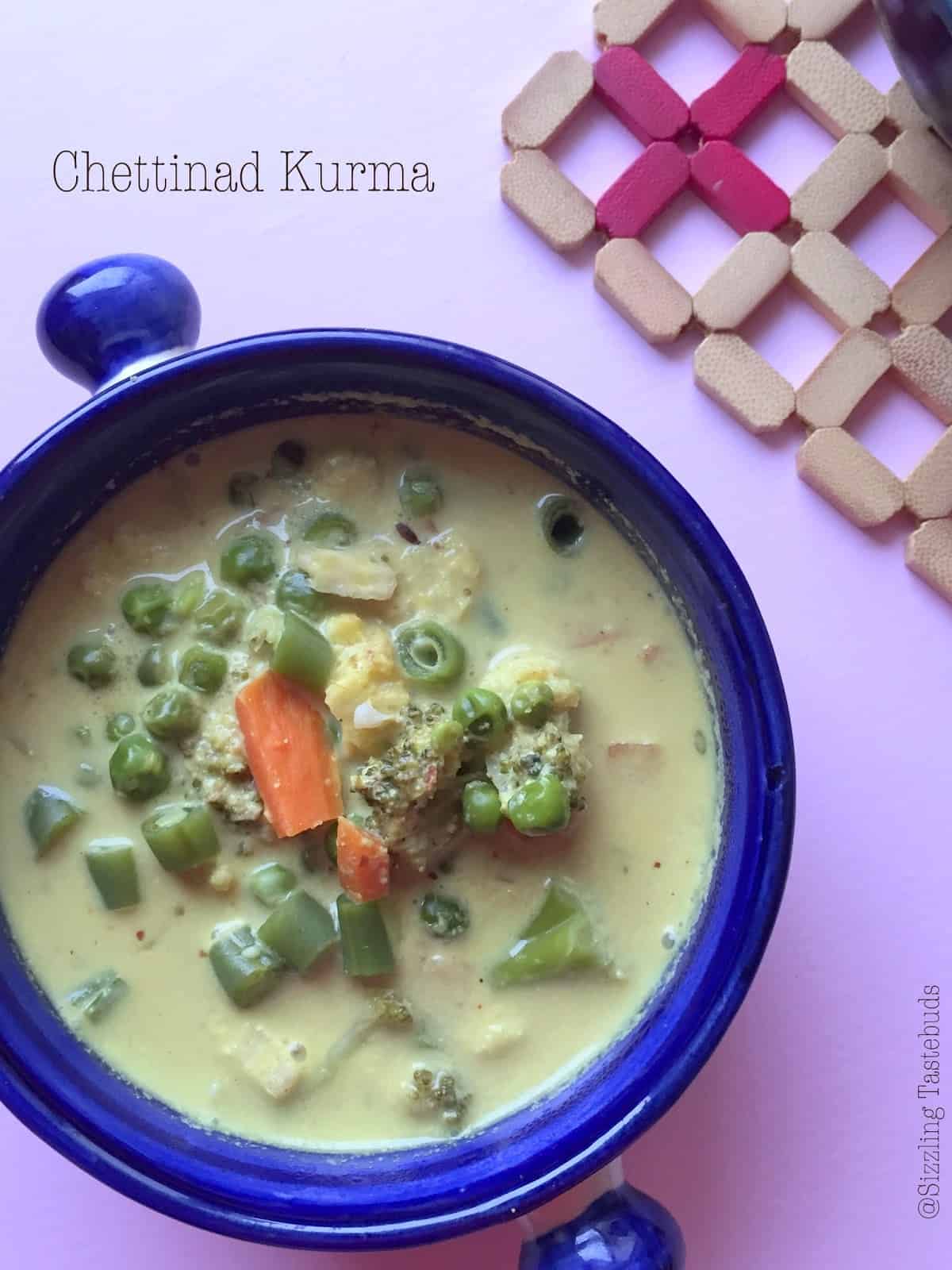 Chettinad cuisine is the cuisine of the Chettinad region of Tamil Nadu state in South India. The Chettiar community, who are a majority in this region, are a very successful trading community. Chettinad cuisine is one of the spiciest and the most aromatic in India.Chettinad cuisine is famous for its use of a variety of spices used in preparing mainly non-vegetarian food. The dishes are hot and pungent with fresh ground masalas. They also use a variety of sun dried meats and salted vegetables, reflecting the dry environment of the region. The meat is restricted to fish, prawn, crab, chicken and lamb. Chettiars do not eat beef and pork. Most of the dishes are eaten with rice and rice based accompaniments such as dosais, appams, idiyappams, adais and idlis. Chettinad cuisine offers a variety of vegetarian and non-vegetarian dishes. Some of the popular vegetarian dishes include idiyappam, paniyaram, vellai paniyaram, karuppatti paniyaram, paal paniyaram,kuzhi paniyaram, kozhakattai, masala paniyaram, adikoozh, kandharappam, seeyam, masala seeyam, kavuni arisi & athirasam.(source : Wiki)
Today's post is a simple but very flavourful curry that goes well with simple Ghee rice, any simple Pulav , Chapatis or even Parotta (the tamilnadu version of layered rotis). Adapted from this recipe, we rather liked the delicious gravy and have made it many times thereon. Other than this, we also love the Chettinad Kaigari Mandi (another delicious curry) with Idiyappam / Appam
Lets see how to make this..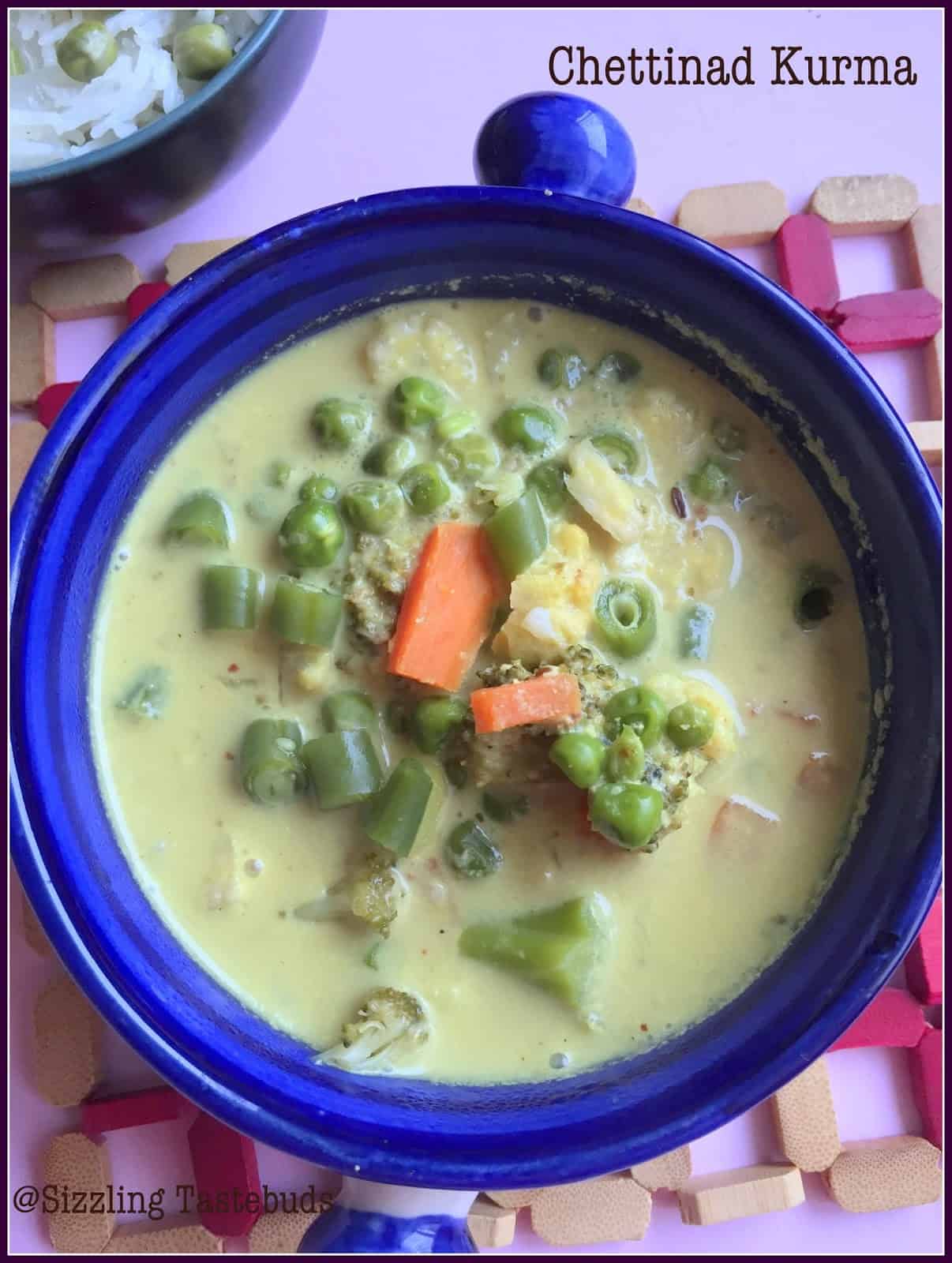 Chettinad Vellai Kurma (Chettinad style vegan gravy)
Course : Side Dish, Cuisine : Tamilnadu (Chettinad cuisine)
Prep time : 15 mins, Cook time : 15 mins , Serves : 4
Serving suggestions : Ghee rice / Chapati / Parotta / Peas Pulao
Ingredients:
Mixed Veggies – 1 cups (I used green peas, carrots, cauliflowers, beans, potatoes)
Oil – 1 TBSP
Tempering : Curry leaves, mustard seeds, broken red chillies (2 nos – optional)
Salt – to taste
To be ground to a paste:
Fresh coconut – 3/4 cup (about 125 gms)
Cashews – 10 to 15
Clove – 2 nos
Cardamom – 2 nos
Fennel seeds – 1/2 TBSP
Green chillies – 1 no
Ginger – 1/2 inch piece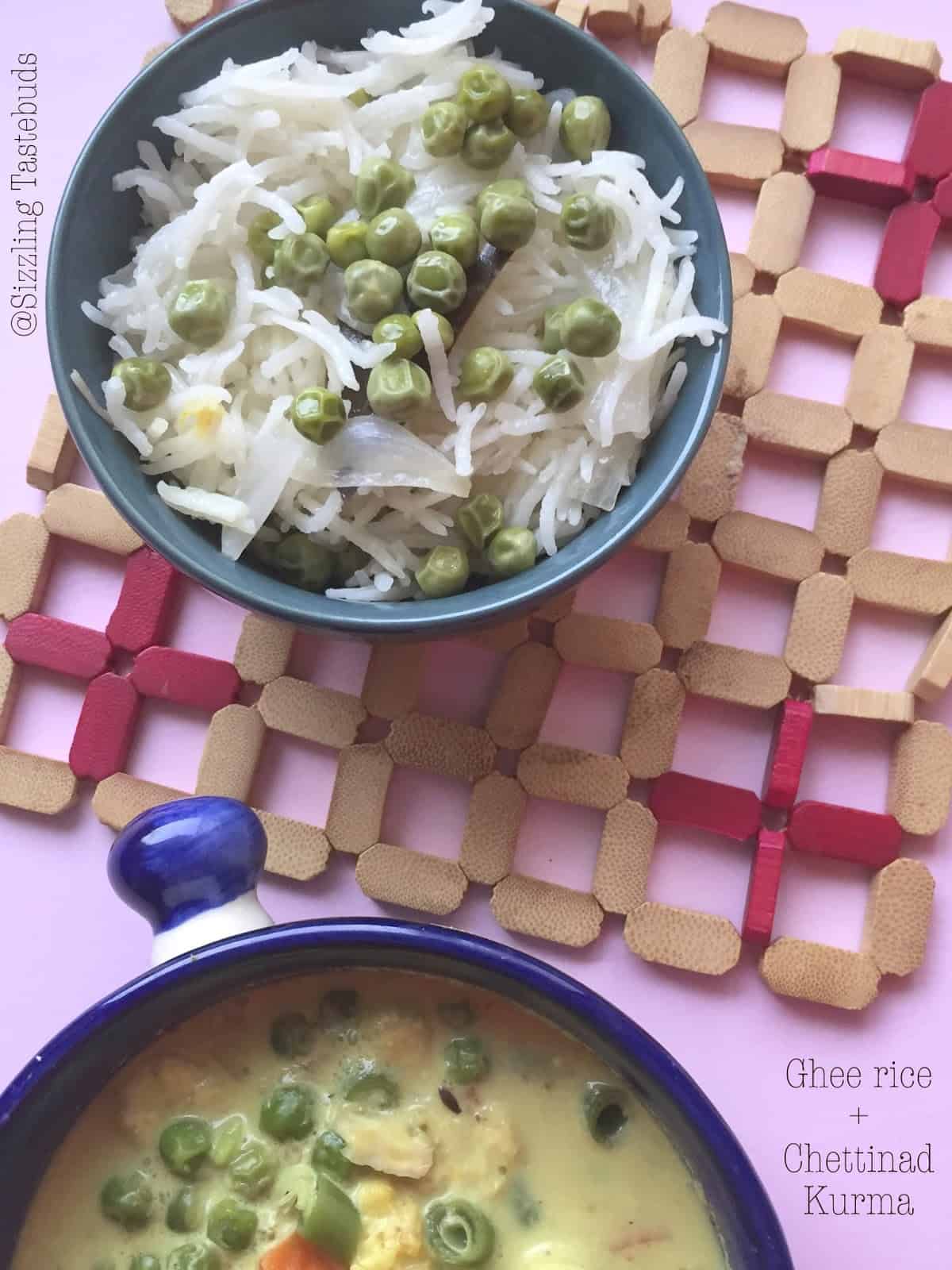 Method:
Boil all veggies till 90% done. They should have a little bite left in them.
Without roasting, grind all the ingredients in raw form under "To paste" column, keep aside (it helps if cashews are soaked in warm water for 10 mins and then ground)
In a pan, add oil, splutter mustard seeds, curry leaves, add the paste and fry for 2-3 mins till raw smell disappears. Now add salt and boiled veggies.
Let it simmer on low heat for 5-6 mins till veggies are blended well
Serve hot with any of the above serving suggestions.