Birthdays are grand
reasons to celebrate. And a great moment to sit, pause and thank as each year
passes by and new hopes, new beginnings unfurl each birthday. And so this day,2
years ago Sizzling Tastebuds was born. 400+ posts & 5 Lakh Page views in 2 years – these are not merely numbers, but humbles me to thank you all for the support and envision the road ahead…Happy birthday bloggieJ
Its taken several
avatars in its design / layout, but the core premise remains the same : simple,
healthy, home cooked food that chronicles Healthy food, Traditional recipes, festival
brunches – all of which are high on love and low on fat – a food feast that travels
from my hearth to your eyes… Thank you, dear readers for your support through
your encouraging comments and tags on Magic Mingle and other events. Appreciate
your support.
A big thanks is also
in order for my family. With the recent addition of our second daughter, life
has indeed turned topsy turvy but more beautifulAnd my family's support during these
trying times has been invaluable ! 
Birthdays are
celebrations, and what better way than to celebrate with sweets. As with the 1st
blogavarsary where Eggless Chocolate Cake was served or the Rasmalai on completion of 200 posts, the warmth of this yummy delicious Carrot
Kheer is sure to win many hearts this 2nd blog anniversary, and it
surely is a winner in my family … Taking full advantage of the Delhi Carrots
(or Gajar as it is known in Hindi)
available right now, this sinfully rich pudding (or Kheer) is a treat – and let's just forget about counting the
calories today, shall we?
And what's more as a
token of thanks for being there and supporting me, there's a giveaway too.
Check out the details at the end of this post. 
Before that a quick sneak peek
on how Carrot Kheer is made at my place (yes there are scores of versions out
there, and this is one of the ways I make it). Yes, it does call for a little
slaving and flexing your muscles what with grating the carrots & simmering
with continuous stirring, but the result is so creamy and worth it 🙂
Kheer as an Indian dessert is usually served at the end of a meal. Also known by the names of Payasam or Payesh, most kheers
are milk based. Today's Carrot Kheer is a creamy concoction of milk,carrots & almonds and this delectable kheer got over in a jiffy while we enjoyed it as a
post dinner dessert.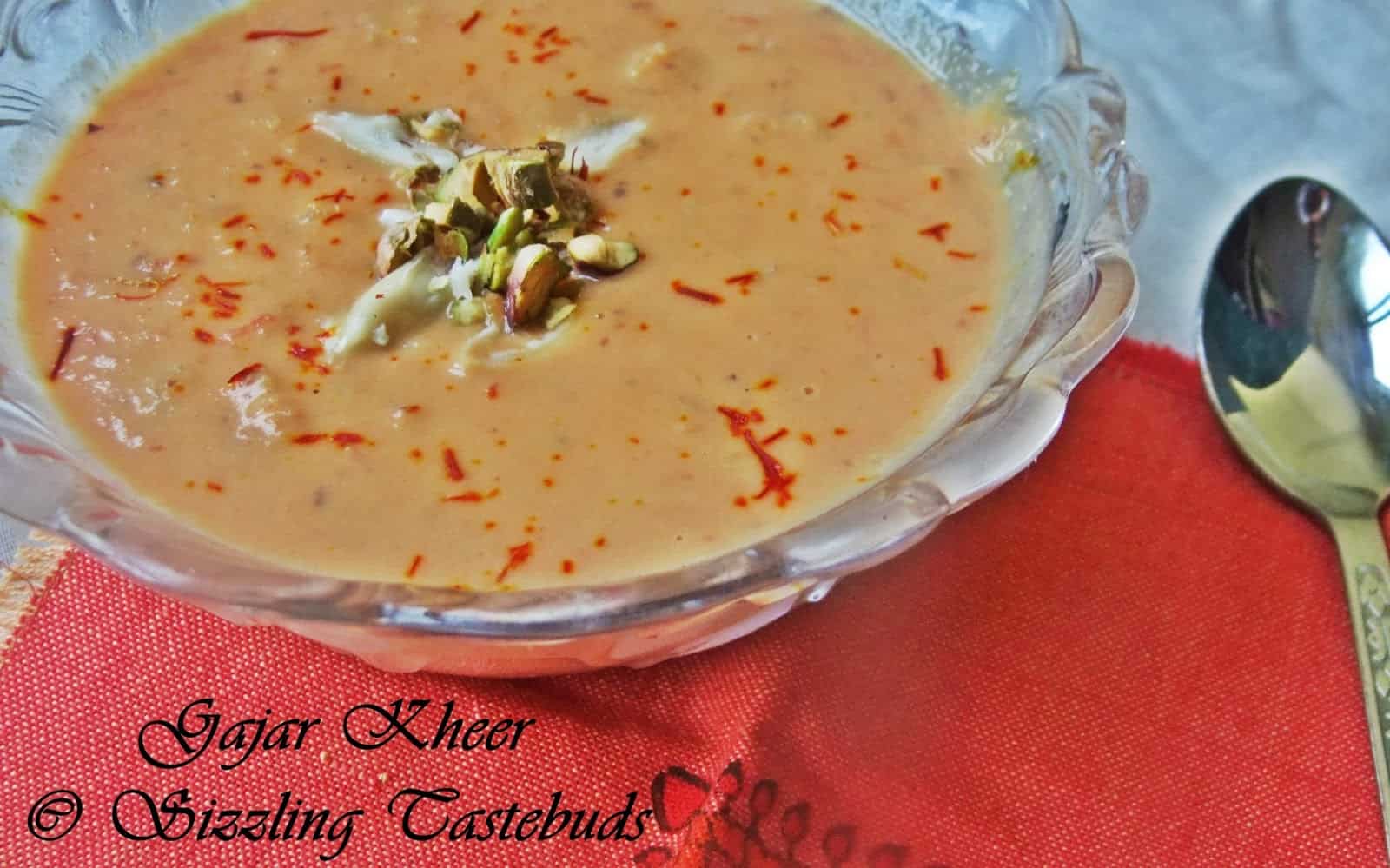 Pin

Prep time – 20 mins |
Cook time – 15 mins | Serves – 4

Keeps for upto 4 days
under refrigeration | Serve warm or cold

Ingredients:
Carrots – 700 gms ( I used a combo of Gaajar (red
variety) and orange coloured carrots)
Milk – 500 ml (you may use low fat if you want
a lighter version)
Sugar – 3/4 cup (or more depending on how
sweet you want)
Soaked almonds – 2 handfuls
Condensed milk – 1/4 cup (optional – I didnt
use this fully as the carrots itself was sweet)
Elaichi / Cardamom – 1 pod
Vanilla essence – 1 or 2 drops (optional but
recommended)
Saffron strands / kesar –
a generous pinch
Garnish – blanched and finely chopped
pistachio and almonds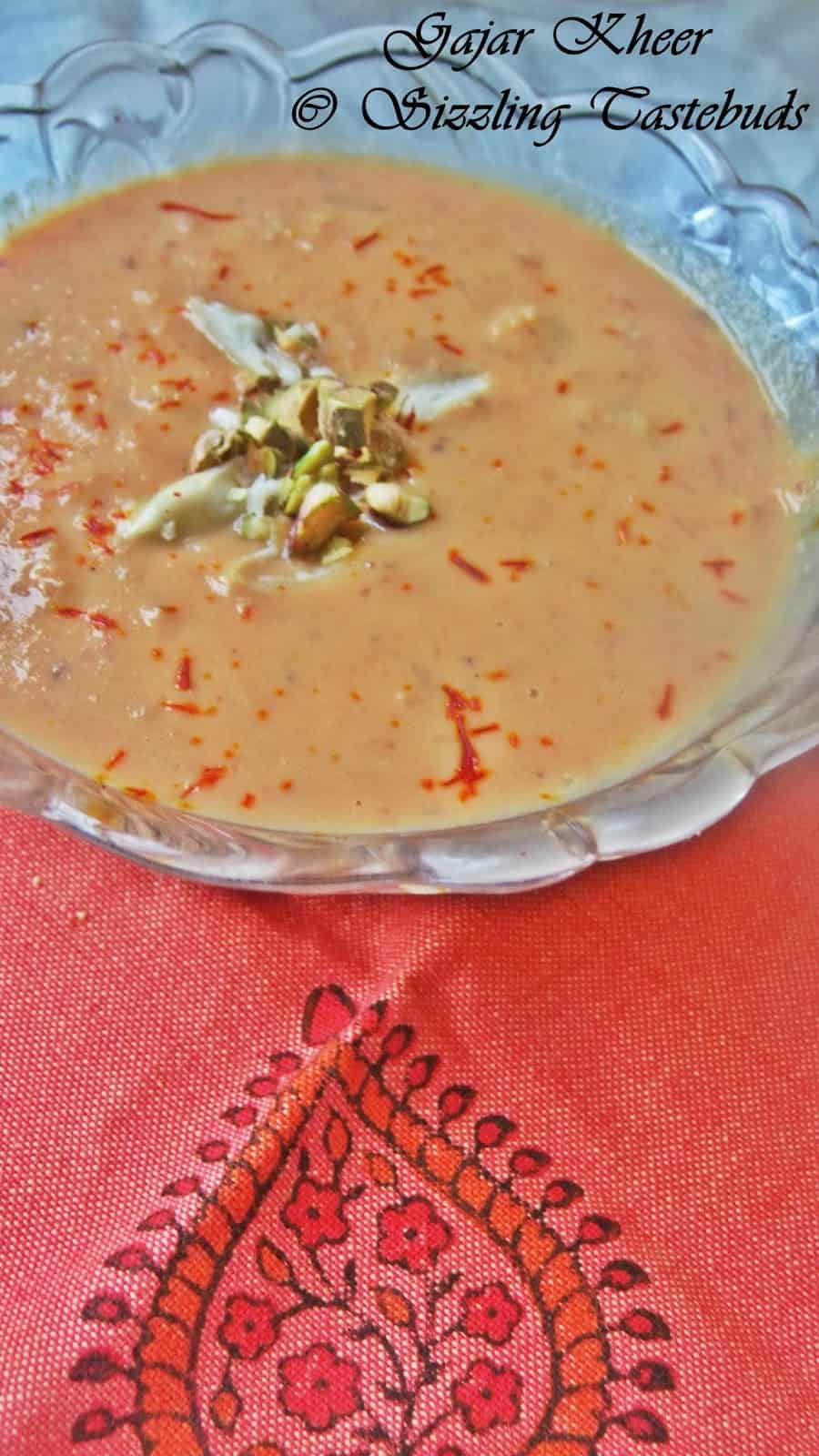 Pin




Method:

Soak the almonds in warm water for 20
mins. De-skin and retain.

Wash, peel and grate the carrots . Use
a cheese grater to get finer strands (yes, I know its laborious but the result
is great)

Pressure cook grated carrots with 3/4
of the milk in a cooker for 4 whistles. Cool

In a pan, heat the remaining milk on
simmer with the saffron strands and simmer till the milk reduces to half. You
would get a lovely saffrony colour and aroma by now. Powder sugar finely along
with the cardamom and add to the milk.

Finely grind the almonds with a little
milk to a fine paste. Add to the milk.

Pulse the cooked carrots fully or to a
bite (like we did). Add the pulsed / ground carrot to the boiling milk, and
simmer on low flame. Stir continuously and add the condensed milk now when you
see the kheer bubbling at the edges and once it thickens fully
switch off (this is almost the custard consistency that you should see by now)

Switch off, and tip in the vanilla
essence. Mix well. Garnish with chopped nuts

Serve warm or chilled (we loved it chilled!!)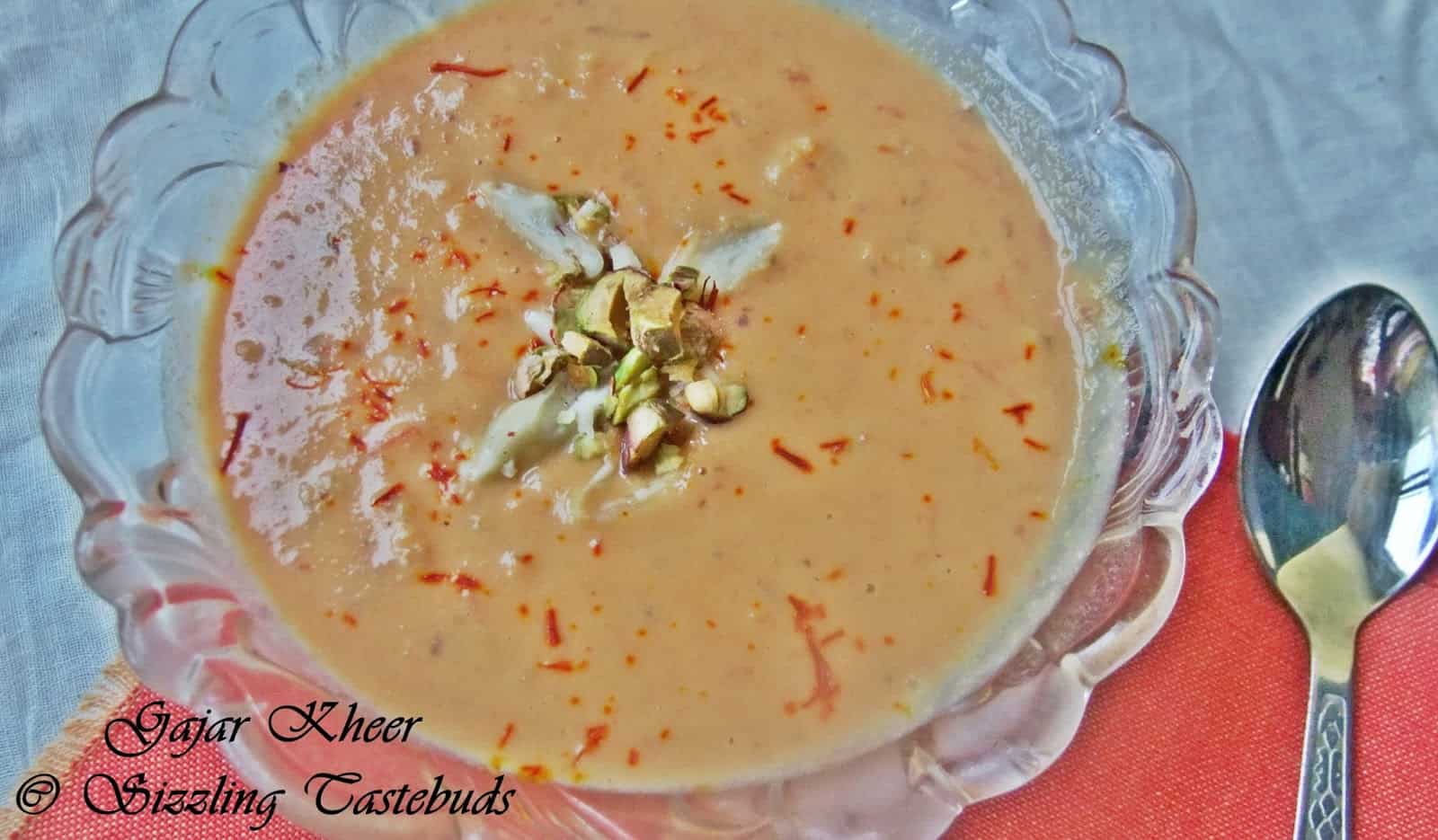 Pin
And now to the next
excitement of the day – the Giveaway. One Two lucky
winners(from India) would receive the wonderfully researched and presented
cookbook by Vikas Khanna – the new age chef of India. So, what are you waiting
for ? Rush in to claim that cookbook. But before that, a small snapshot of the
rules: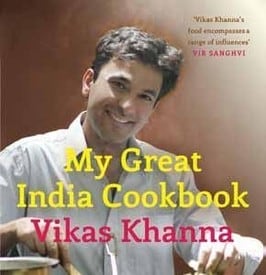 Pin
Each of the following
entries counts as a point. These would be tallied against a
total of 100 and two highest winners randomly picked for the giveaway. Only
thing is that you need to be a resident of India or be able to provide an Indian
Shipping Address. If the winner(s) doesn't respond within 3 days, I shall
choose another set of winner(s).
The giveaway ends Feb 28th 2013


So, lets check out the simple rules:
(a)  Follow
me on FB,
Twitter, Pinterest
(10 points for each follow)
(b)  Subscribe to my posts via RSS
Feed (10 points)
(c)  Join
me via Google Friend Connect and Networked Blogs (10 points for each)
(d)  Tell
me your most favourite blog post and why from this blog and leave the blog post
URL as a comment (20 points). Also tell me one dish you would want featured on this blog (30 points).
(e)  Once
you have done one or more of the above, leave a comment in the box below saying
so.
Thanks once again for
your support and encouragement. Look forward to your participation. 
Cheers
Kalyani