Parathasare welcome anytime in my family, be it for breakfast or lunch.. Considering that it takes a Herculean  task to get my elder daughter to eat veggies now,they get disguised in parathas. This simple no fuss Carrot-dill Paratha is simple to make, pairs well with simple yoghurt and pickle. Carrots are also a favourite at my place, and we love the low fat Carrot-Raisin Bonda , the Carrot Cheese Burger as much as Carrots-Oats Muffins, with the eternal favourite being Carrot Kosambari (or salad) – more for its simplicity and taste than ease of making it 🙂
These parathas go well especially for those mornings when you need the energy of an elephant to manage one crying newborn all the while managing the school going daughter. More on that story soon, but first to Blogging Marathon with theme "carrots in 3 different ways" that's on this blog this week ! Stay tuned to more from this wonderful veggie ! Check my co bloggers here…
Prep time : 20 mins (I prefer doing the dough overnight)
Cook time : 20 mins
Makes : 8 medium sized parathas
Serving suggestions : Mixed veg pickle , plain yoghurt
Difficulty level : medium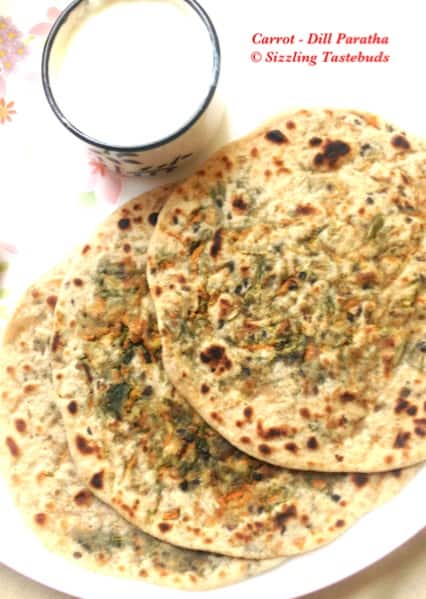 Pin

Click for Printable recipe here
Pin



Ingredients:
Carrot (medium sized) – 2
Fresh dill leaves – 1/2 cup, finely chopped
Whole wheat flour – 2 cups
Besan /Gram flour -2 TBSP (optional but recommended)
Salt – to taste
Red chilli powder – 1/4 tsp
Ajwain/carrom seeds – a pinch
Warm water – to make the dough
Oil – to cook the parathas
Method:
For the covering:
Sift whole wheat, besan and salt. Add warm water litte by little to make a dough. The dough shoud be neither too soft or too hard. You can make this dough overnight too or just an hour before making the parathas. As it contains besan, its preferable to give it minimum rest time. If you are not adding besan, then overnight dough works fine. Just remember to knead the refrigerated dough before using
For the filling: 
Wash, peel and grate carrots. In a non stick pan, dry sauté the carrots for 2 mins along with the chopped dill. Cool thoroughly in a plate
Add ajwain, red chilli powder, salt and mix. Divide into equal sized portions.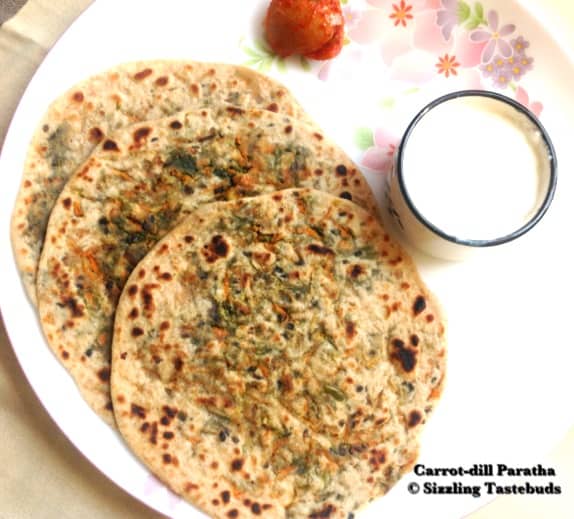 Pin
Pinch out a small portion of the dough. Dust in dry flour and roll out into a small disc.
Place the filling in the centre and close up like a potli / pouch
Dust again lightly and roll gently into a round slightly larger disc. You can make it as thick or thin as required. Meanwhile heat a tava (skillet) and roll out the remaining parathas till you exhaust the filling.
Place the Paratha on the hot tava. When few bubbles start appearing, drizzle some oil around. After a min flip over let it cook on both sides.
Serve hot with pickle and yoghurt