This is a dump-all and cook kind of dish. The last few weeks have been demanding on the personal front and combined with the hot weather, it's a pain to stand and cook for hours on end. On one such days, this dish makes life nice and tasty. 
I have subbed the rice with Lapsi (broken wheat) but you can use brown rice / hand pounded rice for healthier options. See notes for details. This is a great recipe for Bachelors (Bachelorettes included :p) and those in hostels/  dorm where cooking is a pain 🙂 
I have used Cabbage and radish leaves , but feel free to add or omit any of the veggies. Addition of ghee is totally optional, but adds a nice flavour. Let's get to the recipe.
Before that, if you are a Khichdi-lover like me and the hubby, check out the following options: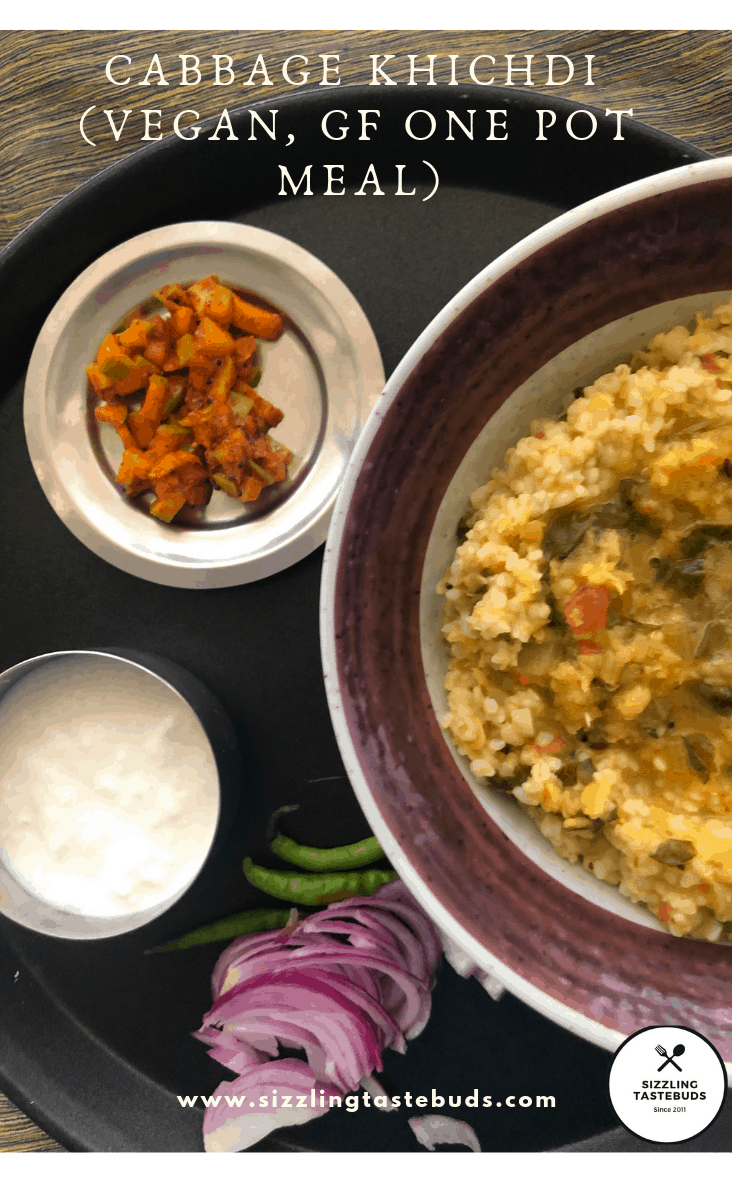 Pin

Notes:

Roasting Lapsi and soaking prior to pre cook fluffs up a bit.

I have used pressure pan to make this, but feel free to use IP,Rice cooker,stove top or any other method with slightly varying water quantities.

I have cooked Lapsi along with moong dal, but you can cook them separately and mix in the end too.

Tastes best with chilled curd, pickle and / or papad. Add a salad if serving for dinner / lunch for a complete meal.

Prep time : 15 mins, cook time – 15 mins, Serves – 2

Ingredients:


Lapsi / broken wheat – 1/2 cup

Moong dal – 1/4 cup (whole soaked and pressure cooked OR use the split yellow version)

Salt – to taste

Ghee – 1 TBSP

Cumin seeds – 1/2 tsp

turmeric-  1/2 tsp

Asafoetida – a pinch

Ginger grated – 1/2 tsp

Tomato – 1 medium (chopped fine)

Crushed black pepper-  1/2 tsp

Veggies : Cabbage, radish leaves – totally 1/2 cup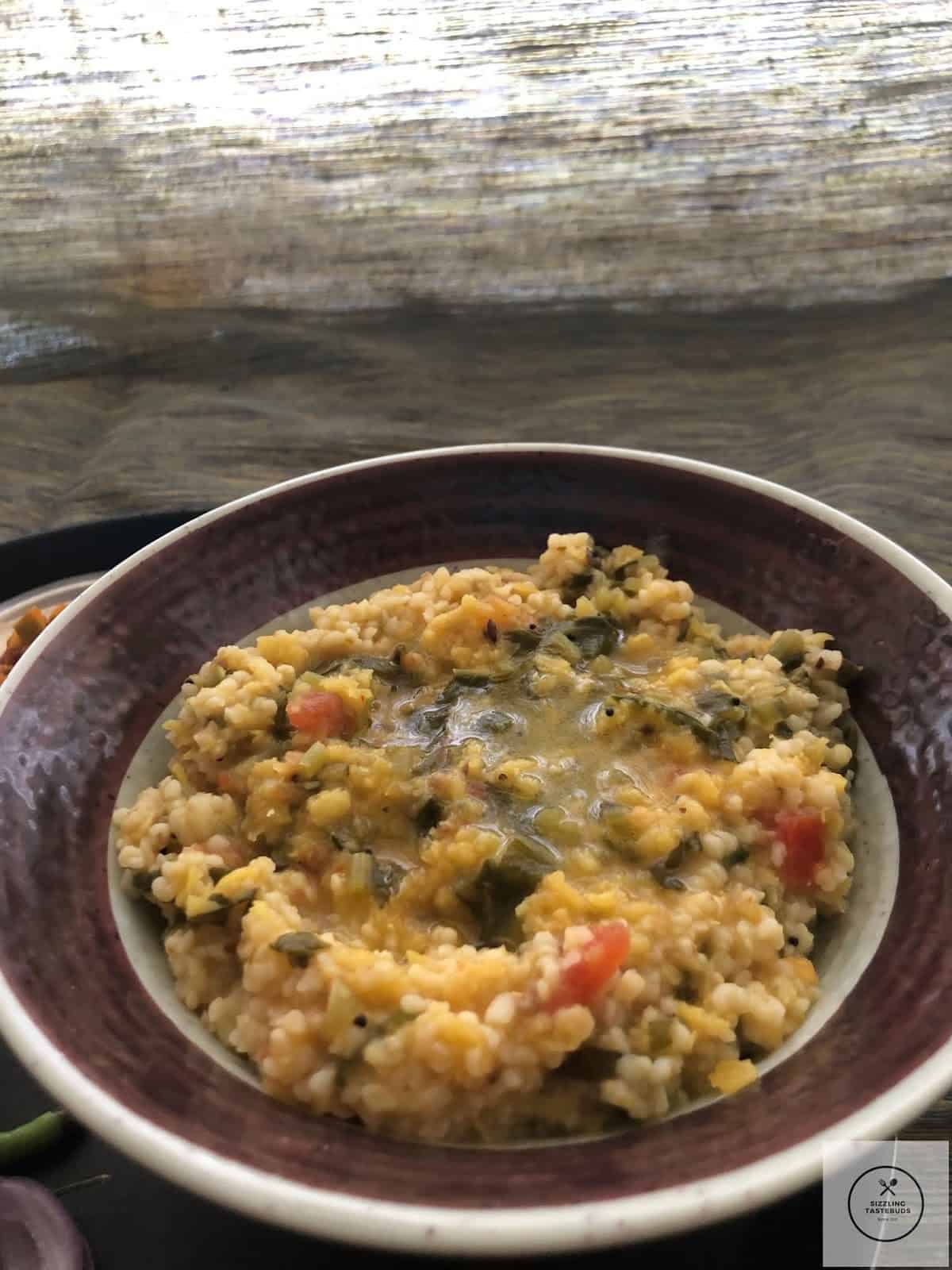 Pin
Method:
Dry Roast the lapsi, Soak for 10 mins while chopping the veggies. Similarly roast and soak the moong dal for 10 mins.
In a pressure pan, add ghee, splutter cumin, ginger, hing, black pepper. Add the veggies and saute well. Add the tomatoes and saute for a min or two. Add the soaked and drained lapsi and moong dal and saute well.
Now add 1.25 ~ 1.5 cups of water and bring to a boil. Add salt and pressure cook for 2 whistles. Let the pressure drop.
Fluff it up a bit and serve immediately (tastes best when hot and turns lumpy when cold) with raita / yoghurt / pickle and of course topped with some more ghee 🙂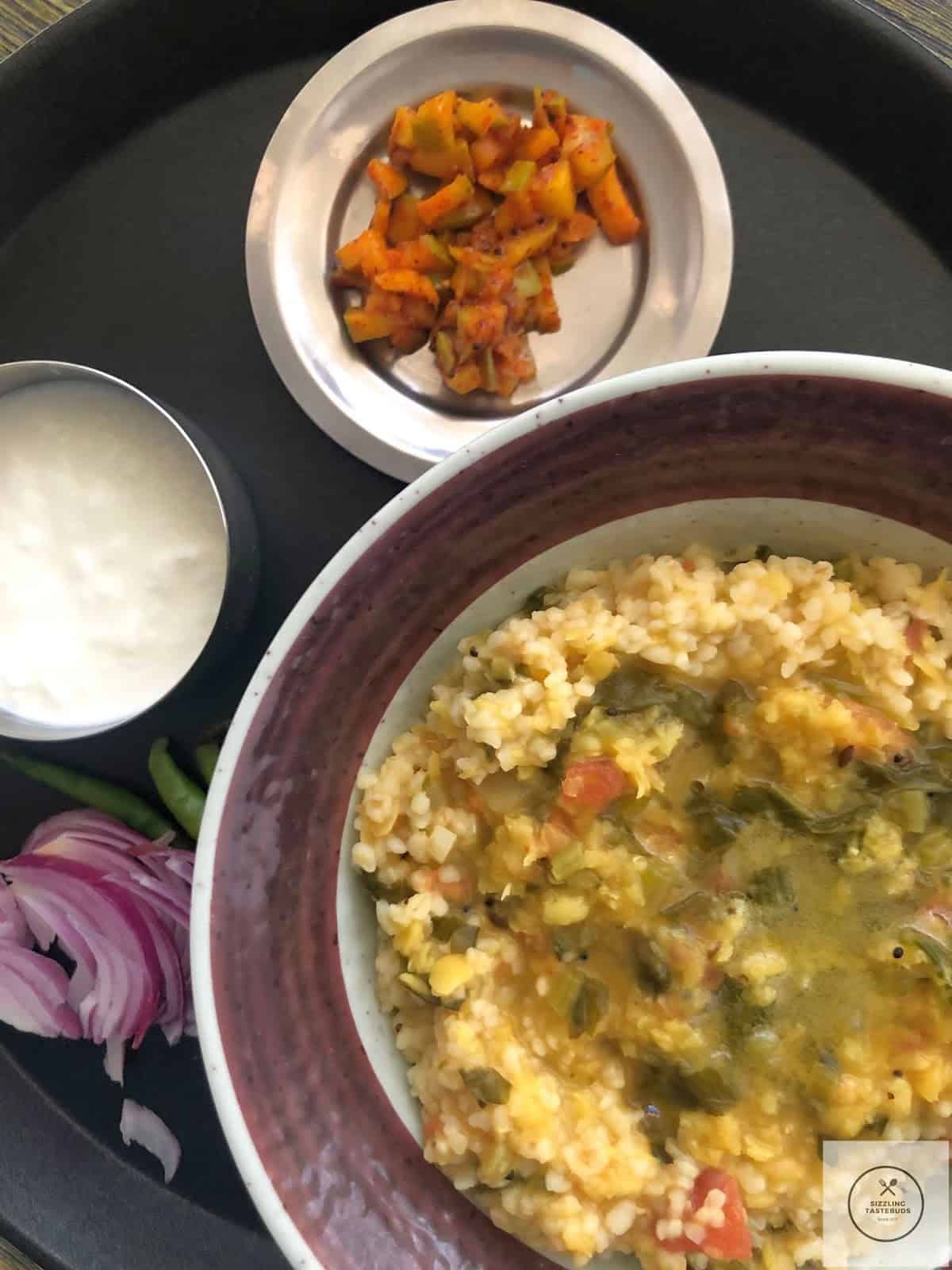 Pin
Pin 
Check out the Blogging Marathon page for the other Blogging Marathoners doing BM#99