After Brown Rice Dosa, we started incorporating this wonderful and healthy wholegrain more and more into our everyday cuisine. And what better way to eat this cereal than in a wonderfully simple One Pot Meal, and so this Brown Rice Veg Pulav came about. What I liked about this dish is that its soo versatile and quick, it goes amazingly well with any Raitha/ Pachadior just plain curd. Do add in the vegetables of your choice, and vary the spice accordingly. Brown Rice also contains more fiber and less glycemic index, so its highly recommended for diabetics too 🙂
Only point to note with brown rice , esp for pulav is to soak it a little longer and cook with slightly less water than usual basmati rice. This may be cooked in the pressure cooker or in a large pan. Like all other Pulavs, take care to handle the cooked rice less it may break and distort the texture of the pulav. Lets get to the recipe now 🙂 Sending this to :
Kokila's Lets cook – Pulao event
Healthy Eating event – HITS – by Sangee
Indrani'sWinter VeggiesEvent
Gayathri'sWTML
My own event –Valentine Fest : Served with Love
Check other varieties of Pulav here and more One Pot Meals here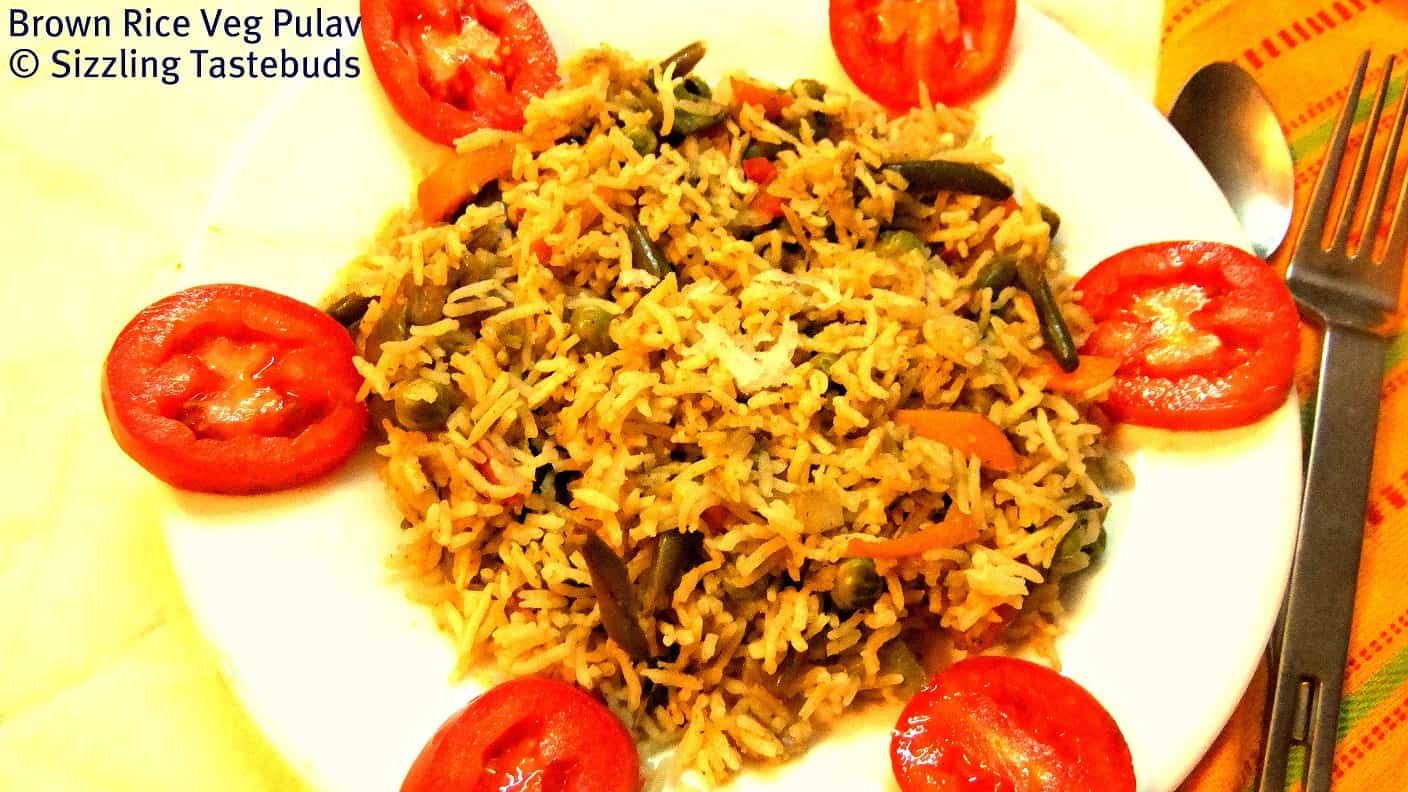 Pin

Prep time : 15 mins (including soaking time). Cook time : 20 mins. Serves : 3

Ingredients:
Brown rice – 1 cup (any long grained including Basmati will do)
Onions – 1 large – sliced thin
Tomatoes – 1 large – diced medium
Mixed vegetables – 1 1/2 cups (I used Carrots / french beans/cauliflower/ baby corn/peas)
Capsicum – 1/2 – sliced thin
Garam Masala – 1/2 tsp
Turmeric – 1/2 tsp
Oil – 2 TBSP
Whole Garam Masala :
Bay leaf, pepper corns (4 or 5), Shahjeera (1 tsp), Cinnamon( (1/2 inch), Cardamom(2), Cloves (2)
Masala paste:
Coriander seeds – 1/2 TBSP
Jeera / Cumin – 1 tsp
Grated coconut – 2 TBSP
Ginger garlic paste – 1 tsp
Salt – to taste
Onion – 1 medium – quartered
Mint / Pudina leaves – few
Coriander leaves – few
Green chillies – 1 or 2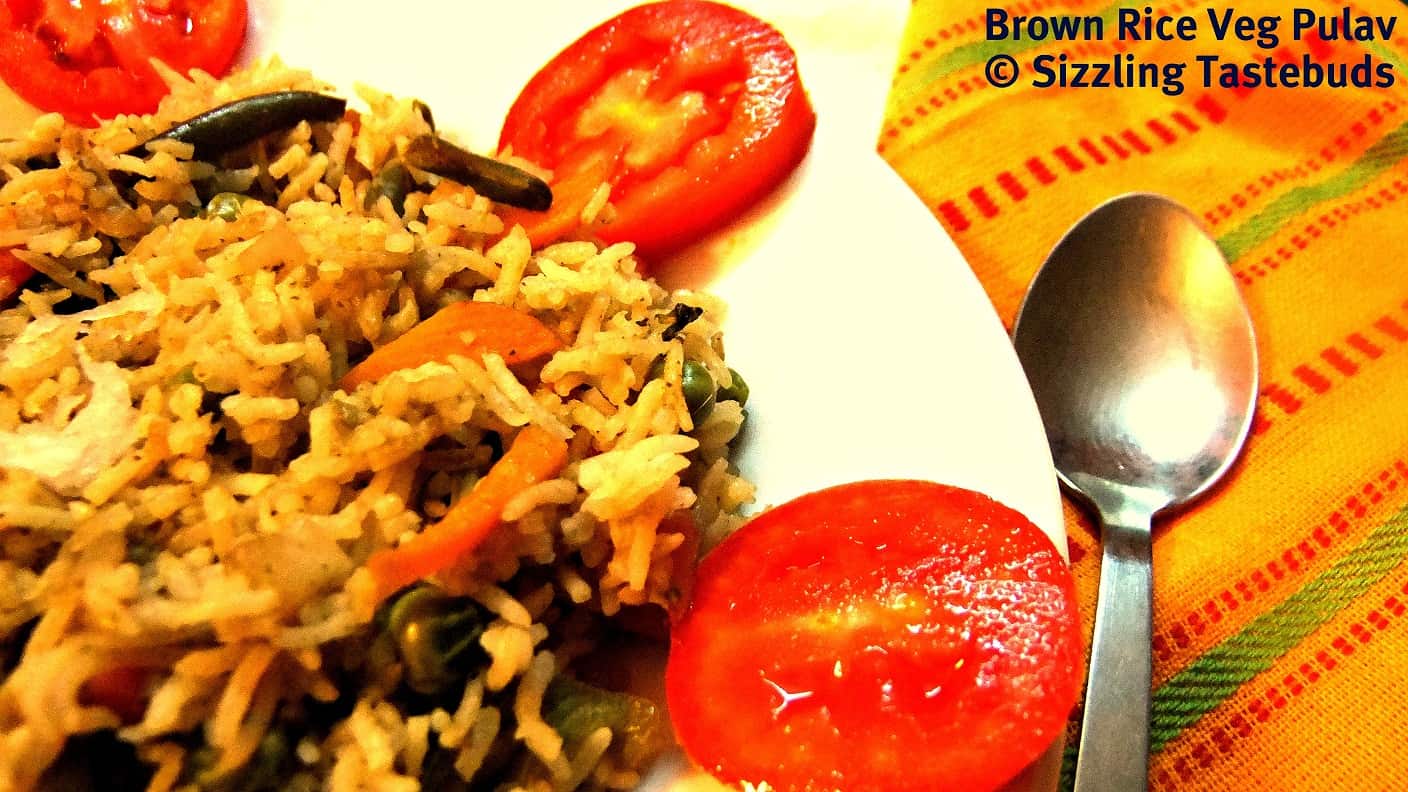 Pin

Method:

1) Wash and soak the rice for 10 mins. Meanwhile chop all the vegetables (except tomatoes. onions and capsicum) and blanch in hot salted water for 10 mins (this is optional but I find this method greatly reduces both oil consumed as well as cooking time)

2) Make a paste of all ingredients under "Masala Paste" using minimal water.

3) In a pressure cooker / open pan, heat oil. Add the whole Garam Masala. When they slightly brown, add the sliced onions, capsicum, tomatoes, salt and stir well. Then add the ground paste and fry till the oil separates.

4) Now add the soaked (and drained) rice and fry for 2 – 3 mins. Add the blanched veggies and ensure the masala is coated all over. Adjust salt. Add garam masala, turmeric powder and mix well

5) Add 2 cups of boiling water and pressure cook for 2 whistles (if using an open pan, cook till the rice is cooked)

6) Fluff up the rice a bit, ensuring the grains don't break

7) Serve hot with any raitha or curd / yoghurt for a yummy meal.