After
yesterday's Sindhi
Sai Bhaji, the next one that caught my eye and fancy was Harini's Bolivian
Quinoa Stew . I have noticed over the past few years from Harini, that both of our family's cooking and eating
preferences are similar, so I was very keen to select something from Harini's
blog.
Use
of Quinoa was something that I was keen to use (both to clear the present stock in the
pantry and also to make something new other than the Colombian Quinoa Mango Salad I had made earlier), and I was very happy that it was liked
by my elder one also. Thanks Harini – this is definitely a keeper both for the ease and taste it imparted on a nice nippy evening :-))
She didn't sense it had quinoa in it, and sipped it like
a broth along with some warm bread for a weekend supper.
Sending
this dish to BM 46 under bookmarked recipes (ABC world Marathon). Also to Vardhini's Dish It out – Soups and Salads Event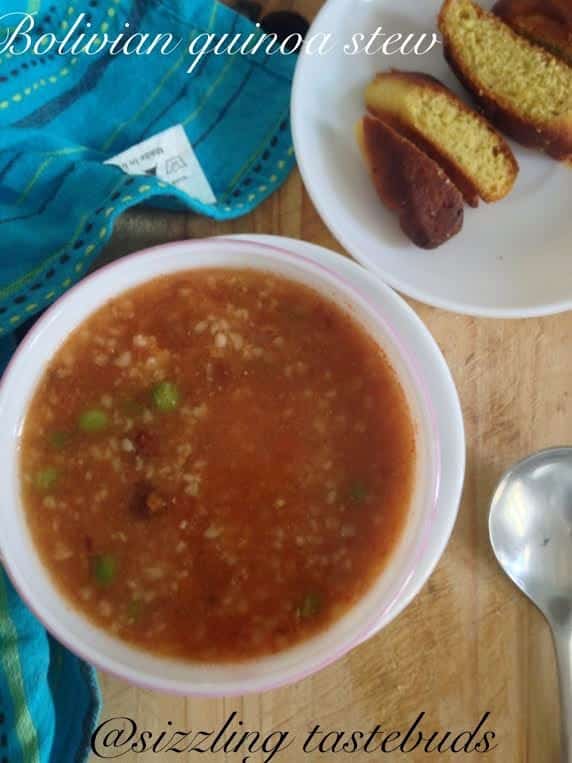 Pin
Prep time : 15 mins | Cook
time : 15 mins | Serves : 2
Spice level : Medium
Difficulty level : Easy
Serving suggestions : Bread or as it is
Ingredients
Quinoa – ¼ cup – soaked in warm water for 10 mins
Garbanzo / chickpeas (cooked) –1 cup (I used kala channa)
Veg Stock – homemade – ½ cup
Onions – 1 large
Bay leaf – 2 nos
Water – 1 cup
Veggies : I added carrots, beans, peas : 1 cup
Bell pepper chopped – ½ cup
Minced garlic and ginger – 1 tsp (i skipped the garlic)
Oil – 1 TBSP
Tomato puree / Pasta sauce – ¼ cup
Red chilli powder – ½ TBSP (I used Kashmiri chilli powder)
Jeera – Dhania powder – ½ tsp
Cilantro – ½ tsp
Salt – to taste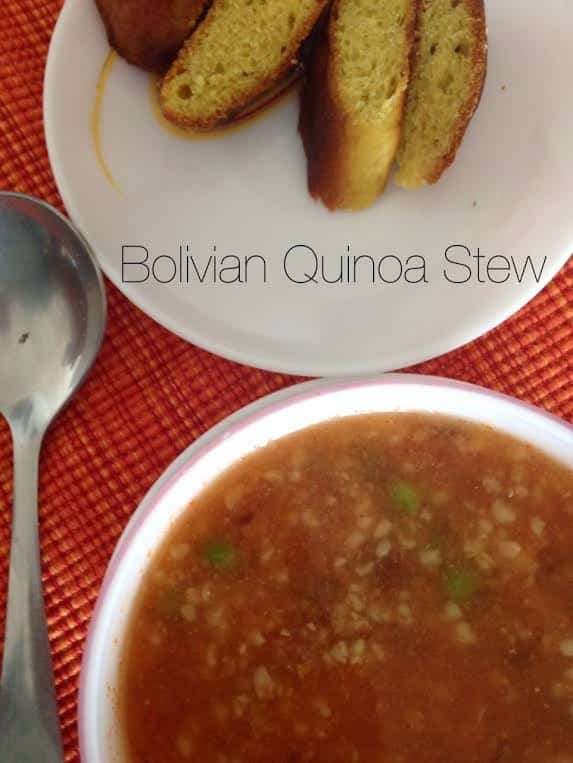 Pin


Method:
In a pressure cooker, add oil. Saute onions and bay leaf. Add
grated ginger and garlic and sauté till onions turn golden brown.
Add tomato puree, bell pepper, veggies and sauté with salt. Add the cooked
garbanzo, red chilli powder, jeera –dhania powder, Quinoa, stock, water and
pressure cook for 2 whistles.
Let the pressure die down on its own.
Simmer for 3-4 mins till you get desired consistency, add cilantro
and serve immediately