Another salad from Latin American Cuisine, this had overtones of sesame – and a nuttiness that we liked. Unlike yesterday's Pineapple Strawberry salad, today's dish is served warm, and somehow both me and the husband prefer warm salads to cold ones.
So, if you are a fan of salads too, make this one for a potluck or weekend dinner. We had this with some Carrot Almond Soup and roasted garlic focaccia that made for a lovely meal.
Prep time : 15 mins, cook time : 5 mins ; serves : 2 ~ 3
Shredded purple cabbage – 1 cup (1 cup = 250 ml)
Broccoli florets – 1/2 cup
Roasted bell peppers – 1/3 cup
Minced garlic – 1/2 tsp
Onions – cut lengthwise – 1/4 cup
Dressing:
Sesame seeds / sesame oil – 1 TBSP
Salt & pepper – to taste
Balsamic vinegar – 1/2 tsp
Brown sugar – a dash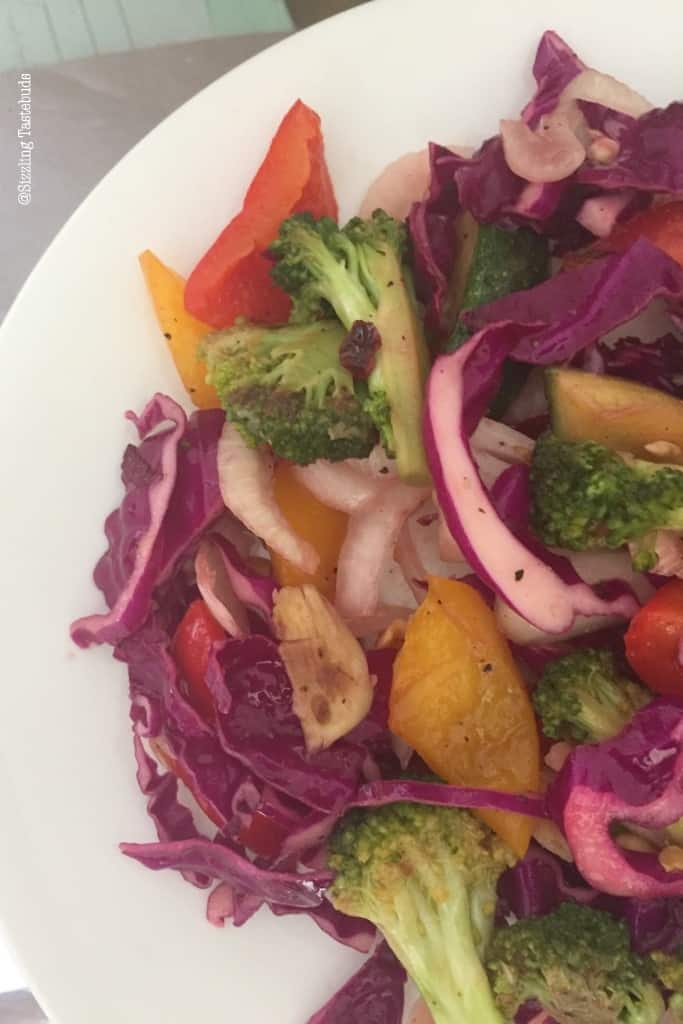 Pin
How to make:
Warm the sesame oil a bit (not till smoking), switch off & add this to a bowl along with the rest of the dressing. Whisk well and keep refrigerated.
In the same pan, add the minced garlic, broccoli florets and toss with a little salt on a low flame till the florets are coated with a garlicky glaze but are still warm and crunchy (max 2-3 mins).
In a large bowl, add the purple cabbage, roasted bell peppers , broccoli, onion and toss well.
Just before serving, add the refrigerated dressing and serve warm on the side.