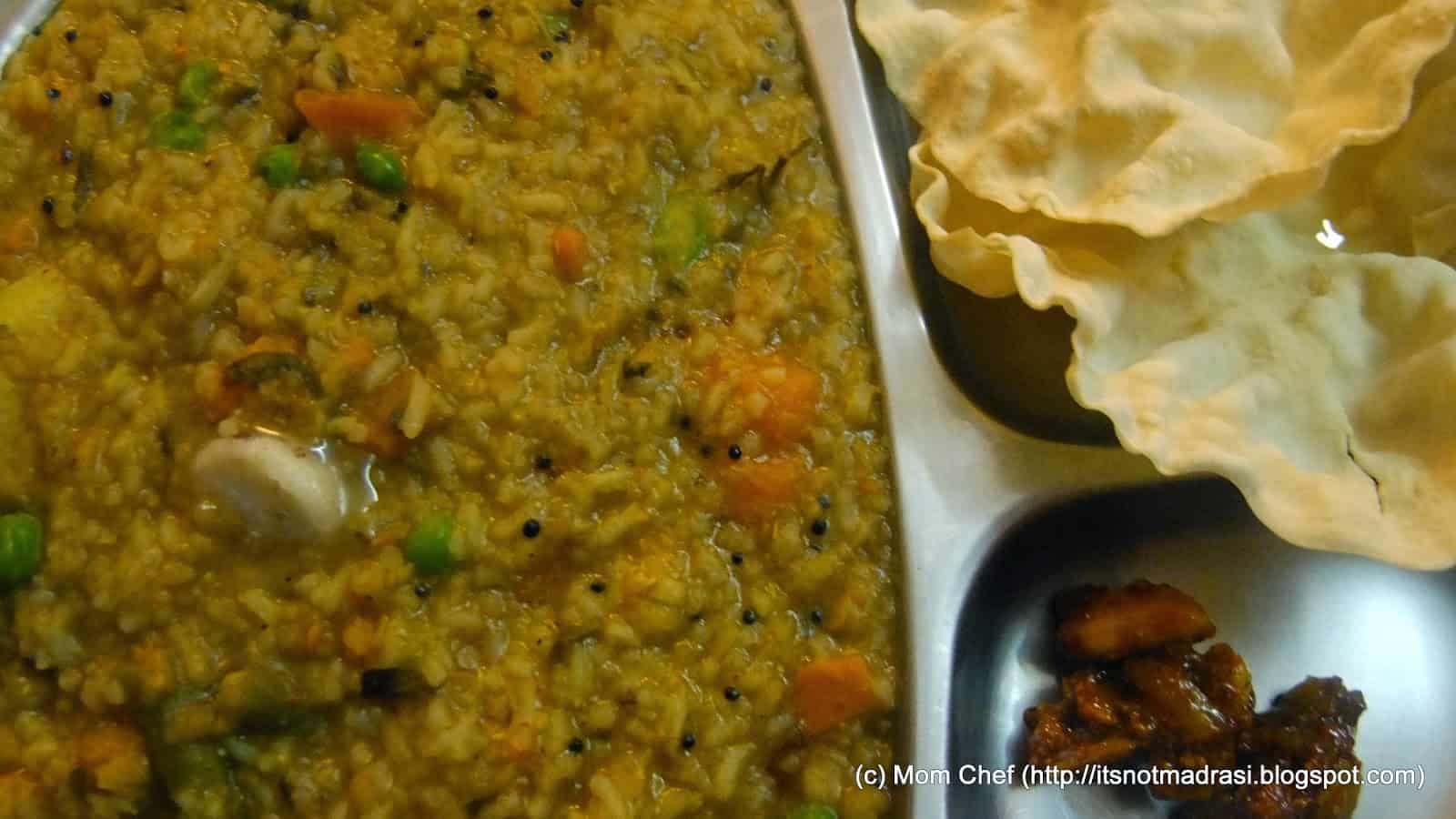 Pin

The blogging Marathon is indeed addicitive. I thought I would run one week this month, but looks like I am set to do another, albeit under a different theme "Regional Specials". As you would note from my "About" page on my blog, I come from an amalgamation of two Southern Indian culinary tastes – Karnataka and Tamil Nadu. And my posts this week would carry cuisines from these two states – authentic fares to be specific. Thanks to Srivalli for this marathon, and I look forward to meeting many new bloggers and discuss and share interesting tidbits about food, blogging and moreJ

What better way to represent Karnataka better than with the uno supremo – Bisi Bele Bhath. To call this Dal Khichdi (as my friends in Delhi would say, when they dine @ Sagar Ratna restaurant chain) is quite a putdown actually, as is Madrasis who refer this to as Sambhar saadham. Bisi bele bhath (BBB) epitomizes South Karnataka cuisine totally, especially that from the Mysore region. I can safely bet there are atleast 10 – 20 ways this is made, and differs from one household to the next.

BBB, loosely translated as hot rice preparation with dal (Bisi=hot, Bele =dal, bhath=rice preparation) and needs to be eaten just like that – hot, off the stove with dollops of ghee and papad / fritters. For all those who schooled in Bangalore / Karnataka in the 70s and 80s, they would remember that BBB along with potato wafers and super cooling Curd rice + mango pickle were the staple in every school excursion (esp those 1 day picnics) doled out by cooks who dished out these delicacies on a methane gas stove lovingly lugged on a rickety school bus topJ

Back to today's dish. Although only Tuvar Dal (split pigeon pea) is traditionally used, I have used a combination of Tuvar Dal + Masoor Dal which is light on the tummy keeping today's culinary preferences. Serve BBB with Papad and any pickleJ

Owing to repeated requests from friends & fellow bloggers , I have explained how to make this with step by step pictures. Refer tips section at the end of this post for more information.

Preparation time :15 mins., Cooking time : 30 mins. Serves: 4

Ingredients:

· Rice – 1 cup

· Tuvar dal / Tuvaram paruppu / Togari bele – ¼ cup

· Masoor Dal – 1/2 cup

· Water – 6 cups

· Turmeric – 1 tsp

· Tamarind Extract – 1/3 cup

· Chopped veg – 1 ½ cup (I used beans, carrots, chow chow, peas, white pumpkin)

· Capsicum – chopped- 1 small (opt)

· Onions – 2 large (or shelled pearl onions / Shallots– 1 cup)

· Tomatoes – 3 large (Ripe)

· Salt – to taste

· Oil – 2 tbsp

For the masala / Spice powder:

· Sambhar powder – 1 tbsp

· Cinnamon – 1 inch

· Cloves – 1 or 2

· Elaichi – 1

· Marathi moggu (Indian Capers) – 1 no

· Coriander seeds – 2 tbsp

· Jeera – 1 tsp

· Channa dal – 1 tsp

· Kashmiri red chillies – 2 nos

· Grated dry copra – 2 tsp (opt)

For tempering:

· Ghee – 3 tbsp

· Mustard seeds – 2 tsp

· Hing – 1 tsp

· Curry leaves

· Peanuts / Groundnuts – 3 tsp (opt)

Method:

1) Stage 1 :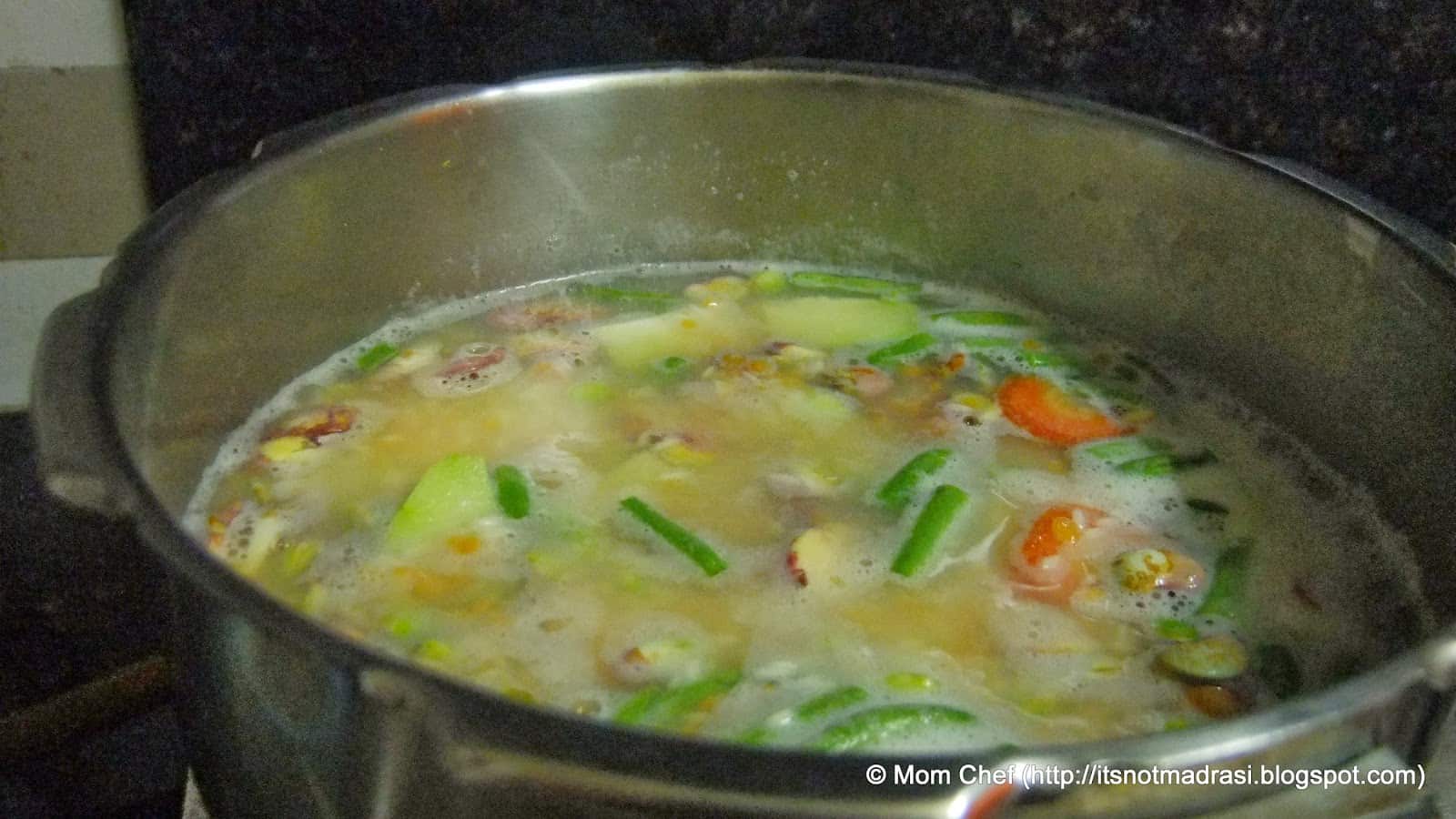 Stage 1 : Rice – Dal – Veggie Mixture
Wash rice and dals. Drain. In a cooker, add 2 cups of water and add dals with a pinch of turmeric and 1 tsp of oil. Let it boil (without the lid on) for about 5- 9 mins. Now add the rice and the chopped veggies (except tomato, capsicum). Add half of the onions (cut into quarters) or the whole quantity of pearl onions (if using). Add 2 cups more of water and 1 tsp of salt and cook with the lid on for 4 -5 whistles.
2) Stage 2: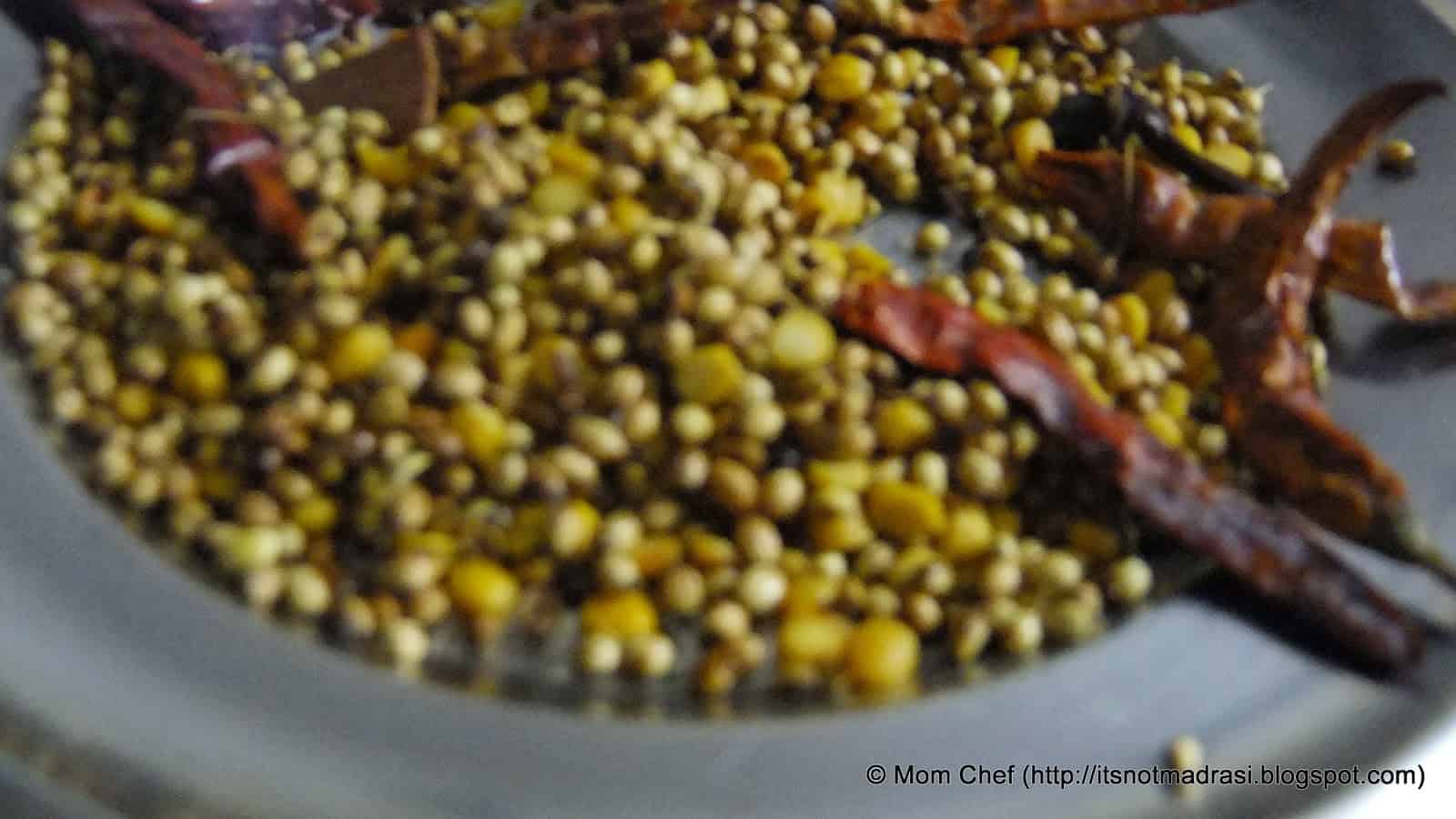 Stage 2(a) : Roast the Masala mixture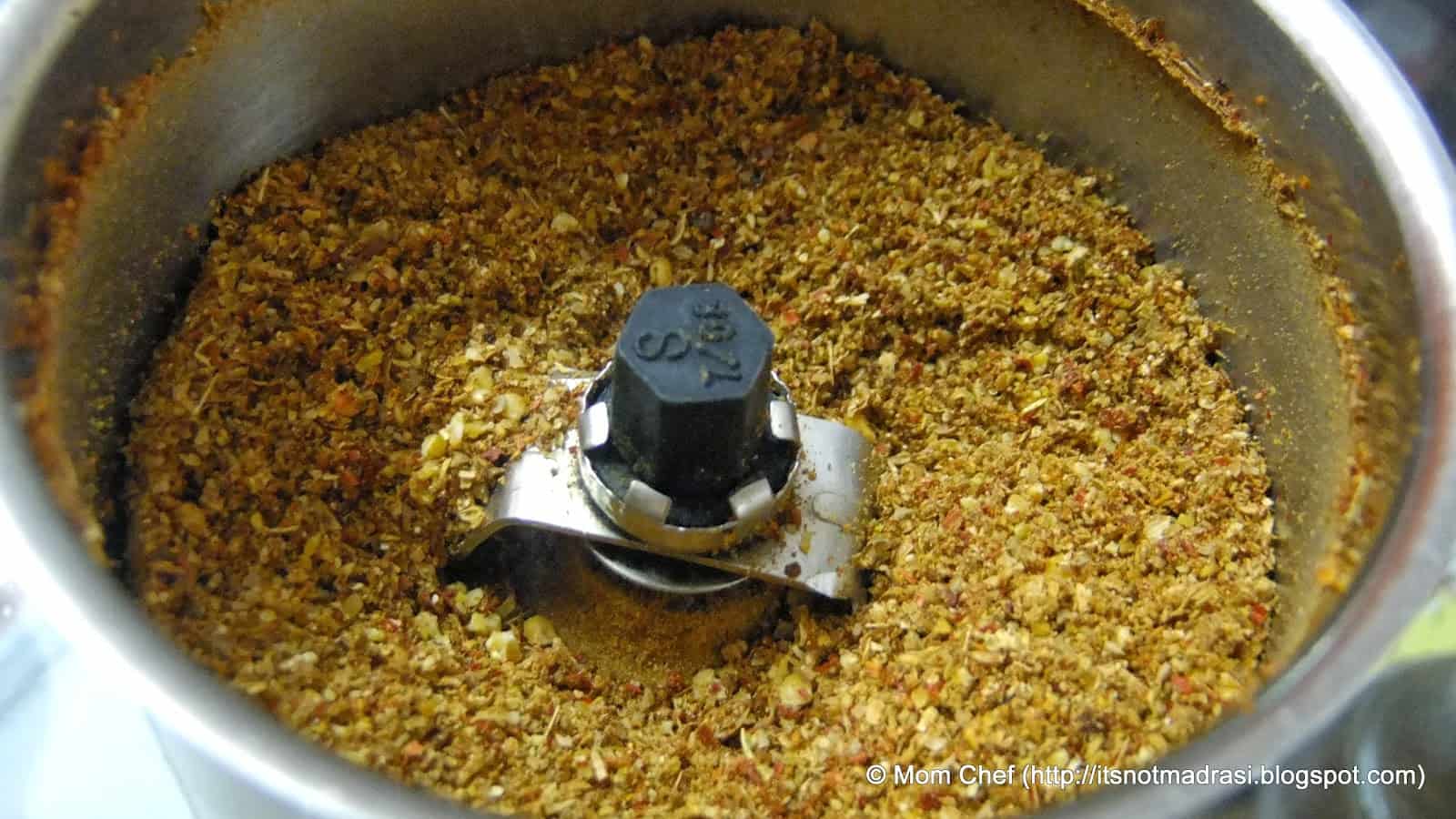 Stage 2(b) : Ground Masala Mixture
In a pan, heat 1 tsp of oil. Fry the whole masala ingredients : Channa dal, Kashmiri red chillies, coriander seeds, jeera, cinnamon, cloves, Marathi moggu, elaichi without burning. Switch off the gas and turn over the masala ingredients to a plate to cool. In the same hot pan, dry roast the copra (dry coconut). Cool. Powder the ingredients and lastly add the sambhar powder and dry coconut and grind once more to a fine powder.
3) Stage 3: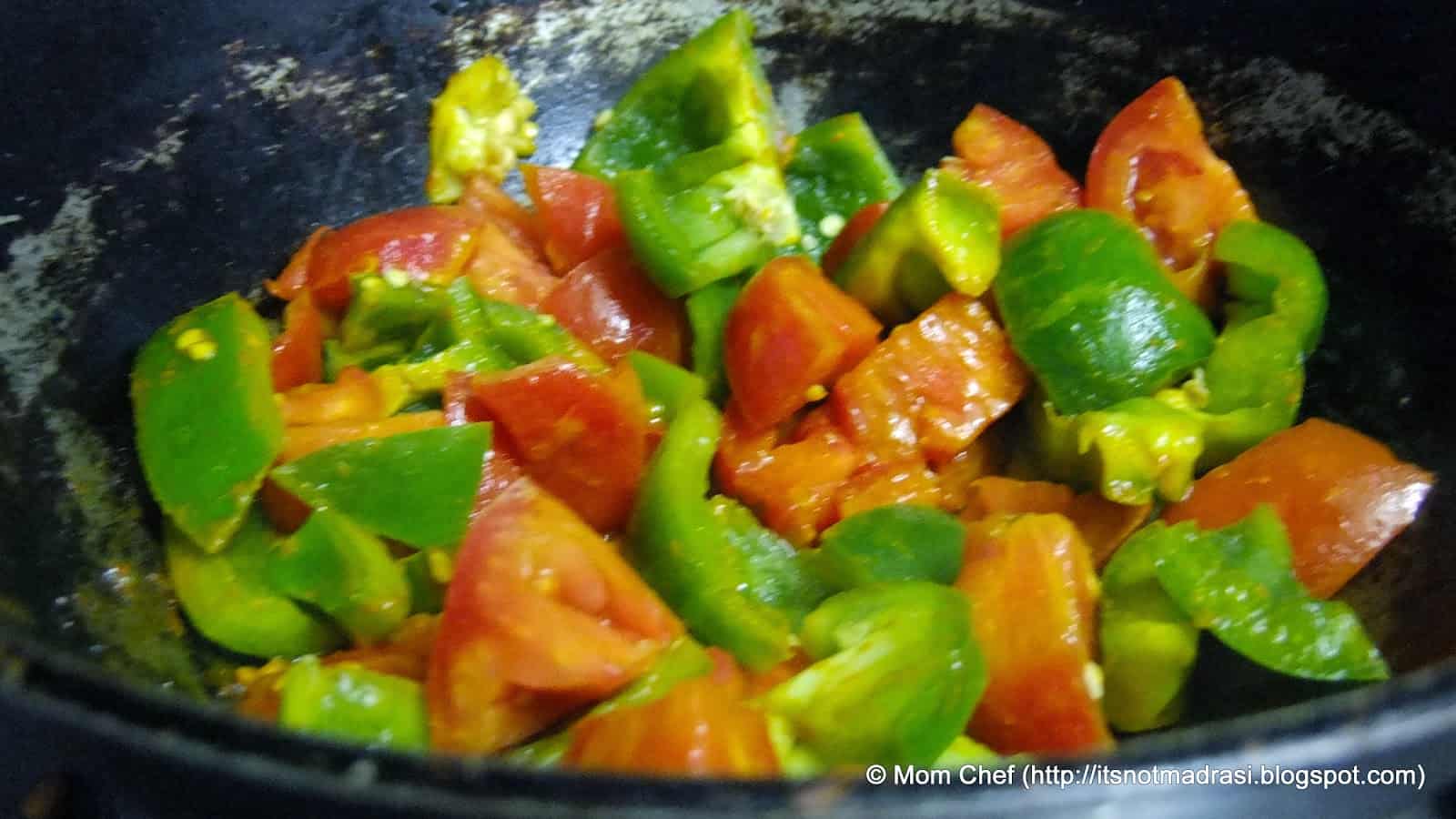 Stage 3(a) : Onion – Tomato – Capsicum mixture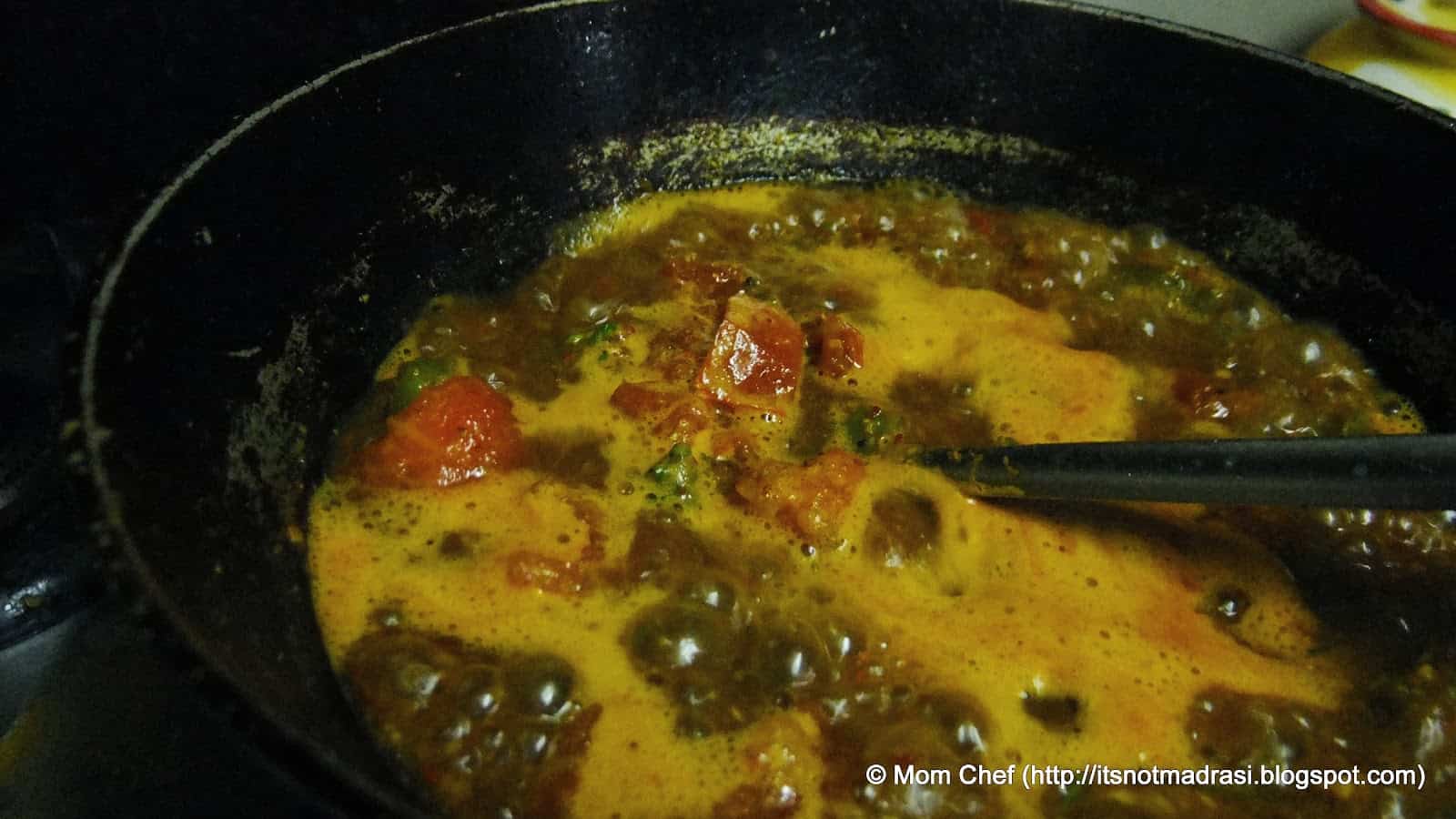 Step 3(b) : Add the tamarind extract and masala powder to 3(a) above
In another pan, heat 2 tbsp of oil. Fry onions, capsicum and tomatoes and cover . Add salt as required cook till the tomatoes are done. Uncover and add the tamarind extract and the masala powder (from Stage 2 above) and stir well. Add ½ cup of water and cook on simmer till the raw smell of the masala disappears.
4) Stage 4: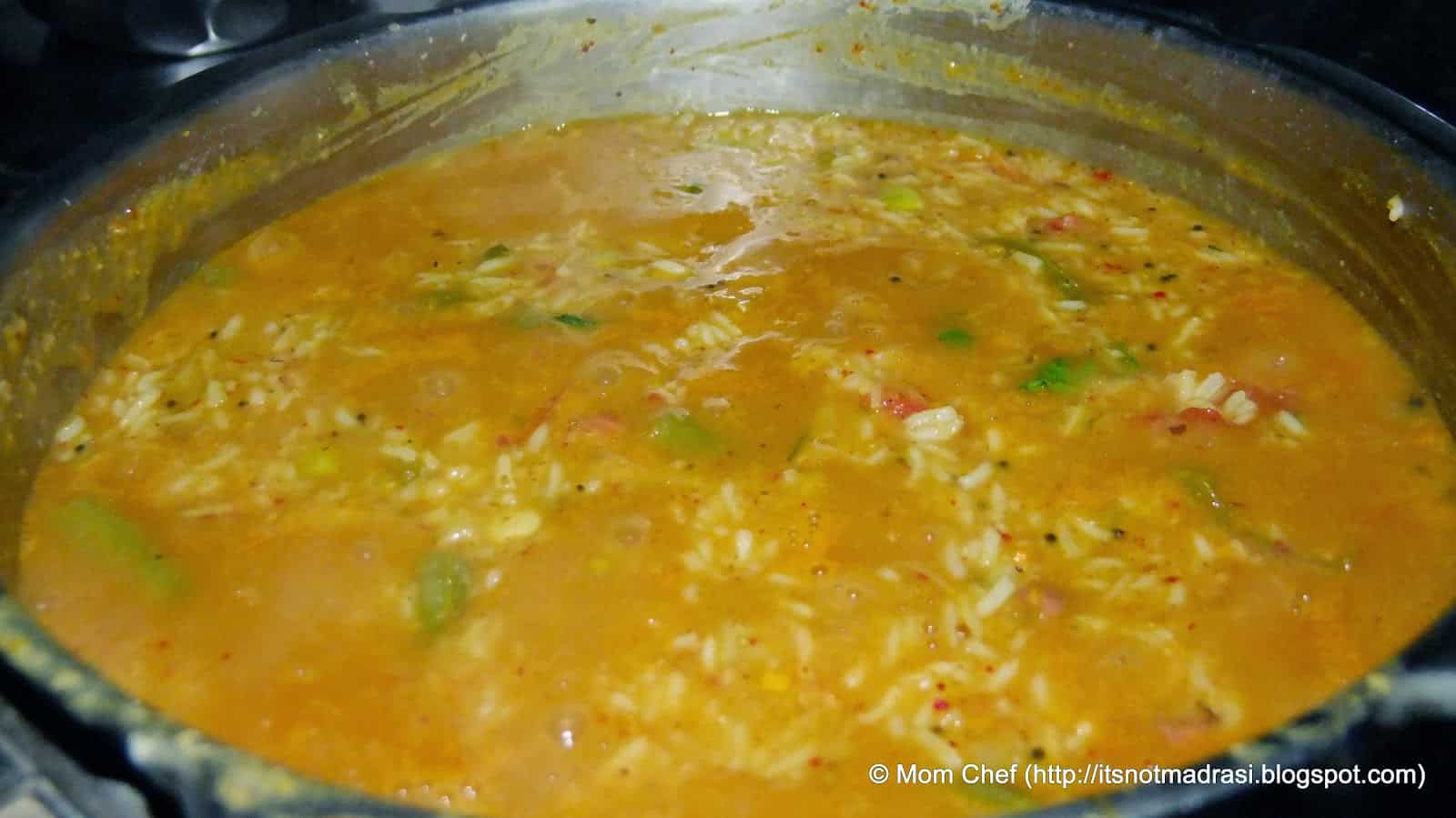 Stage 4 : Add the masala from 3(b) and simmer with 1 cup of water for 2- 4 mins
Once the rice-veg-dal mixture is cooked, open the cooker and lightly stir in the tangy veg-tamarind-masala mixture from Stage 3. Stir well. Check for salt and add 1 more cup of water and simmer on very low flame for 2- 4 mins. Stir continuously to prevent burning.
5) Stage 5: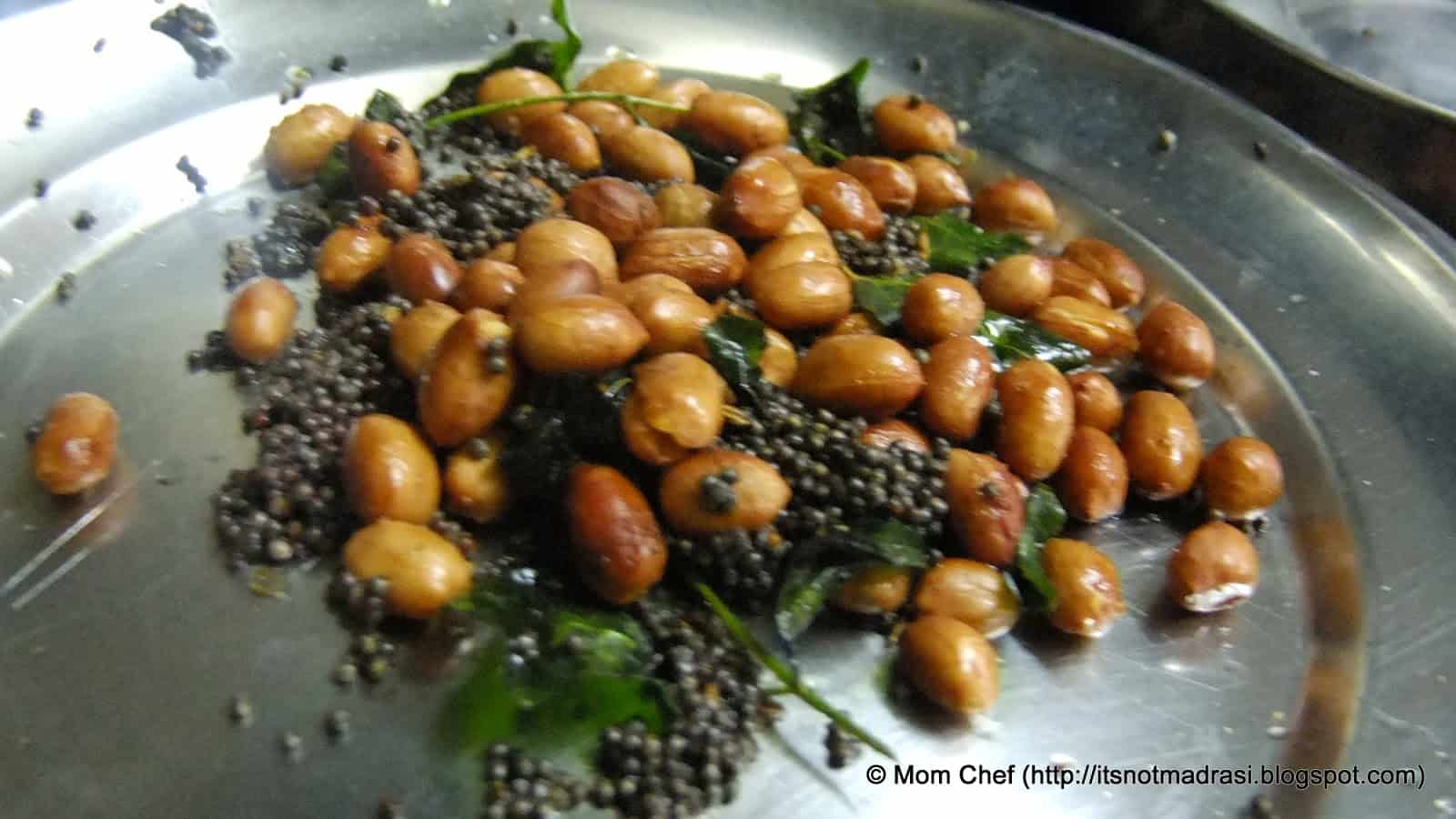 Stage 5 : Prepare the tempering and pour over the simmered BBB
Once done (khichdi like consistency) and the masala mixes well with the rice-dal mixture, turn off the stove. Prepare the tempering and pour onto the khichdi. Serve BBB hot with ghee and papad / fritters/ wafers or even any Raitha. I have served it with fried papad and mixed vegetable pickle
Tips:
1) If you don't have sambhar powder for the masala, increase red chillies by 2 more, coriander seeds by an extra 1 tsp and jeera by another ½ tsp for the masala. You may also add 1 or 2 normal red chillies (pandi / hot variety) if you want it really spicy as the Kashmiri variety only lends a lovely red colour.
2) BBB can also be made without onions, although I personally prefer them made with silky pearl onions (shallots)
3) You may prepare the BBB spice powder beforehand in bulk to make BBB instantly.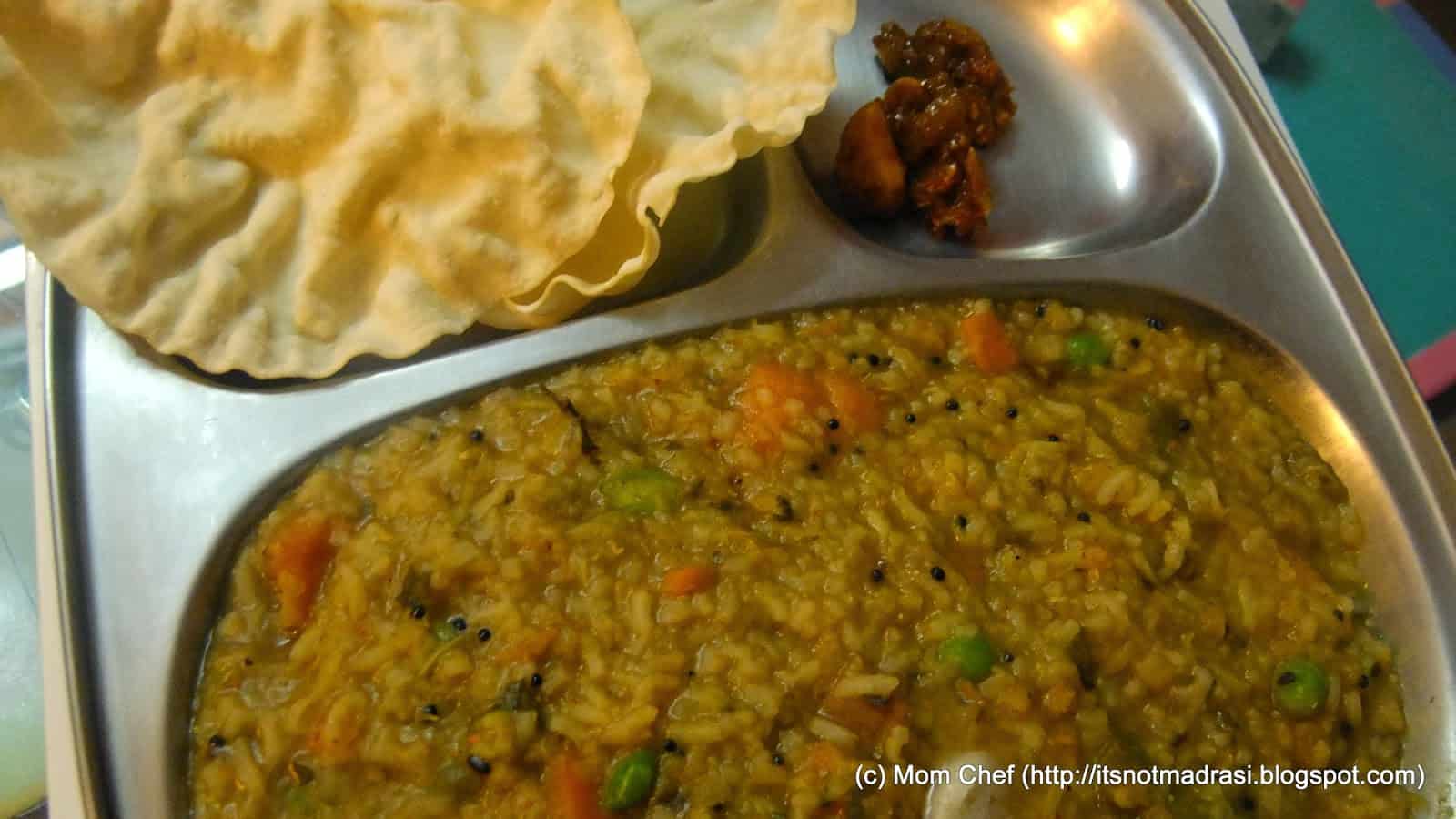 Pin
Check out the Blogging Marathoners doing BM#5 along with me
Curry in a hurry under 30 min:Priya Suresh, Srivalli, Usha
Seven Days of Colorful Dishes Kid's Special:Vardhini,
Seven Days of Indian Sweets:Harini, Suma, Veena
Seven Days of Regional Specials:Aarthi, Kalyani, Pavani, Shylaja
Under 15 mins Quick Breakfast:Sushma Pinjala,
Sending this to Veggie Platter's Cooking with Whole foods – Toor Dal originally conceived by Kiran.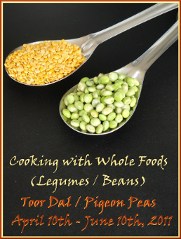 Pin