I
admit nothing, nothing, prepared me or my family to the richness of this dish.
While I have made a baked stuffed capsicum in the past, this was another
stuffed Capsicum (Bell Pepper) dish that blew us away to bits.
And
to think I skimmed through this recipe at a doctor's waiting room. Vaguely
remembered the ingredients (who can remember anything after a tooth drill??!!)
Ouch – that still hurts) and then made some changes that came to my mind. For
me and the Husband, it was instant love !
I
am an ardent capsicum lover (and can add it to almost anything like I mentioned
on yesterday's post on Quesedilla), but husband being a recent convert (he says
its forced conversion but that didnt prevent him from taking a second helping!),
it mattered in the end that we all loved it
Dont
let the long list of ingredients deter you, I can assure you, it was worth the
long wait .. We paired it with Wholewheat Naan and some salad. The step by step
pics also should help you make this Mughlai delight…
Lets
get to the recipe, then…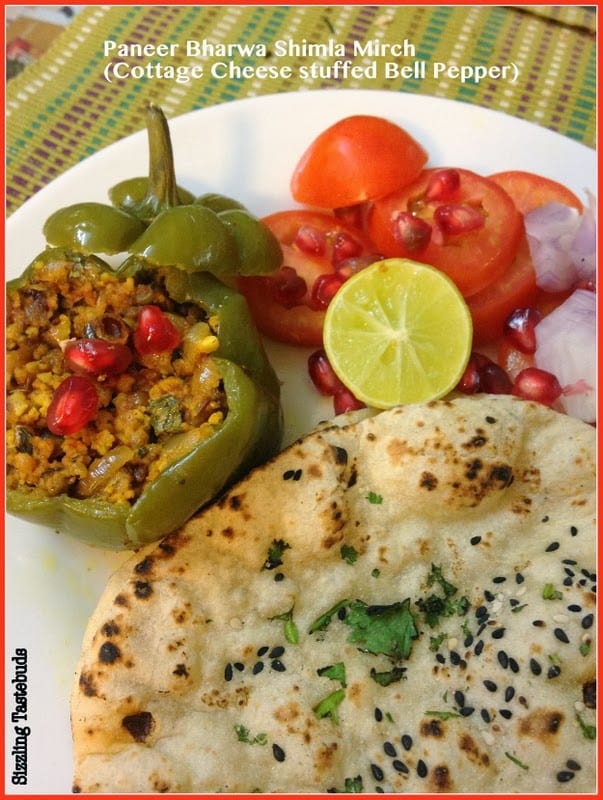 Pin

Prep
time : 30 mins | Cook time : 15 mins | Serves : 4 |

Makes : approx 8 portions
(stuffed peppers)

Ingredients:
Bell
peppers – 4 nos
Oil
– 4 TBSP (split use)
Salt
– to taste
Jeera
/ cumin seeds – 1 tsp
Stuffing:
Roasted White
sesame seeds – ½ tsp
Crumbled
Paneer / Cottage cheese – 1 cup
Carrots
– 1/2 medium sized
Cashewnuts
– 8-10 nos
Chopped
coriander – 4 TBSP
Raisins
– 1 tsp (about 10-15)
Onions
– 3 large
Dry
masala powders :
Garam
masala – 2 TBSP
Red
chilli powder – 1 tsp
Turmeric
– ¼ tsp
Kitchen
King Masala – 1 tsp
Pomogranate
pearls – for garnish
Method: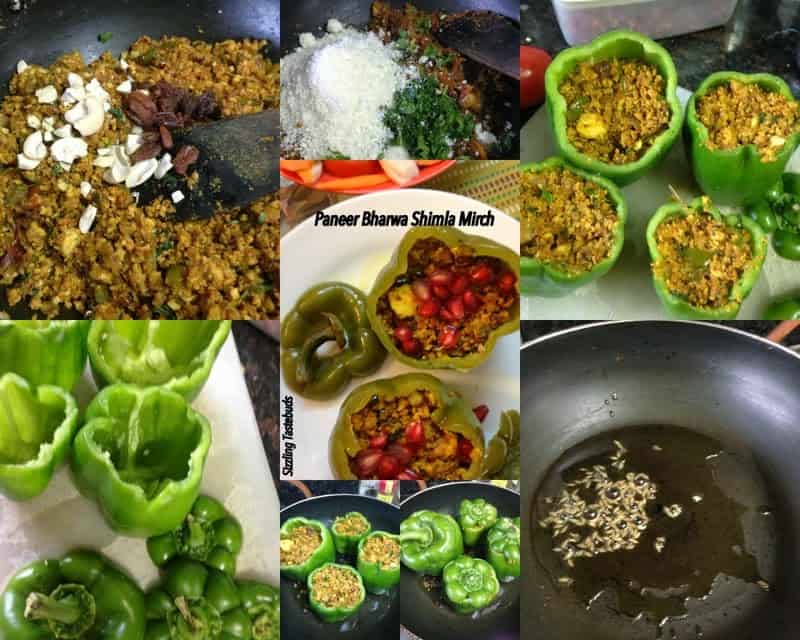 Pin

Wash
and wipe dry the peppers clean

Slice
off the top of the peppers and retain the tops

Scoop
out the seeds and apply 1 TBSP oil all over the peppers (inside and outside).
Add a pinch of salt too over the oil layer and keep aside

In
a non stick pan, add 2 TBSP oil, and once mildly hot, splutter the cumin seeds.
Place the empty peppers (without the stuffing but with the tops on) in the oil,
and cover and let it mildly roast (keep turning it from time to time) – about
8-9 mins. Switch off the flame and let the peppers remain in the pan without a
lid on.

Meanwhile
if using frozen paneer cubes, thaw it for about 10 mins and pulse them in the
grinder till its coarsely powdered. Grating frozen and thawed panner is not
really the neatest way to get uniform crumbs. However, if using fresh paneer,
crumbled it lightly till you get fine crumbs. Reserve about 1 TBSP of this
paneer for garnish

For
the stuffing:

In
another pan, heat the remaining oil (add ½ tsp more if required). Add the
onions and sautee them till slightly brown. Now add the grated carrots and
sautee till raw smell disappears. Now add the cashew, raisins, salt, sesame seeds, dry masala
powders and sauté well till you get a semi dry mass. Then add the coriander and
the paneer and sauté for 2 mins and switch off the stove. Let the stuffing cool
to room temperature

Now
carefully spoon in the stuffing into the semi roasted bell peppers , filling
only ¾ of the pepper. Put the pepper tops on, and slightly roast again for 4-5
mins till you see the paneer melting and the colour of the bell peppers turning
a slight dull colour.

Switch
off and immediately serve the stuffed bell peppers topped with the pomegranate pearls and
reserved paneer , Pair it with Roti and salad. Do not let it stand after its
cooked for the second time as they tend to become soggy.

Enjoy
the gastronomic delight of this Mughlai dish…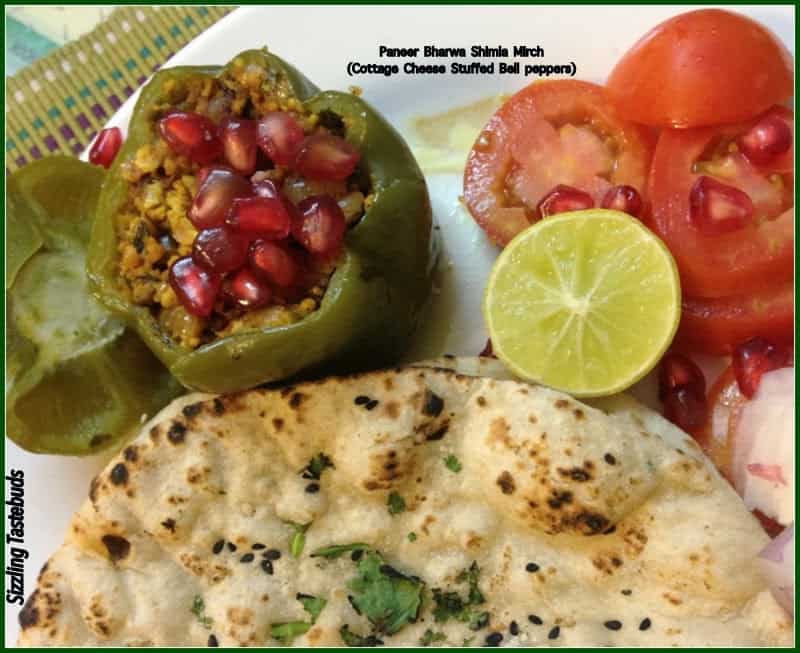 Pin