Konkani Cuisine influences most part of Western Karnataka Cuisine.
Technically Konkan region is in Maharashatra, but the food there uses coconut
in most of its dishes, as are dishes from Mangalore (coastal Karnataka).
Today's dish for BM # 32 beginning with Alphabet B – Batata Saang (Saang pronounced as an
elongated 'a') is a super spicy and quick to make side dish for Chapati (Flat
Indian Bread). Its almost akin to kootu(mixed veg gravy) and the only
difference from normal potato curries / gravies is the interesting use of
coconut. I had this while I had the opportunity to travel to Mangalore on work, and was hooked to it by its simplicity and spicy taste.
Make it once, and am sure you would love it. Adjust spice to suit your
palate as this can be fiery at times.Pair it with Chapati (flat bread) or Poori
(puffed and deep fried bread) and you have a winning combo on hand. Off to BM #
32 Day 2 with Batata Saang
Prep time : 15 mins | Cook time : 10 mins | Serves : 3
Batata Saang – Potato
and coconut gravy – served with flatbread or even Naan / Kulcha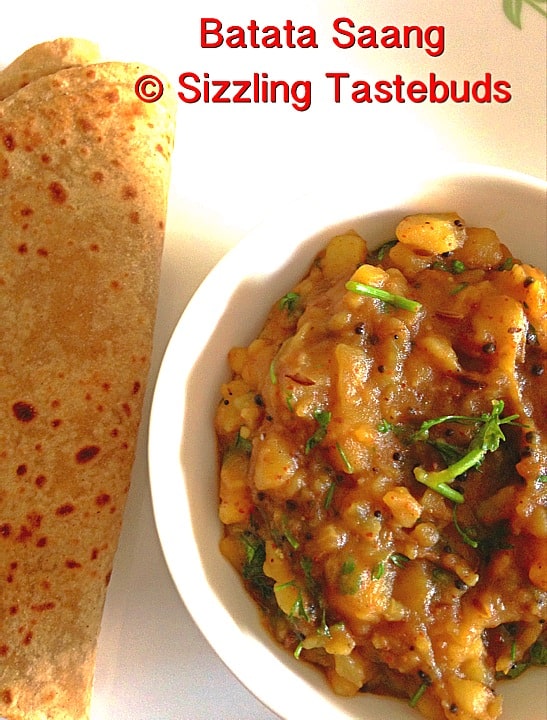 Pin

Ingredients:
Potatoes – medium sized – 2 nos
Onion – 1 large
Red chillies – 3 nos.
Coriander seeds – 1/4 tsp
Tamarind paste – 1/2 tsp (or small gooseberry sized roundel)
Coconut – fresh or frozen – 4 to 5 TBSP
Hing / Asafoetida – a pinch
Oil – 3 tsp
Salt – to taste
Tempering : oil (1/2 tsp) , Mustard seeds, curry leaves (Tempering
is optional)
Coriander leaves – to garnish
Method:
Boil potatoes, peel and slightly mash.
Heat a pan, add 1 tsp of oil. Roast coriander seeds and red
chillies for 1-2 mins. If using whole tamarind, switch off the flame and fry
for 1/2 min too in the same oil. Cool.
In the same pan, add 1 tsp of oil, and fry the onions till they
turn slightly brown, about 3-4 mins
Grind coriander seeds, chillies, asafoetida, tamarind, salt,
coconut, half of the browned onions to a smooth paste
In the pan with remaining fried onions, add the paste, slightly
mashed potato and 1/2 cup of hot water and simmer lightly for 3-4 mins till you
get the required consistency – which is slightly thick.
Prepare tempering with oil, mustard seeds, curry leaves. Add to
the simmering gravy. 
Finish with chopped coriander leaves and serve immediately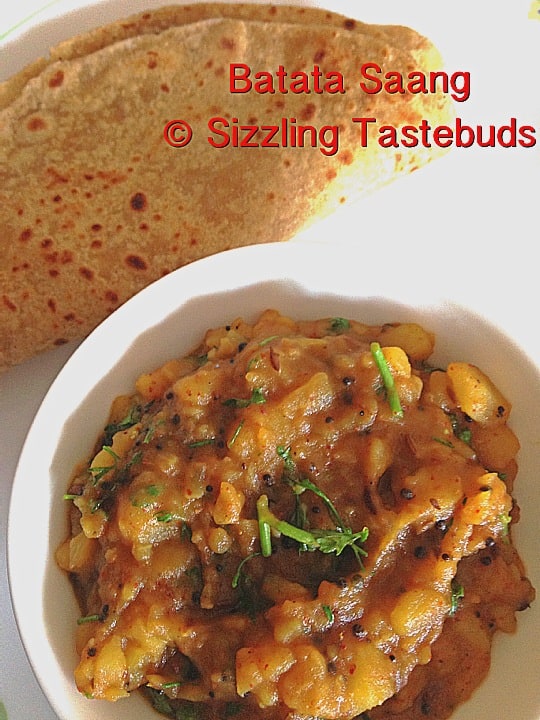 Pin

Pin
Logo courtesy : Preeti
Check out the Blogging Marathon page for the other Blogging Marathoners doing BM# 32