My family's love for savoury bakes, especially garlic flavoured is known on this blog already with this Roasted garlic focaccia and garlic cheese bombs (both for #Breadbakers) while others include dominos style garlic bread sticks and Coriander-garlic pull apart rolls. While checking my bookmarks on what to make for the whole grains holiday breads event that I am Hosting for this month, I chanced upon Samantha's monkey bread. She had made it with APF (more importantly with readymade buttermilk biscuits) which I converted to wholewheat using stone ground flour and also made the dough from scratch.
The other major changes was to make it vegan and use a little more hydration as the wholewheat flour tends to drink a little more liquid. The idea of a 3-dimensional pull apart bread appealed a lot to the kids and it was fun tearing it apart and dunking them into a hot bowl of soup; the kids especially the elder one who's the garlic lover in the family loved it a lot.
Unfortunately the husband had to sit out on this as, although he loves garlic breads, we discovered he's allergic to yeast. So till I make this yeast-free next time, sit back and enjoy this 3D-pull apart bread (aka.monkey bread) that's sure to bring in cheer to your holiday baking .
I would be hosting this edition of #breadbakers with "Wholegrain Holiday Breads" as a theme. Thank you for the hosting opportunity, Stacy. It sure was some fun doing this. And dear #Breadbaker friends, I look forward to enjoying all your bakes.
And here's wishing all of you a wonderful baking / holiday season, a happy new year in advance too :))
Let's get to the recipe now. – Wholewheat Garlic Monkey Bread – a VEGAN holiday (actually, anytime) bread 🙂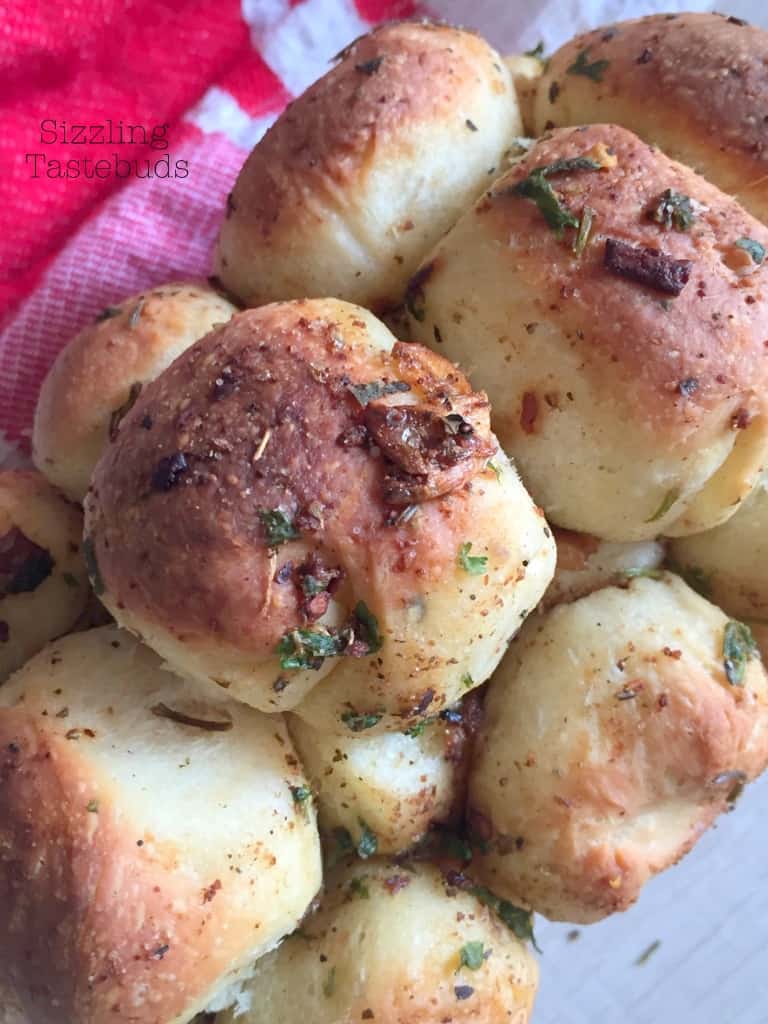 Pin

Prep time – 20 mins ; standing time (per rise) – 60 mins minimum ; bake time – 20 mins

Loosely Adapted from : here

You would need :

Here 1 cup =200ml

Wholewheat flour – 3 cups

Vital wheat Gluten – 2.5 tsp (optional)

Salt – 1 tsp

Garlic powder – 1 tbsp

Warm water – 1.25 cups + 3 tbsp (varies according to the quality of the flour)

Quick rise instant Yeast – 7gm (1 sachet)

Powdered sugar – 1 tbsp

Olive oil – 3 tbsp

PIN FOR LATER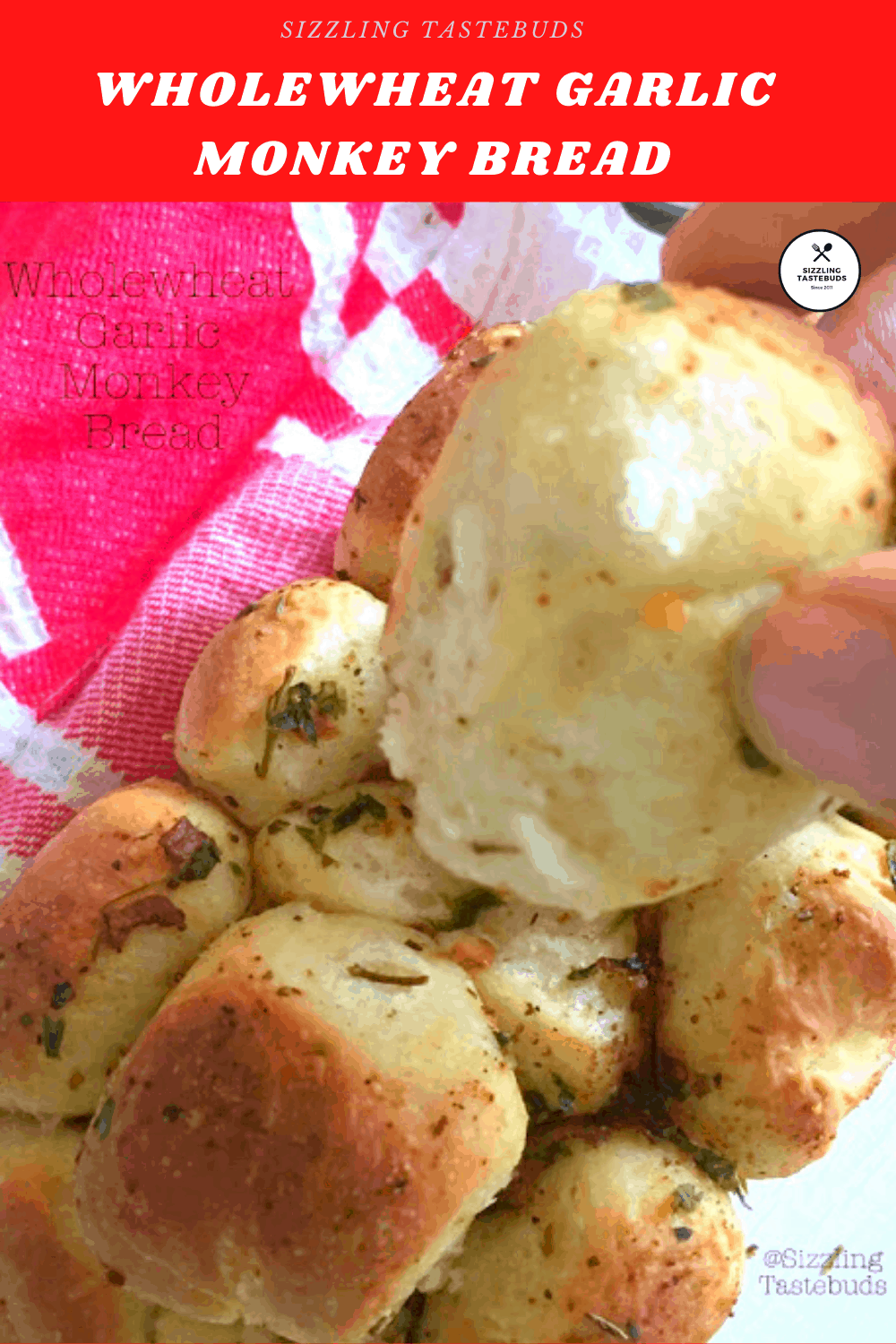 Pin




For the garlic oil dip (pre-bake seasoning)

olive oil – 3 tbsp

Garlic pods – minced fine or peeled & crushed – 4 large

Pizza seasoning / oregano -1 tbsp

Salt – 1/2 tsp (if pizza seasoning contains a lot of salt, skip this)

Red chilli flakes – 1 tsp (or to taste)

Black pepper powder -1/4 tsp

Parsley / Chopped coriander leaves – 1/2 TBSP (I used the latter)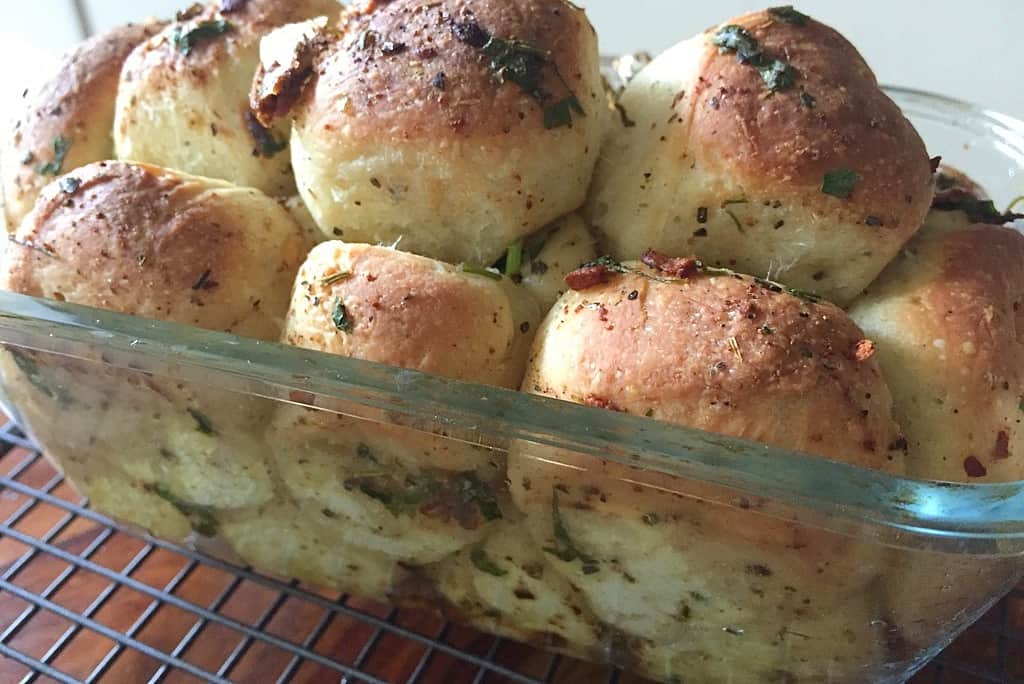 Pin
Method
If using active dry yeast, proof the yeast. Else follow the next steps :
In a large flat bowl or in the stand mixer, add all the ingredients for the dough. Mix well with a wooden spatula. Cover for 8-9 mins and then start kneading for 12-13 mins or till you get a smooth soft dough.
Cover with wet kitchen towel for about 60 mins or till it doubles.
Meanwhile for the garlic dip, heat oil and add the crushed / minced garlic. Switch off after 30 seconds. Take off the flame, add rest of the ingredients and let the flavours seep well.
Once the dough has risen, punch once and make small balls and smoothen/ roll them without any cracks. Dip these mini dough balls into the garlic oil mixture and stack them
Up in a greased bundt Pan or a deep baking dish. Cover and let them rise slightly for 45 mins. Before placing them into the oven, brush them lightly with any remaining garlic oil.
Towards the end of this second rise, preheat oven to 180c / 350f and place the baking dish. Bake this golden brown and slightly crispy on top. Tent the baking dish midway if they are browning too quickly.
Cool slightly and demould the whole bread. Serve these warm with soup or any casserole. It's sheer fun to pull apart the tiny garlicky buns and savour them 😉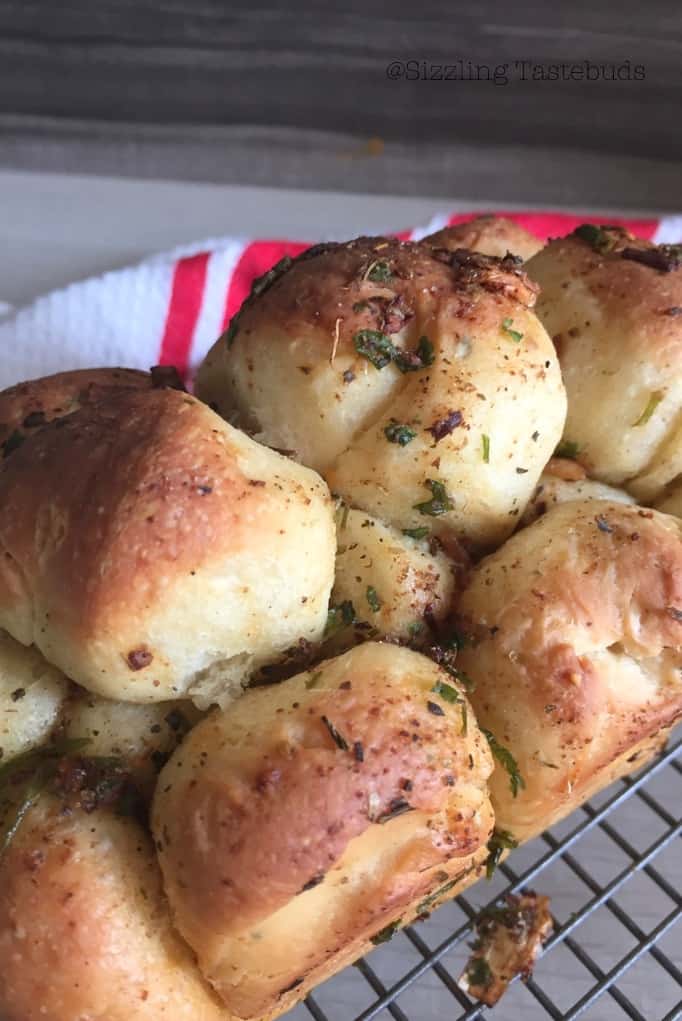 Pin
Let's take a look at this month's edition of Wholegrain Holiday Breads !
#BreadBakers is a group of bread loving bakers who get together once a month to bake bread with a common ingredient or theme. Follow our Pinterest board right here. Links are also updated each month on this home page.
We take turns hosting each month and choosing the theme/ingredient.
If you are a food blogger and would like to join us, just send Stacy an email with your blog URL to [email protected].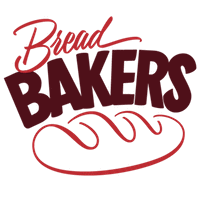 Pin