Hung Curd Veggie Sandwich
Curd rules summer. So you have seen in my Dry fruits Lassi & Sprouts dahi Batata Puri .Today's sandwich is a popular favourite with me and kiddo : we love to munch them anytime. Easy to make and serve, this is also a popular party treat. You cant really go wrong with hung curd and veggies : two of our fav ingredients.  
Hung Curd is a versatile ingredient to use, and we make these Hung Curd Canapes or these Cucumber or Lentil (Masoor) Salad often at home with Hung Curd.
So, make it anytime and enjoy it with your family and friends.
How to make Hung Curd?
Simply use greek yogurt (store bought), or strain out Homemade yogurt in a muslin cloth over a strainer. Leave it overnight in a refrigerator and you are good to go.
How to customise this Hung Curd Veggie Sandwich?
Grill it or serve it cold
Add Lettuce leaves (ala burger)
Add Mayo and / or cheese for added creaminess
A spot of dijon mustard and ketchup whisked into the curd gives it the "pub sandwich" feelin' (y'know what I mean, right ? :p)
Prep time: 15 mins , zero cook | Serves : 2
Cuisine : American, Course : Breakfast or Snack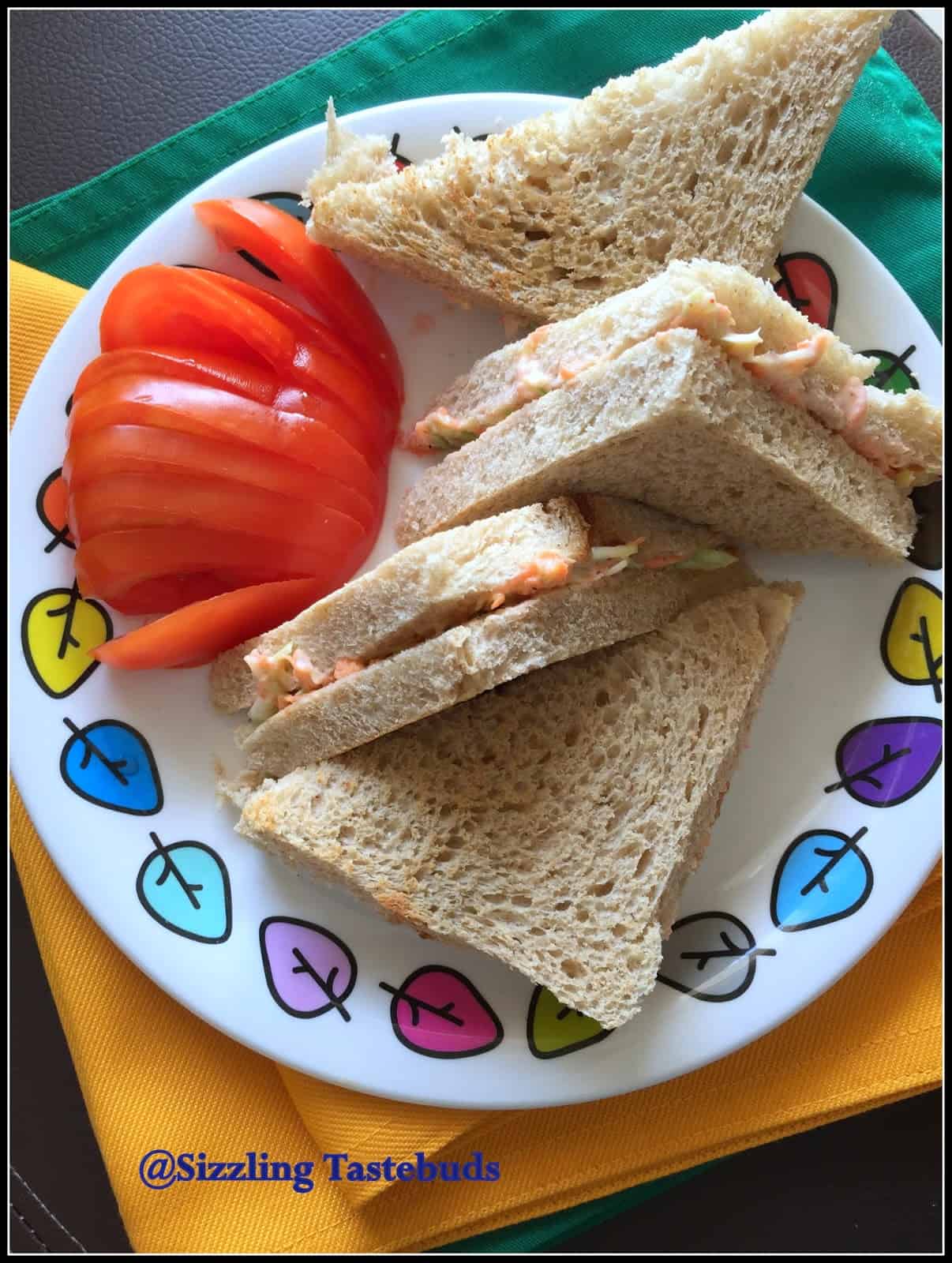 Ingredients:
4 Bread slices (I used brown bread)
1/4 Cup Hung Curd
1 TBSP Carrot (grated)
1 TBSP peppers (chopped)
1 TBSP Onion (minced)
1/2 tsp Ketchup (opt.)
1/2 tsp Black pepper (crushed)
1/4 tsp salt
1/4 tsp dried Oregano
1/2 tsp Red Chilli flakes
2 tsp Butter
Optional Add-ons (for adult portions)
Sliced cucumbers,mayo,cream, sliced bell peppers, shredded
cabbage
Method:
Trim the slices of the bread and keep ready buttering them one
side up.
Mix the rest of the ingredients, if making immediately add salt,
else salt just before making sandwiches.
Slather a thick portion of the mix onto the buttered side and
close with the other bread slice
Cut into half or triangles and serve immediately.