Honestly, the new year has been
intriguing enough (I know its been only 4 days since, but…) to let me
experiment with new stuff. Mushroom has have never appealed to my palate
although I do cook for my daughter and S as both are quite fond of it. But Tofu
is another story. Everytime my shopping list goes askew with 'health foods' and
I load up on Tofu from the  supermarket, well …it stays right there, in
the chiller of my refrigerator right up to its expiry date. Either I dont
muster up courage to use Tofu to prepare something new, or I totally forget I
even bought the packet in the first place. 
Well, this time, I wasnt upto letting
that packet stay idle. Sure enough, I rustled up this honest-to-goodness quick
and yummy Chilli Tofu, which could pass as an appetiser / snack or even
a whole meal by itself. We paired it with Veg Fried Rice and although this turns out to be a
tad dry compared to the usual manchurian with gravy, we enjoyed it a lot as it
was a wholesome meal. Without much ado, lets get to this quick Indo-Chinese
recipe
Prep time : 10 mins | Cook time : 10 mins | Serves : 2
Difficulty level : Easy
Spice Level : Medium
Serving suggestions : Veg Fried Rice or with just ketchup on the side.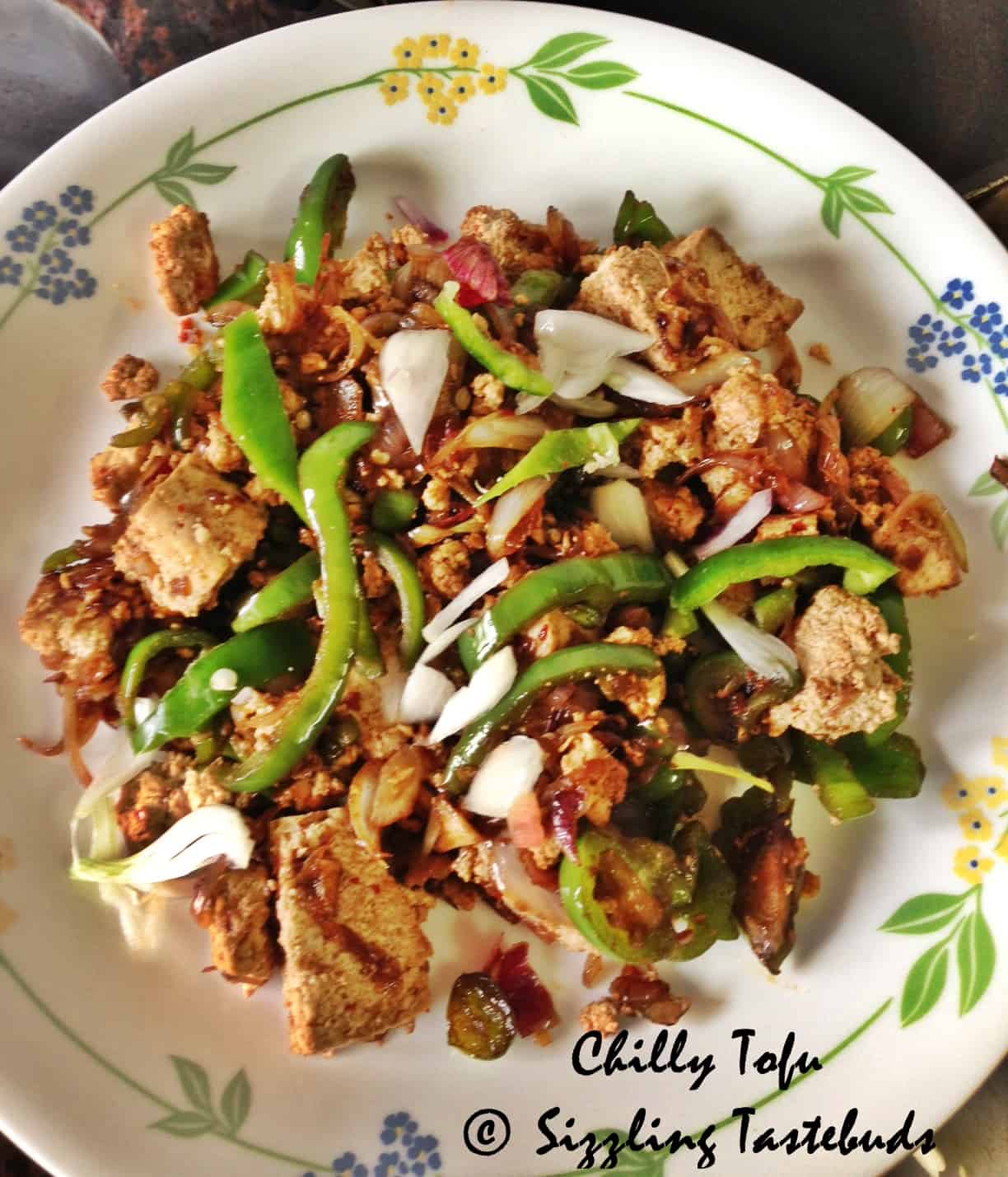 Pin

Ingredients:
Tofu – firm (or Bean Curd) – 200 gms
Green Onions / Spring Onions – 1/4 cup
(diced fine)
White Onions – 1 large – slit
lengthwise
Garlic – minced – 1/2 TBSP
Ginger minced – 1/2 TBSP
Capsicum / Bell pepper – 1 large
Olive Oil – 3 TBSP
Green chillies – 2 medium (low spice
variety)
Salt – to taste
Low sodium Soya Sauce – 1 TBSP
Red Chilli Sauce – 1 tsp
Green Chilli paste – 1/2 tsp (adjust
spice)
Sugar – 1 TBSP (optional)
Preps:
Deseed the chillies and slit them
lengthwise. Mince garlic and ginger finely. Cut the onions lengthwise and dice
the spring onions (greens) finely.
Thaw the tofu, and cube them into bite
sized pieces. I find that wrapping the uncut tofu block in several sheets of
kitchen tissue helps thaw them quickly and drains out any extra moisture.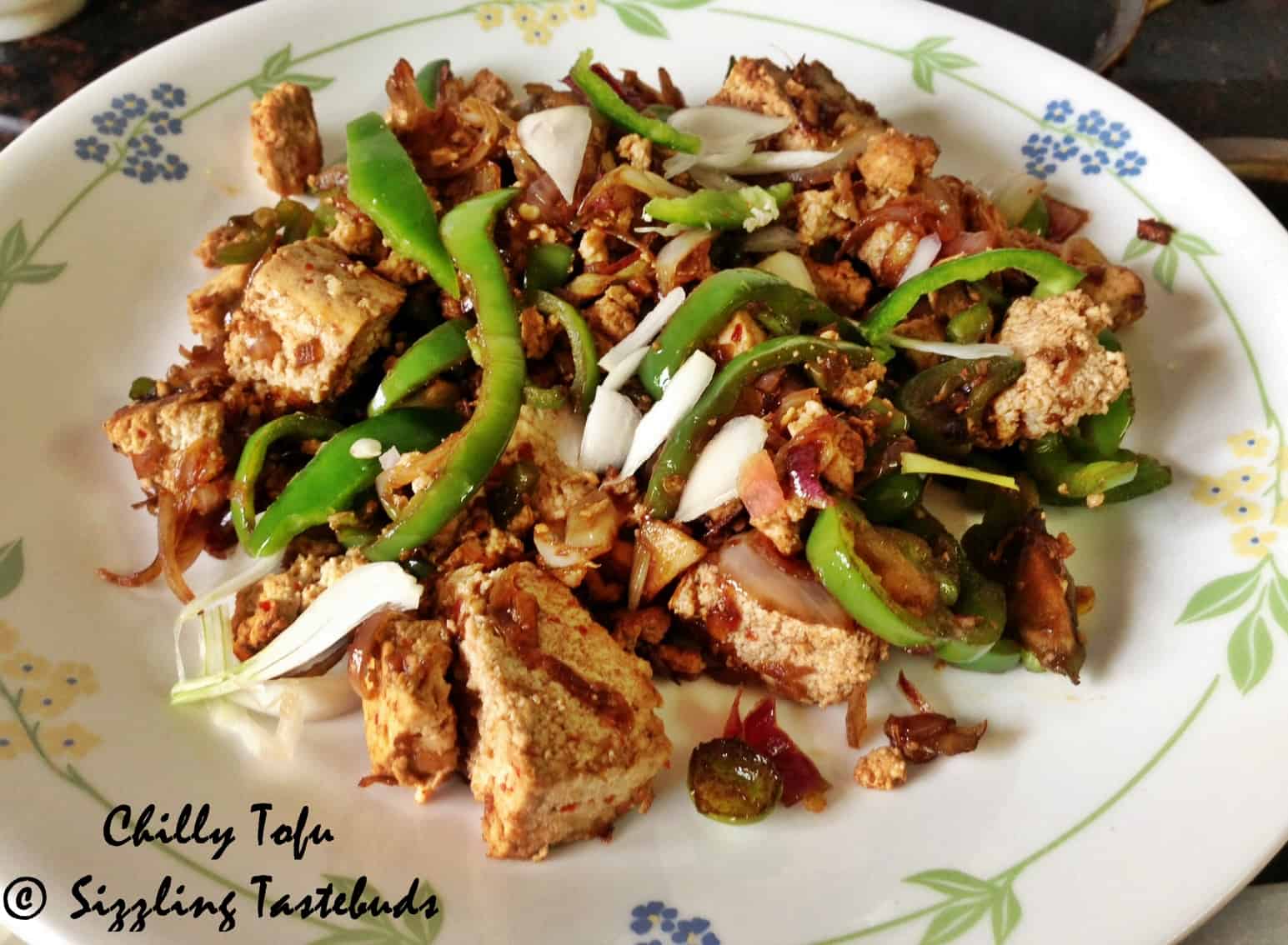 Pin

Method:

Heat oil in a wok or a deep bottomed
pan. Once moderately hot, scald the garlic, gimger and green chillies and give
a quick stir till garlic browns.

Now lower the flame and saute white
onions & bell peppers till the onions turn slightly pink and wilt, about 4
– 5 mins. Ensure the bell peppers stay crunchy (you could saute them separately
too)

Once done, add the sauces, salt and
sugar. Stir quickly.

Add the cubed Tofu and toss for 1 – 2
mins. Ensure the pieces don't break or dis-generate. Sprinkle
half the chopped spring onion greens and mix once more.

Once the tofu has absorbed all the
spices and sauce, transfer to a serving bowl. 

Garnish with remaining spring onions
and serve immediately

Linking this to:

Vardhini's New "U" event