Lunchbox for kiddo is
generally her comfort food, and today's post is the ultimate Comfort food – not
only for her, but for me too : Arisi
Paruppu Saadam (loosely translated as Meal with Rice with dal mix) which is generally
served with any dry curry.In fact, this is one of the first solid meals given to toddlers too, once they enter the second / third year.  
Without much ado, lets get to this easy peasy
recipe. Served with a dollop of ghee and some fryums or dry curry, and you have a winner on
hand. You may add onions / red chillies / ginger / garlic depending on the
preference, but we love it plain with just a tempering of asafoetida, mustard
& cumin. Lets see how to make this dish.
Linking it to Day 2 of BM # 24. Check out co-marathoners here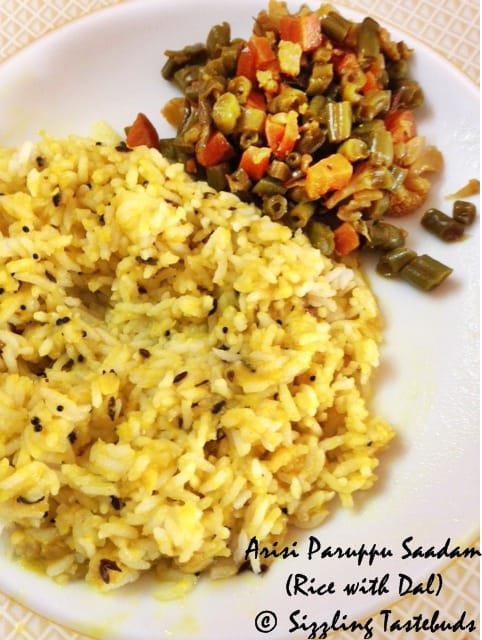 Pin

Prep time – 10 mins |
Cook time : 20 mins (incl the accompaniment) | Serves : 2

Difficulty level :
Very Easy | Spice level : Low

Serve with : Any dry curry of choice and / or fryums / papad

Ingredients:

Raw Rice – ½ cup
(short grained or basmati)

Toor dal  / split pigeon pea – ¼ cup

Turmeric  – ¼ tsp

Salt – to taste

Tempering – Ghee (1
tsp), Jeera / Cumin (1/2 tsp), Asafoetida (a generous pinch), Mustard seeds

Curry leaves &
Coriander – optional

Lemon juice – ½ tsp
(optional)




Method:

Pick, clean and cook
rice in the normal way. Cool a bit and mash while adding a tsp of ghee.

Soak & Cook the
dal along with the rice in a separate container. Mash well with the back of a
ladle to pouring consistency.

In a deep bottomed
pan, add the ghee. Prepare the tempering with mustard seeds, cumin &
Asafoetida. Add turmeric and the mashed dal. Let it simmer for 1-2 mins. Add
salt and mix

To the mashed rice,
add 1-2 ladles of the above dal and mix well till it reaches porridge
consistency. Check for salt and spices (if adding any). Top with lemon juice.

Mix once again and pack
the lunch box with this yummy Arisi-paruppu saadam and any dry curry. Served
here is Carrot-Beans curry

Notes:

a)    The
above mixture tastes wonderful even when its cooled

b)    Addition
of lemon juice is optional but recommended to perk it up in a lunch box. Of
course, my kiddo loves lemon juice garnish, so add accordingly.

c)    If
adding spices like onions, ginger or garlic, sauté them along with the
tempering itself, else the raw smell may not be preferred at lunchtimeJ