For the last in the series
both for this month as well as this week's theme of cooking from my paired
blogger – Sandhya – I chanced upon these Energy barswhich she had made
recently. A great snack to have between meals or for the kids when they come back from school or any outdoor activity.
I had made something else for today from my blog, but I had to make
it for the kids. We all liked it for 4 major reasons : it was sugarfree, zero cook, nutty
and healthy. 
If you still need a reason to
make this, scroll down to the recipe below.  Sending this toBM # 53under
bookmarked recipes.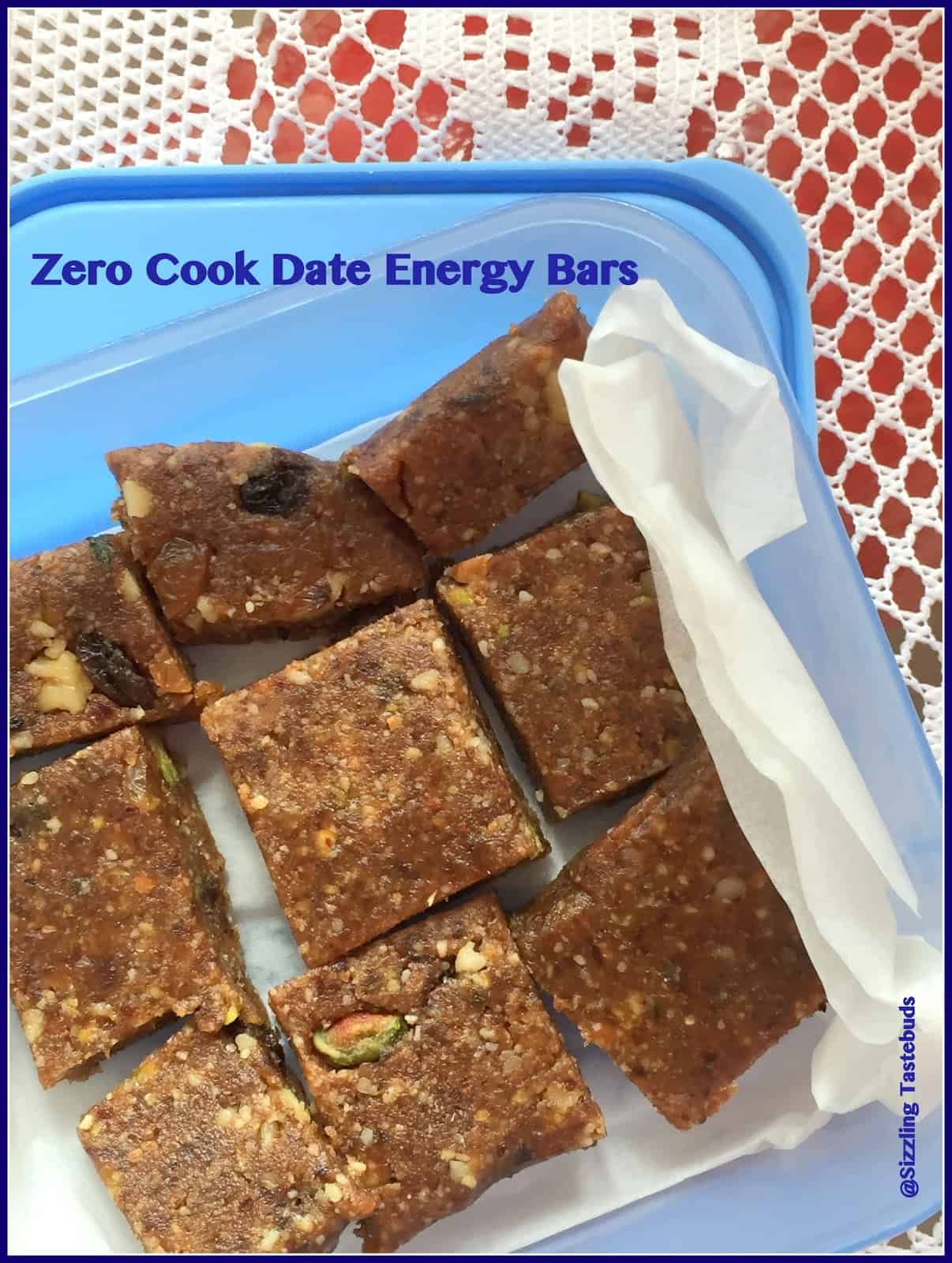 Pin




Prep time : 15 mins | Zero
cook | Setting time : 24 hours | Makes : about 18 bars
(Medium sized)

Keeps : up to a week
under refrigeration

Ingredients:
Almonds  – 2/3 cups
Dates – about 10-15
Figs / Anjeer – about 3-4 nos
Pistachios – 2 TBSP (optional)
Raisins – two handfuls
Walnuts – 2 handfuls
Candied amla (gooseberry) – 2
tsp (totally optional)
Cardamom powder – 1/2 tsp
(optional)
(Yup ! no sugar at all :-))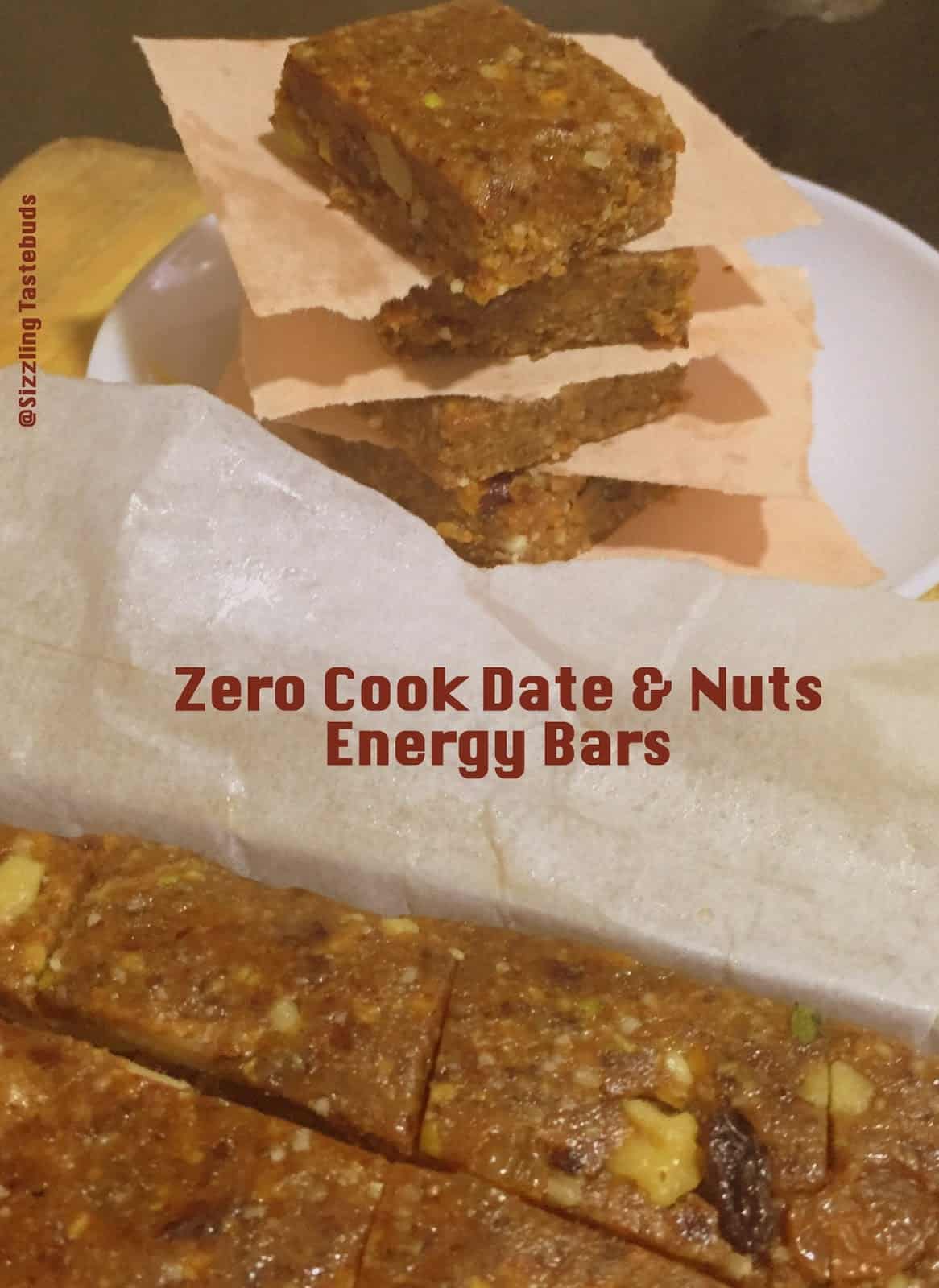 Pin

Method:

Stage 1: 
Roast the almonds, walnuts
separately (microwave for 30-45 seconds) & cool. This step is optional but
recommended. Lightly pulse them separately in dashes for 3-4 seconds till they
are coarsely powdered but still have a bite. 
Deseed the dates and pulse
the amla (if using) lightly for 5 -6 seconds. chop the anjeer / figs into small
bits.
Now without adding any water
puree the dates and amla into a coarse paste (if you have a food processor, you
can process all ingredients at one go, but as I was using my mixer grinder, I
had to add the wet / sticky ingredients & dry separately. Whichever
appliance you are using, be sure to scrape down after every pulse – dont
grind). 
Now add the powdered almonds
and walnuts and pulse once more to mix more (you dont want the almond to become
butter so do it in spurts). Using a plastic spatula, mix the dry and mix
several times. 
Stage 2: 
Now add the raisins, figs and
give it a vigorous blitz. mix well til the oil from all the dry fruits mix and
give you a good mass to work with. 
Transfer the semi wet mass
onto a lightly greased parchment and roll with a rolling pin as shown in the
pics. Make a thickish square, seal the parchment well and place in a
refrigerator for a day or two (I placed it for 18-20 hours). Cut into squares
and serve. 
It keeps well for over a week
under refrigeration.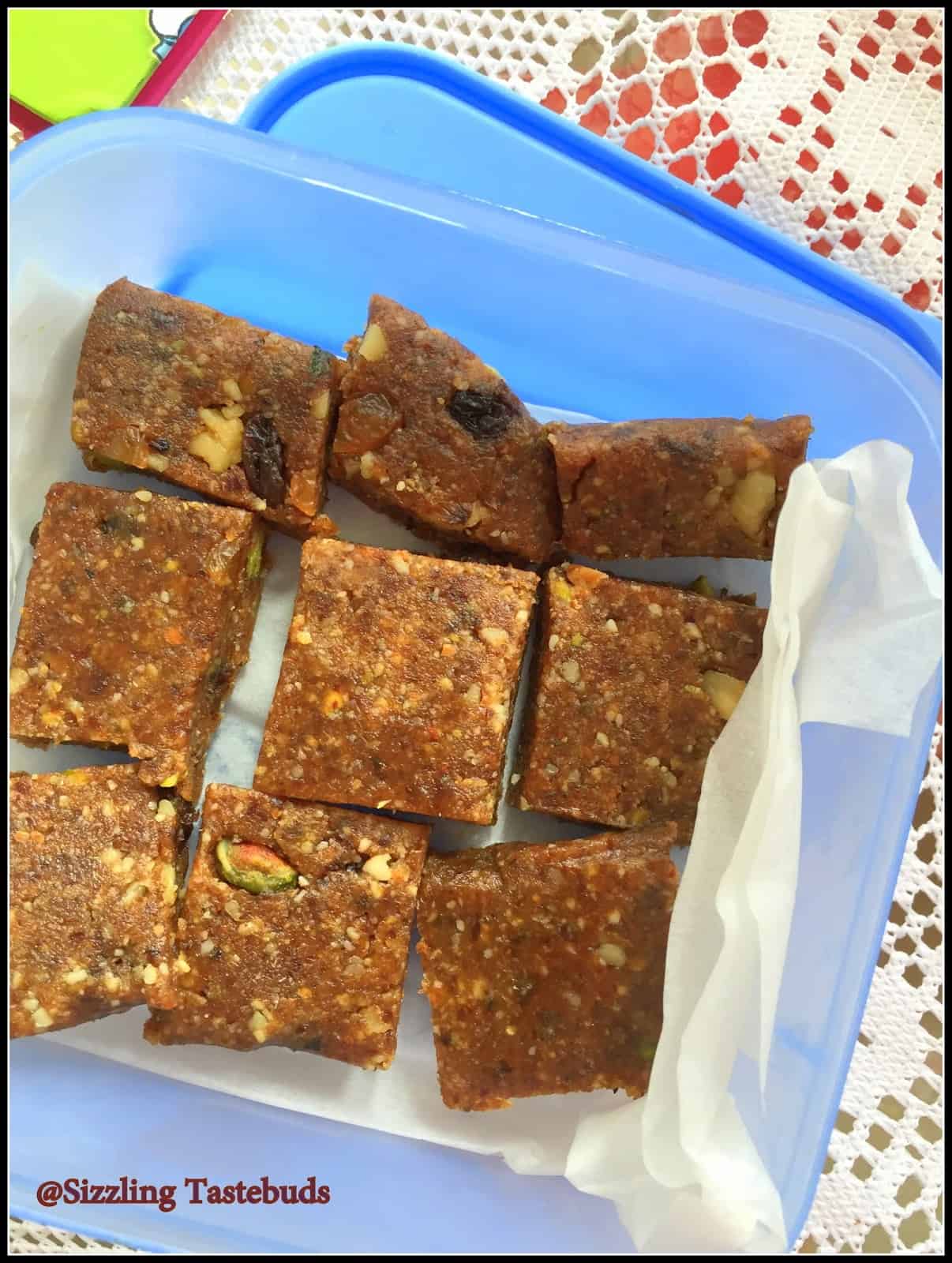 Pin