Playing along the fever around the 64th Indian Independence day , presenting a simple to make, yet tasty dry curry with all the colours of the Tri-colour : Hence the name Tiranga (tricolour) 🙂 Capsicum (bell pepper) along with Potatoes and Carrots come together in this tasty curry that goes perfect with Rotis and Rice alike.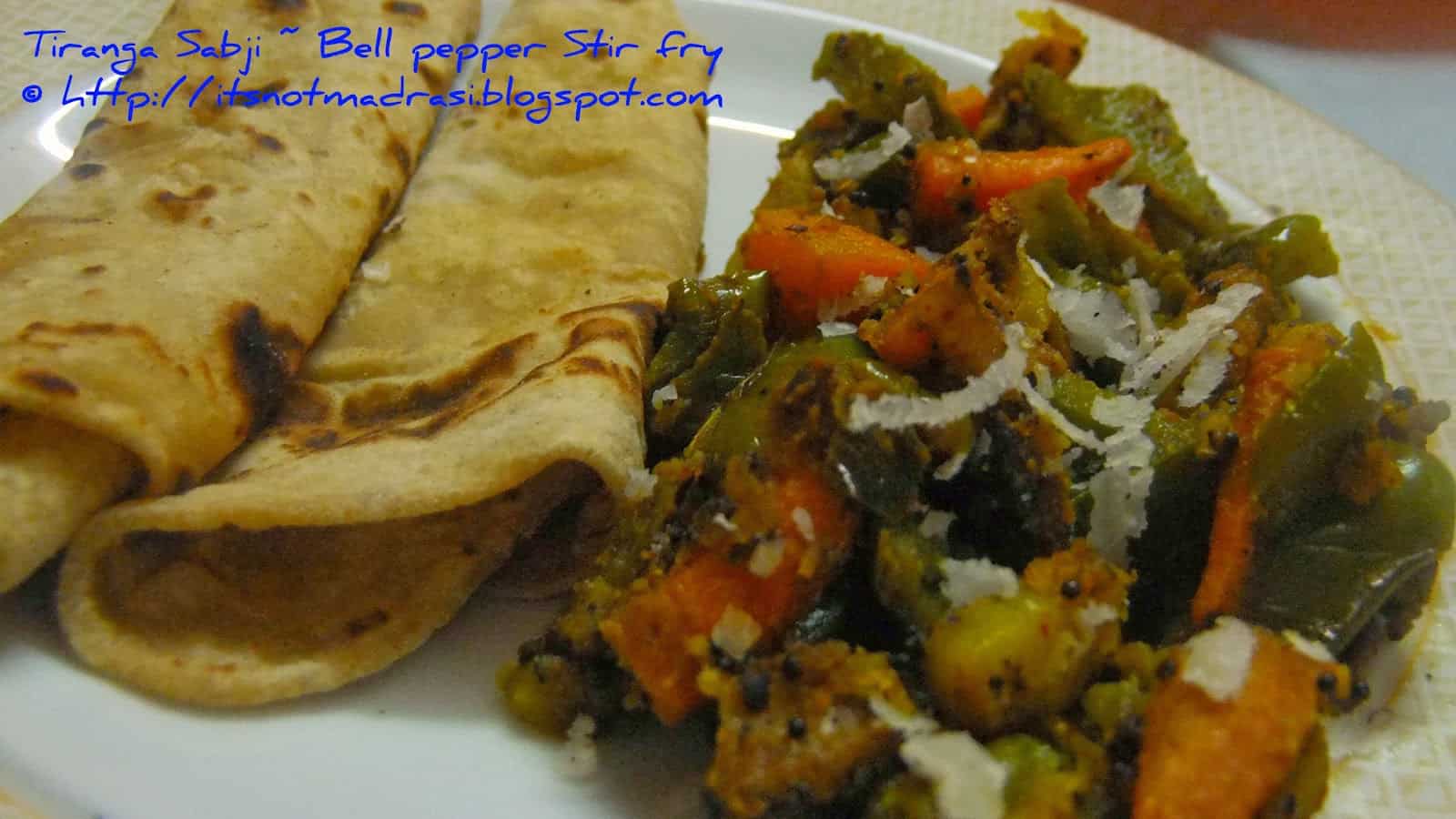 Pin
This is a wonderful curry even for lunchboxes for kids too, and am sure kids would love the spicy combo of the veggies.Sending this to my own event –Healthy Lunchbox Ideas (Carrots) and Radhika's Sabjis for Rotis. Let's move to the dish, shall we …
Prep time : 10 mins. Prep time : 10 mins . Serves : 3
Ingredients:
Capsicum – 200 gms
Potatoes – 150 gms
Carrots – 150 gms
Onions – 1 (opt.) – I did not add them
Oil – 1 TBSP
Seasoning : Mustard, Curry leaves, Turmeric (1/2 tsp), Asafoetida (1/4 tsp)
Salt – to taste
Vangibhath Powder / Curry powder – 1 TBSP
Amchur powder – 1/2 tsp
Jaggery grated – 1/2 tsp (opt.)
Grated dry copra / coconut – 1 tsp (opt.)
Method :
1) Clean and cut veggies. Cut into 2 inch long batons. I used potatoes with skin on, but you may peel them if preferred.
2) In a skillet, heat oil. Splutter the mustard and other seasoning ingredients.
3) Fry onions if using. Let them turn translucent
4) Then add veggies and fry well. Add salt and sprinkle 3 – 4 tsp of water. Cover and cook till veggies are done, but not mushy – about 5 -9 mins. Take care not to burn the veggies.
5) Uncover. Add Vangibhath powder (or curry powder), jaggery, amchur and mix well.
6) Add grated coconut and serve hot with Rotis / Rice. Goes superbly well with curd rice too 🙂
Other dry sabjis that you could check out are: