Flush with the success of the homemade Green chutney (Jain version) , I was looking for ways to use it and shallow fried croquettes came to mind. Somehow for the last 3 – 5 months, kiddo has developed a vowed hatred to potatoes (which would have been my main filling for this dish). But having successfully experimented with Sweet potato filling for my Baked Samosa, I went ahead and used only sweet potato for these croquettes, and they turned out to be delicious, and now guess this dish will continue to be the main stay for any party / potluck in the future too. You can make and cling wrap these croquette batons in advance and just shallow fry them before serving. When I say shallow fry, it does not need more than a tsp of oil per croquette (depending on how crispy you want the covering to be). But my experience with sweet potatoes is that you dont really need too much oil to fry them similar to Makai Aloo Tikki.
This goes to my own event – Global Food Festival and also Archana's Fast food not Fat food (event by priya)
So, let's get on to the recipe:
Check out other healthy appetisers / finger food options here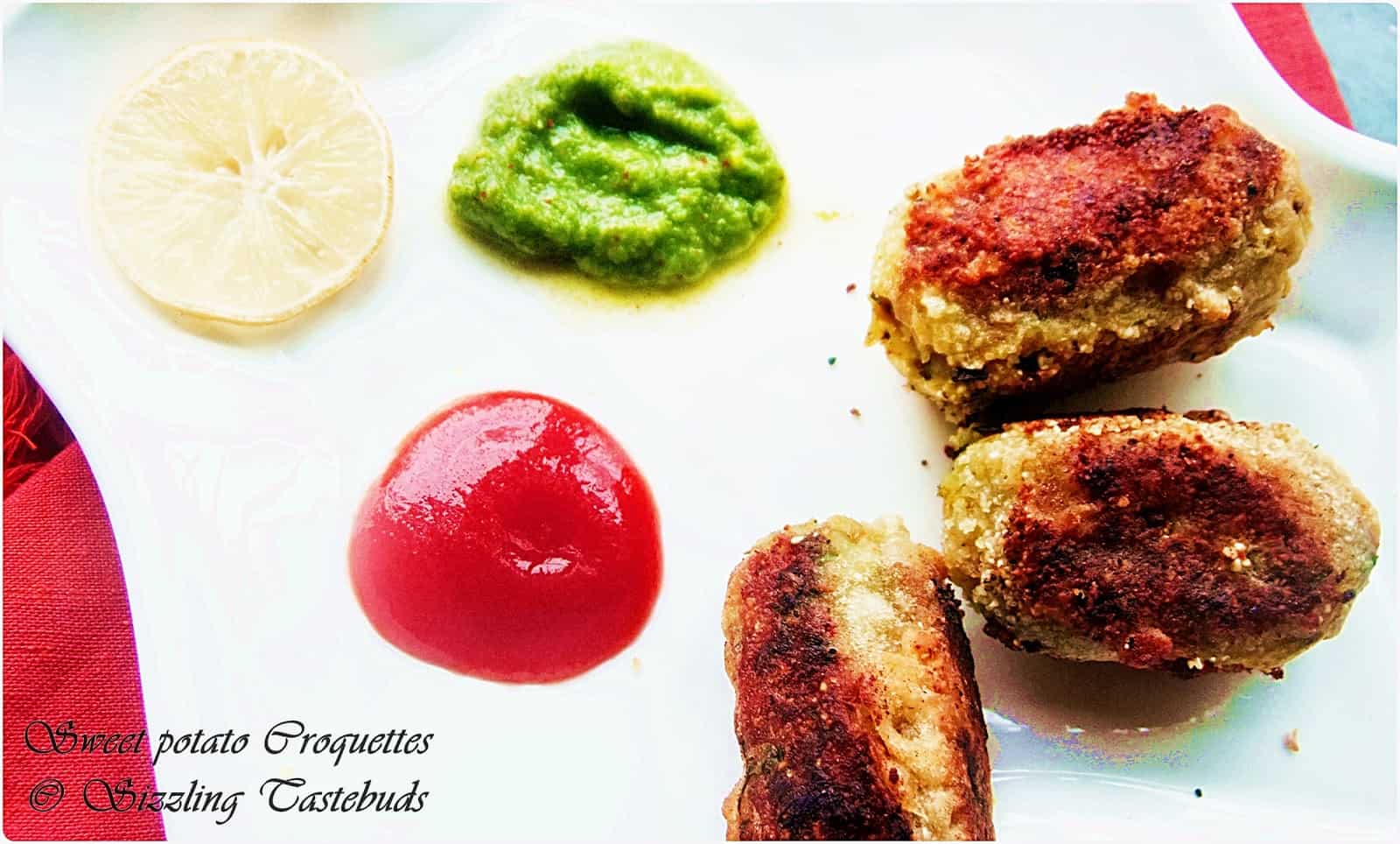 Pin
---
Prep time :20 mins. Cooking time : 15 mins. Makes : 8 croquettes
Ingredients:
Sweet potato – 200 gms
Salt – to taste
Oil – to fry
Green chillies – minced – 1 large
Mace powder – a dash
Clove powder – a dash
Anardana powder – 1/4 tsp
Turmeric – a pinch
coriander and curry leaves
Other Dry Masala powders (each 1/2 tsp):
Garam Masala
Coriander powder
jeera / cumin powder
red chilli powder
Pav bhaji masala
For outer covering:
Semolina / bread crumbs – 1/4 cup
Cornflour – water slurry mix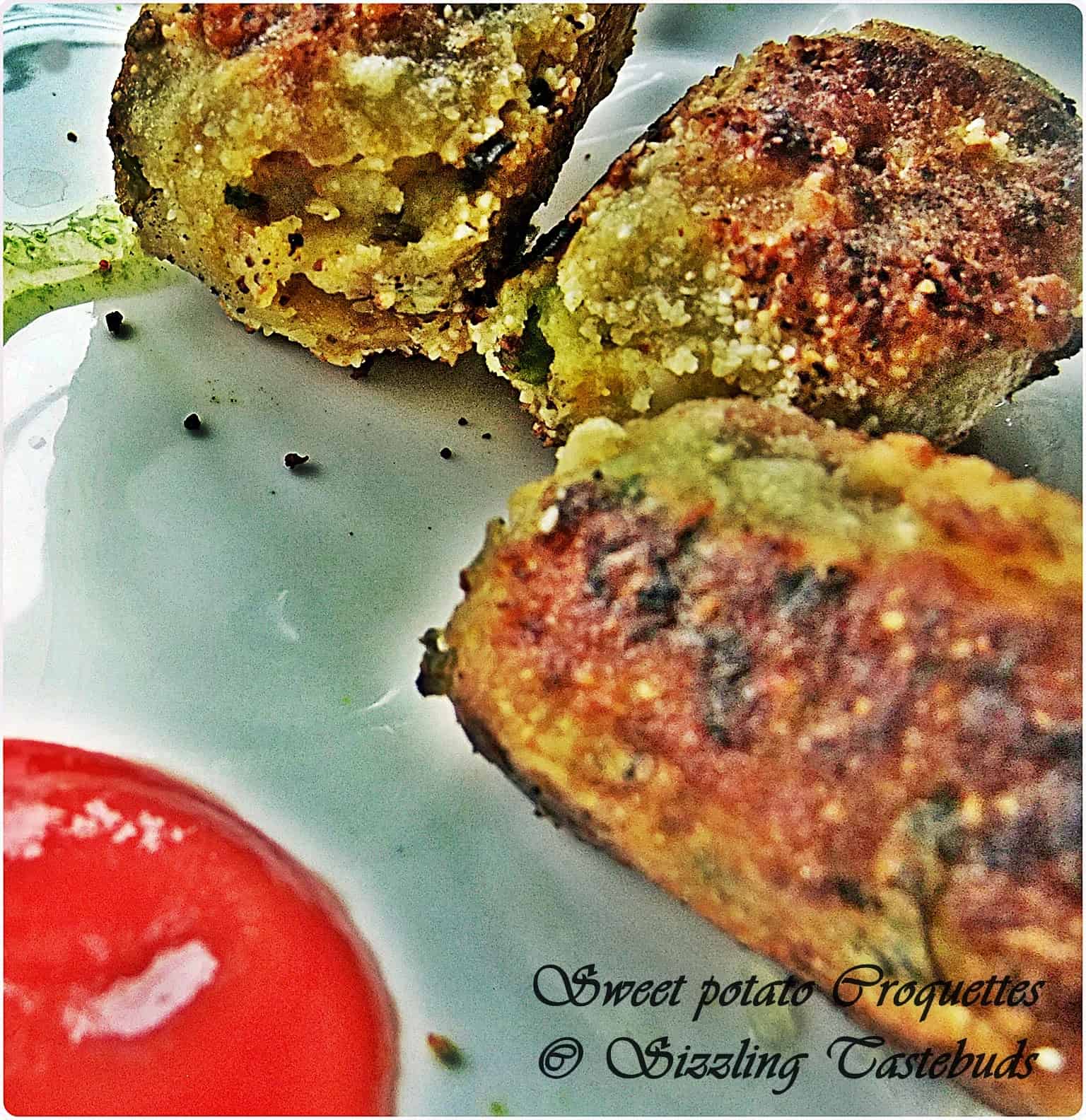 Pin
Method:
1) Pressure cook sweet potato with skin on for 2 whistles. Ensure you have scrubbed the skin well.
2) Once the pressure releases, mash it well with pav bhaji masher (do not peel as the skin contains a lot of vitamins too). Add the masala powders, coriander, curry leaves, green chillies, turmeric and all other ingredients except oil and mix well with your hands. Do not add water at all as the tuber itself is starchy.
3) Divide the mix into equal parts and make elongated croquettes. Place in a slightly large oiled bowl, cling wrap and refrigerate for 10 – 15 minutes . This adds firmness to the croquettes. If making for a party / potluck, refrigerate for upto 2 hours under cling wrap.
4) Meanwhile, dry roast sooji / semolina if using for outer cover. If using bread crumbs, make sure they are fresh. Else, make a batch quickly with toasted bread.
5) Take out the refrigerated croquettes. Drip them lightly in the cornflour slurry and quickly roll them in the roasted rava or bread crumbs. Repeat till all the mixture is exhausted.
6) Shallow fry them in batches and drain on tissue paper.
7) Serve hot with steaming cups of tea and /or along with green chutney and ketchup (for kids events)