Yellina Chitranna or sesame (in Kannada , Yellu means til/ sesame) flavoured tangy rice is something I have been wanting to post for a long time. As we grew up in Bangalore, both Nimbe gojju Chitranna (citron pickle flavoured rice) and Kai sasive Chitranna (coconut (mustard paste flavoured rice) were standard fare at weddings / religious functions. 
I personally loved today's dish – Yellina Chitranna – as my neighbour used to send a large portion over either for Sankranti (when using TIL / Ellu is considered suspicious) or Ugadi (Kannada new year) and we simply exchanged it for a bowl of puliogarai made at our house. Things were much simpler then, no fuss and we kids played and ate endlessly at our neighbours' before play dates and sleepovers became fashionable. 
I have tried to recreate the flavours as I remember them and had some help from Amma too. This was part of a Karnataka mini Thali we enjoyed the whole platter.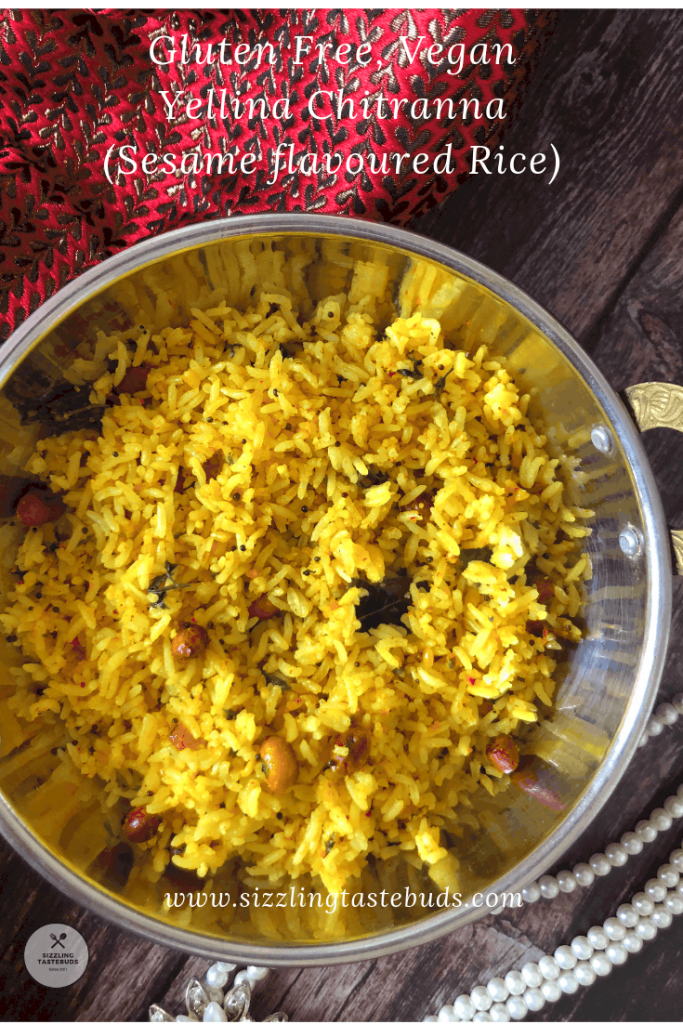 Similar rice-based satvik, GF dishes (made for festivals) in South India are:
Udupi Style Kayi Sasive Chitranna | ಉಡುಪಿ ಶೈಲಿಯ ಕಾಯಿ ಸಾಸಿವೆ ಚಿತ್ರಾನ್ನ | No Onion, no Garlic Dish
A Traditional Udupi (Karnataka) dish made with Rice and spiced Mustard paste. Served for festivals and special occasions.
Check out this recipe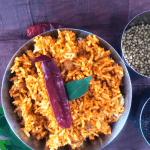 Ellu Saadam | Ellogarai | Temple Style Sesame flavoured Rice
Ellu Saadam or Ellogarai is a Temple Style Prasadam or offering made in South Indian Homes and/ or Temples. It is a Gluten Free, Vegan Spiced Rice made with sesame seeds.
Check out this recipe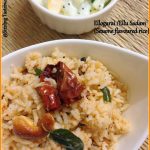 Thengai Saadam | Iyengar Style Coconut Rice | Navratri Prasadam
Thengai Saadam or Temple Style Coconut Rice is a No onion No garlic Tempered Rice with Grated Coconut and basic spices. Can also be made for lunchboxes.
Check out this recipe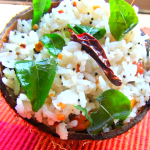 Karivepaaku Mamidikaaya Chitrannam
A spiced rice dish made with Raw Mangoes and Curry leaves paste
Check out this recipe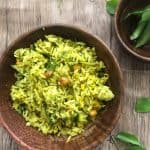 Prep time – 15 Mins , cook time – 15 Mins ; serves – 4 adults
Ingredients
Short grained rice – 1 cup
Turmeric – 1/2 tsp
Oil – 4 tbsp
Peanuts – 1/4 cup
Salt to taste
Tempering – mustard seeds 1 tsp , curry leaves – few
Lemon juice – juice of 1/2 lemon (large) or 1 medium sized
Masala paste (to grind):
Fresh coconut – 1/4 cup
*Roasted* Yellu/sesame seeds – 3 tsp
Green chillies – 2-3 (blister it in a hot pan for 15/20 seconds till it turns white)
PIN FOR LATER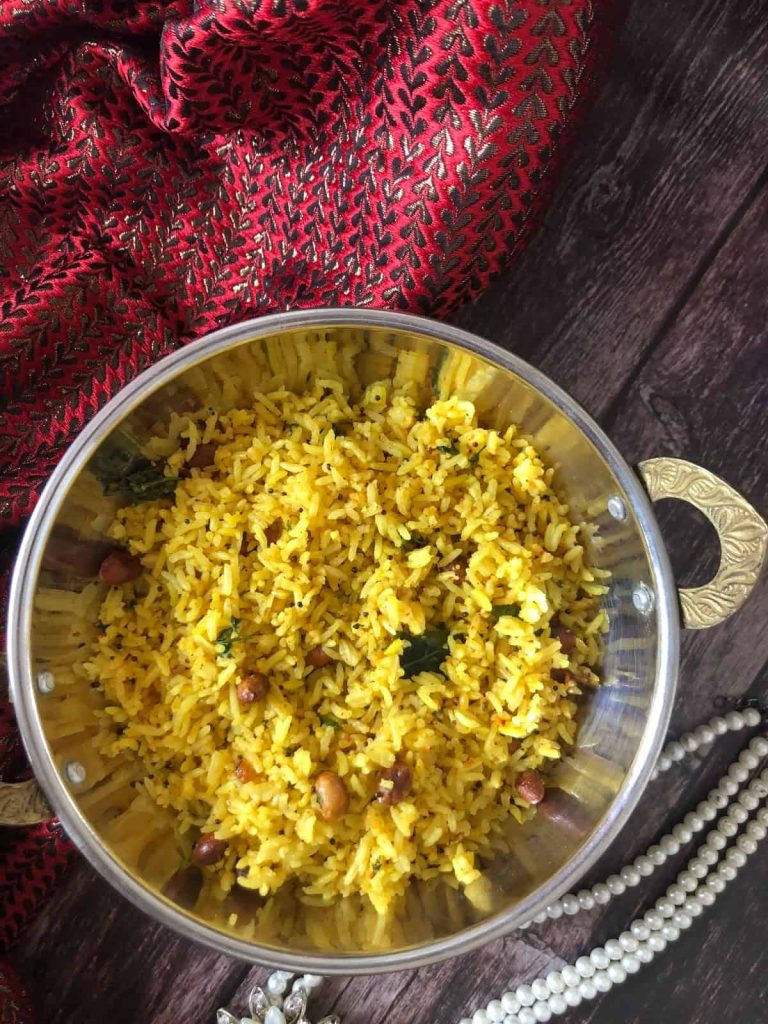 Notes:
The flavours take about 30-45 mins to seep in so, you can make this ahead of your meal preps. Keeps upto 3 days under refrigeration.
How to :
Wash and cook rice as per your preferred method. Fluff in a large plate. Add 1/2 tbsp of oil + turmeric and spread till cooled throughly. I Cook the rice the previous late night and simply let it stand on the kitchen counter, covered (unless it's too humid!)
Grind all ingredients of the masala to a smooth paste without adding too much water.
In a pan, add remaining oil, fry the peanuts and take them out with a slotted spoon once browned and crisp. In the same oil, splutter all tempering ingredients. Add the masala paste , fry till all moisture disappears and you get a thick paste that oozes oil (takes 4-5 mins on low flame).
Switch off the stove , add the cooked rice , salt, chopped coriander and lemon juice . Mix well with a wooden spoon.
Adjust salt and spice. Top with roasted peanuts and serve warm.