For quite some time, I was flummoxed between Naan and Kulcha, till I not only found the difference here, but also attempted to make it healthy using Wholewheat Flour (well almost). Yeast is not my best friend, but somehow I got lucky, may be thanks in most part to the soaring temperature. By the time, it was done, I was ready to run out of the kitchen, with sweating body in tow. As this was to be for dinner, I couldnt get the best clicks I would have wanted to (as it was evening time with fading daylight), but the texture and the softness more than made up for the weariness and drained out feeling that had me slaving over the stove top. We had this with Matar Paneer for the evening dinner, and kiddo pronounced it perfect. There ! I had my trophy as if I had climbed Mount Everest several times over 🙂 🙂 I also added a dash of Kalonji (Nigella seeds) and that took it to a completely new level. May be I should give the yeast a little more chance in my pantry, atleast till I have the scorching sun to help with most of the fermenting.
Traditionally, Naan is cooked in a Tandoor (Indian Clay oven) which gives that an irresistible smoky flavour. However, I did try this on the stove top, similar to Butter Kulcha made earlier here. I find stove top cooking rather than oven cooking quite convenient, although its a beginners' dilemma to get that smoky flavour. Have these flatbreads hot, and it would be all worth the effort of fermenting and kneading your muscles out 🙂 !!
Speaking of which, this whole week beginning today will showcase different Fermented Foods for Blogging Marathon at my space. Stay tuned to the showcase. Till then enjoy this flatbread and check out the fellow marathoners here. Lets get to the recipe now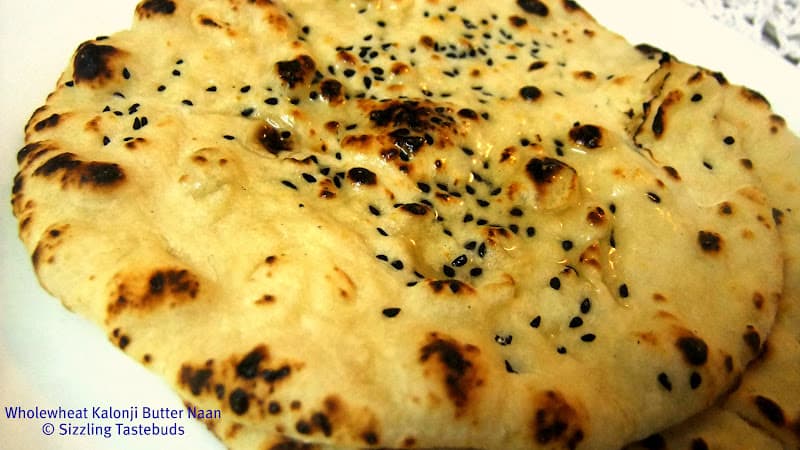 Pin
———————————————————————————————————-
Prep time – 20 mins
Cook time – 30 mins
Makes – 6 Naans
Fermentation time – 3 to 4 hours
Serving Suggestions : Any Spicy Curryof your choice
Difficulty level : Medium
———————————————————————————————————-
Ingredients:
Wholewheat flour – 2 cups
Maida / APF – 1/4 cup (if you want to make it completely wholewheat, skip this and add 1/4 cup more of wholewheat flour)
Salt – to taste
Oil – 3 TBSP
Warm milk (low fat) – 1/4 cup
Instant yeast – 3/4 packet (approx 4 gms)
Yoghurt / Curd – 3/4 cup
Sugar – 1 TBSP
Baking Powder – 1/4 tsp
Topping:
Kalonji (Nigella Seeds) – 1 tsp
Melted Butter – 2 TBSP
Coriander leaves / Kasuri Methi – little (I didn't use)
Method:
To make the dough:
1) Dissolve the yeast in warm milk and keep aside for 10 mins. The yeast proves (becomes all frothy)
2) In a large bowl, sieve the two flours with sugar, baking powder, salt thrice over (this is to air the flour to rise well). Make a well kind of hollow in the centre and slowly add oil, yeast-milk mixture & yoghurt. Slowly knead to a nice soft dough. Use additional 1-2 tsp of warm water if necessary to get a nice dough going.
3) Cover with a cling wrap or wet kitchen towel and keep in a warm place for 2- 3 hours till the dough rises to double the quantity.
4) Once that is done, punch down the dough several times to release the air and make equal sized portions of the dough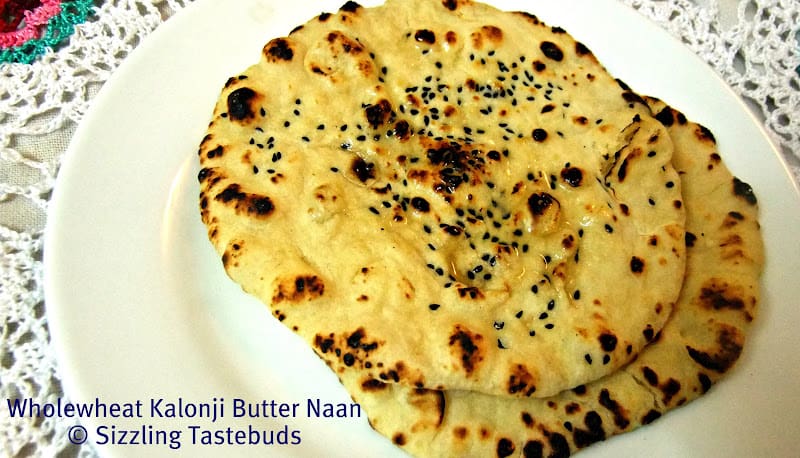 Pin
To make the Naan:
1) Dust your rolling board with a little flour. Take one portion of the dough and either using the rolling pin or your hands, roll it out to a circlish round (I got circles, but most Naans are also tear-drop shaped ones).
2) Meanwhile heat a tava / skillet to medium heat.
3) Sprinkle Kalonji Seeds & coriander leaves / Kasuri Methi on to the Naans and roll one last time. Apply a little water to the other side.
4) Once the tava is hot, slap the Naan on to the tava with the wet side to stick to the tava. Close immediately with a tight lid. After a min or so, you would see bubbles come up on the top surface. Now slowly flip over the dry side on a naked flame for 20 – 30 secs over medium heat.
5) Once the naan comes off the flame, apply melted butter immediately and wrap in a soft clean muslin cloth before placing it in the Roti Container (hot box).
6) Repeat for the remaining dough portion. Serve hot with any spicy curry, few slices of onion, lime and pickles 🙂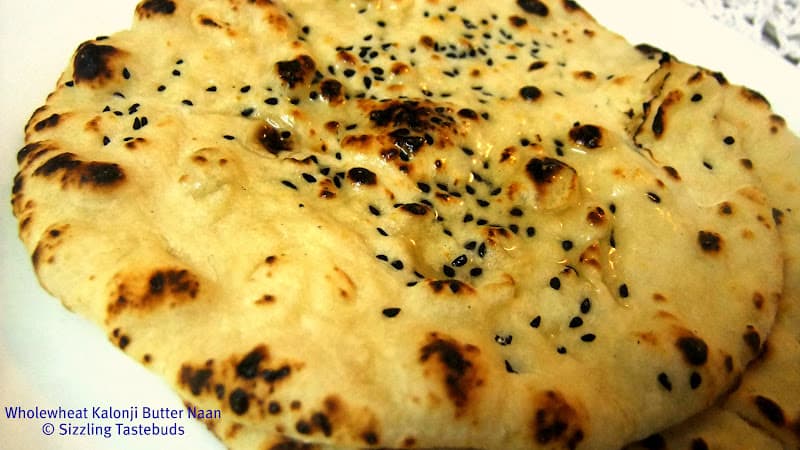 Pin