One of the advantages of living in a city that is a melting pot of
many cultures is that you get to taste many different cuisines. While Mumbai is
known for its fusion food & street food, the authentic local food is sadly
available only in pockets – mostly the old suburbs sprinkled across town. Same
with Bangalore… (at least while I grew up)… a handful of eateries served
food from across the state, and Kamat Yatrinivas in Bangalore was one such
very famous restaurant where I happened to partake of this dish several decades ago…
Fiery spicy Yennegai (recipe coming soon)
accompanied Jolada Rotti (unleavened bread made of Jowar or Sorghum) washed
down with icy cold glasses of buttermilk, in what was a very satisfying
gastronomic experience.There is an entire floor in this hotel dedicated to
North Karnataka delicacies, and while there might be other restaurants which
might have popped up in the last decade and half serving this fare, my vote
would always go to this restaurant for that cuisine.
 I still remember eating in the open air restaurant on the top
floor (with a canopy to boot) with my dad at first, and many years later with
my colleagues from office (driving all the full 15+ kms) as the rotis came
quick and fast, and we literally stuffed ourselves full, and thought wouldnt
last another day…It became such a rage for about 2-3 years that we had
colleagues competing how many rotis and how many green chillies they could bite
into as part of the meal – While I type this out, I can hear the laughter,
mischief and total entertainment of those days, and it never fails to bring a
smile to my face…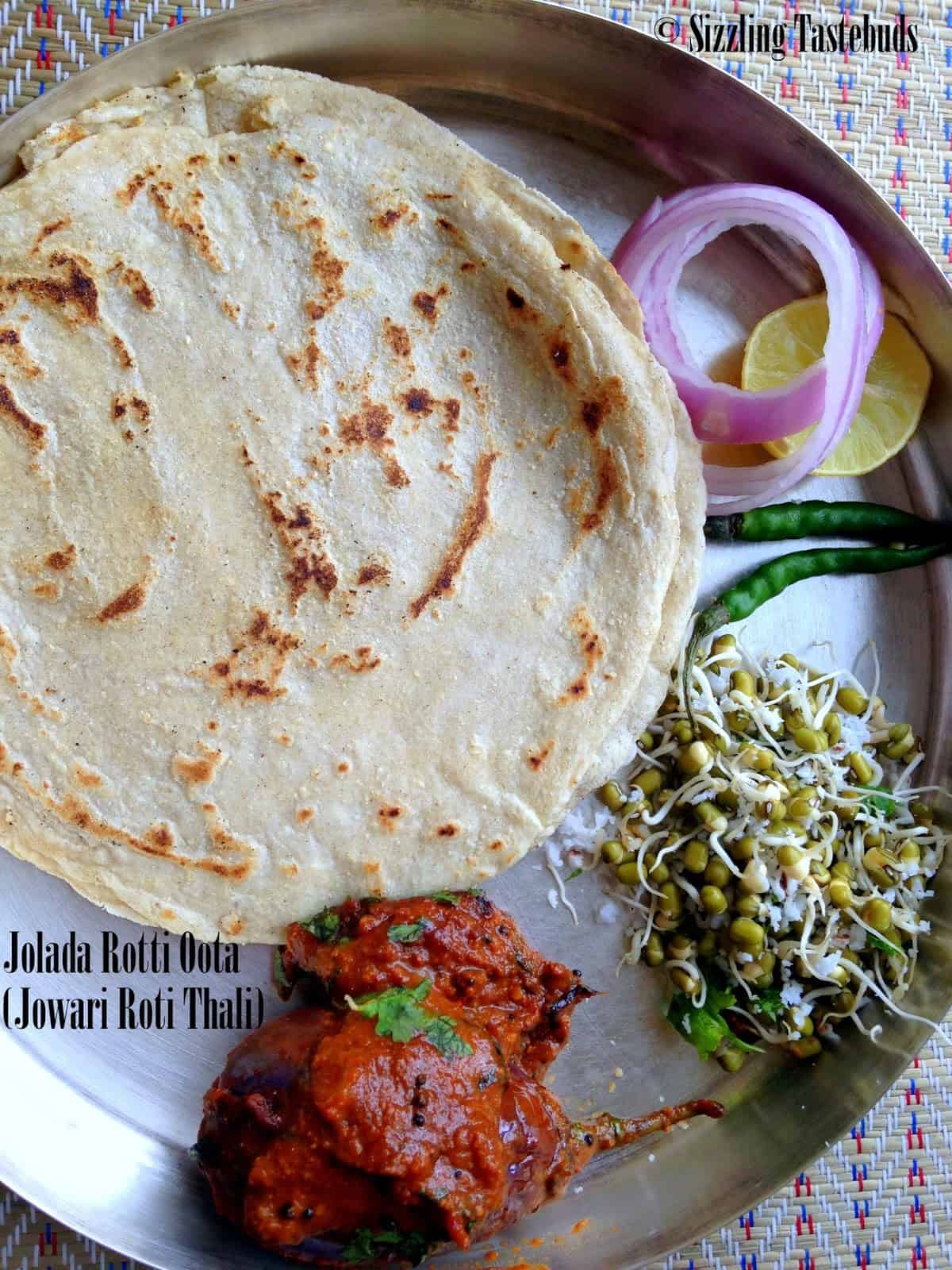 Pin

Today I have recreated that eating experience, and both the hubby
and me loved it a lot… The Yennegai (or stuffed brinjal curry) would feature
under Alphabet Y at the end of this marathon, but for now, I am more than happy
to share the recipe for Jolada rotti – Alphabet J for BM # 32.

I have got this recipe from a friend of mine whose family migrated
from Belgaum (North Karnataka) to Mumbai many decades ago, but still preserve
their eating preferences of that region. Jollada Rotti is eaten with the following
curries (Palya): Stuffed bell pepper, stuffed brinjal (yengai), Bijapur style
Brinjal (Tumbagayi) and Jawari Pundi Pallya, hesar kaalu, jhunkad vadi and any
fresh salads. 

Chutneys that go well with jollad rotti include Shenga Hindi (a
kind of peanut chutney with garlic), and aradidda khara. Jollad rotti can also
be eaten with hot jhunka or pitla, known as jhunka bhakri or pitla bhakri; this
is a famous combination in Belgaum and Maharashtra.

Notes : 
Jowar atta (Sorghum flour) contains
very little or no gluten at all, so the kneading process is very vital. 
Some use both hot and some use cold
water – the former is preferred to knead the dough (I shall update the step by
step pictures soon, but for now the final dish is presented here).
Pin




Prep time : 10 mins | Cooking Time : 10
mins | Makes : 6 medium sized rotis

Unleavened sorghum flatbread served in
North Karnataka style

Ingredients:
Jowar flour – 1.5 cups
Salt – to taste
Hot water – approx 3/4 cup (more or
less)
Ghee (clarified butter) – optional –
about 1 TBSP
Method:
In a large plate, sieve the flour
twice. Add salt and mix well.
Draw little flour at a time and adding
hot water – about 3-4 tsp at a time – make a soft dough with all the flour. Add
water very carefully 
Rest for 5 – 10 mins  – covered
with a moist kitchen towel.
Make equal portions, pat slightly with
your fore fingers and palm to a circular disc, about 1/4 inch thick. Use dry
flour only if absolutely necessary.
Heat a tava (skillet), and place the
roti on that. Once done, apply little water on the top and flip without adding oil till brown specks appear. Press lightly
with a soft cloth to ensure equal cooking.
After 1 min, flip the roti onto a naked
flame and toss quickly twice to puff it like a phulka.
Remove from flame and tava to a lined
container. Apply little ghee on top (if using)
Repeat for remaining dough, and make
all the rotis
Serve hot with Onions, Green
chillies, Yennegai, buttermilk and salad.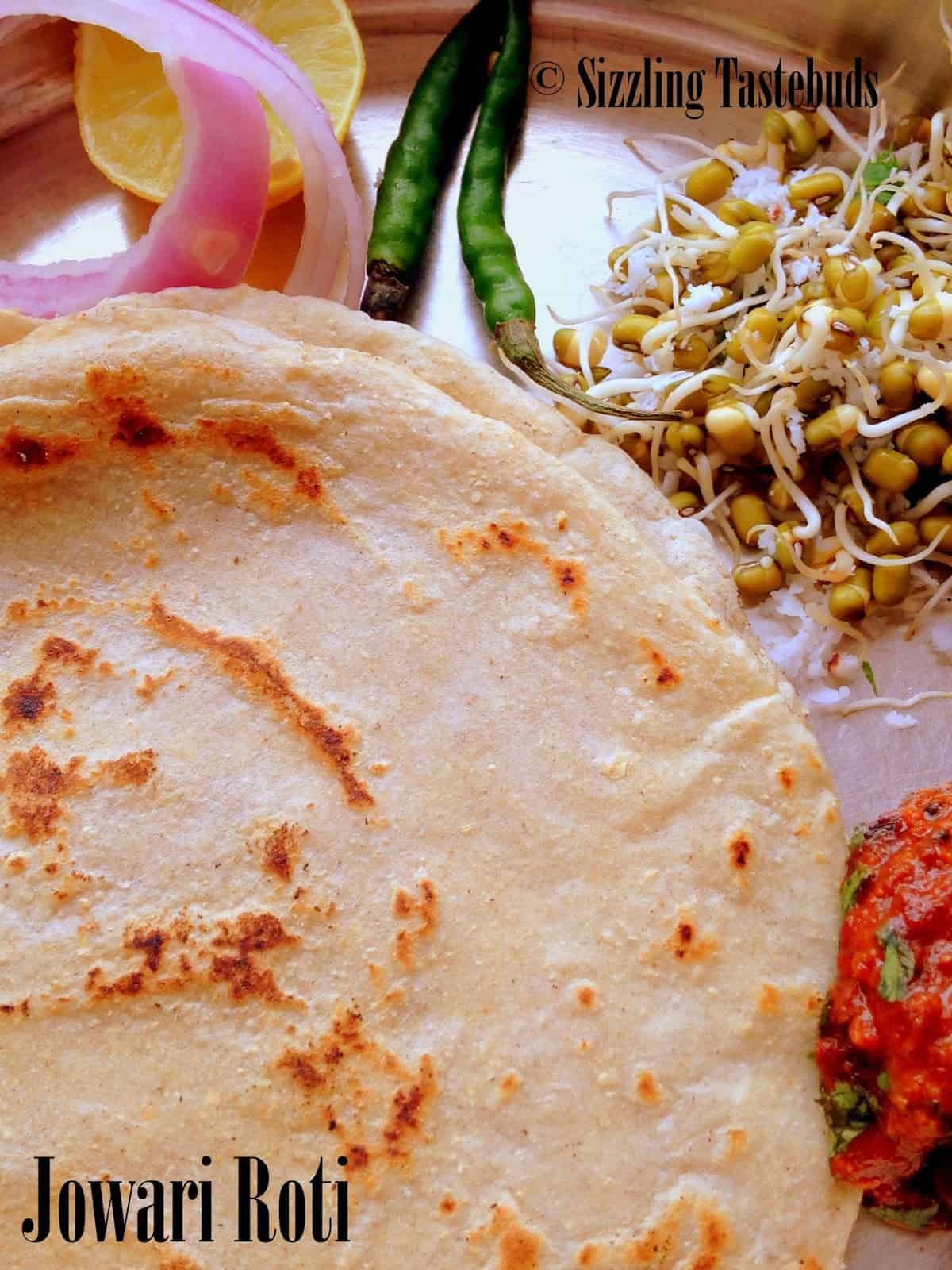 Pin