Is it a Cake? Is it a bread? We didnt mind what it was called, when we had this super moist, eggless and perfectly baked Wholewheat Choco-Chip Pumpkin bread with Raisins and Coconuts .I had never used Pumpkin Puree for bakes, till Halloween and Thanksgiving took over. My reading lists on the blogosphere screamed Pumpkins in every recipe – pies / cakes / muffins / breads etc.. I was too sceptical of trying this, and also not very keen as most of these recipes contained egg, which I dont use (even in bakes). So, when Sanjeetha's recipe came by, I bookmarked it and tried it within a week. I was super happy as I followed the recipe to a T, and it came out fabulously well. Although kiddo said she might have liked it a tad sweeter, mom and S loved it as a tea-cake (ok it was a bread) and the sweetness was just perfect for us.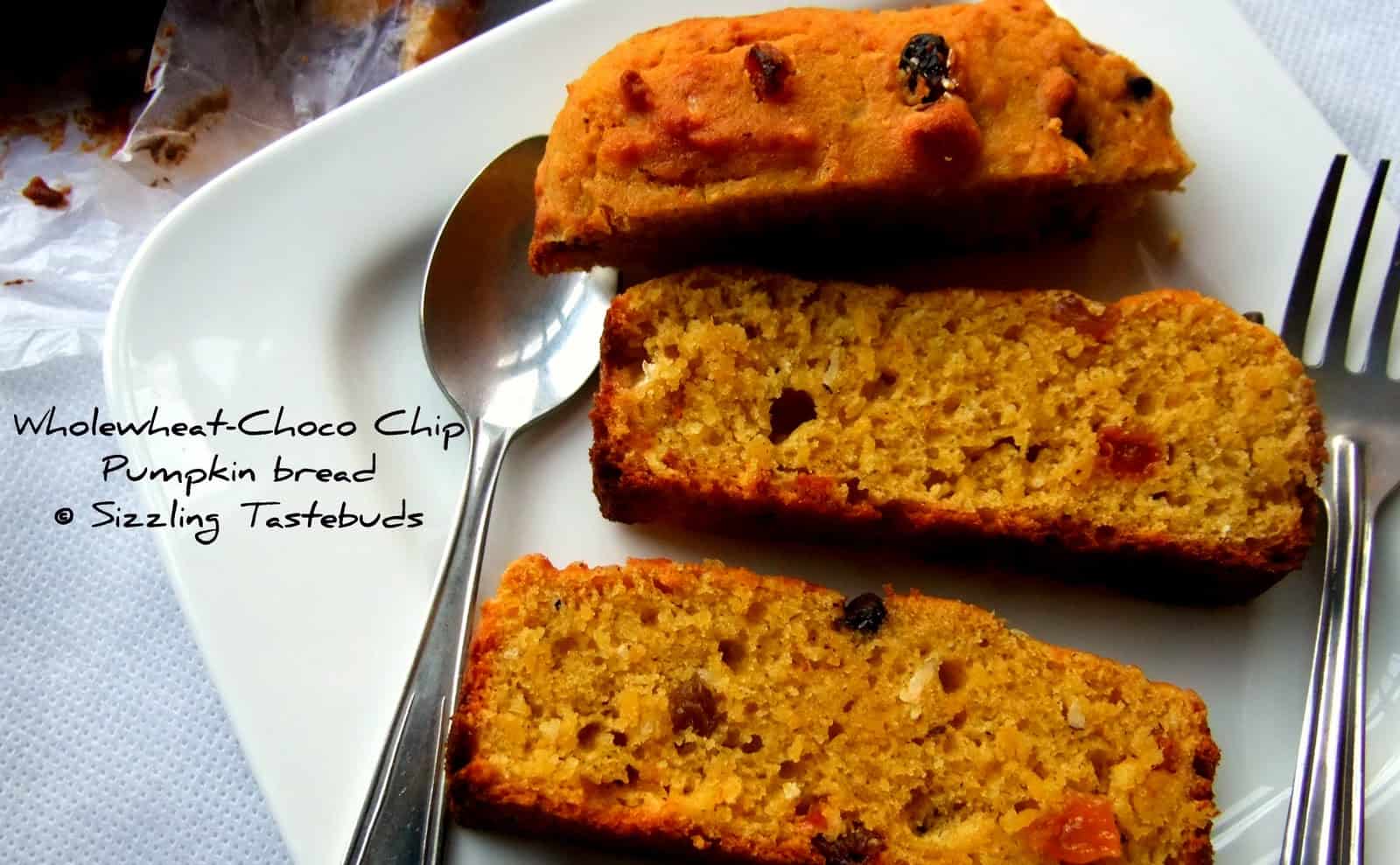 Pin

The only change I made from the original recipe was to add in a handful of chocochips (which more than made up for the less sugar I had put in) and also substituted Goji berries & almonds with raisins and some chopped walnuts. I had a happy helper – my daughter – who was too happy to bake along with me on a lovely Saturday afternoon. She insisted on sieving and mixing the dry ingredients..

The bread was brown, fluffy and eggless with a perfectly baked crust, and I was more than happy to pack this off to kiddo's and S' lunchboxes too, where it received quite an accolade. Thank you Sanjeetha, for your recipe. I am sure to try out more from my bookmarked recipe list (which is actually getting quite out of hand) through the next few weeks.

Linking this to PJ who's hosting Baked Treats – Kids Delight.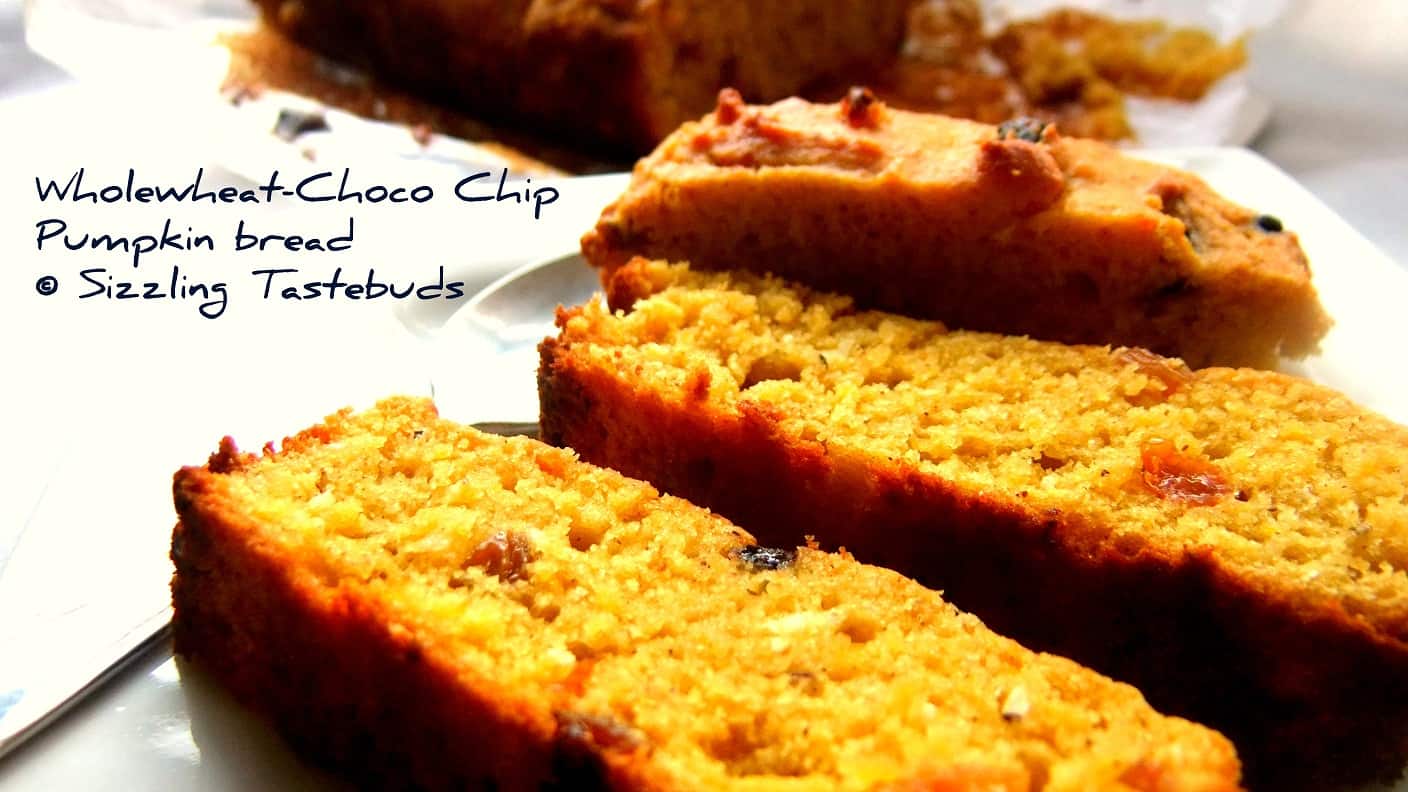 Pin

Prep time : 15 mins. baking time : 20-25 mins. Makes : 1 loaf of bread

Recipe Source : here

Ingredients:
Wholewheat flour – 1 cup
Chocochips – a handful
APF – 1 TBSP (opt.) – I didnt add
Fresh Pumpkin Puree – 1 cup
Sugar – 1/2 cup (I used white and brown sugar – 1/4 cup each)
Coconut – 1 TBSP (I used dried copra)
Yoghurt / Curd – 3 TBSP (may be a tsp extra might be required)
Olive Oil – 2 TBSP (+ 1 tsp)
Baking Powder – 1/2 tsp
Baking Soda- 1/4 tsp
Salt – a pinch
Cinnamon powder – 1/2 tsp
Raisins & Walnuts – 1/4 cup

The ingredients, and my little one as an eager helper 🙂
Method:
1) Sift all dry ingredients thrice – Wholewheat flour, baking soda, salt, cinnamon powder, baking powder.
2) Powder the sugar in a mixie and add to the oil. Cream well till it dissolves
3) Flour the raisins and walnuts in a TBSP of flour and set aside
4) Puree Pumpkin in a blender with the yoghurt till its creamy and add to the sugar-oil mixture. Mix well.
5) Pour the sieved flour mixture to the wet ingredients and give it a nice stir. Do not overbeat. Now add the grated coconut, floured raisins-walnuts and half of the Choco Chips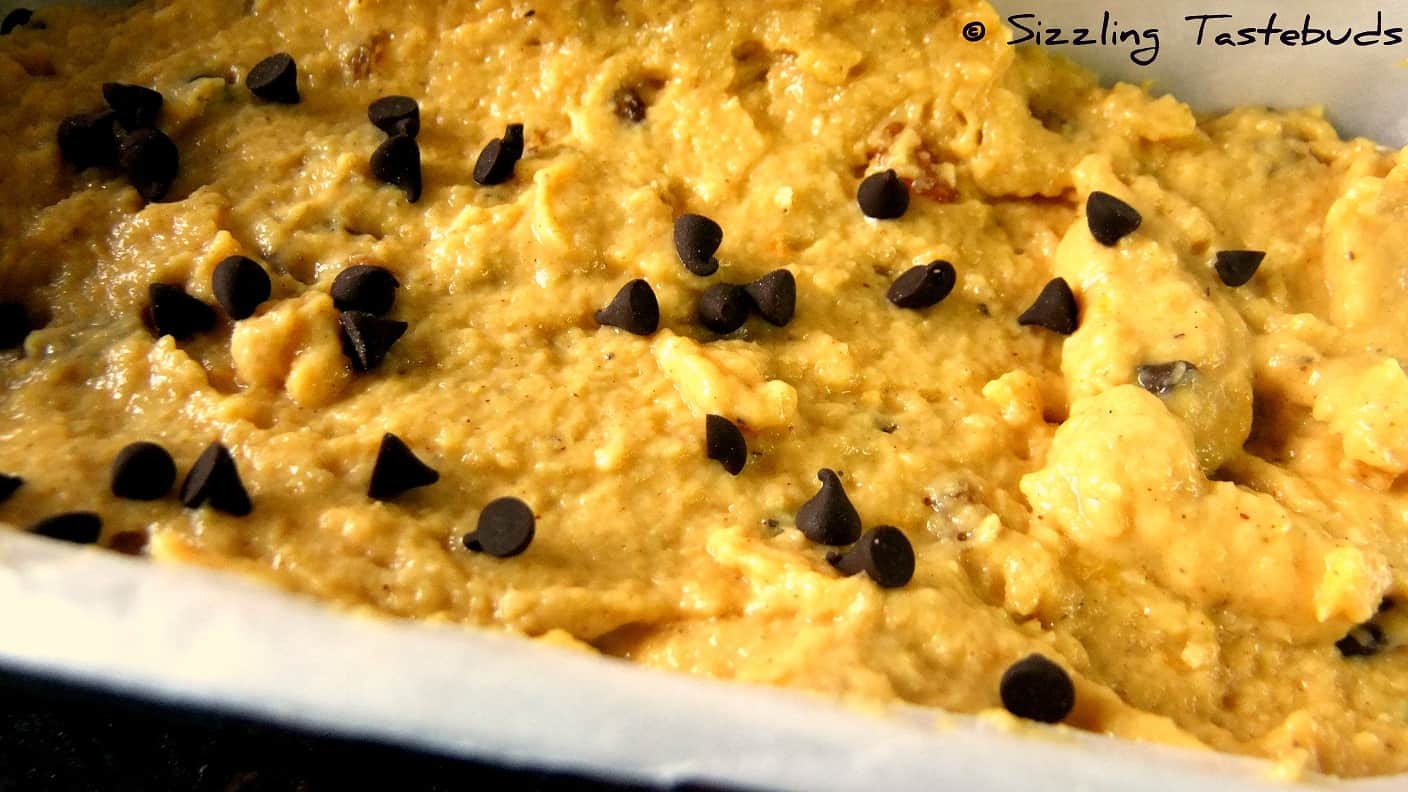 All ready to go into the oven
6) Meanwhile preheat oven to 190 deg C for 10 mins.
7) Pour the batter to a lined loaf tin and sprinkle the rest of the chocochips on top
8) Bake for 20-25 minutes till its done and a tooth pick comes out clean. The aroma of the baked bread was tooo much to resist, and I had to literally pull my kiddo out of the kitchen and she had a forlorn look while it cooled to be cut
9) Cool on a wire rack for 10 – 15 mins. Cut and serve as thick slices (tip – use a serrated knife to slice up).The original recipe served it with Nutella, but we liked it as it is 🙂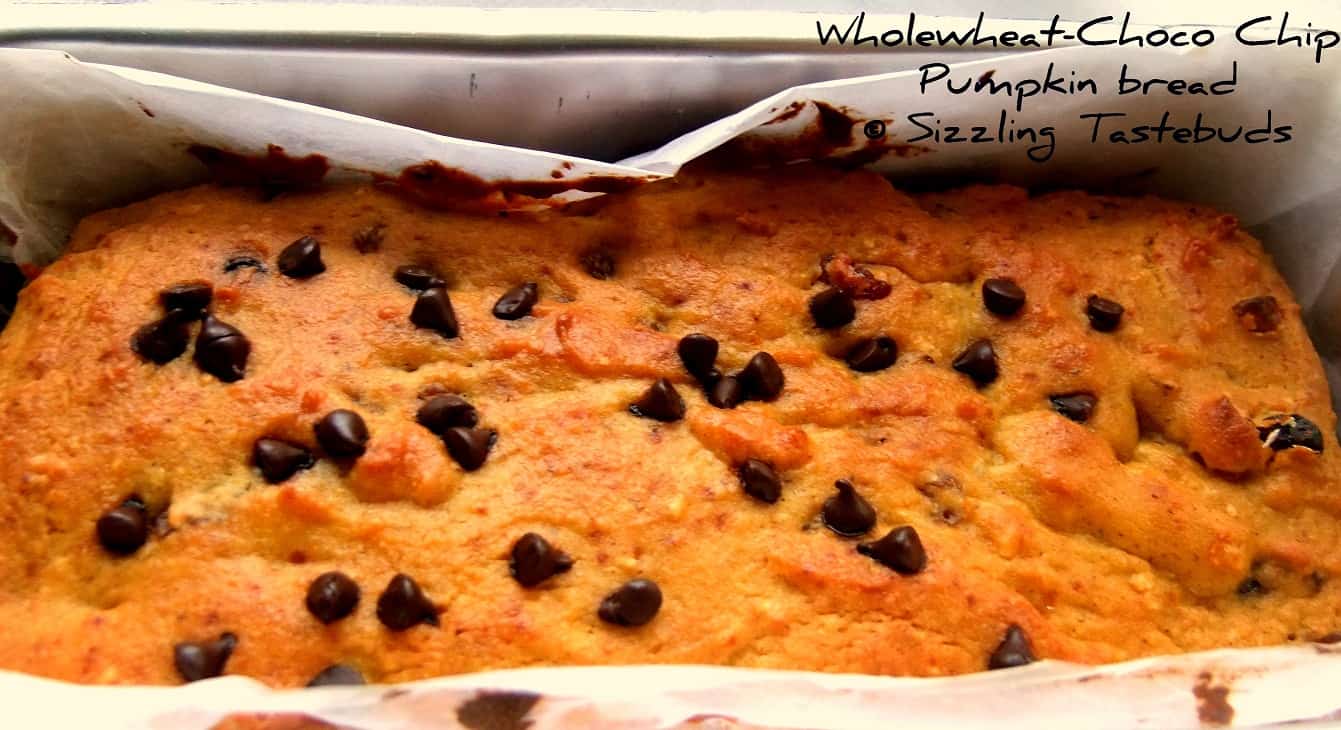 Freshly baked…. the aroma was divine 🙂
Notes:
1) Contrary to what I had feared, this bread does not smell of the vegetable at all.
2) You might want to add a tsp or two of oil to the batter if it gets too dry while mixing the ingredients
3) This bread keeps well for few days in the refreigerator (if it lasts that long :-))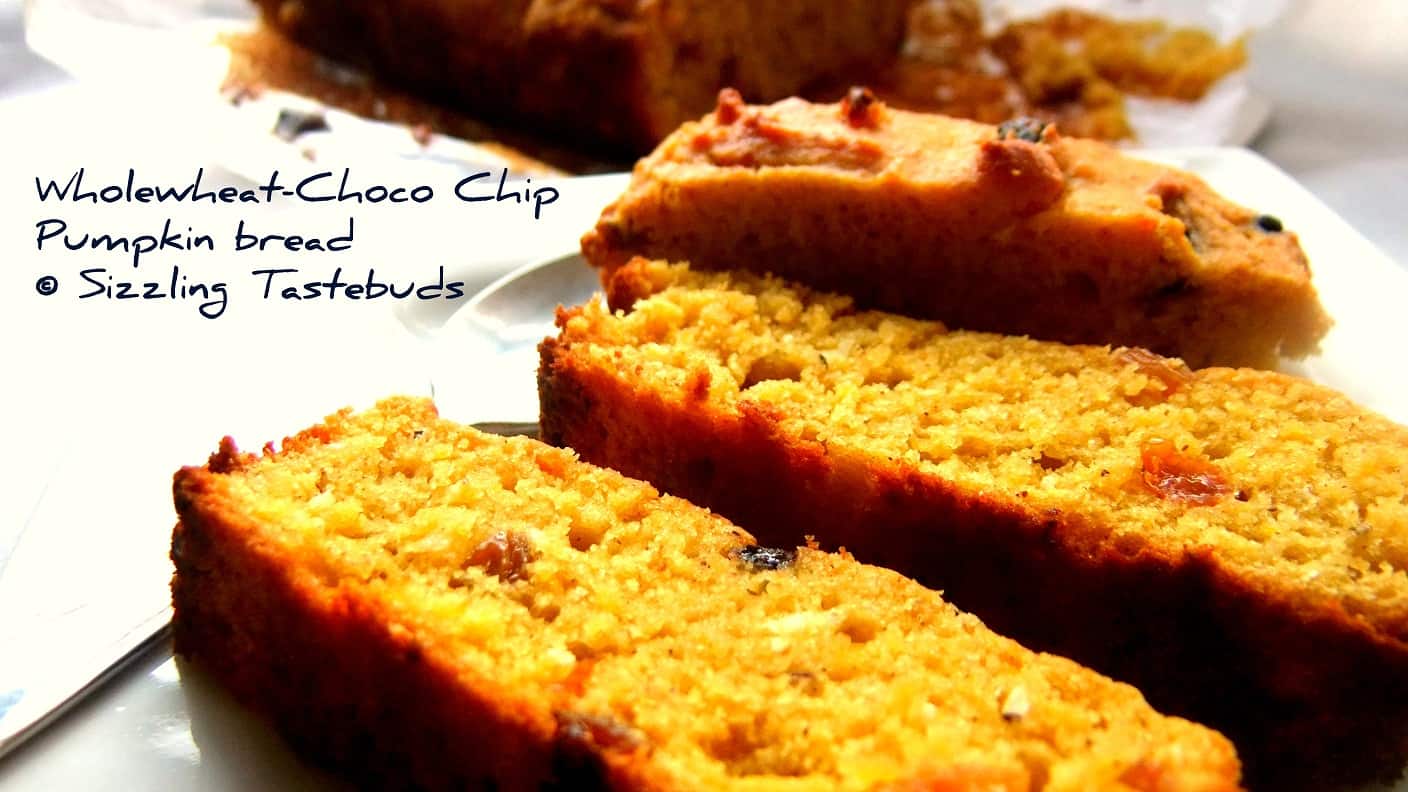 Pin